Not so much a "team" as a "duo"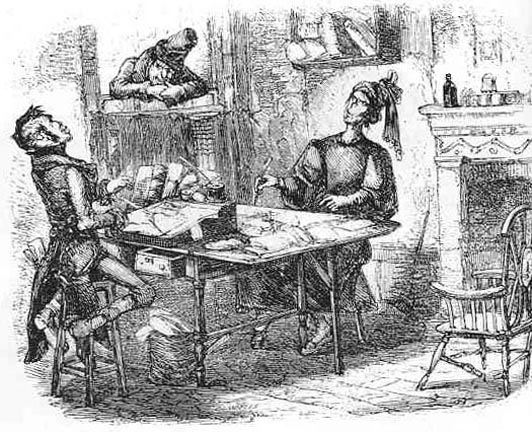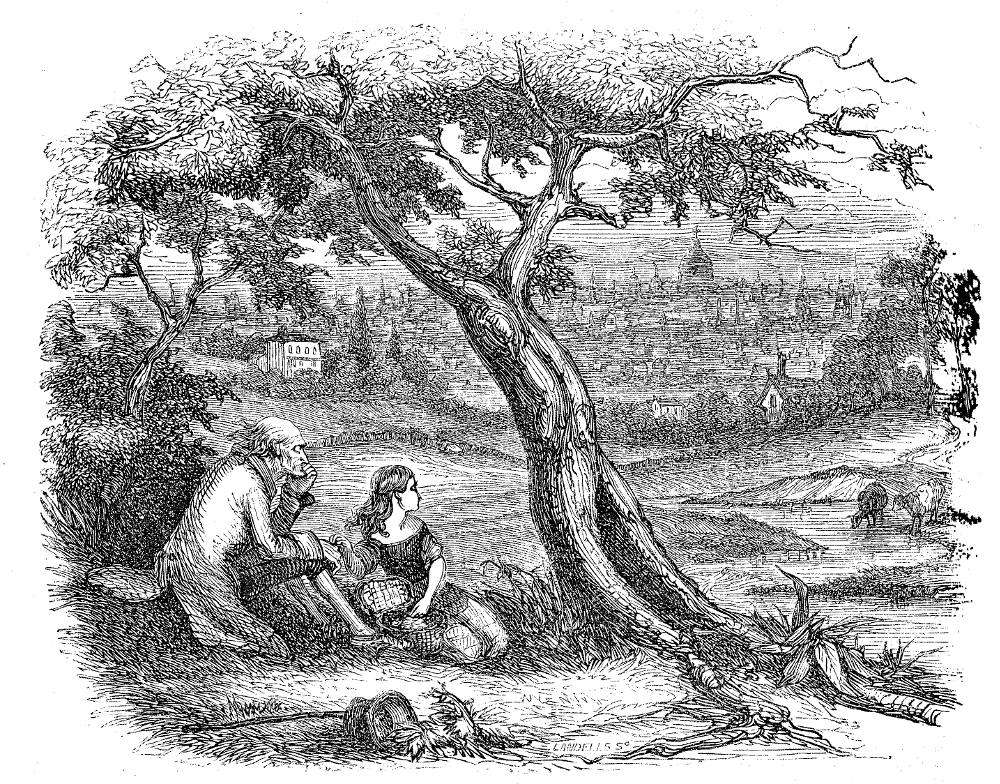 Left: Quilp leering at the brasses by Hablot Knight Browne (Phiz. Middle: A Black and Dreadful Place by Daniel Maclise. Right: A Rest by the Way; or, Little Nell and Her Grandfather Looking back on London by Phiz. [Click on images to enlarge them.]
Hablot Knight Browne (Phiz) remained the principal illustrator for The Old Curiosity Shop throughout the picaresque novel's weekly serialisation in Dickens's literary magazine Master Humphrey's Clock (issued between 4 April 1840 and 4 December 1841). However, Dickens persuaded painters George Cattermole and Daniel Maclise to make modest contributions to the project as they produced slightly larger composite woodblock engravings to be dropped into the text. Cattermole provided fourteen architectural pieces, a number associated with the Gothic church near which the Schoolmaster teaches, but the painter Maclise and the wood-engraver Samuel Williams just contributed a single plate each. Cattermole, fifteen years older than Phiz and well established in the reading public's minds as both a gifted watercolourist and antiquarian illustrator of the historical novels of Sir Walter Scott and Sir G. D. Bulwer-Lytton, leant the project an artistic caché. As Valerie Browne Lester notes, just two years earlier "Cattermole had been offered, but declined, a knighthood for his service to the world of art" (78).
For the announcement heralding its publication by Chapman and Hall on April 4, 1840, Browne depicted Dickens opening the door of Master Humphrey's Clock, liberating the fictional characters inside (SBB, facing p. 686). Readers, anticipating another Dickens novel, flocked to buy the weekly. Their disappointment at finding only elderly Master Humphrey and his friends, who were to provide continuity for the short pieces by various writers, was not appeased by the increased number of illustrations or even by the reappearance of Pickwick and Sam Weller in the second number. [Cohen, 75]
Dickens began serial publication of his fourth novel after disappointing initial sales convinced him and Chapman and Hall that merely as a literary miscellany Master Humphrey's Clock would not succeed; rather, he would have to have an anchor for each weekly number, and that anchor would have to be an instalment of a novel, of which Master Humphrey would be the nominal editor. The subjects that Dickens assigned Phiz suited his penchant for action scenes and caricature: low characters, dynamic scenes, "comic rascality" (Lester, 78). "From its inception, the story was built around simplepolarities of good and evil. Dickens not only exploited them verbally as he developed his narrative, but sought to sharpen them visually by assigning Cattermole most of the serious or sentimental subjects involving the heroine, Browne the far more numerous comic or grotesque scenes usually involving the villains" (Cohen 75). Although Phiz drew his designs directly onto the boxwood blocks, proficient cutters (Landells, Williams, Gray, Vasey, and preeminently Dalziel) actually engraved the Cattermole and Phiz designs "using gouges and gravers before inking the wood in preparation for printing. As many as 100,000 impressions could be made from a single woodblock" (Lester 79). But, even though presenting the illustrations simultaneously with Dickens's narration on the same printed page facilitated the readers' integrating word and image, the switch from steel-engraving to wood-cuts necessarily meant a loss of detail and elegance of effect.
Although the book had two other illustrators, George Cattermole and Daniel Maclise, Phiz's sixty-one woodcuts dominated the narrative-pictorial series, with sixty-one woodcuts. Cattermole provided just fourteen illustrations, most of which feature stately architectural settings, including the frontispiece to the 1848 volume, Little Nell among the Tombs, Chapter and perhaps his most famous illustration, At Rest (Little Nell dead), Chapter the seventy-third plate in the long series (30 January 1841). His short program contrasts the extensive work by Phiz, who plays up the element of the grotesque in the figures Daniel Quilp and Sampson Brass. As Paul Schlicke remarks, this "contrast . . . reinforce the diverse moods of the story itself" (424). This was the first illustrated book which credited Hablot Knight Browne by name, rather by just the pseudonym "Phiz."
Maclise's only contribution is Little Nell and the Sexton (Chapter 55, 28 November 1840). Samuel Williams provided just a single woodcut, The Child in Her Slumbers. Phiz contrubted the balance, amounting fifty-nine illustrations, although J. A. Hammerton, editor of The Charles Dickens Library Edition, states that the story as originally published "had sixty-one woodcuts by Phiz" (XVII: 171). Further illustrations followed in the Cheap Edition (1848), the Library Edition (1858-59), before the wholly new Household Edition illustrations by Thomas Worth (1872) and Charles Green (1876) and appeared.
Michael Steig points out that
some statistics will indicate how this sequential specificity is possible:  The Old Curiosity Shop is about five-eighths the length of a novel like David Copperfield, while Barnaby Rudge is about three-fourths the length of such novels; but the Shop has seventy-five illustrations and Rudge seventy-six, compared with the usual forty. Thus proportionately there are two to three times as many illustrations in the weekly installments of Master Humphrey's Clock as in a monthly-parts novel. [Ch. 3, "From Caricature to Progress," 52]
The Plates

Phiz Finally Dispenses with his Pseudonym
Though he appeared to take its excellence for granted, certainly Dickens was pleased with Browne's work. The artist must have been gratified when Phiz's true identity was publicly disclosed for the first time on the title page of the first bound volume of the Clock. He himself had dispensed with his pseudonym insigning his engravings, using instead his own initials, first HB and then, perhaps due to its closeness to John Doyle's pseudonym, HKB. The artist would continue to sign "Phiz" to his subsequent etchings for Dickens'snovels; but his present use of his real name seems especially appropriate, forit was during the Clock that Browne artistically came into his own, manifesting unsuspected versatility that the author would be quick to utilize in their long collaboration ahead. — Jane Rabb Cohen (76)
Principal Illustrated Editions of the Novel (1841-1924)
Of the five chief nineteenth-century illustrated editions that preceded Furniss's 32-illustration volume in 1912, only three had long programs exclusively produced by a single artist: Eytinge (1867), Worth (1876), and Green (1876).
A Note on the Date of the Action of the Novel
A Note on the locations of the Novel, including the Old Curiosity Shop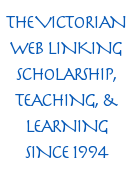 Scanned images and texts by Philip V. Allingham. Edited by George P. Landow. [You may use this image without prior permission for any scholarly or educational purpose as long as you (1) credit the person who scanned the image and (2) link your document to this URL in a web document or cite the Victorian Web in a print one. This image is reproduced courtesy of The Charles Dickens Museum, 48 Doughty Street, London WC1N 2LF.]
Bibliography of Illustrated Editions of
The Old Curiosity Shop
Dickens, Charles. The Old Curiosity Shop in Master Humphrey's Clock. Illustrated by Phiz, George Cattermole, Samuel Williams, and Daniel Maclise. 3 vols. London: Chapman and Hall, 1841; rpt., Bradbury and Evans, 1849.
_____. The Old Curiosity Shop. Frontispieces by Felix Octavius Carr Darley and Sir John Gilbert. The Household Edition. 55 vols. New York: Sheldon & Co., 1863. 4 vols.
_____. The Old Curiosity Shop. Illustrated by Sol Eytinge, Jr. The Diamond Edition. 14 vols. Boston: Ticknor & Fields, 1867. XII.
_____. The Old Curiosity Shop. Illustrated by Thomas Worth. The Household Edition. New York: Harper & Bros., 1872. I.
_____. The Old Curiosity Shop. Illustrated by Charles Green. The Household Edition. 22 vols. London: Chapman and Hall, 1876. XII.
_____. The Old Curiosity Shop. With nineteen steel-plate illustrations from original wood-engravings by Phiz and George Cattermole. 2 vols. "New Illustrated Library Edition" of the Works of Charles Dickens. New York: Hurd and Houghton; Cambridge: Riverside Press, 1876. Vols. VI and VII.
_____. The Old Curiosity Shop. Illustrated by William H. C. Groome. The Collins' Clear-Type Edition. Glasgow & London: Collins, 1900.
_____. The Old Curiosity Shop. Illustrated by Harry Furniss. The Charles Dickens Library Edition. London: Educational Book, 1910. V.
Hammerton, J. A. "XIII. The Old Curiosity Shop." The Dickens Picture-Book. The Charles Dickens Library Edition. London: Educational Book, 1910. XVII, 170-211.
Bates, Allan. "Stage Coach Routes in 1836." Directory of Stage Coach Services, 1836. Web. 2 November 2020.
Bates, Allan. "Stage Coach Routes in 1836." Directory of Stage Coach Services, 1836. Web. 2 November 2020.
Bentley, Nicolas, Michael Slater, and Nina Burgis. The Dickens Index. New York and Oxford: Oxford U.P, 1990.
Ciugureanu, Adina. "Dantean Echoes in The Old Curiosity Shop." Dickens Quarterly, 52.2 (June 2015): 116-28.
Cohen, Jane Rabb. "Part Two: Dickens and His Principal Illustrator. 4. Hablot Browne." (Part 1). Charles Dickens and His Original Illustrators. Columbus: Ohio U. P., 1980. 59-80.
Davis, Paul. Charles Dickens A to Z: The Essential Reference to His Life and Work. New York: Facts On File, 1998.
Easson, Angus, ed. "Introduction." Dickens's The Old Curiosity Shop. Harmondsworth: Penguin Classics, 1977.
Hall, Stephanie. "Punch & Judy in America: Lecture and Oral History with Mark Walker." Library of Congress. 5 November 2019. Web. 2 June 2020.
_______. "Puppets: A Story of Magical Actors." Folklife Today, March 16, 2018. Web. 2 June 2020.
Kitton, Frederic George. "Phiz" (Hablot Knight Browne), a Memoir, Including a Selection From His Correspondence and Notes on His Principal Works. London, George Redway, 1882.
Lester, Valerie Browne. Phiz: The Man Who Drew Dickens. London: Chatto and Windus, 2004.
Matz, B. W., and Kate Perugini. Character Sketches from Dickens. Illustrated by Harold Copping. London: Raphael Tuck, 1924.
Mayhew, Henry. "Punch's Showmen" and "Our Street Folk. 1. Street Exhibitions, Punch." London Labour and the London Poor, Volume III. Griffen, Bohn, and Co., 1861 (volume III was part of the original 1851 set). [Available from Hathi Trust. See page 61 of the digital version for a discussion and script of Punch and Judy street puppetry.]
The Pilgrim Edition of the Letters of Charles Dickens. Ed. Madeline House, Graham Storey, and Kathleen Tillotson. 12 vols. (1820-70). Oxford: Clarendon, 1965-2002. Volume Two, 1840–1841 (1969).
Schlicke, Paul, ed. "The Old Curiosity Shop." Oxford Readers' Companion to Dickens. Oxford: Oxford U. P., 1999. 422-27.
" Shropshire Verger in Tong faked grave of Dickens' Little Nell." BBC Shropshire. 20 January 2010.
Steig, Michael. "Phiz's Marchioness." Dickens Studies. 2, 3: (September 1966): 141-46.
_______. Chapter 3. "From Caricature to Progress: Master Humphrey's Clock to Martin Chuzzlewit." Dickens and Phiz. Bloomington & London: Indiana U. P., 1978. 53-85.
Stevens, Joan. "'Woodcuts Dropped into the Text': The Illustrations in The Old Curiosity Shop and Barnaby Rudge." Studies in Bibliography. 20 (1967): 113-34.
Tan, Jack. "Charles Dickens's Idealized Portraits: Rewriting the child in Oliver Twist and The Old Curiosity Shop." The Looking Glass : New Perspectives on Children's Literature 18, No 1 (September 2015).
Vann, J. Don. "The Old Curiosity Shop in Master Humphrey's Clock, 25 April 1840-6 February 1841." Victorian Novels in Serial. New York: MLA, 1985. 64-65.
---
Created 26 April 2019

Last modified 16 November 2020