Quilp Surprising his Wife's Visitors; or, Quilp Interrupts at Tea by Hablot Knight Browne (Phiz). Wood engraving, 3 ½ x 4 ½ inches (9 x 11.4 cm). — Chapter 4, The Old Curiosity Shop, Part Three. [For passage illustrated see below.] Date of original serial publication: 23 May 1840. Master Humphrey's Clock, Part 6, 94. [Click on images to enlarge them.]
Passage Illustrated
The noise was at its height, and half the company had elevated their voices into a perfect shriek in order to drown the voices of the other half, when Mrs. Jiniwin was seen to change colour and shake her forefinger stealthily, as if exhorting them to silence. Then, and not until then, Daniel Quilp himself, the cause and occasion of all this clamour, was observed to be in the room, looking on and listening with profound attention.
"Go on, ladies, go on," said Daniel. "Mrs. Quilp, pray ask the ladies to stop to supper, and have a couple of lobsters and something light and palatable."
"I — I — didn't ask them to tea, Quilp," stammered his wife. "It's quite an accident."
"So much the better, Mrs. Quilp; these accidental parties are always the pleasantest," said the dwarf, rubbing his hands so hard that he seemed to be engaged in manufacturing, of the dirt with which they were encrusted, little charges for popguns. "What! Not going, ladies, you are not going, surely!" [Chapter IV, 94-5]
Commentary
The melodramatic villain now sweeps upon the scene, intimidating his wife and her friends, and threatening by sy subtle innuendo rather than a show of force. His entrance in both text and illustration is indeed, as Joan Stevens remarks, "memorable":
Dickens makes Quilp memorable in various ways in the text, by his physique, his dress, his hideous gaiety, his tricks of speech, his ingenious malice; the impression is deepened by the visual image offered at his first introduction, and repeated at the moments of his horrifying re-entries. When he first appears in issue 8 [Chapters 11 and 12], he is pictured twice. In 9/5, we see his wharf, while his den there heads 10/6. He broods gleefully over the distress of Nell and the old man in the Shop headpiece to 12/9, and appears subsequently in issues 13, 14, 18 and 19. There is then an interlude while we follow Nell's fortunes, but Dickens reminds us of Quilp's remorseless pursuit of her in the brief glimpse she has of him in an old gateway in 21/27. [Stevens 118]
Fully eighteen of the major woodcuts are devoted in some way to Quilp, who therefore dominates the 72-plate sequence of The Old Curiosity Shop. Although she is at least nominally the protagonist and her figure provides considerable visual continuity in this lengthy program, Nell appears in seventeen illustrations in the first part of the story, and in just nine in the second half of the story (Parts 22 to 40), for a total of seventeen, that is, one less than Quilp.
Other Introductory Illustrations of Daniel Quilp (1872-1910)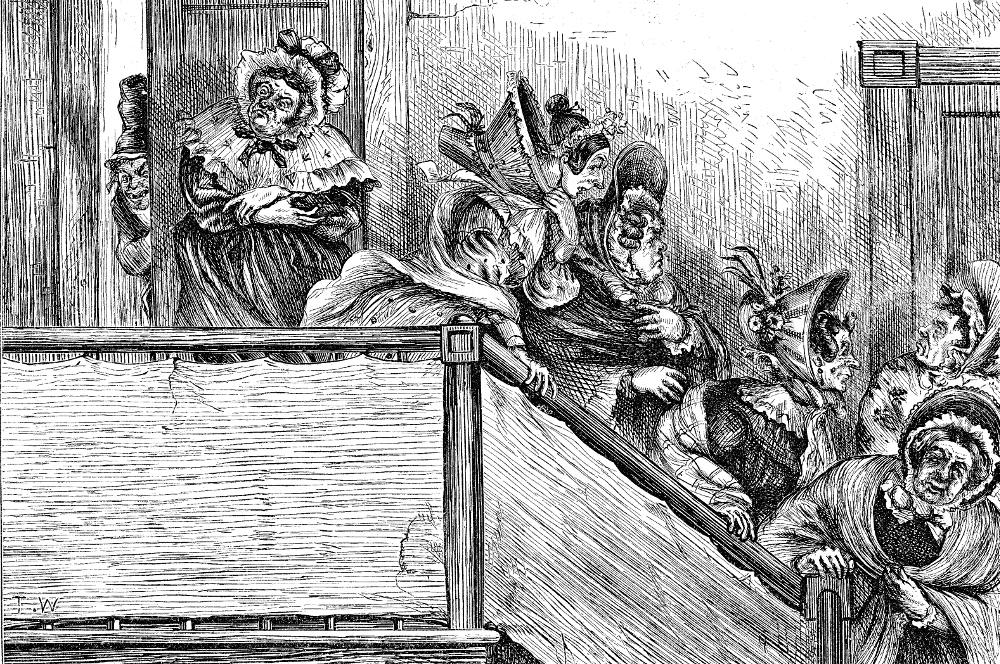 Left: Worth's version of the scene shows Quilp in a pushing match with his mother-in-law to exemplify their conflict over his wife: The old woman looked angrily at him, but retreated as he advanced, and falling back before him (1872). Right: . Right: Harry Furniss's study of the obnoxious antagonist: Quilp (1910)[Click on images to enlarge them.]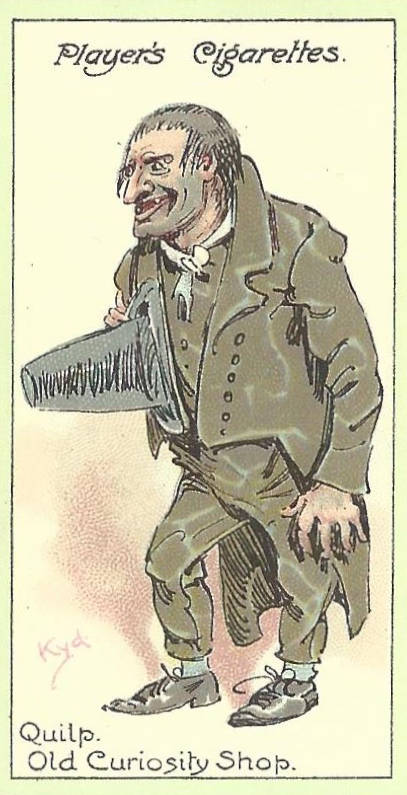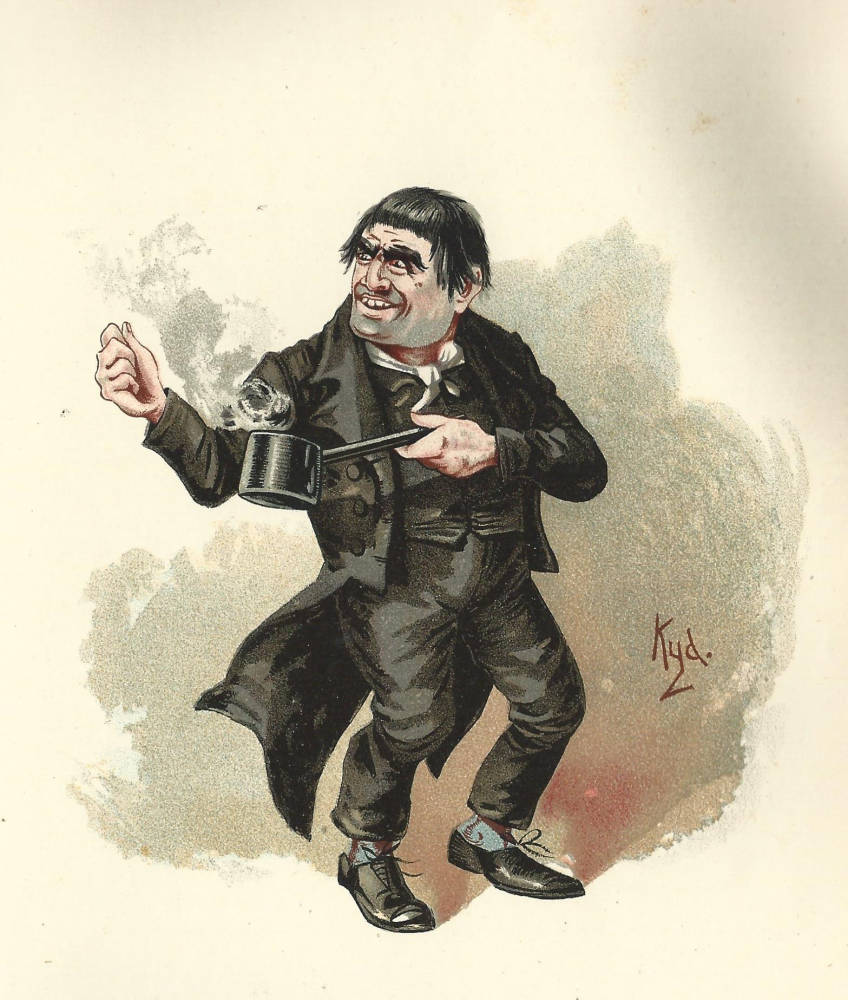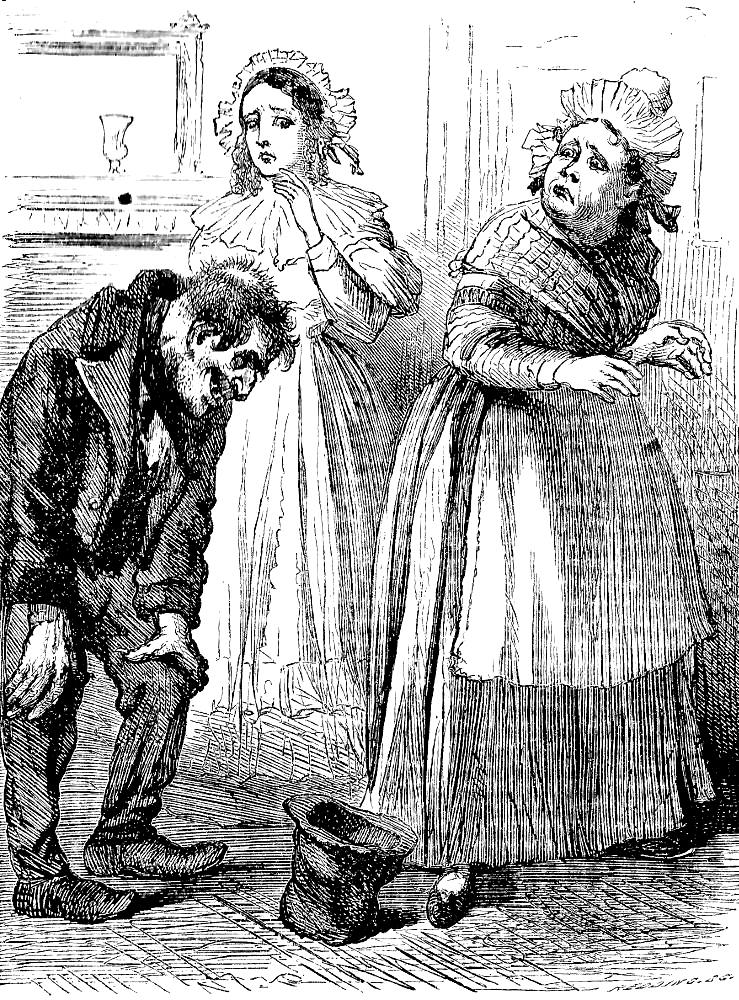 Left and centre: Clayton J. Clarke's amusing caricatures of the demonic villain in the Player's Cigarette card series, Quilp (Card No. 27, 1910) and Quilp in his series of Dickens characters, dating from 1888. Right: Sol Eytinge, Jr.s's character study of the novel's self-satisfied, diminutive villain, his much-put-upon wife, and her feisty mother: Quilp, Mrs. Quilp, and Mrs. Jiniwin (1867).
Related Resources Including Other Illustrated Editions
Scanned image by Simon Cooke; colour correction, sizing, caption, and commentary by Philip V. Allingham. [You may use this image without prior permission for any scholarly or educational purpose, as long as you (1) credit the person who scanned the image, and (2) link your document to this URL in a web document or cite the Victorian Web in a print one.] Click on the image to enlarge it.
Bibliography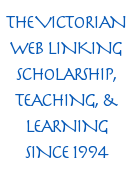 Dickens, Charles. The Old Curiosity Shop. Illustrated by Hablot Knight Browne ("Phiz"), George Cattermole, and Daniel Maclise. London: Chapman and Hall, 1841. Rpt., 1849 by Bradbury and Evans (3 vols. in 2).
---
Created 10 May 2020

Last modified 11 November 2020