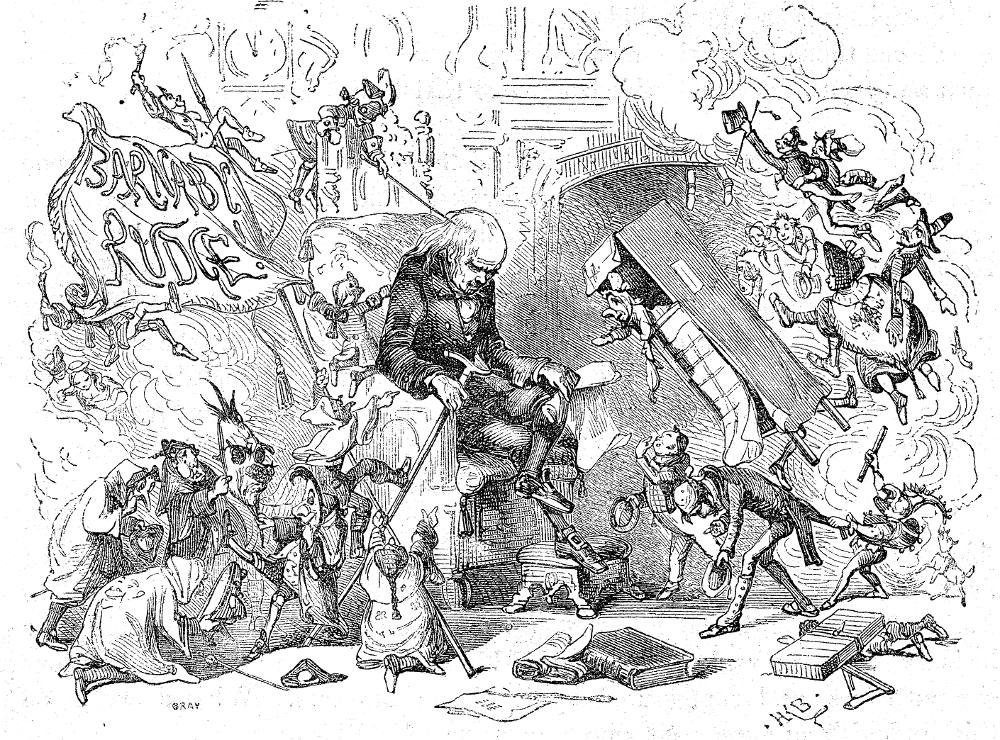 Master Humphrey's Visionary Friends by Hablot Knight Browne (Phiz). Wood engraving, 3 ½ x 4 ½ inches (8.5 x 11.5 cm). — Chapter VI in Master Humphrey's Clock, Vol. 2: 228. Date of original serial publication: 6 February 1841 (the fortieth and last number of The Old Curiosity Shop). The passage illustrated appears in the original serial of Master Humphrey's Clock, but in neither of the separately bound volumes containing The Old Curiosity Shop and Barnaby Rudge. [Click on the image to enlarge it.]
Context of the Tailpiece: Master Humphrey Dreams about
Barnaby Rudge
Then, the lamp being trimmed, the fire well stirred and burning brightly, the hearth clean swept, the curtains closely drawn, the clock wound up, we entered on our new story — Barnaby Rudge [Last page of the first bound volume,  228].
It is again midnight. My fire burns cheerfully; the room is filled with my old friend's sober voice; and I am left to muse upon the story we have just now finished.
It makes me smile, at such a time as this, to think if there were any one to see me sitting in my easy-chair, my gray head hanging down, my eyes bent thoughtfully upon the glowing embers, and my crutch — emblem of my helplessness — lying upon the hearth at my feet, how solitary I should seem.  Yet though I am the sole tenant of this chimney-corner, though I am childless and old, I have no sense of loneliness at this hour; but am the centre of a silent group whose company I love.
Thus, even age and weakness have their consolations. If I were a younger man, if I were more active, more strongly bound and tied to life, these visionary friends would shun me, or I should desire to fly from them. Being what I am, I can court their society, and delight in it; and pass whole hours in picturing to myself the shadows that perchance flock every night into this chamber, and in imagining with pleasure what kind of interest they have in the frail, feeble mortal who is its sole inhabitant.
All the friends I have ever lost I find again among these visitors. I love to fancy their spirits hovering about me, feeling still some earthly kindness for their old companion, and watching his decay. "He is weaker, he declines apace, he draws nearer and nearer to us, and will soon be conscious of our existence." What is there to alarm me in this? It is encouragement and hope. [Master Humphrey's Clock, Chapter VI, "Master Humphrey from his Clock-side in the Chimney-Corner"]
Commentary: The Dozing Editor
Dickens and Phiz employ this tailpiece as a transition between the first and second serials in Master Humphrey's Clock. This fireplace scene complements Dickens's own ruminations on the nature of his weekly magazine in January 1841: "The clock does not stop, and was never intended to. It goes on but with a new story" ("CD to Basil Hall," cited in Lester 84}. The brief anticipatory note for Barnaby Rudge, according to Valerie Browne Lester, works effectively in its original, serial context because of Phiz's meditative plate:
it was left to Phiz to whet the public's appetite with an image of what lay in store. In a tailpiece to Dickens's transition, he pictured Master Humphrey's legs crossed, asleep in his chair, surrounded by little figures, including Mr. Punch, some wildly cavorting through the air, some referring directly to the forthcoming novel, some referring to the past. [1875], Dickens's Dream . . . , created shortly after Dickens's death [1875], in which all around him play the creatures of his — and his illustrators' — imagination. [84-85]
The serial readers in the transitional number of Master Humphrey's Clock (published on 6 February 1841) would not have known how to interpret any of the figures in the forthcoming novel whose title the editor's banner-page announces. Moreover, an analysis of the composition — startlingly — reveals no specific characters from the forthcoming serial. Later readers, familiar with Barnaby Rudge; or, The Riots of 'Eighty ((13 February-27 November 1841), would probably have looked for images of the story's principals: Grip, Barnaby, and his mother; Joe and Dolly; Mr. Haredale and his niece, Emma; the curmudgeonly publican of The Maypole, John Willet; Hugh the ostler and rebel, and his quondam sidekick, Dennis, the public hangman; elegantly attired Sir John Chester and his earnest son, Edward; the envious Cockney servant Miss Miggs, and the self-absorbed apprentice Sim Tappertit. Although a tome, presumably The Old Curiosity Shop, lies closed at Master Humphrey's feet, most of the characters emanate from it, rather than from the manuscript of the forthcoming novel. The absence of characters from the second novel — except, perhaps, for a bewigged and masked figure  at the editor's shoulder who might be Sir John Chester, suggests that Phiz knew little about the new work besides its short title. A young rebel who might be Sim appears, straddling a spear (upper left), but one can make no identification of the figure in eighteenth-century dress who prods Master Humphrey's head with his walking-stick (upper left-of-centre). Since the puppeteers Codlin and Short, Mr. Punch and Judy, and even Dick Swiveller are clearly identifiable figures in the right-hand register, we naturally look for specific characters from Barnaby Rudge to the left, but find none. Dickens had probably not taken Phiz into his confidence about most of the characters for their next work.
We may have in the text itself another reason for Master Humphrey's not dreaming about any specific characters from Barnaby Rudge as he nods off before his fireside. He has merely received the manuscript from another contributor to the Clock; and therefore he has as yet no precise notion of the manuscript's contents:
The handwriting was strange to me, for the manuscript had been fairly copied. As it is against our rules, in such a case, to inquire into the authorship until the reading is concluded, I could only glance at the different faces round me, in search of some expression which should betray the writer. Whoever he might be, he was prepared for this, and gave no sign for my enlightenment.
I had the papers in my hand, when my deaf friend interposed with a suggestion.
"It has occurred to me," he said, "bearing in mind your sequel to the tale we have finished, that if such of us as have anything to relate of our own lives could interweave it with our contribution to the Clock, it would be well to do so. This need be no restraint upon us, either as to time, or place, or incident, since any real passage of this kind may be surrounded by fictitious circumstances, and represented by fictitious characters.  What if we make this an article of agreement among ourselves?"
The proposition was cordially received, but the difficulty appeared to be that here was a long story written before we had thought of it. [227]
The temporal setting, five minutes to midnight, may also signify that time has run out on the eleven-month serialisation of The Old Curiosity Shop, and perhaps that the new day will bring a fresh story to the pages of Master Humphrey's Clock for 13 February 1841.
Grip and Dickens's plans for illustrating the new novel, January 1841
Although Dickens was enthusiastic about his new project because it would feature a version of his own pet raven, Grip, when he repeatedly wrote to George Cattermole about the new novel the illustrator simply failed to reply. Dickens had already written a considerable part of Barnaby Rudge for Richard Bentley's Miscellany before their rupture in 1839, and had even floated ideas for illustration to George Cruikshank. On 28 January 1841 Dickens approached Cattermole to request a study of Grip the Raven: "Should you like the subject where the raven makes his first appearance?" (cited in Lester, 88). However, by 9 February he had not heard back from Cattermole, and had had to invite Browne to confer with him about the raven illustrations. This conference and Phiz's own observations of Dickens's pet proved timely, for Grip died the next month. The absence of the raven, who is perhaps the most distinctive character in the forthcoming novel, is probably significant in Master Humphrey's Dream because the author had not yet pitched his ideas about Grip to Browne at the point Phiz executed the transitional tailpiece.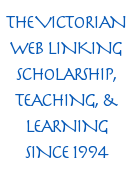 Related Material including Other Illustrated Editions of
The Old Curiosity Shop
Related Material including Other Illustrated Editions of
Barnaby Rudge
Scanned image and text by Philip V. Allingham. [You may use this image without prior permission for any scholarly or educational purpose, as long as you (1) credit the person who scanned the image, and (2) link your document to this URL in a web document or cite the Victorian Web in a print one.]
Bibliography
Dickens, Charles. The Old Curiosity Shop in Master Humphrey's Clock. Illustrated by Phiz, George Cattermole, Samuel Williams, and Daniel Maclise. 3 vols. London: Chapman and Hall, 1841; rpt., Bradbury and Evans, 1849.
Hammerton, J. A. "XIV. Barnaby Rudge and Master Humphrey's Clock." The Dickens Picture-Book. The Charles Dickens Library Edition. 18 vols. London: Educational Book, 1910. XVII: 213-65.
Lester, Valerie Browne. Phiz: The Man Who Drew Dickens. London: Chatto and Windus, 2004.
Vann, J. Don. "Charles Dickens. Barnaby Rudge in Master Humphrey's Clock, 13 February-27 November 1841." New York: MLA, 1985. 65-6.
_______. "Charles Dickens. The Old Curiosity Shop in Master Humphrey's Clock, 25 April 1840-6 February 1841." Victorian Novels in Serial. New York: MLA, 1985. 64-5.
---
Last modified 19 December 2020