I am not without hope, however, that it will become almost universal in its use, and that the system will be extended for manufacturing purposes, as well as general cemeteries, and also for horticultural buildings, so that even market gardeners will advantageously apply it in the growing of foreign fruits for the London markets.
I even go so far as to indulge in the sanguine hope that agriculture will be ultimately benefited by the application of cast iron and glass. In short, there is no limit to the uses to which it may be applied — no foresight can define the limits where it will end; and we may congratulate ourselves that in the nineteenth century the progress of science and the spirit of manufacturers have placed at our disposal the application of materials which were unknown to the ancients, and thereby enabled us to erect such structures as would have been deemed impossible even in the early part of the present century. — Joseph Paxton, "The Industrial Palace in Hyde-Park" —
General
Markets and Arcades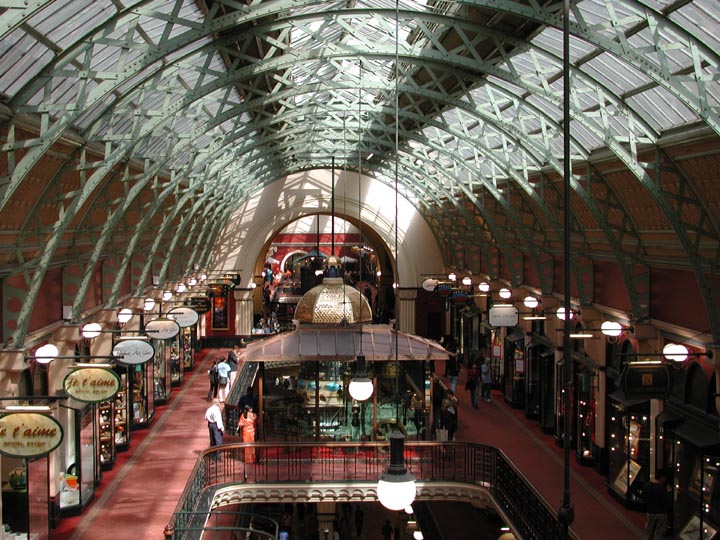 Museums and Exhibition Halls
Railroad Stations
Greenhouses
Miscellaneous
Related Material
A Review of Kate Colquhoun's

"The Busiest Man in England:" A Life of Joseph Paxton, Gardener, Architect, and Visionary
Bibliography — Newer Works
Armstrong, Isobel. Victorian Glassworlds: Glass Culture and the Victorian Imagination, 1830-1880. Oxford: Oxford UP, 2009.
In some respects an odd book, and in others an uneven one [in part because of some heavy, jargon-filled sentences], Victorian Glassworlds is nonetheless to be welomed as a major work, not least because of its willingness to put centre stage some of the strange and haunting details of Victorian life which have usually been relegated to the margins. — Robert Douglas-Fairhurst, TLS (11 July 2008): 29.
---
Last modified 24 November 2023