Biography
Charles Harrison Townsend (1851-1928) was a pivotal late Victorian/Edwardian architect and designer. Those of his buildings that are already known are outstanding for their originality, and more of his work is still coming to light. Writing in 1900, Hermann Muthesius greeted him and Charles Voysey as "prophets of the new style" (qtd. in Wood). Indeed, to some he is the only English architect who "can really be said to have worked in Art Nouveau" (Tschudi-Madson 280). Townsend himself, however, with his close association with the Art Workers' Guild, would doubtless have preferred to be seen as a freestyle exponent of the Arts and Crafts movement. In England, as David Crowley points out, Art Nouveau was "widely dismissed by practitioners" as not having any of the social and ethical ideals "so crucial" to that movement (137).
Born in Birkenhead, Cheshire, across the River Mersey from Liverpool, Townsend had his early training in Liverpool before becoming a draughtsman in Charles Barry's office in London. In 1875 he joined E. R. Robson in his new London School Board office, but in 1877 branched out on his own. Apart from a brief partnership with Thomas Lewis Banks in the mid-890s, his main connections thereafter were with RIBA, of which he was elected a Fellow in 1888, and the Art Workers' Guild, of which he became the Master in 1903. Among his friends were Walter Crane, Sir George Frampton and Robert Anning Bell. In true Arts and Crafts spirit, he designed furniture, textiles and wallpaper as well as buildings, and had a special interest in mosaics. The early 1890s found him working on houses and churches, particularly in the village of Blackheath in Surrey, described by Alastair Service as a "treasure chest for admirers of Townsend" ("Charles Harrison Townsend," 5).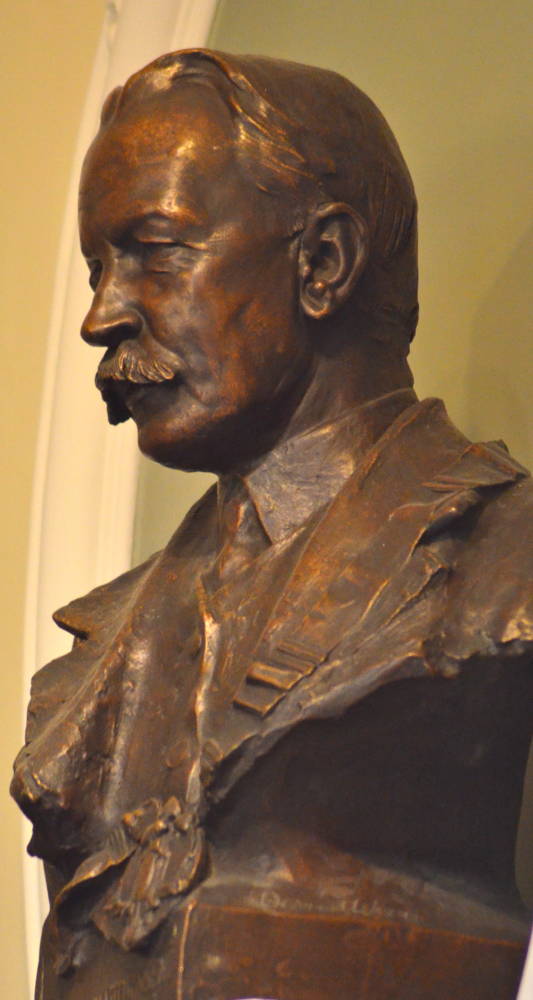 Charles Harrington Townsend, by Francis Derwent Wood, 1903. This was the year in which Townsend became Master of the Art Workers' Guild; he looks very Edwardian here. By kind permission of the Art Workers Guild, London.
Although Townsend never married, he had a very close family. Census returns show that he shared his home with his older sister Pauline. Between them they looked after their nephew, the son of their brother Felix, who had died of a stroke while travelling back to Britain from New Zealand. Significantly for Townsend's career, Pauline worked for Samuel and Henrietta Barnett, friends of the tireless social reformer Octavia Hill, for twenty-two years, and shared their desire to help the deprived people of London, especially those of the Rev. Barnett's parish of St Jude's, Whitechapel (see Creedon). Such contacts were as important for Townsend as his friendships with other members of the Arts and Crafts community, and of course the aims and ideologies of these groups overlapped and reinforced each other. Townsend became architect and surveyor to the Kyrle Society, founded in 1876 by Miranda Hill, Octavia's sister, to promote the crafts and above all "to bring the refining and cheering influences of natural and artistic beauty home to the people" (qtd. in Meacock).
Later in the 90s, Townsend received some important commissions, all for institutions in poorer parts of London: the Bishopsgate Institute, the Whitechapel Art Gallery and the Horniman Museum in Forest Hill. These are the works for which he is now best known. Like many Victorian buildings, early or late, they have not always been appreciated. In 1950, for instance, Reginald Turnor wrote positively enough about the "much ridiculed school" of Art Nouveau in what he considered to be its "modified" British form, recognising that "its essence was aesthetic and anti-mechanical"; but dismissed Townsend as its "worst exponent" (109). The other architects Turnor mentions are Voysey again, Charles Rennie Mackintosh, George Walton, and William Lethaby. However we categorise Townsend, he was the only one of these, besides Mackintosh with his iconic Glasgow School of Art, to have produced major public buildings. Fortunately and deservedly, all three of his buildings are much loved today. All have recently been beautifully restored, and all are being used as originally intended. The Horniman Museum, in particular, is a triumph. Moreover, his less angular, more rounded buildings with their "surging organic shapes" (Service, Edwardian Architecture, 162) sit even better in a rural environment: an outstanding example here is the church of St Mary the Virgin in Warley, Essex. Simon Jenkins lists it among the top 100 in the country and calls it a "wondrous church" (189).
Nothing can quite account for what Nikolaus Pevsner called Townsend's remarkably "reckless repudiation" of more traditional forms of architecture (qtd. in Service, Edwardian Architecture, 163). But Sarah Sullivan suggests that he was heavily influenced by W. R. Lethaby's lecture and book Architecture, Mysticism and Myth, and that the symbolism from it can be seen quite clearly in all his work. Note, for example, Lethaby's chapter on the symbolic function of trees (Chapter V, "The Jewel-Bearing Tree") and Townsend's fondness for the tree motif. It is used on the façades of all three public buildings. Townsend also took something from his travels on the Continent, which he had been visiting since as early as 1875, and, more unusually, probably from America too. On the committee for the Whitechapel Art Gallery had been the artist Hubert von Herkomer, who had a wonderful Arts and Crafts house designed by the American architect Henry Hobson Richardson (1838-1886), the only such house in Britain. Along with reports sent back from America by Townsend's youngest brother Horace, an architectural correspondent, this house seems to have imparted something of the Romanesque Revival (also known as Richardsonian Romanesque) into his designs. Townsend's own fame soon spread: in 1925 he himself noted that his watercolour of the Whitechapel Gallery had been "very frequently reproduced in England and abroad" (qtd. in Escritt, "Charles Harrison Townsend," 31). So the current flowed both ways.
More works by this inspiring architect are still being identified. Nevertheless, perhaps it was natural that his oeuvre should have ended largely where it began, with smaller-scale projects. By the end of the century Victorian eclecticism was already developing flourishes that were inimical both to his aesthetics and to the earnest Art and Crafts ideals of Webb, Morris and their successors. Witness, for example, John Johnson's highly embellished Leyton Town Hall (1894-6) on the one hand, and the Decadent aspects of Art Nouveau on the other. But Townsend's landmark London buildings survive to testify to his vision of a built environment in harmony with the natural one, even in a bustling urban setting.
—
Jacqueline Banerjee
, with welcome contributions, especially on Townsend's life and inspirations, by Sarah Sullivan of the
Charles Harrison Townsend website
.
Buildings
Other works
Related Material
Sources
Cherry, Bridget, et al. London: East, Vol. 5, The Buildings of England series. New Haven & London: Yale, 2005.
Crawley, David. Introduction to Victorian Style. Royston, Herts.: Eagle Editions, 1998.
Creedon, Alison. "Only a Woman": Henrietta Barnett: Social Reformer and Founder of Hampstead Garden Suburb. Andover, Hamps.: Phillimore, 2006.
Escritt, Stephen. Art Nouveau. London: Phaidon, 2000.
_____. "Charles Harrison Townsend, the Whitechapel Gallery and the Enigma of English Art Nouveau." Rises in the East: A Gallery in Whitechapel, by Katrina Schwarz et al. London: Whitechapel Art Gallery, 2009. 16-32.
Forty, Adrian, rev. "Townsend, Charles Harrison (1851-1928)." The Oxford Dictionary of National Biography. Online ed. 19 Dec. 2010.
Hitchcock, Henry-Russell. Architecture: Nineteenth and Twentieth Centuries. 2nd ed. Baltimore: Penguin Books, 1963.
St Mary the Virgin, Warley. Church website. Web. 15 Dec. 2010.
Jenkins, Simon. England's Thousand Best Churches. Rev. ed. London: Allen Lane, 2004.
Lethaby, W. R. Architecture, Mysticism and Myth. New York: Macmillan, 1892. Internet Archive. Web. 19 Dec. 2010.
Meacock, Joanna. Introductory Essay: "The Exhibition Society." Part of a University of Glasgow project on "Exhibition Culture in London: 1878-1908." Web. 19 Dec. 2010.
Service, Alastair. Edwardian Architecture and its Origins. Oxford: Architectural Press, 1975.
_____. "Charles Harrison Townsend." Excerpt from an article in the Architectural Association Quarterly 6 (2), 1974, available in the Horniman Museum.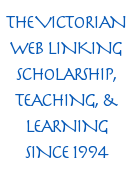 Sullivan, Sarah. "Charles Harrison Townsend, 1851-1928." Site created for the Arts & Crafts Movement in Surrey, showing Townsend's work in Blackheath. Web. 19 Dec. 2010.
Beautiful Buildings in France and Belgium. New York: Hubbell, 1916. Internet Archive. Web. 19 Dec. 2010.
"Textile Design Entitled 'Omar'" (discussion of one of Townsend's floral motifs). Victoria and Albert Museum. Web. 15 Dec. 2010.
Tsuchdi-Madson, Stephan. The Art Nouveau Style: A Comprehensive Guide with 264 Illustrations. London: Dover, 2002.
Turnor, Reginald. Nineteenth Century Architecture in Britain. London: Batsford, 1950.
---
Last modified 25 June 2015