Biography
Charles Francis Annesley Voysey was born at Hessle, near Hull in-Yorkshire, the son of a schoolmaster who become Vicar of Healaugh; who was tried as a heretic for denying the doctrine of everlasting hell and deprived of his living. Voysey was educated by his father, who was a most important influence on his life, then briefly at Dulwich College. In 1874 Voysey was articled to J. P. Seddon; he remained in the office first as a pupil and then as assistant until 1879. After a short time in the office of Saxon Snell, he accepted an offer to join the stuff of George Devey as assistant.
In 1882 he set up his own practice in Westminster carrying out surveys and alterotions. In the following years he concentrated mainly on decorative work and was a founder member of the Art Workers' Guild in 1884. From 1883 he concentrated on designs for fabrics and wallpapers until his first architectural commission, a house for M. H. Lakin at Bishops' Itchington in 1888, led to further offers of architectural work The charocteristics of his earlier style, inherited from Devey and Nomman Shaw, soon gave way to the more uncompromising manner for which he is better known.
In 1900 he completed "The Orchard," his own house at Chorley Wood, Hertfordshire, for which he designed most of the fumiture, and which was to be the most characteristic expression of his artistic personality. In 1914 with the outbreak of war his architectural practice virtually ceased, but in the 1920s he again took up decorutive designing and a retrospective exhibition of his work held in 1931 at the Batsford Galleries inspired Pevsner's eulogistic assessment of his contribution to the establishment of a recognisable modern idiom in his Pioneers of the Modern Movement (pp. 141ff), which appeared in 1936. — Architect-Designers from Pugin to Mackintosh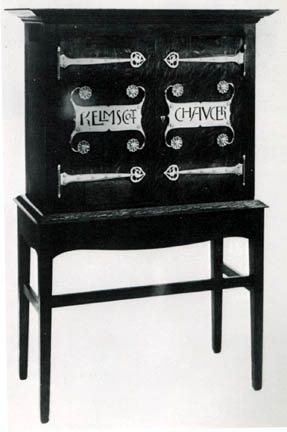 Furniture
Metalwork
Textiles and wallpaper
Tiles
Related Materials
Related Web Resources
References
Architect-Designers from Pugin to Mackintosh. Exhibition catalogue. London: The Fine Art Society with Haslam & Whiteway Ltd., 1981. P. 32.
"The Arts and Crafts Exhibtion, 1896 (Third Notice)."The Studio (1896): 189-205. Internet Archive digitized from a copy in the University of Toronto Library.
Brandon-Jones, John, et al. C.F.A. Voysey: Architect and Designer, 1857-1941. Bradford, Yorkshire: Lund Humphries, 1978.
Gebhard, David. Charles F.A. Voysey, Architect. Los Angeles: Hennessey & Ingals, 1975.
Last modified 6 December 2012