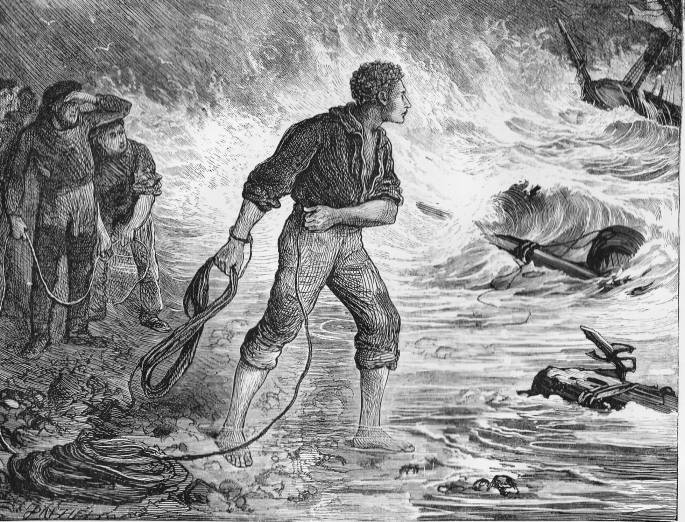 "The Storm" [The stalwart Ham Peggotty prepares to swim to the wreck and attempt the rescue of those unfortunates still onboard, including a young man in a red wollen touque stranded on the mast of the Iberian schooner.] 1872. The highly dramatic fifty-fifth illustration by Fred Barnard for the Household Edition of David Copperfield (Chapter LV, "Tempest," facing p. 396). Descriptive headline: "Ham and the Wrecked Ship" (395). 13.2 x 17.1 cm (5 ⅛ by 6 ¾ inches) framed. [Click on the image to enlarge it; mouse over links.]
Passage Illustrated: The Working-class Hero in an Elemental Struggle
They were making out to me, in an agitated way — I don't know how, for the little I could hear I was scarcely composed enough to understand — that the lifeboat had been bravely manned an hour ago, and could do nothing; and that as no man would be so desperate as to attempt to wade off with a rope, and establish a communication with the shore, there was nothing left to try; when I noticed that some new sensation moved the people on the beach, and saw them part, and Ham come breaking through them to the front.
I ran to him — as well as I know, to repeat my appeal for help. But, distracted though I was, by a sight so new to me and terrible, the determination in his face, and his look out to sea — exactly the same look as I remembered in connexion with the morning after Emily's flight—awoke me to a knowledge of his danger. I held him back with both arms; and implored the men with whom I had been speaking, not to listen to him, not to do murder, not to let him stir from off that sand!
Another cry arose on shore; and looking to the wreck, we saw the cruel sail, with blow on blow, beat off the lower of the two men, and fly up in triumph round the active figure left alone upon the mast.
Against such a sight, and against such determination as that of the calmly desperate man who was already accustomed to lead half the people present, I might as hopefully have entreated the wind. 'Mas'r Davy,' he said, cheerily grasping me by both hands, "if my time is come, 'tis come. If 'tan't, I'll bide it. Lord above bless you, and bless all! Mates, make me ready! I'm a-going off!"
I was swept away, but not unkindly, to some distance, where the people around me made me stay; urging, as I confusedly perceived, that he was bent on going, with help or without, and that I should endanger the precautions for his safety by troubling those with whom they rested. I don't know what I answered, or what they rejoined; but I saw hurry on the beach, and men running with ropes from a capstan that was there, and penetrating into a circle of figures that hid him from me. Then, I saw him standing alone, in a seaman's frock and trousers: a rope in his hand, or slung to his wrist: another round his body: and several of the best men holding, at a little distance, to the latter, which he laid out himself, slack upon the shore, at his feet.
The wreck, even to my unpractised eye, was breaking up. I saw that she was parting in the middle, and that the life of the solitary man upon the mast hung by a thread. Still, he clung to it. He had a singular red cap on, — not like a sailor's cap, but of a finer colour; and as the few yielding planks between him and destruction rolled and bulged, and his anticipative death-knell rung, he was seen by all of us to wave it. I saw him do it now, and thought I was going distracted, when his action brought an old remembrance to my mind of a once dear friend.
Ham watched the sea, standing alone, with the silence of suspended breath behind him, and the storm before, until there was a great retiring wave, when, with a backward glance at those who held the rope which was made fast round his body, he dashed in after it, and in a moment was buffeting with the water; rising with the hills, falling with the valleys, lost beneath the foam; then drawn again to land. They hauled in hastily. [Chapter LV, "Tempest," 396]
Commentary: Barnard underscores Ham's selfless heroism
Once again, David finds himself in Yarmouth, his mission to deliver a letter to Ham from Em'ly, who is emigrating to Australia to escape her shameful past and make a new start, leaving her former fiancé behind. As David approaches the port, he encounters high winds, and, by the time he arrives, a veritable tempest has struck the coast. Putting up at the inn, David goes down to the shore to see the storm for himself, but learns that Ham has gone to a nearby village. Overnight the sea rises, and David awakens to learn that a wreck has come ashore. The ship in distress is not a coaster, but a schooner from Spain or Portugal. Since the Yarmouth lifeboat can make no progress in the high surf, Ham, who has just returned from Lowestoft, agrees to wade through the surf with a rope wrapped around him to connect him to the shore. Before he can reach the vessel in distress, it suddenly breaks up, killing him.
In Phiz's original October 1850 engraving I am the bearer of evil tidings, David announces the death of Steerforth to his mother and Rosa Dartle at Highgate very much after the fact. Yet in the Barnard sequence the tempest of the chapter title occurs twice, once in its own right as the massive backdrop for Ham's death in They drew him to my very feet — insensible — dead, and again here as a backdrop for Ham's preparing to wade out to the wreck to save those still stranded onboard. Barnard must have relished this opportunity to demonstrate Ham's selfless heroism as he has devoted a full folio page to his subject, the Yarmouth seaman as the living embodiment of Michaelangelo's David. This is one of the two largest of the sixty-two illustrations in Volume Three of the 1872 Household Edition, the other being that tragic scene which realizes David's reading the letter in which Em'ly announces to her anguished family that she has run off with Steerforth to be a "lady": "Read it, sir," he said, in a low shivering voice. "Slow, please. I doen't know as I can understand" (Chapter XXXI, "A Greater Loss," facing p. 224).
Realisations of News of the Deaths of Ham and Steerforth (1850, 1872, and 1910)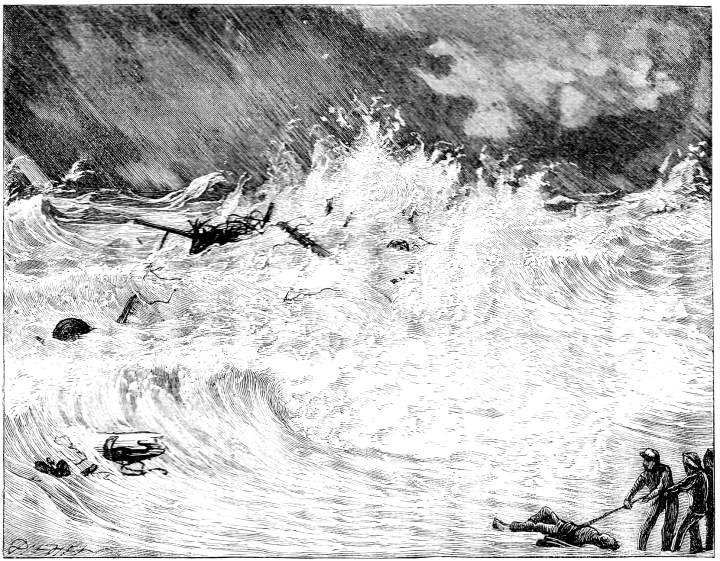 Left: Fred Barnard's Household Edition realizes the death of Ham, not of Steerforth: They drew him to my very feet — insensible — dead. (1872). Centre: Phiz's original version of the scene in which David's announces Steerforth's death to his mother and Rosa Dartle: I am the bearer of evil tidings (October 1850). Right: Harry Furniss's dramatic realisation of David's seeing Steerforth's body washed ashore: The End of Steerforth (1910).
Related Material
Scanned image and text by Philip V. Allingham. [You may use this image without prior permission for any scholarly or educational purpose as long as you (1) credit the person who scanned the image and (2) link your document to this URL in a web document or cite the Victorian Web in a print one.]
The copy of the Household Edition from which this picture was scanned was the gift of George Gorniak, Editor of The Dickens Magazine, whose subject for the fifth series, beginning in January 2010, is this novel.
Bibliography
Bentley, Nicolas, Michael Slater, and Nina Burgis. The Dickens Index. Oxford and New York: Oxford U. P., 1988.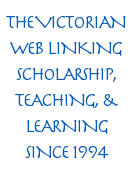 Dickens, Charles. David Copperfield. Illustrated by Hablot Knight Browne ("Phiz"). The Centenary Edition. 2 vols. London and New York: Chapman & Hall, Charles Scribner's Sons, 1911.
_______. The Personal History of David Copperfield. Illustrated by Sol Eytinge, Jr. The Diamond Edition. 14 vols. Boston: Ticknor & Fields, 1867. Vol. V.
_______. David Copperfield, with 61 illustrations by Fred Barnard. Household Edition. London: Chapman and Hall, 1872. Vol. III.
_______. The Personal History and Experiences of David Copperfield. Illustrated by Harry Furniss. The Charles Dickens Library Edition. London: Educational Book Company, 1910. Vol. X.
---
Created 17 August 2016 Last modified 25 August 2022