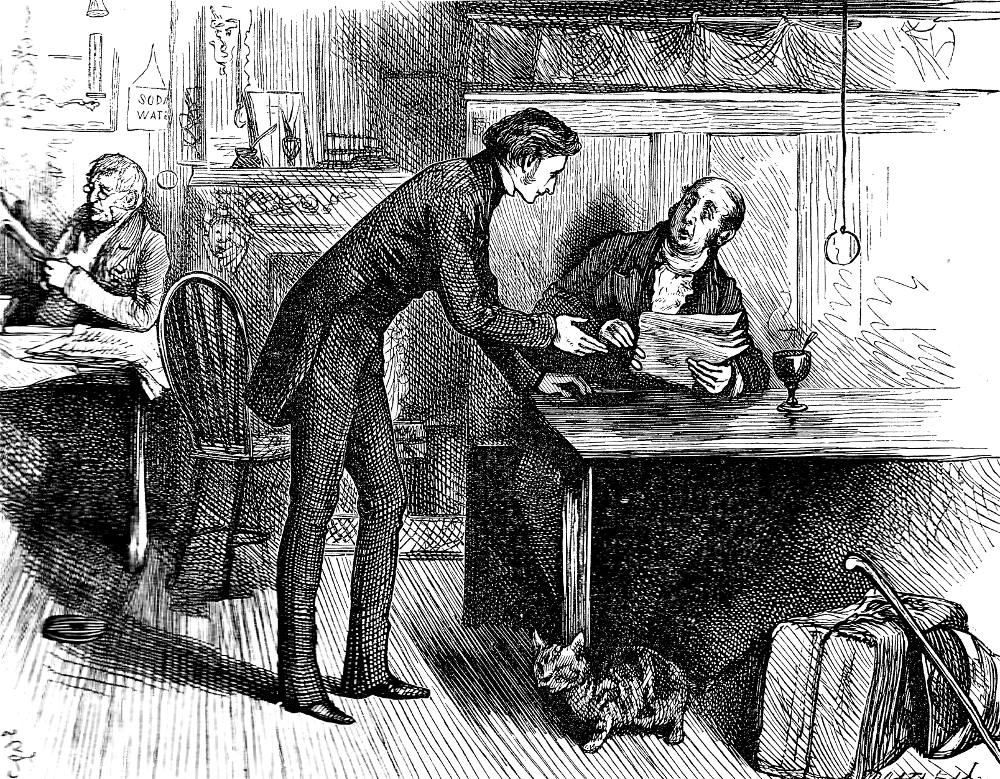 I walked up to where he was sitting, and said, "How do you do, Mr. Chillip?" 1872. Fifty-sixth illustration by Fred Barnard for the Household Edition of David Copperfield (Chapter LIX, "Return," but positioned on p. 401). Descriptive headline: "Latest Intelligence of the Murdstones" (415). 10.7 x 13.8 cm (4 ¼ by 5 ½ inches) framed. [Click on the image to enlarge it; mouse over links.]
Passage Illustrated: A Figure from David's Blunderstone Past
Little Mr. Chillip the Doctor, to whose good offices I was indebted in the very first chapter of this history, sat reading a newspaper in the shadow of an opposite corner. He was tolerably stricken in years by this time; but, being a mild, meek, calm little man, had worn so easily, that I thought he looked at that moment just as he might have looked when he sat in our parlour, waiting for me to be born.
Mr. Chillip had left Blunderstone six or seven years ago, and I had never seen him since. He sat placidly perusing the newspaper, with his little head on one side, and a glass of warm sherry negus at his elbow. He was so extremely conciliatory in his manner that he seemed to apologize to the very newspaper for taking the liberty of reading it.
I walked up to where he was sitting, and said, "How do you do, Mr. Chillip?"
He was greatly fluttered by this unexpected address from a stranger, and replied, in his slow way, "I thank you, sir, you are very good. Thank you, sir. I hope you are well."
"You don't remember me?" said I. [Chapter LIX, "Return," 414]
Commentary: Three Years Later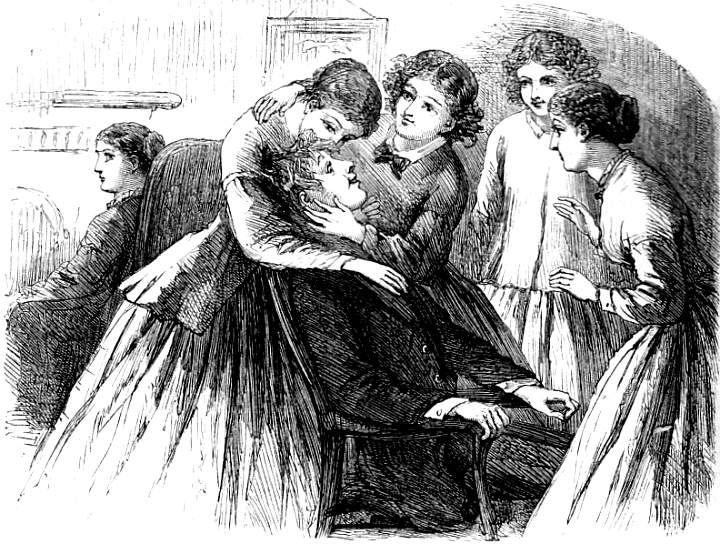 Left: Sol Eytinge, Junior's, delightful portrait of Tommy with the Crewler sisters, his sixteenth and ultimate illustration in the Diamond Edition of 1867, underscores the note of romance in these concluding chapters: Traddles and the Girls. Right: Phiz's original serial engraving for the November 1850 number focuses not on romance but on the fates of the rascals who caused so much trouble, Heep and Littimer: I Am Shewn Two Interesting Penitents.
The emigration of the Peggottys and the Micawbers, as well as the deaths of Dora, Ham, and Steerforth, recede into the past as the narrative now leaves a gap in the chronological sequence. David has spent the last three years in a remote Swiss village (perhaps reflecting the Dickens's 1846 visit there), brooding over the death of his belovéd child-wife. In Chapter 59 the young writer returns to England on a wintry, damp fall evening. Aunt Betsey has gone back to Dover, and school chum Tommy Traddles has opened a legal practice, with professional and private chambers at Gray's Inn: Number two in the Holborn Court. Just six weeks previous he finally married Sophy Crewler. David now realizes that he has been in love with Agnes for years, but fears that she may well have married in his absence. (In fact, she has not married, but is running a girls' school.)
The present illustration, set in the Coffee Room at Gray's Inn, marks David's return to familiar scenes from before his Swiss sojourn. He is finally back in London, where he encounters figures from his past such as the now happily married Tommy and Sophy Traddles, and the Blunderstone physician who attended David's own birth, Mr. Chillip. The meeting confirms the news that that the mild-mannered widower has remarried, although the new spouse seems ill-matched; taller than he, raw-boned, and "high-nosed." That the middle-aged couple have recently had a baby suggests that David, too, may have a second chance at marriage and family.
Related Material
Scanned image and text by Philip V. Allingham. [You may use this image without prior permission for any scholarly or educational purpose as long as you (1) credit the person who scanned the image and (2) link your document to this URL in a web document or cite the Victorian Web in a print one.]
The copy of the Household Edition from which this picture was scanned was the gift of George Gorniak, Editor of The Dickens Magazine, whose subject for the fifth series, beginning in January 2010, is this novel.
Bibliography
Bentley, Nicolas, Michael Slater, and Nina Burgis. The Dickens Index. Oxford and New York: Oxford U. P., 1988.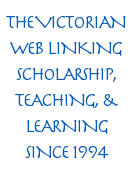 Dickens, Charles. David Copperfield. Illustrated by Hablot Knight Browne ("Phiz"). The Centenary Edition. 2 vols. London and New York: Chapman & Hall, Charles Scribner's Sons, 1911.
_______. The Personal History of David Copperfield. Illustrated by Sol Eytinge, Jr. The Diamond Edition. 14 vols. Boston: Ticknor & Fields, 1867. Vol. V.
_______. David Copperfield, with 61 illustrations by Fred Barnard. Household Edition. London: Chapman and Hall, 1872. Vol. III.
_______. The Personal History and Experiences of David Copperfield. Illustrated by Harry Furniss. The Charles Dickens Library Edition. London: Educational Book Company, 1910. Vol. X.
---
Created 17 August 2016 Last modified 26 August 2022