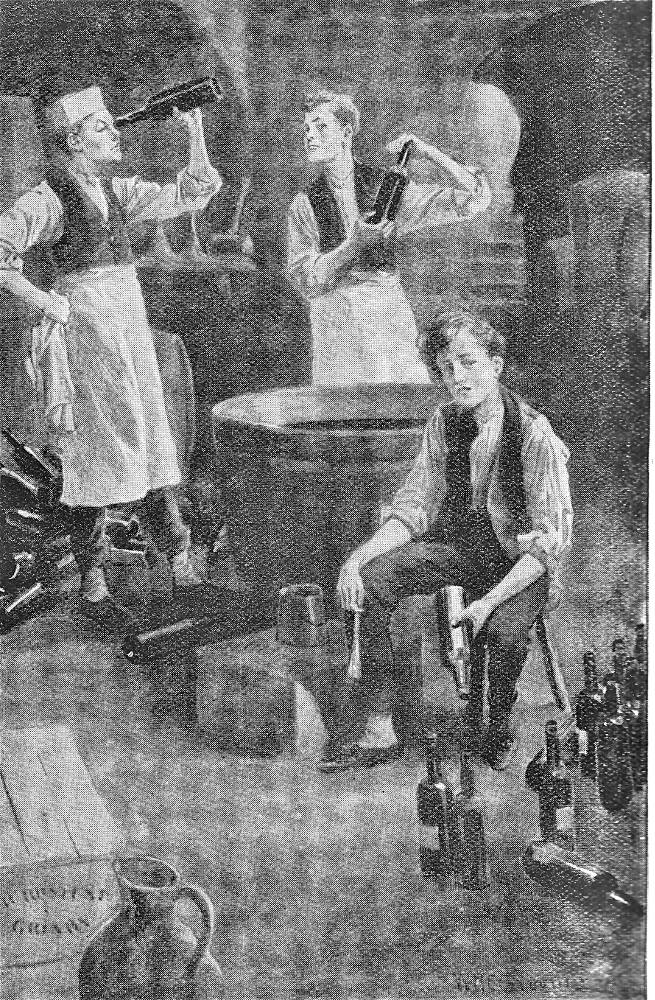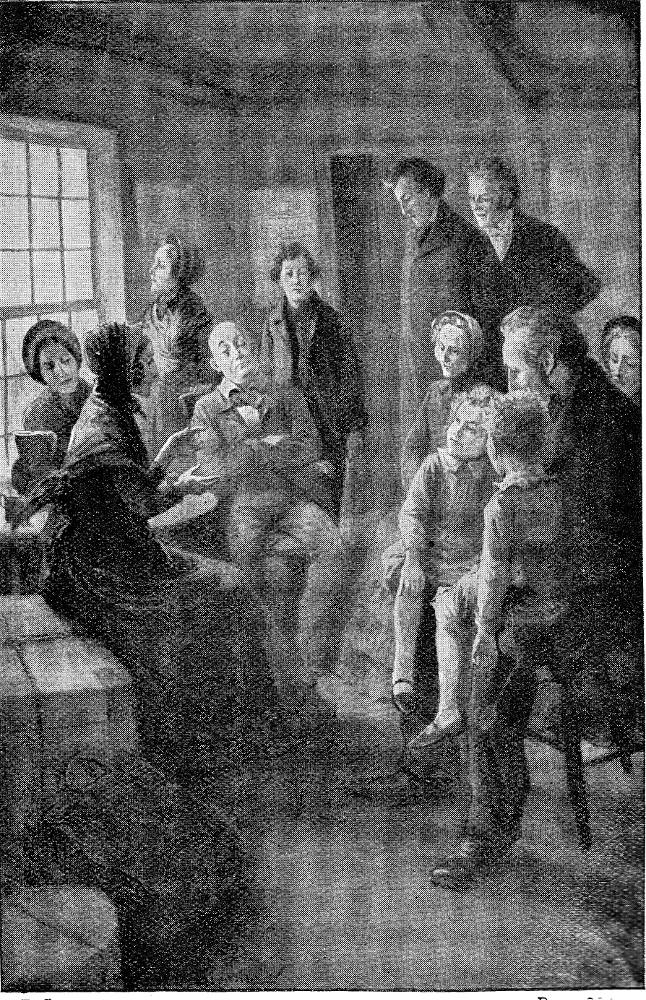 Left: Engraved title-page. Left of centre: "Barkis is willin'," says you.. Right of centre: Bottle-washing at Murdstone & Grinby's. Right: "And when does the ship sail, Mr. Micawber?"
Seven Illustrations for
David Copperfield

(1907)

In two of the seven small-scale lithographs, Groome does not prominently depict the narrator, David, whom he often relegates to the position of mere observer rather than grants him the status of a principal actor. The exceptions are the scenes in which Barkis asks David to make his marriage proposal to Clara Peggotty, and that in which David encounters Dora Spenlow alone, I turned a corner, and met her. Groome's seven lithographs contain a total of twenty-one named characters in a novel that in its initial serialisation had six times as many full-page illustrations. However, certain characters predominate: David appears in all seven plates, and Dan'l Peggotty in three, for example; however, most of the characters appear just once or twice each. Three illustrations contain six or more figures, with the culminating scene of the Australian immigrants containing most of the cast (twelve), except Uriah Heep and his mother.
Number of appearances by twenty-one characters (39 figures)
David Copperfield: 7
Dan'l Peggotty: 3
Ham Peggotty: 3
Clara Peggotty: 3
Mrs. Gummidge: 3
Wilkins Micawber: 2
Agnes Whitfield: 2
Tommy Traddles: 2
Em'ly Peggotty: 2
Barkis of Yarmouth: 1
Mrs. Emma Micawber: 1
Mrs. Heep: 1
Uriah Heep: 1
Micawber twins: 1
Aunt Betsey Trotwood: 1
Dora Spenlow: 1
Mr. Whitfield: 1
Mr. Dick: 1
Bottling Boys: Mealy Potatoes and Mick Walker, 1 each.
Groome's Edwardian illustrations reveal, despite their small dimensions (12.4 cm high by 8.0 cm wide, on pages measuring 15.2 cm by 9.5 cm — standard for the Collins' Clear-type Editions), a sure sense of composition. Although Groome generally prefers scenes between a limited number of characters, such as "Nelly was soon engaged in her task" in Ch. XVI of The Old Curiosity Shop, in the Copperfield series (perhaps because he was responding to Barnard's Household Edition illustrations), Groome captures a group attending to a single speaker as a play unfolds before them, as in Micawber's triumphant denunciation of the duplicitous Uriah Heep in "You — you Heep of infamy." As in his other Dickens illustrations, here Groome puts his grouped characters and the spokesperson in focus, and tends to throw the backdrop slightly out of focus.
Other Principal Illustrated Editions of the Novel (1840-1910)
Scanned images, colour correction, sizing, caption, and commentary by Philip V. Allingham. [You may use this image without prior permission for any scholarly or educational purpose, as long as you (1) credit the person who scanned the image, and (2) link your document to this URL in a web document or cite the Victorian Web in a print one.] Click on the image to enlarge it.
Bibliography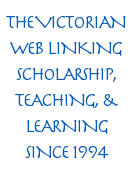 Dickens, Charles. David Copperfield. Illustrated by W. H. C. Groome. London and Glasgow, 1907.
---
Created 4 July 2022