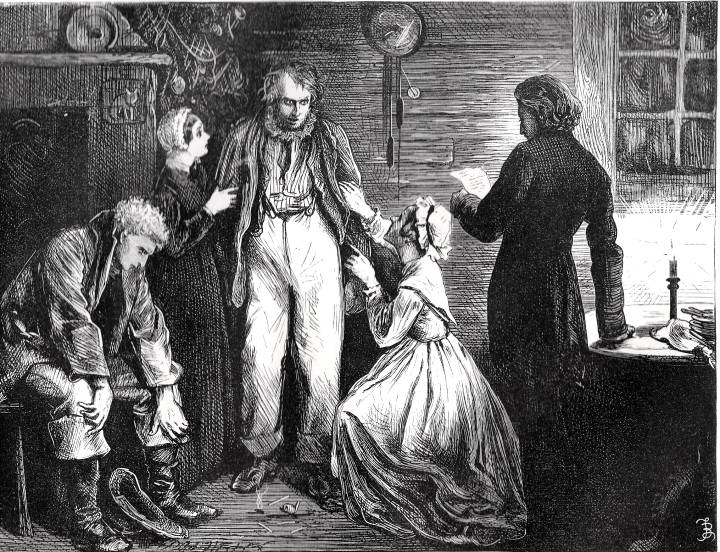 "Read it, sir," he said, in a low shivering voice. "Slow, please. I doen't know as I can understand." — Thirty-second illustration by Fred Barnard for the 1872 Household Edition of David Copperfield (Chapter XXXI, "A Greater Loss," facing p. 224) Full-page, 13.3 cm by 17.1 cm (5 ⅜ by 6 ¾ inches), framed. [Click on the image to enlarge it. Mouse over text for links.]
Passage Illustrated: Em'ly announces she has run off with Steerforth
Clayton J. Clarke's Player's Cigarette Card No. 40: Dan'l Peggotty (c. 1910).
I remember a great wail and cry, and the women hanging about him, and we all standing in the room; I with a paper in my hand, which Ham had given me; Mr. Peggotty, with his vest torn open, his hair wild, his face and lips quite white, and blood trickling down his bosom (it had sprung from his mouth, I think), looking fixedly at me.
"Read it, sir," he said, in a low shivering voice. "Slow, please. I doen't know as I can understand."
In the midst of the silence of death, I read thus, from a blotted letter: —
'"When you, who love me so much better than I ever have deserved, even when my mind was innocent, see this, I shall be far away."'
"I shall be fur away," he repeated slowly. "Stop! Em'ly fur away. Well!"
'"When I leave my dear home — my dear home — oh, my dear home! — in the morning,"'
the letter bore date on the previous night:
'" — it will be never to come back, unless he brings me back a lady. This will be found at night, many hours after, instead of me. Oh, if you knew how my heart is torn. If even you, that I have wronged so much, that never can forgive me, could only know what I suffer! I am too wicked to write about myself! Oh, take comfort in thinking that I am so bad. Oh, for mercy's sake, tell uncle that I never loved him half so dear as now. Oh, don't remember how affectionate and kind you have all been to me — don't remember we were ever to be married — but try to think as if I died when I was little, and was buried somewhere. Pray Heaven that I am going away from, have compassion on my uncle! Tell him that I never loved him half so dear. Be his comfort. Love some good girl that will be what I was once to uncle, and be true to you, and worthy of you, and know no shame but me. God bless all! I'll pray for all, often, on my knees. If he don't bring me back a lady, and I don't pray for my own self, I'll pray for all. My parting love to uncle. My last tears, and my last thanks, for uncle!"'
That was all. [Chapter XXXI, "A Greater Loss," 224]
Commentary: A Pivotal Scene in the Novel
The "greater loss," the rupture of the Peggotty household, coincides with David's loss of Steerforth as a friend from childhood, when he served as David's protector and mentor at Salem House Academy. Henceforth, David will see Steerforth in his true colours as the rake who seduced and carried off the working-class girl who aspired to be a lady, no matter how much she hurt her family and her fiancé, Ham. Barnard signals that this is one of the narrative's chief moments by realizing it in a full-page woodcut, one of just four in the Household Edition volume. In its staginess it is reminiscent of domestic melodrama as the family tries to come to grips with the social diaster that has befallen it: the daughter of the house has become a Fallen Woman.
Dickens has already dealt with the topos of the Fallen Woman through his depiction of the other seamstress, Martha, the subject of Chapter Twenty-two's illustration by Phiz in the serialisation of the novel (September 1849). As a writer for the respectable classes Dickens could not go so far as justifying the fallen woman, but he could — and did — compel his readers to sympathize with her, in part, by avoiding describing the precise nature of her transgression. Rather, here Dickens shows the effects of her sin upon those who have brought her up and loved her.
Other Studies of the Sensation Scene in the Houseboat and its Upshot (1850-1872)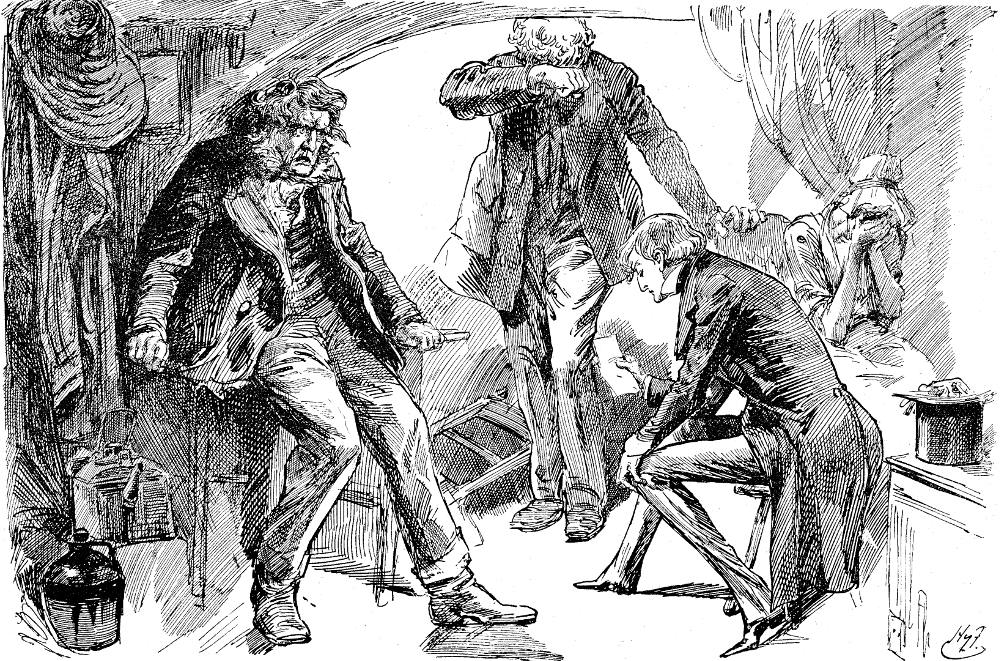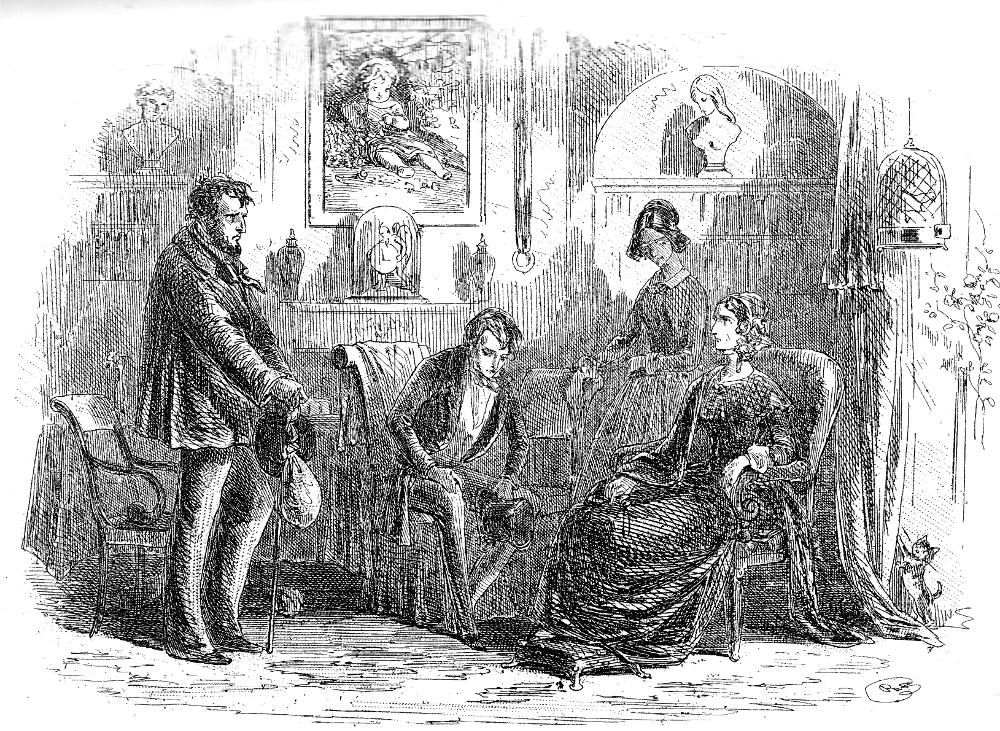 Left: Harry Furniss's Charles Dickens Library Edition version of the same scene heightens the domestic melodrama: The Letter from Em'ly (1910). Right: Phiz's original serial illustration of Dan'l Peggotty's visit to Steerforth's mother as his quest for Em'ly begins: Mr. Peggotty and Mrs. Steerforth (Instalment No. 10, February 1850). [Click on the images to enlarge them.]
Barnard's Three Other Full-Page Illustrations (1872)
Related Material
Scanned image and text by Philip V. Allingham. [You may use this image without prior permission for any scholarly or educational purpose as long as you (1) credit the person who scanned the image and (2) link your document to this URL in a web document or cite the Victorian Web in a print one.]
Bibliography
Dickens, Charles. The Personal History of David Copperfield, illustrated by Hablot Knight Browne ("Phiz"). The Centenary Edition. London & New York: Chapman & Hall, Charles Scribner's Sons, 1911 [rpt. from 1850]. 2 vols.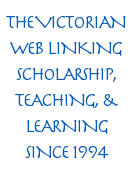 _______. David Copperfield, with 61 illustrations by Fred Barnard. Household Edition. London: Chapman and Hall, 1872. Vol. 3.
_______. David Copperfield. Illustrated by W. H. C. Groome. London and Glasgow: Collins Clear-type Press, 1907. No. 1.
The copy of the Household Edition from which this picture was scanned was the gift of George Gorniak, Editor of The Dickens Magazine, whose subject for the fifth series, beginning in January 2010, is this novel.
---
Created 20 August 2016 Last modified last updated 8 August 2022