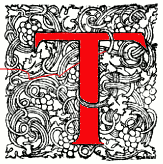 here were two painting Stannard families, of Norwich and of Bedford, the former specialising in landscape and still-life and the latter in various subjects, notably flowers/gardens. This entry deals largely with the Norwich artists.
Joseph Stannard (1797-1830) and his brother Alfred (1806-1889) worked in Norwich. Joseph married Emily Coppin (1803-1885), daughter of an artist and herself a flower painter. In the next generation, Joseph's daughter Emily (1827-1894), Alfred's daughter Eloise Harriet (1829-1915), son Alfred George (1828-1885) and daughter-in-law Anna also painted professionally.
Joseph Stannard (1797-1830) and Alfred Stannard (1806-1889)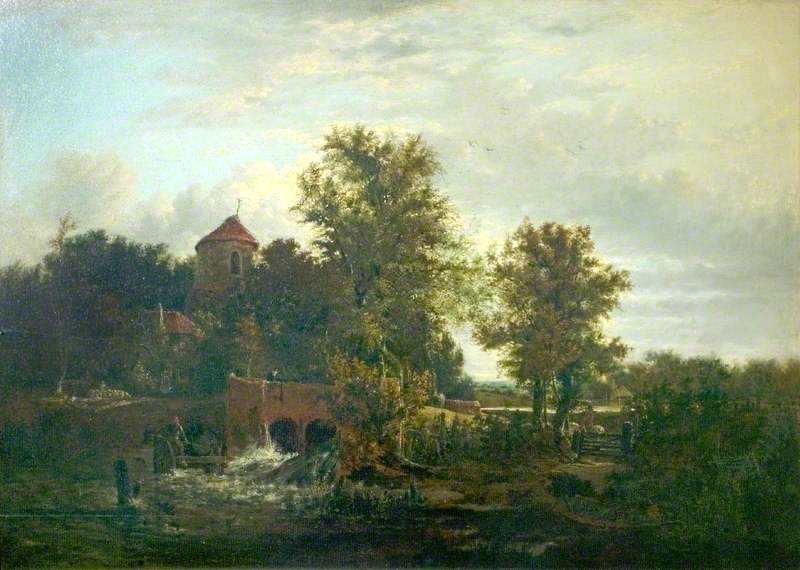 Joseph Stannard's Buckenham Ferry, on the River Yare, Norfolk, 1826. Right: Alfred Stannard's Sluice Gate, River Wensum, Norfolk, 1828. [Click on these and the follwong images to enlarge them and to find out more about them.]
Joseph Stannard was trained in the circle of the Norwich School, made famous by John Crome and John Cotman, and favoured the local scenery as subject-matter, achieving notice as a landscape and marine painter. He began exhibiting at the age of fourteen (1811), extending his reach to London (Royal Academy) in 1820. Never of robust health, he died from tuberculosis in 1830. Alfred Stannard, trained by his brother Joseph who was his senior by nine years, achieved a modest reputation as a minor member of the Norwich School.
Emily Coppin Stannard (1803-1885) and Emily Stannard (1827-1894)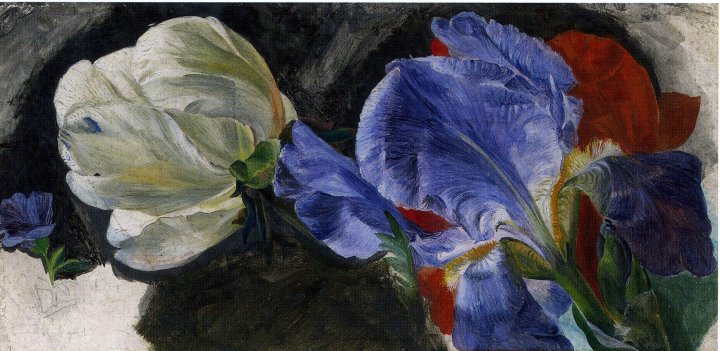 Emily Coppin Stannard's A Study of Flowers.
Emily Coppin Stannard, whom Joseph married in 1826, was trained by her father and specialised in still life. To further this aim, she went to the Netherlands when only seventeen years of age (1820) to study the great still-life works in the national collections. Between 1820 and 1828, she won medals from the Society of Arts, the foremost entity recognising artistic merit outside the Royal Academy, and had work shown at the RSBA and the British Institution. Thus she was already an established painter when she married Joseph Stannard. Joseph died only four years later but Emily maintained her career for the next fifty-five years. In 1831 she was made an honorary member (because of her sex) of the Norwich Society of Artists, whose annual exhibitions were her primary venue over the years. She was an important teacher of art in the Norwich area, and was assisted in this by their daughter Emily Stannard, who painted in the same genre.
Eloise Harriet Stannard (1829-1915)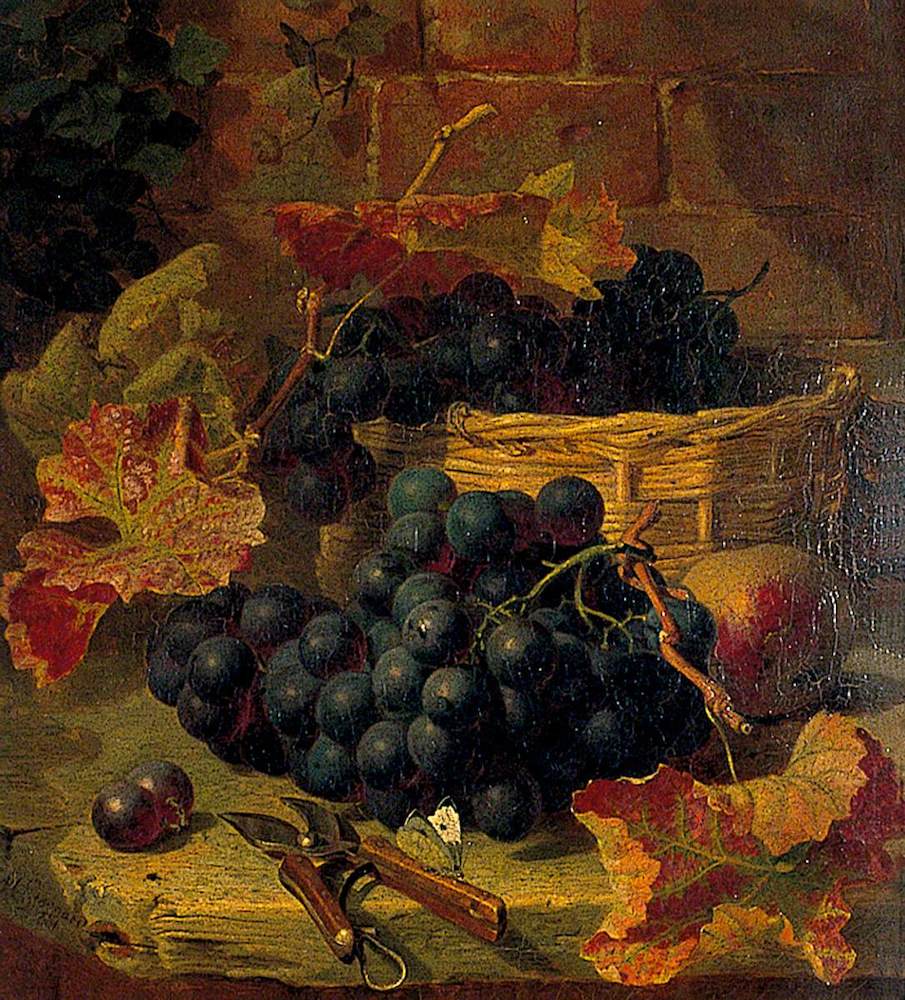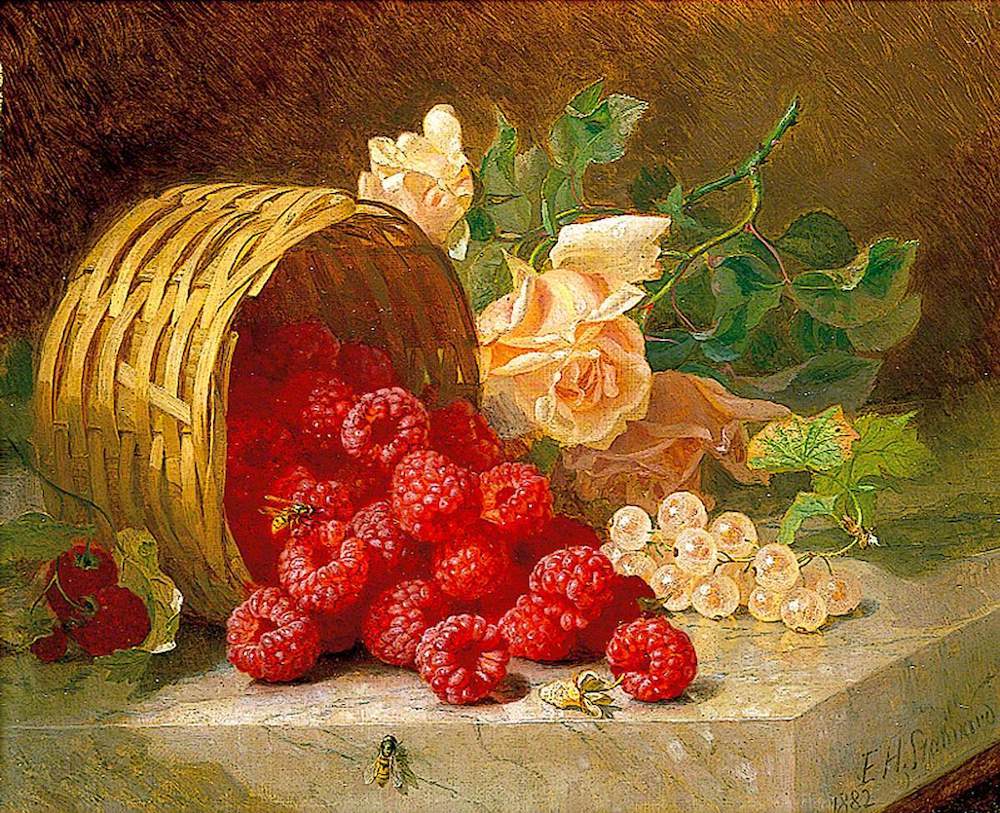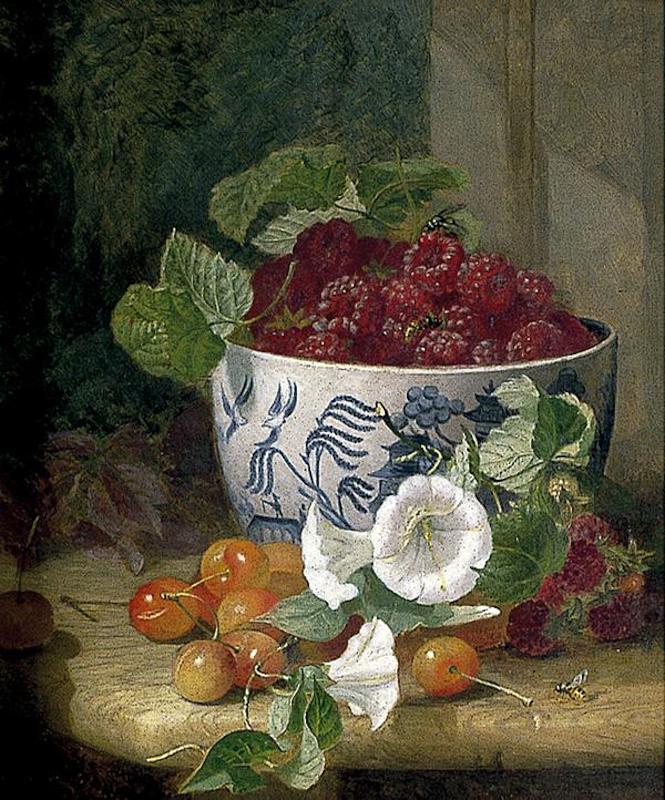 Three of Eloise Stannard's still-lifes: (a) Still Life — Black Grapes, 1881. (b) Overturned basket with raspberries, white currants and roses, 1882. (c) Still life of raspberries in a willow pattern bowl, with cherries and bindweed, 1881.
Eloise Harriet (E.H.) Stannard followed her aunt in choosing flowers and fruit as her principal subject-matter, partly, it was said, due to delicate health that forbade her from outdoor work. Critics found her a fit successor to her aunt's outstanding example. Her first exhibition appearance was at the British Institution in 1852, where she continued to show until its closure in 1866. She showed at the Academy over nearly forty years (1856-93), and was a supporter of the Society of Female (later Lady) Artists (1868-1902), although her work was in such demand that exhibition took second place to the fulfilment of commissions. She taught Maria Margitson (1832-96), a still-life painter active 1855-85.
The Stannards of Bedford
John Stannard (1794-1882) was a landscape painter. John's son Henry (1844-1920) also became an artist. In their turn, Henry's children Lilian (later Silas), Alexander (1878-1975), Henry J.S (1870-1951), Emily (1875-1907) and Ivy (later Horn), and his grand-daughter Theresa (later Dyer) took up painting.
Bibliography
Day, H.A.E. East Anglian Painters vol. 3. Eastbourne: Eastbourne Fine Art: 223-33.
Dickes, W.F. The Norwich School of Painting. Norwich:Jarrold and sons Ltd. 1906: vol. 3, 207-21.
Walpole, Josephine. British Flower Painters 1650-1950. Woodbridge: Antique Collectors' Club. 2006: Chapter IV.
---
Created 8 April 2022