Buckenham Ferry, on the River Yare, Norfolk by Joseph Stannard (1803-85). 1826. Oil on panel. 15 3/4 x 24 inches (40 x 61 cm). Inscription(s)/Marks/Lettering: Signed and dated, lower left: "J. Stannard 1826." Credit: Yale Center for British Art, Paul Mellon Collection. Accession Number: B1981.25.600. Identified as being in the public domain.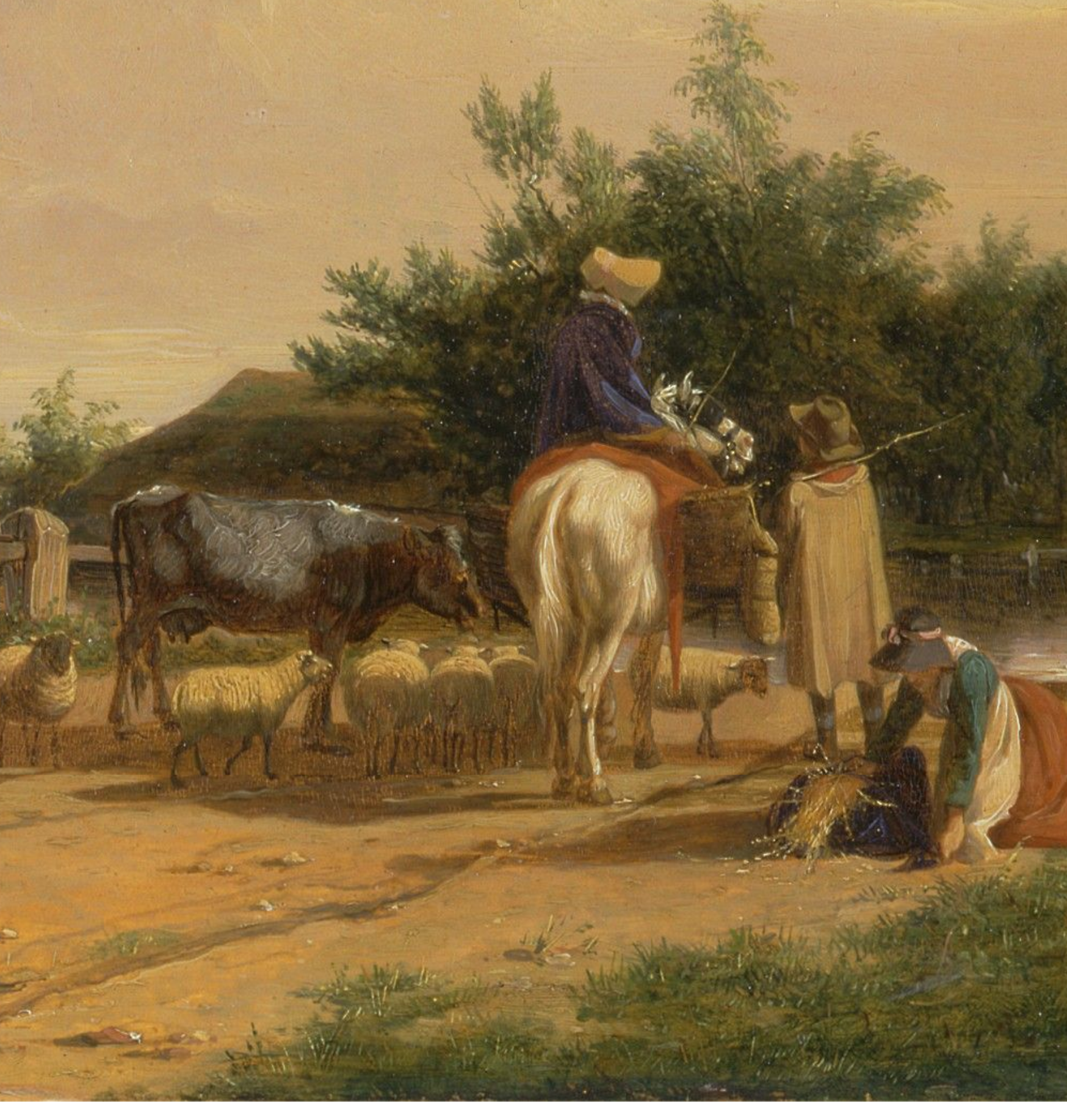 Close-up of central part.
Andrew Moore describes Joseph Stannard as being the "focus" of the artistic Stannard family (95. He was fêted even before he turned twenty. In 1821 he visited Holland, and the Dutch masters clearly had a great influence on his choice of subject matter, palette, and style of painting. Here, in the flat countryside, rural folk wait, two of them apparently chatting, another licking up her bundle of hay, for the ferry to reach the river bank. The man wears a farmer's smock and the women wear poke bonnets. It looks very old-fashioned now. Their animals, who seem to be going with them to the other side, know the procedure and wait quietly around them.In the golden glow of evening, it is all very pleasant snd tranquil. — Jacqueline Banerjee
Link to related material
Bibliography
Joseph Stannard, 1797–1830, British, Buckenham Ferry, on the River Yare, Norfolk. Yale Center for British Art. Web. 9 April 2022.
Moore, Andrew W. The Norwich School of Artists. 2nd impression. London: Norfolk Museum Service, 1995.
---
Created 9 April 2022