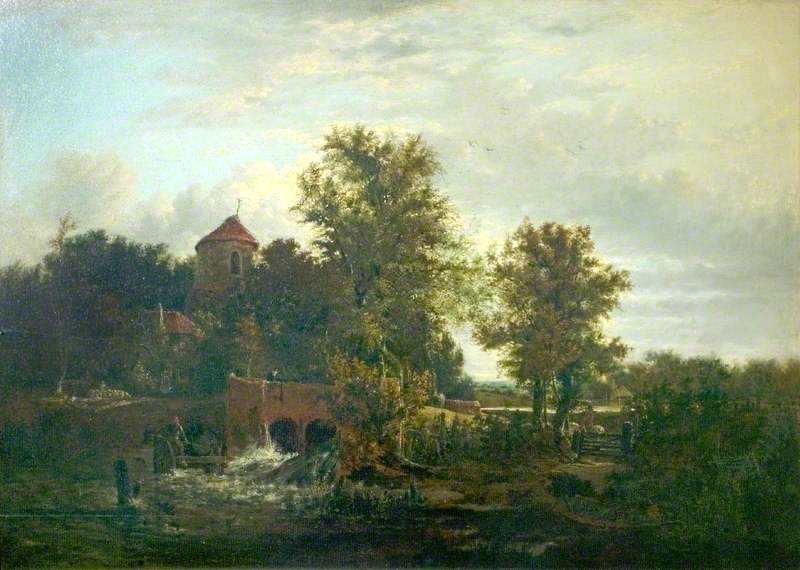 Sluice Gate, River Wensum, Norfolk by Alfred Stannard (1806-89). 1828. Oil on canvas. H 63.5 x W 84 cm. Credit: Derby Museums. Accession number: 1948-81/2; gift from F. J. Nettlefold, 1948. Kindly made available on a the Creative Commons Attribution-NonCommercial-ShareAlike 4.0 International (CC BY-NC-SA 4.0)licence.
Alfred studied under his elder brother Joseph and in this early career was much influenced by him, liking to paint the same subjects and reprising his brother's work as well as his own. Although he claimed to have painted out of doors, his work seems too highly finished for that, and, even at the time, he was hardly believed: "The Literary Gazette, when reviewing the British Institution Exhibition in the spring of 1828, could not help but balk at his statement that his oil of Trowse Hall had been painted in the open air, considering it to be an elaborately finished studio picture" (Moore 106). This scene is picturesque enough, with the usual elements of interesting old brickwork (a tower as well as the sluice), the river pouring through the sluice gates, leafy trees and farmland, some tiny figures, and distant sheep on the other side of a gate... But it is muted somehow, even blurry, and lacking in vitality. — Jacqueline Banerjee
Link to related material
Bibliography
Sluice Gate, River Wensum, Norfolk. Art UK. Web. 9 April 2022.
Moore, Andrew W. The Norwich School of Artists. 2nd impression. London: Norfolk Museum Service, 1995.
---
Created 9 April 2022