"From the 1870s to beyond the end of the century the growth of Cardiff attracted architects like moths to the flame," writes John Newman (104). Among the earliest were William Burges, who worked on Cardiff Castle and Castell Coch for the Marquess of Bute, and greatly influenced the city's domestic architecture through Park House; William Butterfield, with his impressive St Augustine's Church (1871-76) in the nearby popular Victorian seaside resort of Penarth; and Pugin & Pugin, the firm now headed by Peter Paul Pugin which built St David's Metropolitan Cathedral (1885-87). Much less well known outside Cardiff was Edwin Seward (1853-1924), who nevertheless played a major role in pushing forward the extensive programme of public building that made the city a world-class capital.
Born and first articled in Yeovil in Somerset, Seward came to Cardiff in his sixteenth year as an assistant to George Edward Robinson. He continued his studies at the original Cardiff Science and Art Schools, distinguishing himself by winning no less than three national prizes, various other less important ones, and a number of certificates, before entering into partnership with Walter Parry James (who died in.1883) and George Thomas (already James's managing assistant). This was in early 1875 (see Brodie 580, and the Western Mail announcement of 2 February that year). One of his first works involved extending Insole Court, Llandaff, with a new north wing and a gabled section and new tower to the east, very much in the manner of William Burges. Thereafter he was responsible for some of the city's landmark buildings of the period, promoted its cultural life, and set the stage for the development of Cathays Park, proudly but fairly described as the "site of one of the most impressive civic centres in Britain" ("The Cardiff Centenary Walk").
Unlike the later London-based architects who won competitions for the major buildings there, Seward adopted Cardiff as his hometown, and was soon thoroughly involved in local life (see Obituary, 262). Indeed, he became one of its most prominent spokesmen. He was the Honourable Secretary of the Cardiff Fine Art and Industrial Exhibition in 1881, and his name crops up repeatedly in reports of proceedings of societies like the Cardiff, South Wales, and Monmouthshire Architects' Society, the Cardiff Naturalists' Society; the South Wales Art Society and Sketching Club (which he promoted, becoming its Vice-Chairman in 1888); the Royal Cambrian Academy (of which he became a committee member); the Camera Club, and so on. He also proposed and supported a National Institute for Wales in 1887 to celebrate the Queen's Jubilee, and was one of the art adjudicators at the National Eisteddfod in 1889. His practice flourished: he became a Fellow of the Royal Institute of British Architects in 1889, and President of the Cardiff Architects' Society in 1894. Other interests included archaeology and Welsh castles; he continued to admire Burges's work for Lord Bute, praising it enthusiastically in a speech at the Architects' Society annual dinner in Cardiff (Western Mail, 14 February 1899).
Seward had two elder brothers, William and Samuel, who also settled in Cardiff, the former becoming a congregational minister and the latter a successful businessman; their father, a keen art collector, died in Cardiff in 1899 at the age of 76 (as reported in the Western Mail of 11 April that year). In 1884, Seward himself had got married to Edith Jessie Maddox. In the run-up to this, his colleagues in the promotion of the fine arts gathered to present him with "a token of their good wishes" (Western Mail, 14 June 1884). Thereafter, important city functions such as the Mayoral Banquet of 1885 list Mr and Mrs Edwin Seward among the guests. Of course, the couple attended the opening of the architect's own new Coal Exchange building in 1886 together. On her own account, his wife was active in the NSPCC, becoming the honourable secretary of its ladies' committee. They had children of their own: the forthcoming marriage of their younger daughter Elfreda (born in 1897) was announced in the Times of 21 May 1917.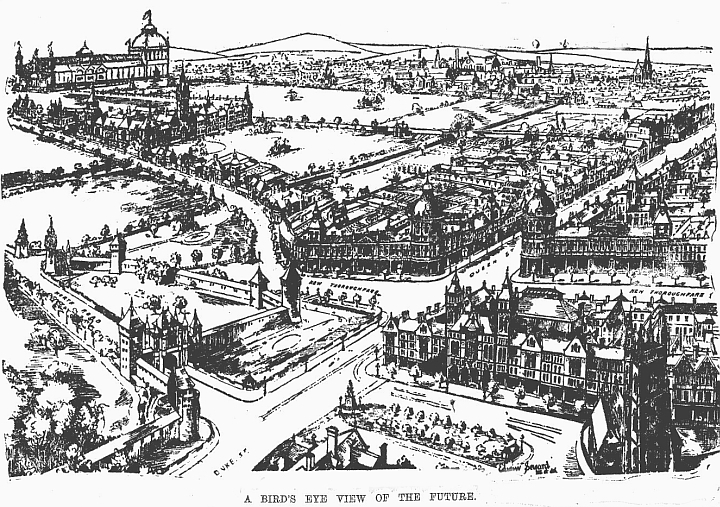 Seward's dream for Cardiff, with a "people's palace" of culture overlooking the city in the upper left-hand corner. (Cardiff Castle is in the lower left-hand corner, and the spire of St John's Church in the right-hand one.)
For a couple of decades, Seward *captured the most glittering commissions," with the result that he came to be "to Cardiff as Waterhouse was for Manchester" (Newman 104). However, there were problems in the later period. The partnership with George Thomas was dissolved in 1894, with a newspaper announcement explaining that henceforth Thomas was to concentrate on his work in Barry, a rival Glamorganshire coal-port on the Bristol Channel, which was then expanding rapidly. As for Seward, he expected to be fully engaged in the library and workhouse extensions in Cardiff, and also, no doubt, although it is not stated here, in the new civic developments which he was then doing so much to promote (Western Mail, 4 January 1894). In the following month a sketch of his "Dream of the Future" was illustrated in the newspaper, with a plan of a regenerated Cardiff dominated in the north by "a sort of permanent People's Palace" ("A Dream of the Future," Western Mail, 23 February 1894). Seward was consulted about the regeneration, and did the survey for the "proposed new museum and art gallery on the Park-place site." But then came an acrimonious exchange of correspondence with the Welsh architect E. M. Bruce-Vaughan, who had recently completed his own best work, St James's Church, diagonally opposite Seward's Cardiff Royal Infirmary building. Seward protested that his "strong legal claim" for the commission was being set aside, as, apparently, it had almost been in the case of his town centre library extension (see "Cardiff Architects' Dispute," Western Mail, 5, 6 and 8 March 1895). Indeed, his hopes for the bigger project were to be dashed. Designs for the Cathay's Park buildings were decided by competitions in which London architects swept the board. The winners for what became known as the National Museum of Wales were the London firm of Smith & Brewer. It must have been a bitter blow.
Seward was by no means a spent force. The much-loved Morgan Arcade dates from 1896, the year that the extended library building opened; the whole middle section of the grand David Morgan department store followed, and, at the beginning of the twentieth century, Seward beat off more than a hundred rival competitors with his design for the showpiece Harbour Trust building (now Morgans Hotel) in Swansea. But it is sad that he was left out of the grand plan for the development of Cardiff's new civic centre. Perhaps this is why the Sewards left their beautiful Arts and Crafts home in Cardiff (Lisvane House, which he remodelled himself and which is now Grade II listed), and retired to Weymouth in Dorset. Jessie died in 1918, and he lived on until 21 June 1924. His art collection, auctioned by Christie's, included a Da Vinci drawing, meriting a short notice in the Times of 23 March 1926. Seward had played a major role in making Cardiff a world-class capital, through his well-publicised vision for the city as well as through his completed projects, and should be remembered for this.
Works with images on this site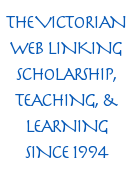 Works without images on this site
Additions to the "New Town Hall" on St Mary Street (plans accepted 1876)
N. wing, tower and port-cochère, Insole Court (1878)
Widening of the Wye Bridge (1879)
Turner House Gallery, Penarth (1888)
The Plymouth Arms, St Fagan's (remodelled 1895)
(Former) Free Library (first phase 1882; extended building opened, 1896)
Moorlands Hotel (1896)
Central part of the David Morgan Department Store (1899)
Lisvane House, his own home (remodelled 1899-1902)
Llanishen Methodist Church, Melbourne Road (1900-01)
Note: "He was also the architect of various residences, banks, and business premises in Cardiff, Swansea, and elsewhere in S. Wales" (Obituary [1]). These included the "Celtic Corridor" off Newport Rd (since demolished), which had a dance hall, and is still remembered with some nostalgia (Julian).
Sources
Brodie, Antonia. Directory of British Architects 1834-1914. Vol. II (L-Z). London: Continuum / RIBA, 2001.
FreeBMD (Births, Marriages and Deaths records site). Web. 4 April 2011.
The Illustrated Guide to Cardiff and Its Neighbourhood. Cardiff & London: Western Mail Ltd, 1897. Internet Archives. Web. 4 April 2011
Julian, Bill. Letter to the South Wales Echo. 1 Jan. 2008. Web. 8 April 2011.
Matthews, John Hobson, ed. "Council Minutes: 1876-80." . Cardiff Records. Vol. 4. British History Online. Web. 8 April 2011.
Newman, John. Glamorgan (The Buildings of Wales series). London: Penguin, 1995.
Obituary (1). RIBA Journal. Vol. 31 (1924): 626 (detailed).
Obituary (2). The Builder. Vol. 127, 4 July 1924. 4 (very brief).
"Seward, Edwin." archiseek. Web. 4 April 2011
Western Mail reports all from 19th Century British Library Newspapers. Web. 8 April 2011.
---
Last modified 28 February 2014