undall, Downes & Co. was a partnership with a complicated history. Joseph Cundall (1818-1875) was born into a draper's family in Norwich and became a well-known printer and publisher. His name is most familiar from his series of illustrated children's books in the Home Treasury series. But he also took an interest in the new art of photography, and concentrated on that when his publishing business failed. He was one of the twelve founder members of the Photographic Club in 1847, and helped to establish the Photographic Society in 1853. Publishing remained important to him: he produced The Practice of Photography that same year, and a Photographic Primer for the Use of Beginners in the Collodion Process in 1854. These were both published from his new premises at 168 New Bond Street, which became known as "The Photographic Institution."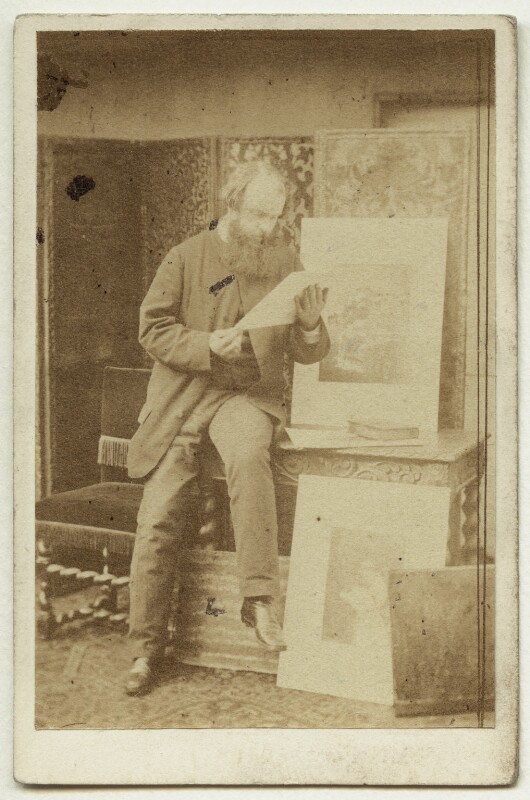 Joseph Cundall [Click on the image to enlarge it,
and for more information.]
At the New Bond Street address, Cundall started showing and publishing collections of photographs. "One of the most important was Philip De la Motte's classic The Progress of the Crystal Palace, Sydenham, in 1855, which contained far better photographs of the inside of the Crystal Palace than any that had been previously taken" (McLean 33). This book, says McLean later, had "100 photographs pasted down on recto pages (81). One sign of his reputation is the fact that Lewis Carroll was one of his clients there: Cundall printed and stored his negatives for him.
The name changes are confusing: "In the 1850's, Cundall's photographic business was trading as Cundall, Howlett & Co. ... then as Cundall, Howlett & Downes, then Cundall, Downes & Co., and, by 1866, or earlier, Cundall & Fleming" (McLean 33). Robert Howlett, who died in his twenties, took some of the most memorable photographs during his association with Cundall, including the famous photograph of Isambard Kingdom Brunel standing beside the heavy launching chains of the Great Eastern, and the photographs which William Powell Frith used when he was painting Derby Day. Cundall and Howlett were also commissioned by Queen Victoria to photograph the wounded heroes of the Crimean War in 1856, a testimony to her own concern for their suffering, and a project which provided important documentary evidence of the various forms that suffering took.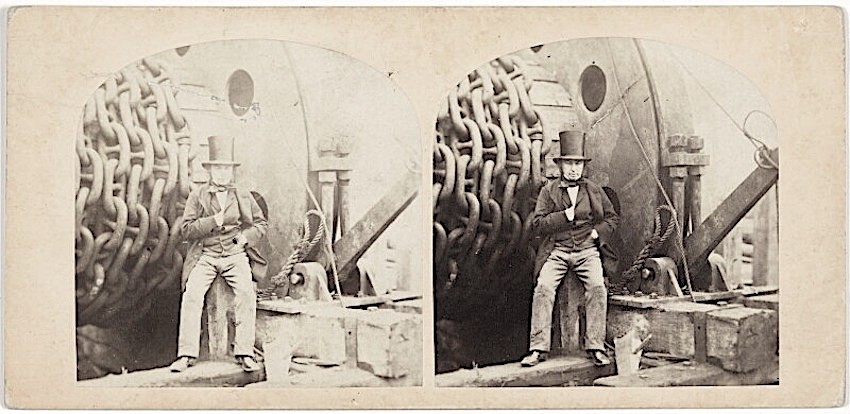 The albumen stereoscopic card of Isambard Kingdom Brunel by Robert Howlett and George Downes (November 1857). © National Portrait Gallery, reproduced by kind permission.
Information about George Downes is harder to come by. The National Portrait Gallery gives his dates as c.1822-1879, and states that he "worked in partnership with Cundall and Howlett during the 1850s, and produced the stereoscopic cards of the Great Eastern for the London Stereoscopic Company. Following Howlett's death, he continued in partnership with Cundall until 1865." The Royal Academy finds that the partnership had photography studios at the following addresses in London, as well as in Essex and Suffolk: 10 Bedford Place, Kensington (1863-64); 168 New Bond Street (1863-65); and 19 Bedford Gardens, Kensington (1865).
Cundall seems to have been on his own by 1871, when the government sent him to France "to organise the first photographic record of the Bayeux Tapestry" ("Joseph Cundall"). This was another key photographic venture of its time.
Bibliography
"Cundall Downes & Co.." Royal Academy. Web. 21 June 2022.
"George Downes." National Portrait Gallery, London. Web. 21 June 2022.
Hershkowitz, Robin. "Exposing Wounds: Joseph Cundall and Robert Howlett's Crimean Heroes." Critical Military Studies 6/2 (2019): 1-22.
"Joseph Cundall." National Galleries Scotland. Web. 21 June 2022.
McLean, Ruari. Joseph Cundall, a Victorian Publisher: Notes on His Life and a Check-list of his Books. Pinner: Private Libraries Association, 1976.
---
Created 21 June 2022