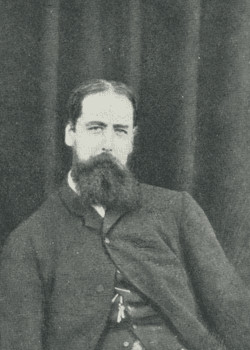 Henry Edward Doyle, while Director of the National Gallery of Ireland (no date).
Henry Edward Doyle (1827-1893) was one of the remarkable Doyle dynasty of artists and literati, that included his father, the caricaturist and painter John 'HB' Doyle (1797-1868), his elder brothers James William Edmund Doyle (1822-1892), Richard 'Dickie' Doyle (1824-1883), and his nephew Sir Arthur Conan Doyle (1859-1930). At the family home at 17 Cambridge Terrace (now Sussex Gardens), just north of Hyde Park, the Doyle children received a unique artistic education. Their tutor, Mr Street, would take the boys out to the Regents Park Zoo, the National Gallery, Royal Academy, and other key cultural venues. But, working from home, John Doyle was also able to supervise his children personally; as they drew, learned to fence, dance, and play the violin or other instruments. History and literature were imbibed and became the basis for many of their artworks, which were worked-up during the week and presented at the 'Sunday Show' for critique and assessment.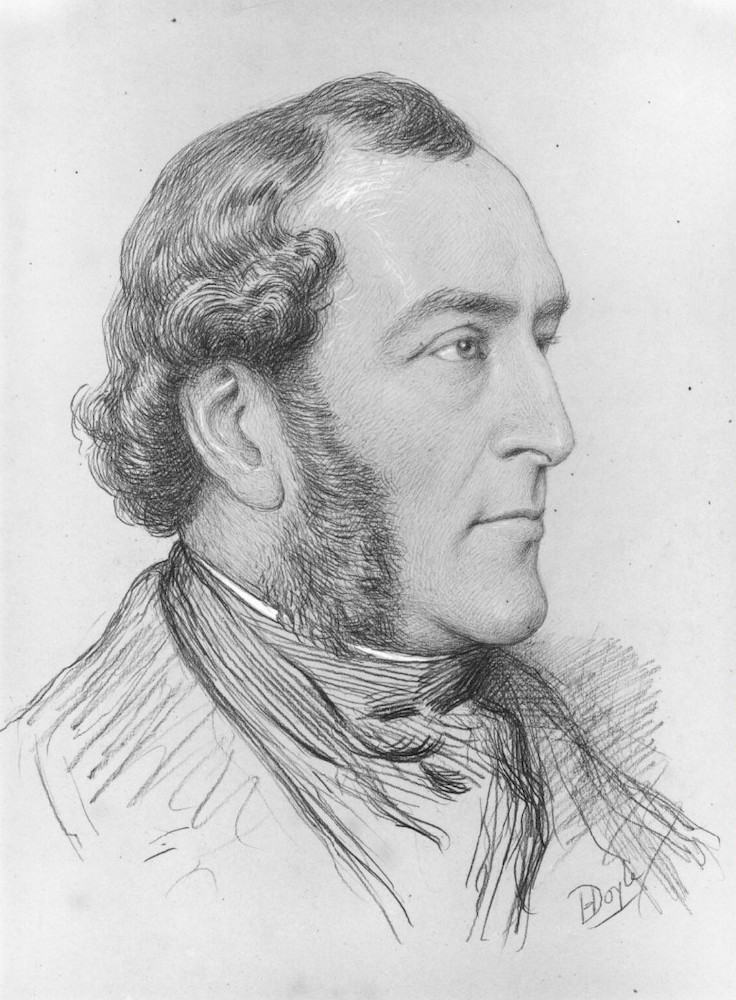 Henry Doyle's portrait of his father John, © National Portrait Gallery, London. [Click on this and the following images to enlarge them and for more details about them.]
Sundays were a focal point in other ways, with Mass at the French Chapel, George Street, followed by breakfast and either artwork or reading. At 8pm, guests began arriving for dinner and musical entertainment, and the younger children were sent upstairs. Sir Walter Scott, William Makepeace Thackeray, Charles Dickens, Dante Gabriel Rossetti, John Millais, and Sir Edwin Henry Landseer were amongst those entertained by the Doyles; as were Thomas Babington Macaulay and Benjamin Disraeli.

Doyle's enigmatic monogram for Punch.
Doyle contributed a small number of cartoons and illustrations to Punch in the 1840s (signed with an enigmatic 'HD' monogram), at the same time as his brother Richard was making a name for himself there. But according to his other brother, James (and as related by M. H. Spielmann in his History of Punch): "The Punch episode was the merest child's play to him. His line, chosen years before, was sacred or poetic art; and his illustrations to Telemachus, done before this time, remarkable for invention and colour, were greatly admired by Prince Albert. That he drew for Punch at one time is, of course, true; but the mention of it gives a false impression of his taste and principal work at that period."
The Adventures of Telemachus (c.1843) was a collective effort of all the Doyle children, as part of their education. Thereafter, Henry Doyle also contributed to the short-lived periodical The Great Gun of 1844-5, but his work during the 1850s is obscure.
It wasn't until 1867 that he gained secure employment in illustration, taking over as the chief cartoonist for Fun. The magazine had struggled to find a replacement for Matthew Morgan (who departed in September 1864), and Paul Mary Grey (who died in November 1866). Arthur Boyd Houghton contributed the "big cut" until April 1867, and then W. J. Weigand until August, when Doyle began work.
Henry Doyle received the usual fee of £4 per "big cut", with smaller contributions attracting a lesser fee. His editor, Thomas Hood the Younger (1835-1874) also published Tom Hood's Comic Annual from 1867, to which Doyle contributed illustrations. As one of Hood's circle, Doyle was acquainted with the likes of the playwrights W. S. Gilbert, H. J. Byron, H. S. Leigh and Arthur Sketchley, as well as others in the theatrical and artistic scene.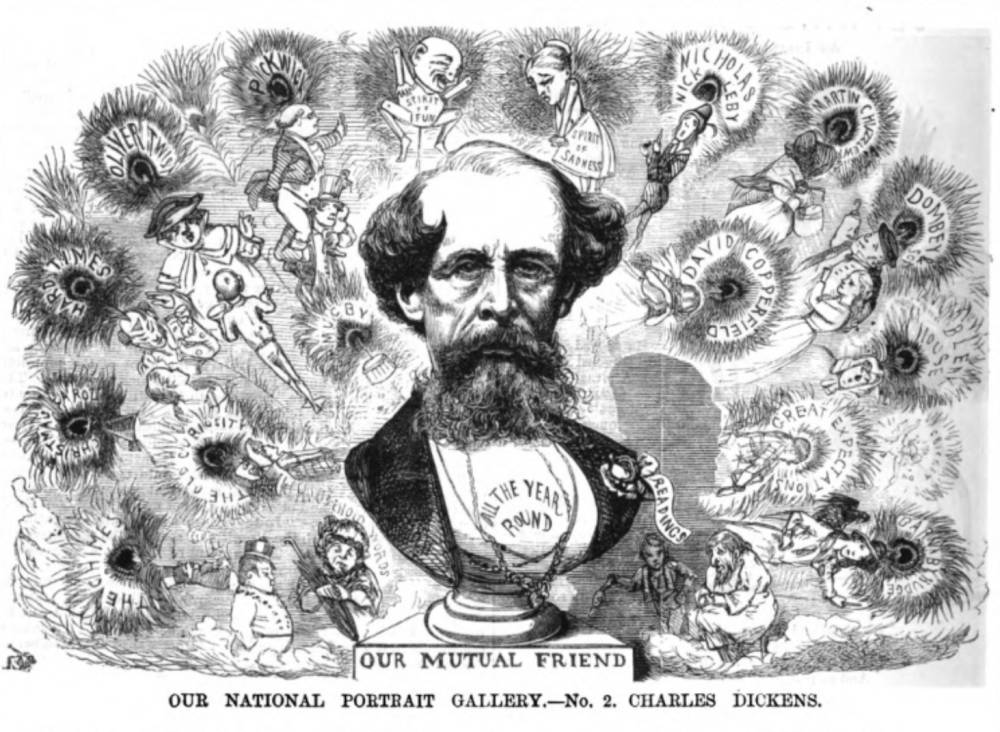 Our Mutual Friend, from Fun (17 August 1867): 244.
He signed his Fun cartoons either with a Hen (visible in the Dickens cartoon above), in reference to his own name, as well as in keeping with the tradition of using birds as signatures, pioneered by 'Dickie' Doyle; or as 'Fusbos', a reference to the Minister of State character in William Barnes Rhodes' farce, Bombastes Furioso (1810). Unlike Punch, the magazine held firmly to the Liberal line, attacking the Lord Derby and Disraeli ministries, and then – after December 1868 – lauding William Ewart Gladstone and his reformist policies. Doyle was particularly well-placed to comment on Irish matters, in particular the disestablishment of the Irish Church, which was finally achieved by the Act of 26 July 1869.

Doyle's "Fusbos" signature in Fun.
Doyle's Roman Catholicism was integral to his life. Artistically, it led him to perhaps his most enduring work: the dry plaster decoration of the Dominican Chapel at Cabra, near Dublin, completed in 1864. Professionally, it resulted in his appointment as Commissioner for Rome at the 1862 International Exhibition, and he was made a Knight of the Order of Pius IX for his service. The appointment was made on the recommendation of Nicholas Wiseman, Cardinal-Archbishop of Westminster.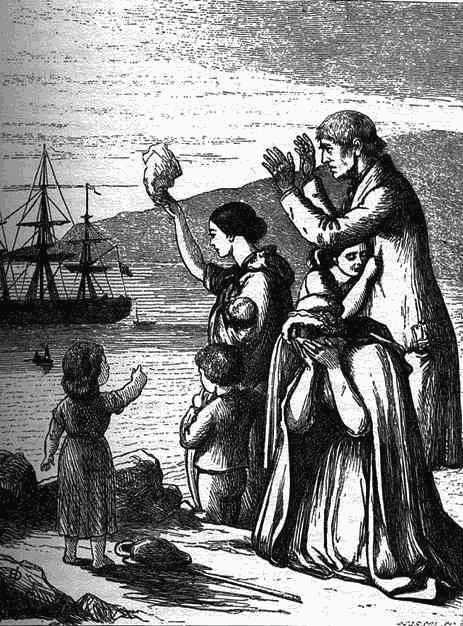 A work after his own heart: two of Doyle's many illustrations for Mary Cusack's Illustrated History of Ireland (1868). Left: O'Connell Refusing to Take the Oath; right: The Emigrants' Farewell.
This in turn led to his work for the 1865 and 1872 Dublin exhibitions, special exhibitions of Irish portraiture (1866-1868), and an association with the still-new National Gallery of Ireland, of which he was appointed Director in 1869, in succession to its founder, George Francis Mulvany. He contributed his final cartoon to Fun for the February 6, 1869 number, indicating that he was already aware he had been successful by the time his election was formalised on March 22.
As Director, Doyle struggled mightily against the financial constraints imposed by the annual purchase grant, and succeeded in raising the reputation of the gallery to amongst the best of the second-tier European collections. By 1891, Doyle had been so successful in acquiring new works for the collection that space was extremely limited, paving the way for the first expansion of the gallery after 1899. The gallery holds several of his works, including portraits of his brother, Richard Doyle, his patron Cardinal Wiseman, and of John Ruskin, in oils, water-colour, and pencil, respectively. A chalk portrait of his father, John Doyle, is in the National Portrait Gallery, London, as are two further portraits of Wiseman.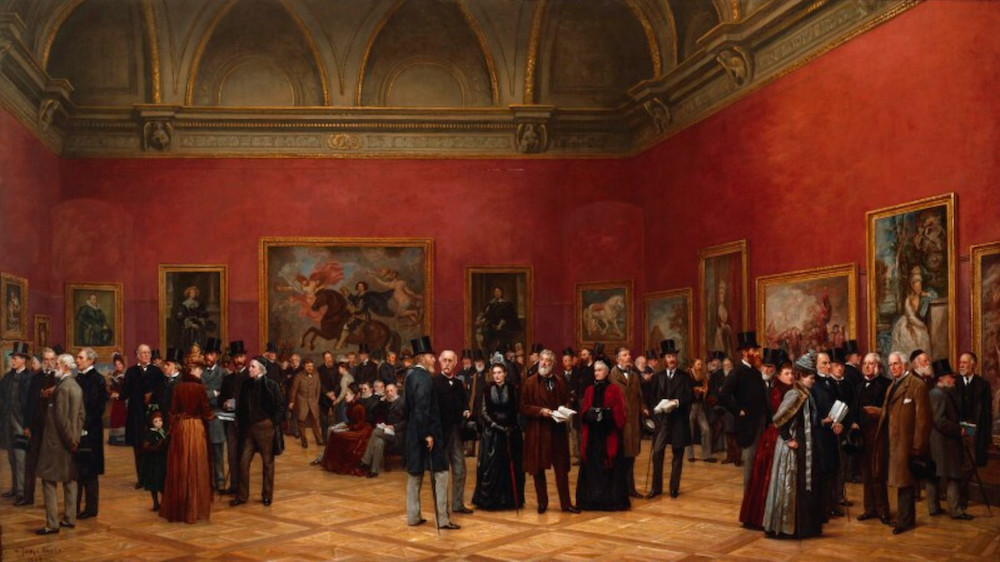 Henry Jamyn Brooks' Private View of the Old Masters Exhibition, Royal Academy, 1888 (1889).
Doyle's own likeness appears in Henry Jamyn Brooks' Private View of the Old Masters Exhibition, Royal Academy, 1888 (1889). Top-hatted and with a white beard, he appears in the background, just to the right of Sir Richard Wallace in the centre of the picture. For his services, he was made an associate (1872) and then a full member of the Royal Hibernian Academy (1874), and a Companion of the Order of the Bath (1880). Doyle married well, to Jane Isabella Ball, daughter of the Right Hon. Nicholas Ball, Judge of the Court of Common Pleas and sister of the noted Alpinist and politician John Ball. The ceremony – held at St James's Church, Spanish-place, London – was performed by Jane's brother, Rev. Anthony Ball.
Doyle died suddenly of a heart attack on February 17, 1892, at lodgings in Mayfair. He was succeeded as Director by the critic and art historian Sir Walter Armstrong (1850-1918).
Links to related material
Bibliography
Cusack, Mary Frances. An Illustrated History of Ireland from AD 400 to 1800. Illustrated by Henry Doyle. 1868. Project Gutenberg. Web. 28 January 2022.
Scully, Richard. Eminent Victorian Cartoonists – Volume I: The Founders. London: Political Cartoon Society, 2018.
Scully, Richard. Eminent Victorian Cartoonists – Volume II: The Rivals of 'Mr Punch'. London: Political Cartoon Society, 2018.
Spielmann, M. H. The History of "Punch". London: Cassell & Co., 1895.
Strickland, Walter G. A Dictionary of Irish Artists. 2 Volumes. Dublin, London, Maunsel & Company, Limited. 1913.
---
Created 27 January 2022