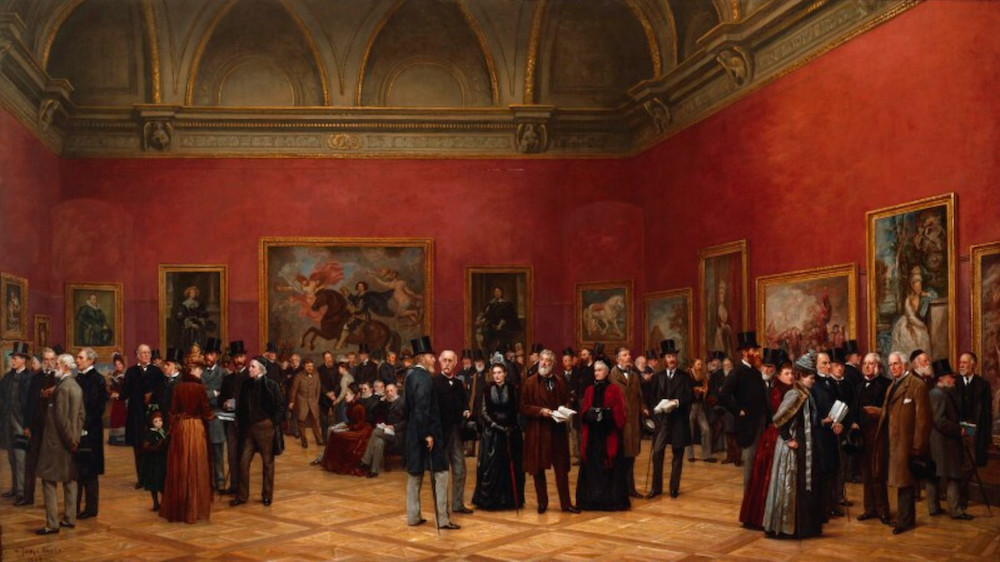 Private View of the Old Masters Exhibition, Royal Academy, 1888. Henry Jamyn Brooks. 1889. Oil on canvas. 60 7/8 in. x 106 7/8 in. (1545 mm x 2715 mm). © National Portrait Gallery, London. NPG 1833. Given by Henry Jamyn Brooks, 1919. The National Portrait Gallery has released these images on the Attribution-NonCommercial-NoDerivs 3.0 Unported (CC BY-NC-ND 3.0) licence. Image download and commentary by Jacqueline Banerjee.
The Old Masters or Winter Exhibition at the Royal Academy was one of the big cultural events of the year, and those invited to the private view would be the cultural élite, including the old aristocracy, philanthropists and art dealers whose money had been made more recently, and, of course, artists themselves. Depicted among the 66 attendees here (although they may not have actually been present on the occasion) are many notables of the art world, including Sir Joseph Boehm, Sir Lawrence Alma-Tadema, with his second wife Laura, William Powell Frith, William Holman Hunt, Frederic Leighton, John Millais, Edward Poynter, John Ruskin and George Frederic Watts. One of those not present was Ruskin, who was now in sad decline and quite unable to make an appearance at such an event.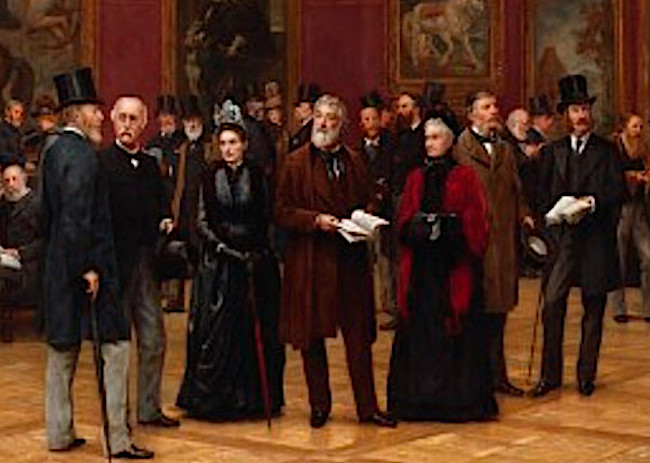 Closer view of the central group.
Lord Wantage (1832-1901), best known as the co-founder of what became the British Red Cross, stands on the left of this central group; listening to him, hat in hand, is another well-known philanthropist, and trustee of the National Portrait Gallery, Sir Richard Wallace (1816-1890); then, also listening to him, in a brownish coat, with a catalogue in his hands, and naturally taking a prominent position at the very centre of the Private View, is Lord Leighton, President of the Royal Academy and thus the host of the event. Next to him stands Lady Wantage (1837-1930), a benefactor in her own right. Most of the artists are harder to spot, but, once located with the help of the key (see below) they are quite recognisable. Brooks specialised in group portraiture, which was popular at this time, and this clearly seeks to emulate Frith's very popular similar painting of the summer exhibition of 1881. Like Frith, Brooks knew how to use photography to help him achieve the best results.
Much thought has gone into the positioning of even the less prominent figures. For example, Henry Doyle, with a white beard and top hat, stands, appropriately enough, next to Sir John Charles Robinson (1824-1913), the two of them behind and between Lord Wantage and Richard Wallace: as well as being an artist himself, Doyle was the Director of the National Gallery of Ireland, while Robinson was the curator of the forerunner of the Victoria and Albert Museum, and first president of the Burlington Fine Arts Club. Both were well-known for augmenting collections. Holman Hunt is easily spotted on the extreme right of the close-up.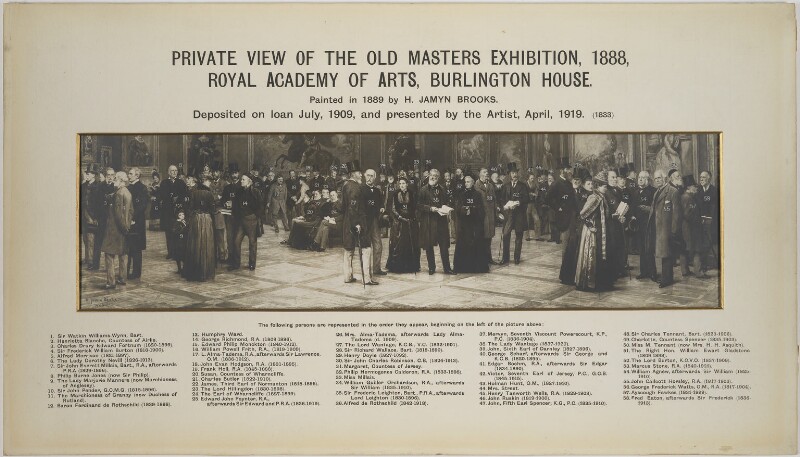 Key to Private View of the Old Masters Exhibition, Royal Academy, 1888. Frame size: 17 3/8 in. x 28 7/8 in. (440 mm x 733 mm). © National Portrait Gallery, London. NPG D42236.
This photograph of 1919 or after is helpful in identifying the many sitters, but is best consulted on the National Portrait Gallery's own site, where it can be much enlarged (see bibliography below). Rendering the attendees accurately was, of course, only part of the artist's task here: the paintings too had to be easily identifiable. Even the parquet floor was a challenge. The finished work is completely lacking in the kind of atmosphere and sense of engagement that animate Frith's more famous earlier work. It also lacks the satirical intent that contributes to that animation. While Frith mocks the pretentions of Aestheticism, Oscar Wilde is nowhere to be seen here. Nevertheless, Brooks's painting is a tour de force of its kind.
Bibliography
Davies, H. "Robinson, Sir John Charles (1824–1913), museum curator and art collector." Oxford Dictionary of National Biography. Online ed. 27 January 2022.
Heath, Elizabeth. Extended Catalogue entry. National Portrait Gallery (an excellent discussion). Web. 27 January 2022.
Key to Private View of the Old Masters Exhibition, Royal Academy, 1888. Web. 27 January 2022.
---
Created 27 January 2022