George Frederic always spelled his first name with a 'k' and I wonder why the rest of us don't. Probably he was named after Handel since both were born on February 23rd, though a few years apart. Watts's father was a piano maker — not a rich man's trade — and they lived in the poorer parts of St Marylebone in London where he was born in 1817.The boy set off on a long life in art when he was sent, aged ten, to work in the Soho studio of the sculptor, William Behnes. By sixteen he'd painted an accomplished portrait of his father. At eighteen he found the Royal Academy Schools had nothing to teach him. At twenty he exhibited there for the first time and around this time he also met Constantine Ionides, a Greek merchant, who became his first patron. At twenty-five he won first prize in a competition for works to adorn the Houses of Parliament, then newly re-built to replace the old Palace of Westminster which had burned down. The prize money paid for a four-year trip to Italy, where he got his third big break — he met and went to live with Lord and Lady Holland in their villa in Careggi in Tuscany. (Lord Holland was Secretary to the British Embassy in Florence; this, of course, was before the Risorgimento.)
Left: The Ionides family. Right: Lady Holland. Both by Watts. [Click on thumbnails for larger images.]
The Hollands were one of the great
Whig
families of England, and Holland House (in Holland Park, still a rich and fashionable part of London) was famous as a salon attracting not only Whig grandees and politicians but writers and artists as well. Watts became a kind of court artist, painting for his supper, in this great house. In 1848, when he as thirty-one, he met the Pattle sisters. Sara was already married to
Thoby Prinsep
, a very much older man who had who'd been a high ranking official in the Bengal Civil Service. Watts persuaded Lord Holland to let the dower house in his grounds to the Prinseps, and then went to stay with them. Sara said he went for three days and stayed for thirty years (in fact only twenty-four). At forty-seven Watts married the seventeen-year-old Ellen Terry (
bibliography
), They separated the following year (1865). Around this time Watts also met Charles Rickards, a Manchester businessman, who began buying his idea-pictures. The first was exhibited in the new
Grosvenor Gallery
in 1877 — at the same show where
Ruskin
accused Whistler of flinging a pot of paint in the public's face.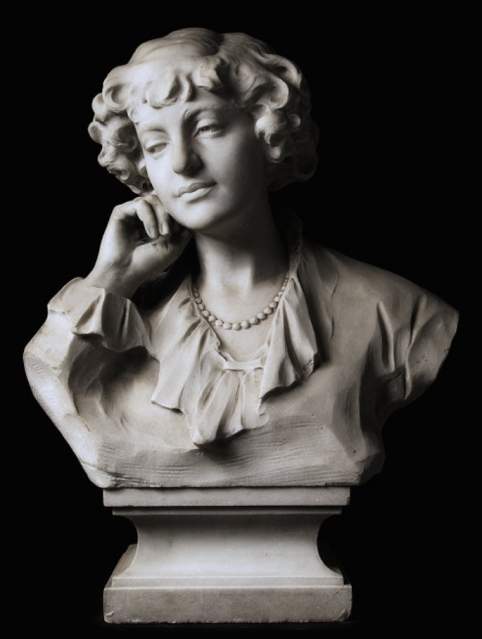 Left two: Two Portraits of the young Ellen Terry by Watts. Right: A bust of the older Terry by an unknown sculptor. [Click on thumbnails for larger images.]
In 1875 the Prinseps's London home was pulled down (to make way for a road.) They went to the Isle of Wight and Watts went with them, though the following year he began building a new New Holland House for himself in
Melbury Road
. By the 1880s he was known internationally, exhibiting in New York, Florence, Paris and Munich. At sixty-nine he married thirty-seven year old Mary Fraser-Tytler, a fellow-artist and one of the first women to enroll in the London art schools — in her case the Slade. In 1891, at seventy-four, he and his wife went to live in the house they had built in the village of Compton, in Surrey. At eighty-five he accepted the Order of Merit, an honour newly created to reward intellectual services to the country. Previously he'd turned down two offers of a baronetcy (a kind of hereditary knighthood). Next year work began on the
Watts Gallery
, near their home. It was completed the following year, a few months before Watts died, aged eighty-seven, in July.
The idea pictures were, very probably, the real bugbears damaging his twentieth-century reputation. To him they were his most important and worthwhile work; to us they are just too Victorian. But in many ways he was never a wholly Victorian figure but was always a bit of a maverick (he didn't become a Royal Academician until he was fifty). It's said he single-handedly changed the art of portraiture in England while his landscapes are timeless and should appeal to the twentieth-first century. He was an artist before Victoria was Queen, and was still painting two years after she died. In all those seventy-odd years, he finished over a thousand canvases, three hundred of which were portraits. More unusually, he also reversed the normal trend of creativity — his best work was undoubtedly done in his seventies and eighties.
Related Material
References
Blunt, Wilfrid. England's Michelangelo: A Biography of George Frederic Watts OM RA. London: Hamish Hamilton, 1975.
Underwood, Hilary, and Richard Jefferies, The Watts Gallery Compton: A Visitor's Companion, Compton: The Watts Gallery, 2004.
---
Last modified 10 May 2016