[Click on thumbnails for larger images]
[

n his own times, G.F. Watts was dubbed "the English Michelangelo," "England's painter-poet," and even "England's painter-prophet." A sculptor of distinction, he was also the pre-eminent portrait painter of his day, and an artist who set out to challenge the public with his social commentary and large-scale allegorical and visionary works. His reputation as an artist declined during the twentieth century, but the centenary of his death was marked in 2004 by exhibitions both at the National Portrait Gallery, London, and at the Watts Gallery in Compton, Surrey, near his former home. These shows raised awareness of his work, and Tate Britain currently has five of his paintings on display in Room 15 ("Victorian Spectacle"). Perhaps now we can assess his achievement more fairly.
The National Portrait Gallery's exhibition, quite naturally, focused on his portraits and was entitled, "Fame and Beauty in Victorian Society." As well as a galaxy of more formally depicted public figures, it included Choosing, Watts's touching portrait of the actress, Ellen Terry, in which she faces a choice between gorgeous, showy but unscented camellias and the violets she already has in her hand. Painted in 1864, it looks at first like a Pre-Raphaelite portrait, complete with symbolic flowers; but it is more delicate in colouring and more poignant in feeling (look at the soft shade and texture of the hair, for example). The portrait commemorates the young sitter's decision to give up her career to marry the artist, at a time when she was only seventeen and he was already 47. It is still on display at the gallery.
Two paintings by G. F. Watts — Left: Found Drowned. Right: Choosing
The Compton exhibition focused on "The Vision of G.F. Watts," and took as its theme Watts's stated aim, "to stimulate the mind and awaken large thoughts." A fervent social reformer, Watts produced work on a variety of topical subjects.
Found Drowned
, for instance, features a fallen woman who has committed suicide by jumping in the Thames. The London skyline in the background is dim and murky, the single star just a distant pinpoint above it. But the woman's prone figure is nevertheless illuminated, and the arch of the bridge above her gives a spiritual dimension to the scene. She might be in a church crypt, for example. Watts said that he was inspired by a real life incident, but he is generally supposed to have been inspired, too, by
Thomas Hood
's famous poem, "The Bridge of Sighs," in which the poet records such a woman "Perishing gloomily / Spurred by contumely," but now "Past all dishonour," and beautiful in death.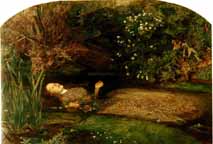 Ophelia by Sir John Everett Millais. 1851-52.
Both Choosing and Found Drowned illustrate some of the problems we have in appreciating Watts now. Both women are paying a price which seems to have been forced on them. Just as Ellen Terry would soon revolt against her sacrifice, and return to the stage, the modern mind feels repelled by the idea that such sacrifices should be deemed necessary. Hood's poem includes the dreadful words, "Owning her weakness, / Her evil behaviour," and the hallowing of the now-drowned woman in Watts's picture too seems to rest on such an attitude. Moreover, both paintings beg comparison with more vibrant Pre-Raphaelite works. Compare and contrast "Choosing" with, for example, Rossetti's The Day Dream (another depiction of youthful pensiveness); and Found Drowned with Millais's Ophelia — the iconic image of the spurned woman "drowned in sorrow."
Among Watts's more abstract paintings at the Compton exhibition was his most popular allegorical canvas, Hope (1886). Here, he depicts an apparently downcast, blindfolded female figure, her head resting closely against a primitive lyre, as if expecting to hear one note from the only unbroken string left on her instrument. It looks much more like despair than hope, an objection which was raised at the time, and to which Watts responded by explaining that Hope goes on hoping, even in the most desperate situation (Underwood and Jefferies, p.8). But it is hard to escape the aura of sentimentality, shading into morbidity, which pervades the composition. It evokes sympathy rather than giving encouragement. Consider the criticism that, despite the lofty ambitions summed up in his motto, "The Utmost for the Highest," Watts belonged too much to his age. What are the implications of such a criticism for art?
Left: Physical Energy by G. F. Watts. Right: The Watts Gallery, Compton. 1904.
Locally, Watts's engagement with his times bore tangible fruit. He was a philanthropist, and one of his own great hopes was for art to be made accessible to the people. although his first marriage lasted only a short while, his second one, to the artist Mary Seton Fraser Tytler in 1886, was much more successful. They built the Watts Gallery close to the home, Limnerslease, that Sir Ernest George had designed for them in Compton in 1890. The gallery was partly to house Watts's studio collection, and partly to provide accommodation for pottery apprentices. Locally designed, picturesque, and surrounded by foliage, the gallery was opened in 1904, the very year of Watts's death. The sculpture room, built later in 1906, was made big enough to house the original models of his dynamic Physical Energy and his stooped, contemplative but still towering Lord Tennyson. The latter was actually produced in Compton.
Until the L.S. Lowry Gallery opened in Salford, Manchester, in 2000, the Watts Gallery was the only art gallery in England to be dedicated to the work of one artist. Indeed, it might still claim this distinction, because the Lowry is a large multi-purpose cultural centre. although Watts himself neither belonged to nor initiated any particular school, some of his most similarly-minded contemporaries' works are also shown in the Compton gallery now — for example, a tapestry by William Morris and a study by Edward Burne-Jones for The Triumph of Love. Interestingly, Morris's last wallpaper design was called Compton. It is one of his most popular patterns.
In another important respect, the Compton gallery remains absolutely true to Watts's aims. There is a distinct community feel to this unassuming and approachable cottage-style building, with regular art classes being held there. This is not always an advantage for visitors, who have to negotiate the easels, but it greatly enhances the atmosphere.
Compton Cemetery Chapel designed by Mary Seton Fraser Tytler Watts. 1898.
Another way in which Watts's influence remains strong in Compton is in the Compton Cemetery Chapel nearby. This quaint terracotta building, made of local materials, was the philanthropic Watts's own gift to the village. It was designed by his talented wife, and every square inch was elaborately decorated inside in a mixture of styles, including Celtic and Art Nouveau. The decorations were the collaborative work of the villagers, under Mary's guidance, so that the chapel stands as a continuing testimony to Watts's belief in the artistic capacities of ordinary folk, and to the whole Arts and Crafts movement. The Archbishop of Canterbury attended the unveiling in 1898. Mary Watts became the Honorary President of the Women's Guild of Arts in 1907. Like Ellen Terry, she was much younger than her husband, who was laid to rest in the chapel grounds in 1904. She died in 1938.
Watts was in some ways a typically earnest Victorian, then — on the one hand aiming to align himself with the Great Masters of the past, on the other hand wishing to educate the general public of his age. It seems fitting that his gallery of Victorian portraits, assembled with some deliberation by the artist himself rather than worked on by commission, was one of his greatest legacies. Matthew Arnold, for instance, has come down to us today in Watts's famous portrait of him with his high collar, side whiskers, slightly averted gaze and centre parting, looking every inch the Victorian man of letters. This is not all there was of Arnold: we know that now from his charmingly intimate family letters, and even from his caricature by "Spy" (Leslie Ward) in Vanity Fair (11 November 1871). But it is the public face of Arnold, and that is what it was intended to be.
And there, perhaps, lies the problem. Generally speaking, Watts seems to have painted for others, either in his own times or in posterity, rather than for himself. At its best, some of this work is very good indeed, but it is not quite of the first order. His sculpture is another matter. His early artistic training had been in the studio of Queen Victoria's "Sculptor in Ordinary" William Behnes (1795-1864), and he had enjoyed clay modelling in Italy in the 1840s. When he took up sculpture again in middle age, he evidently found it liberating. Setting out only to please himself, as apparently he did with "Physical Energy (done "purely for its creator's pleasure" [Underwood and Jefferies, p.16]), he produced work of unquestionable and timeless power.
Bibliography
Underwood, Hilary, and Richard Jefferies, The Watts Gallery Compton: A Visitor's Companion, Compton: The Watts Gallery, 2004.
Related Web Resources
An excellent discussion by Paul Barlow of

Hope

on the Tate Gallery site.
More material on the chapel, at the Watts Gallery site
Christie Davies's provocative (and entirely negative) review of the exhibition at the National Portrait Gallery on his blog.
---
Created 8 February 2006

Last modified 14 November 2021