Biography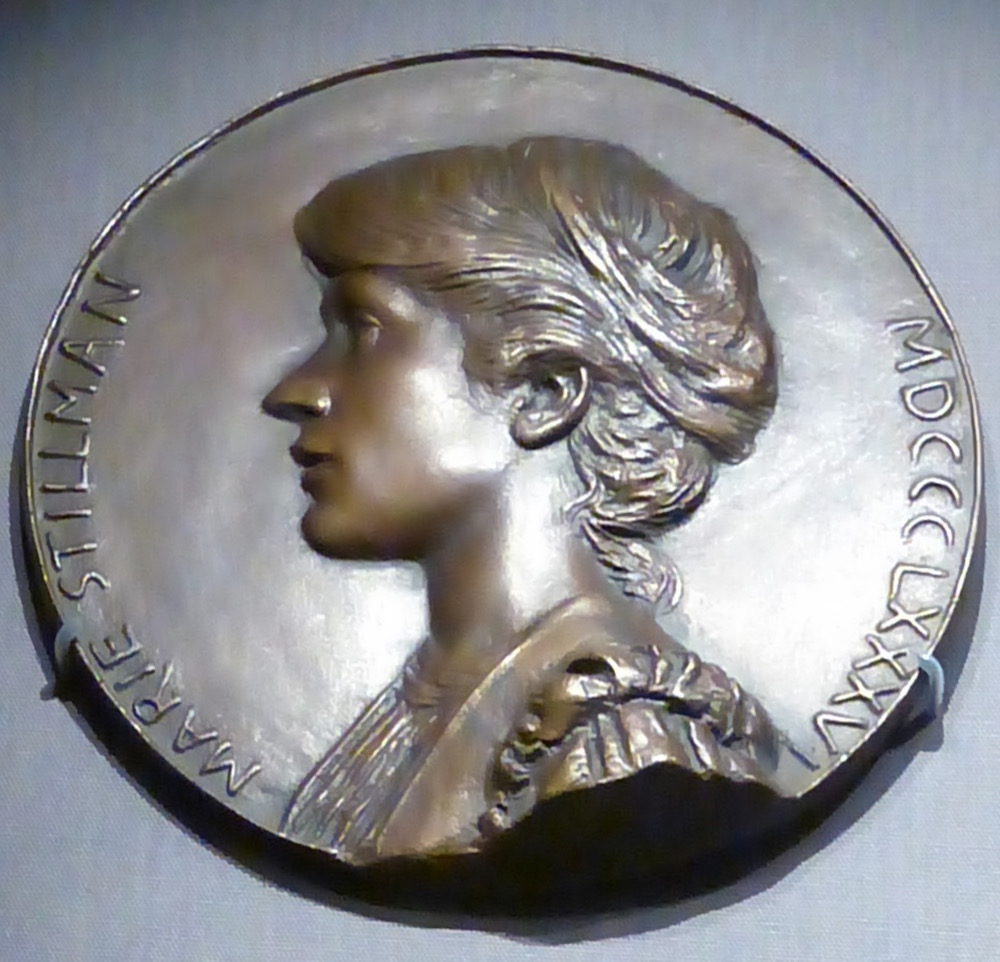 Maria Zambaco's medallion portrait of Marie Spartali Stillman, 1886.
Marie Spartali (later Stillman) was born in Hornsey, into London's wealthy Anglo-Greek community, and was introduced into artistic circles very early in life. Her sister Christine was painted by James McNeil Whistler, and she herself was photographed by Julia Margaret Cameron. She and relatives Maria Zambaco and Aglaia Coronio were known as the Three Graces, and she was always much admired for her beauty. But it was not simply her looks that attracted artists: David Elliott writes, "her qualities as model were not only readiness and but also a deep involvement in the work and that artist, whether it was Madox Brown, Julia Margaret Cameron, Val Prinsep, John Roddam Spencer Stanhope or Rossetti" (20).
Her ambition, however, was to become a painter herself, rather than a model, and to be recognised (and paid) as a professional. In April 1864, she began taking lessons from Ford Madox Brown, who flirted with and became infatuated with her (see Treuherz 63 and 33), and from 1867 she began exhibiting her work, first at the Dudley Gallery and later at the Dudley Gallery (see Nunn).
In 1871 Spartali's marriage to the widowed American journalist William J. Stillman marked a new phase in her life. It put an end to Brown's "hopeless passion" (Treuherz 70), and from now on she was often abroad with her husband, who was eventually (in 1886) to become the Italian and Greek correspondent for the Times. Stillman was a widower with three children already, and Marie had three more of her own in the 1870s (although one died soon after birth). So it was a busy and unsettled existence.
Nevertheless, she continued to paint and send pictures to exhibitions in England, making a name for herself as an artist, as she had hoped, and being welcomed into the Pre-Raphaelite circle. Her art at this time found great favour with the Brotherhood:
Spartali Stillman developed a distinctive pictorial style of poetic scenes drawn from late-medieval texts by Dante, Boccaccio and Petrarch. Notable for colour harmony and evocative atmosphere, her works were eloquently praised by Henry James. Her closest Pre-Raphaelite friends were Gabriel Rossetti, Edward Burne-Jones and Jane Morris. [Nunn]
She was particularly close to Jane Morris. Among her popular works (particularly in America) were her views of Kelmscott Manor, which she often visited after she and Jane were both widowed — her husband died in 1901.
But she did not allow herself to stagnate: she always liked to take on new challenges. In the 1890s, she had been much involved with the "In Arte Libertas" group in Rome, painting and exhibiting her paintings of this period with some success, and Pamela Nunn tells us that she had solo exhibitions in Boston in 1903 in Boston, and in New York in 1908, completing her last important work as late as 1914. In recent years, with the growing interest in women's art, interest in her work has revived, with an acclaimed exhibition in the Delaware Art Museum in America in 2015-16, part of which came to the Watts Gallery in Surrey just afterwards. It was entitled "Poetry in Beauty: The Pre-Raphaelite Art of Marie Spartali Stillman," firmly positioning her in the Pre-Raphaelite movement.
Works
Related Material
Bibliography
Elliott, David B. A Pre-Raphaelite Marriage: The Lives and Works of Marie Spartali Stillman and William James Stillman. Woodbridge, Suffolk: Antique Collectors Club, 2006.
Marsh, Jan. "'The Old Tuscan Rapture': The Response to Italy and Its Art in the Work of Marie Spartali Stillman." In Unfolding the South: Nineteenth Century British Women Writersand Artists in Italy. Edited by Ann Chapman and Jane Stabler. Manchester: Manchester University Press, 2003. 159-82.
_____. Pre-Raphaelite Sisterhood. London: Quartette, 1985 (available as a Kindle ed. now, but does not deal with Stillman at any length).
Nunn, Pamela Garrish. "Stillman [née Spartali], Marie (1844–1927), painter and artist's model." Oxford Dictionary of National Biography. Online edition. Web. 29 October 2019.
Straub, Julia. Victorian Muse: The Afterlife of Dante's Beatrice in Nineteenth-Century Literature. Pbk ed. London and New York: Continuum, 2011.
Treuherz, Julian, with contributions by Kenneth Bendiner and Angela Thirlwell. Ford Madox Brown: Pre-Raphaelite Pioneer. London: Philip Wilson, 2011. [Review]
Yeldham, Charlotte. "Pre-Raphaelite women artists (act. 1848–1870s), female contemporaries of the Pre-Raphaelite Brotherhood (PRB)." Oxford Dictionary of National Biography. Online edition. Web. 29 October 2019.
---
Created 29 October 2019