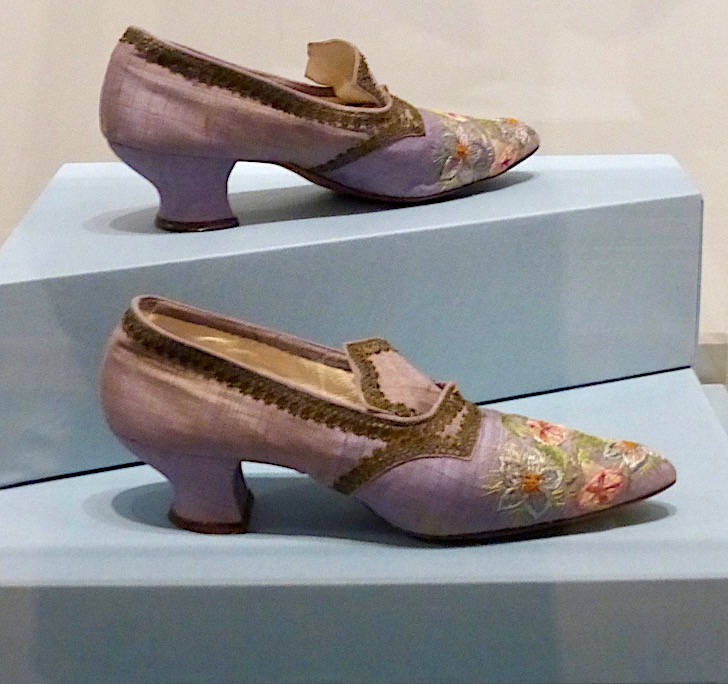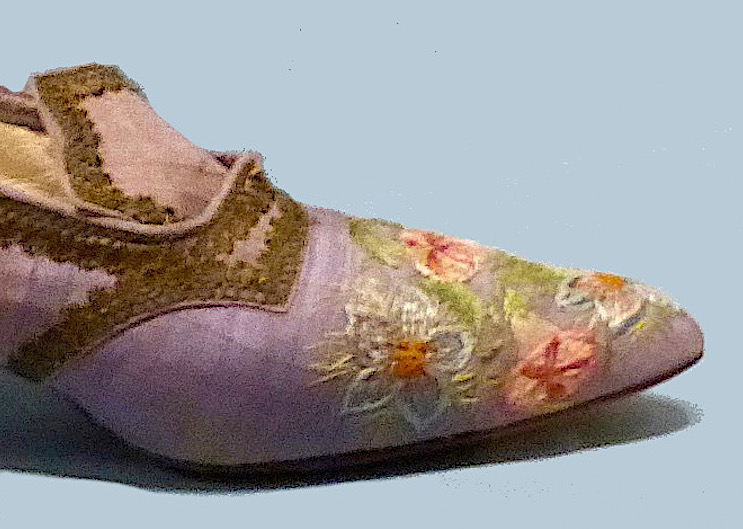 Shoes embroidered by Marie Spartali Stillman (1844-1927). These silk embroidered shoes are 10 x 3 inches each, and were given to the Delaware Art Museum, Wilmington, by Eugenia Diehl Pell in 2016. They were later lent to the National Portrait Gallery, London, for "Pre-Raphaelite Sisters," an exhibition currently being held at the gallery, 17 October 2019 – 26 January 2020. [Click on the images to enlarge them.]
The Delaware Art Museum explains on its own website,
The gift of Marie Spartali Stillman's tunic and shoes was the result of the Museum's 2016 groundbreaking exhibition, "Poetry in Beauty: The Pre-Raphaelite Art of Marie Spartali Stillman," organized by Dr. Margaretta Frederick, the Annette Woolard-Provine Curator of the Bancroft Collection at the Delaware Art Museum, adding to the Museum's collection of British Pre-Raphaelite art. "Marie Spartali Stillman has received little recognition within the history of art for a number of reasons, including persistent attitudes towards women artists during that time," explains Frederick.
One of those "persistent attitudes" was that women should take supportive roles rather than pursue a vocation or profession of their own. Embroidery, however, was considered an acceptable way for them to express themselves in art, within the domestic space, and it was practised widely and with great skill, as these shoes, and another exhibit at the National Portrait Gallery exhibition — an evening bag embroidered by Jane Morris — demonstrate.
The display of these items in close proximity is entirely fitting, because, according to the gallery label in London, "[t]he wild flower design evokes both Jane Morris's embroideries and Spartali Stillman's visits to Kelmscott Manor." Although the shoes are undated, they could have been among the items that Stillman mentioned in a letter of February 1905, as being embroidered for her daughter Effie, who was about to get married. — photograph and text by Jacqueline Banerjee (the background in the close-up of the embroidery has been digitally removed).
Related Material
Bibliography
"Museum Acquires Important Works of Art." Delaware Art Museum. 27 October 2019.
---
Created 28 October 2019