Francis Montague Holl was born in London in 1845 into a family of engravers. Having entered the Royal Academy Schools in 1860, the young artist achieved early notable success and won a scholarship to visit Europe for his painting The Lord Gave and the Lord Hath Taketh Away, Blessed Be the Name of the Lord (1868). But, having travelled through France, in Italy Holl resigned the scholarship, returning north. Time spent in Antwerp proved influential; Holl was moved by the glories of northern painting, experiencing works by amongst others Rembrandt and Rubens.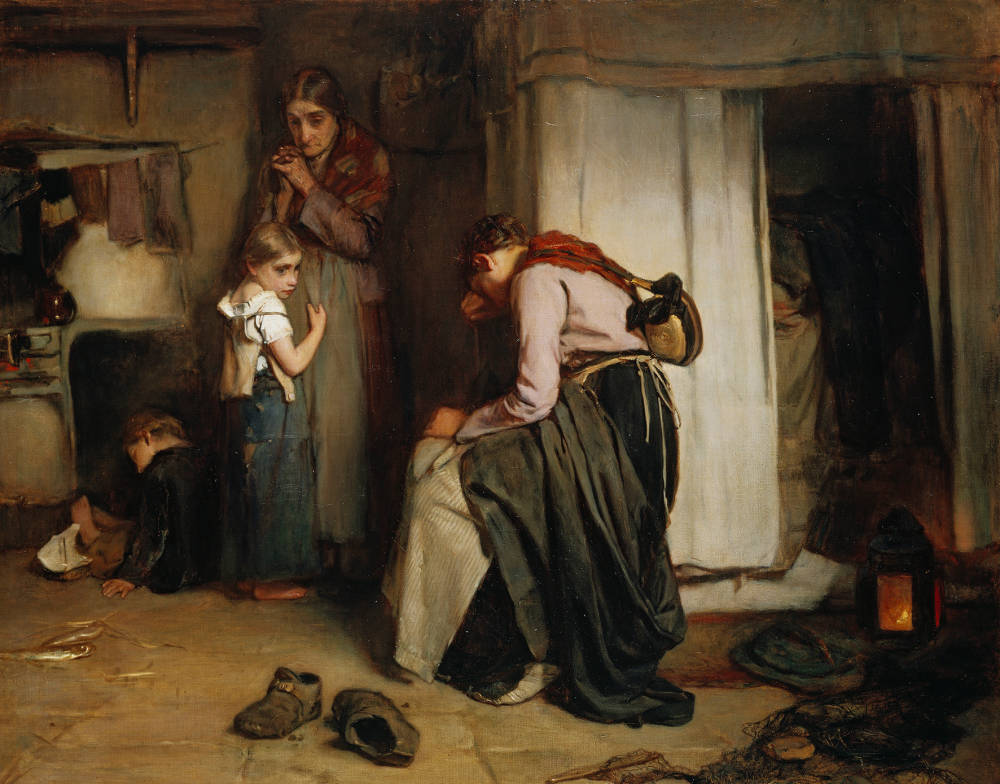 Left to right: (a) The Lord Gave and the Lord Hath Taketh Away, Blessed Be the Name of the Lord. (b) No Tidings from the Sea. [Click on these images for larger pictures.]
Back in London, Holl's powerful portrayals of the impact of loss, departure and death attracted attention. In 1870, he was commissioned by Queen Victoria and travelled to the poor fishing village of Cullercoats to capture a community's hard life at first-hand. Throughout his career, Holl demonstrated a profound belief in the fidelity of truth in paint, exemplified by his painting of Cullercoats for the Queen, No Tidings from the Sea (1870, Royal Collection).
In 1872, Holl joined the group of eminent artists – amongst them Luke Fildes, Hubert von Herkomer and Millais – who illustrated the newly launched The Graphic. The artist's reputation grew; he was awarded a medal at the American Centenary Exhibition in 1876 and was admired by, amongst others, Whistler and Van Gogh, who collected several of his prints from The Graphic. Holl was elected an Associate of the Royal Academy in 1878, on the strength of one of his most celebrated works, Newgate; committed for trial (1878, Royal Holloway).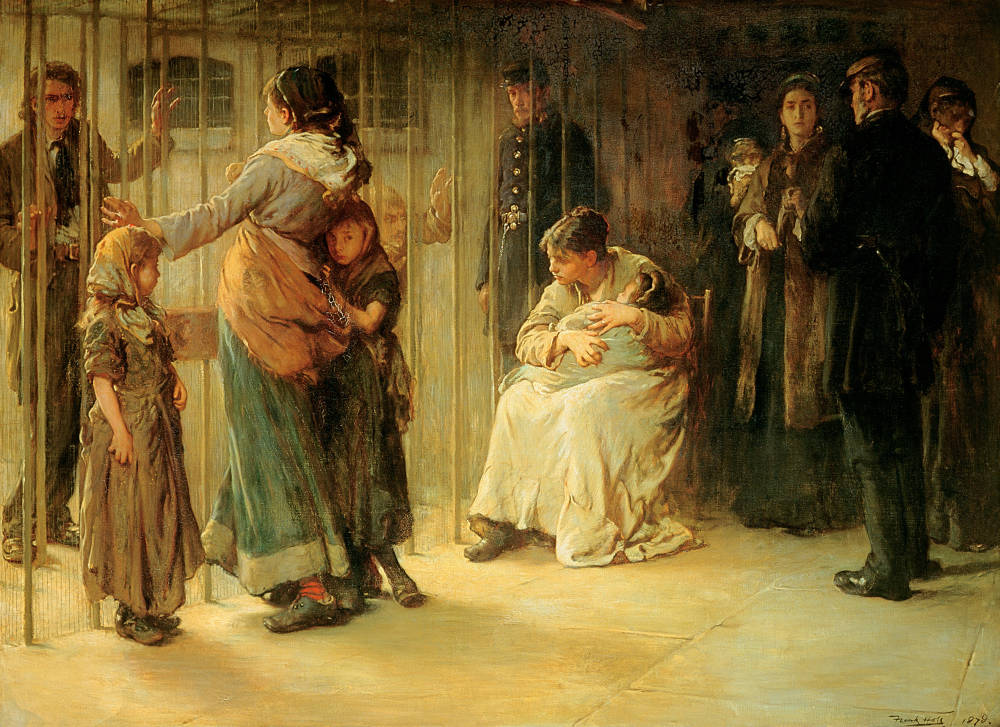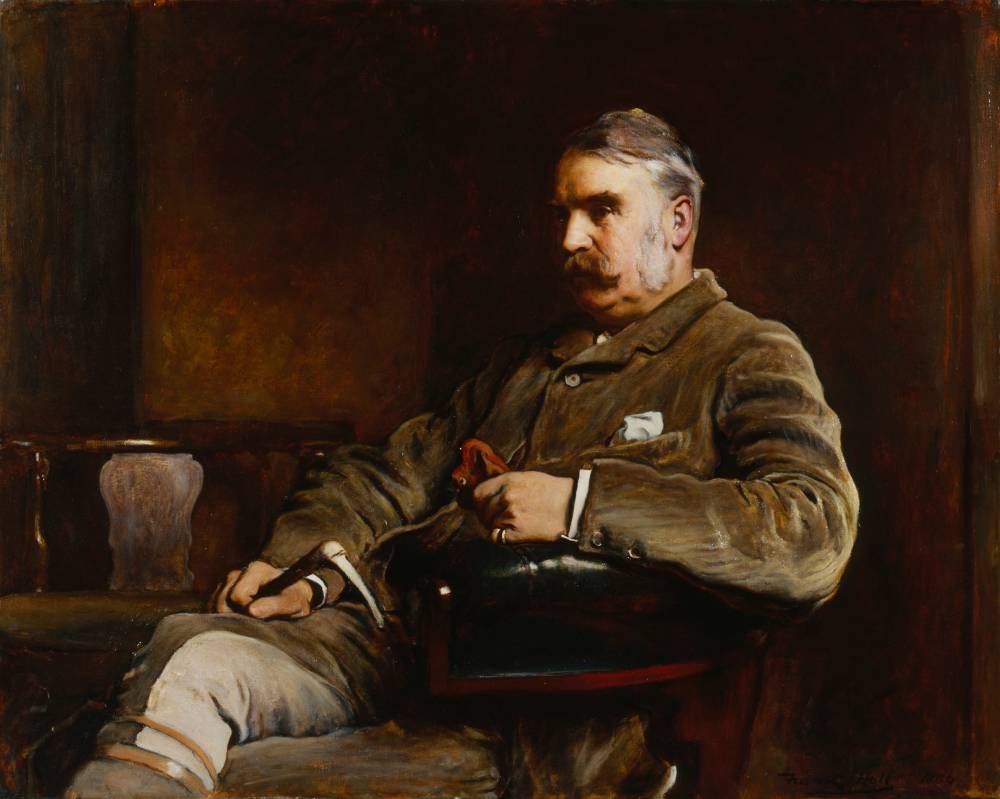 Left to right: (a) Newgate; committed for trial. (b) Sir William Schwenck Gilbert. [Click on these images for larger pictures.]
The 1880s witnessed a change in direction for Holl. The artist stopped subject painting in favour of portraiture. This change can be seen as a response to a shift in artistic taste that occurred at the time but, significantly, it was also brought about by financial need. With a family, a studio house in London and a house in Surrey – both designed by Richard Norman Shaw – the artist had lived beyond his means. Holl soon became an acclaimed portraitist. His portraits of Samuel Cousins and William Gladstone were greatly acclaimed and, when G.F. Watts withdrew from a commission to paint Prince Edward, Watts suggested that Holl was the man to do it.
Elected Royal Academician in 1883, Holl's career was at its peak. Commissions were constant and the artist would not decline. This ceaseless workload took its toll; Millais describes Holl's "killing portraits" in a letter to the artist in his final illness (1888) having taken note of the detrimental impact this rigorous regime appeared to have on Holl's health.
On 31 July 1888, exhausted, Holl died. The annual Old Masters' exhibition at the Royal Academy the following year dedicated two rooms to the artist, showing more than 50 works. — Mark Bills
Related material
Works
Exhibitions
References
Bills, Mark. Frank Holl: Emerging from the Shadows. London: I. B. Tauris, 2013. [Review by George P. Landow]
Spielmann, M. H. "The Late Frank Holl." Magazine of Art. 11 (November 1887-October 1888): 412-13. Internet Archive version of a copy in the University of Toronto Library. Web. 8 September 2013.
---
Last modified 26 April 2019