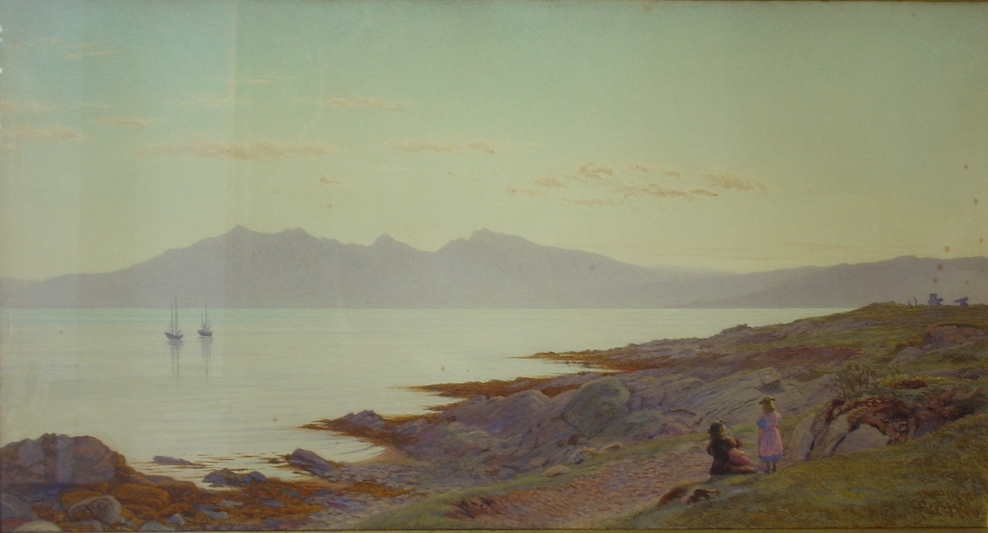 The Mountains of Arran, by Anna Blunden later Martino, 1829-1915. Watercolour. 1873. Size: 37 x 70 cm. Private Collection.
Particular areas of Britain long acknowledged to be especially picturesque, beautiful or sublime included the Lake District, North Wales and Scotland, although the last of these seems to have made only this one appearance in Blunden's exhibition record. It is tempting to speculate that a northern journey at this time might have been curtailed by the pregnancy that followed the artist's marriage, leading to the birth of her daughter Violet in 1874.
The low viewpoint Blunden employs in this painting contrasts with the point of view used in View near the Lizard, where the height of the cliffs is the natural feature that the artist wishes to emphasise. However, the use of staffage (small figures placed in the scene to set scale and invite the viewer to enter into the view presented) is common to both these compositions, and a long-established device in landscape painting.
Links to related material
Bibliography
Staley, Allen. The Pre-Raphaelite Landscape. New Haven: Yale University Press, 1973 and 2001.
Staley, Allen, and Christopher Newall. Pre-Raphaelite Vision: truth to nature. London: Tate Publishing, 2004.
---
Created 8 April 2022