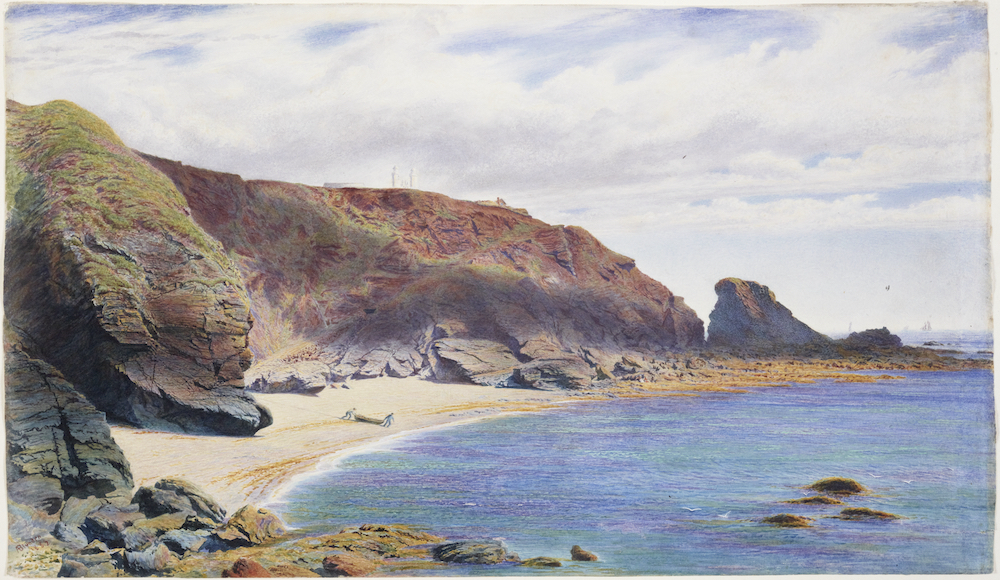 View near the Lizard: Polpeor Beach, by Anna Blunden later Martino, 1829-1915. Watercolour heightened with white, on paper. 1862. Size: 32.9 x 56.5 cm. Collection: Whitworth Gallery (D.1993.3). Image © the Whitworth, The University of Manchester. Photography by Michael Pollard. Click on the image to enlarge it. Please ask the gallery if you would like to reuse it. [Detail of men with boat.]
John Ruskin had advised Blunden to concentrate on the painting of nature. She followed this advice, and he gave favourable notice to her Academy exhibits of 1858 and 1859. From the late 1850s she was, in fact, a noted exhibitor of this modern type of nature-painting, most comparable for critics with John Brett. Perhaps taking her lead from his particular enthusiasm for coastal scenery – though not, like him, equipped with her own boat! - she gave most of her attention during the 1860s, 1870s and 1880s to landscapes featuring water in some form – shorelines, bays, lakes and so on. Yet she has been unjustly overlooked in the account of Pre-Raphaelite landscape.
Cornish scenery was an established favourite with gallery-goers and, although Blunden's travels have proved so fair difficult to track, she clearly determined to added Cornwall to her repertoire in the early 1860s, with Kynance Cove appearing at the Academy in 1863, and Gillow Carn from the Lizard and The Old Millhouse, Kynance Cove the same year. These were locations that fellow Pre-Raphaelites William Holman Hunt, John Inchbold and the aforementioned Brett also treated.
Note
As for her interest in Cornwall, according to a correspondent who wrote to the Cornwall Artists Index in 2019, "Anna Blunden painted a lot in the Lizard area in the 1860s, and was thought to have been acquainted with the Rev. Edmond George Harvey, vicar of Mullion from 1865 to 1881. Her address was given as 'The Lizard' at the Liverpool Exhibition." After the paintings mentioned above, she exhibited two more Cornish paintings at the Royal Academy: Mullion Cove (1864) and Tintagel (1867). JB
Links to related material
Bibliography
"Anna Blunden." Cornwall Artists Index. Web. 29 March 2022.
The Lizard Point, Cornwall. Whitworth Art Gallery. Web. 29 March 2022.
Gerrish Nunn, Pamela. "Pre-Raphaelites in Cornwall." Journal of Pre-Raphaelite Studies 27 (Fall 2018): 74-86.
Payne, Christiana. John Brett, Pre-Raphaelite Landscape Painter. New Haven: Yale University Press, 2010.
Staley, Allen. The Pre-Raphaelite Landscape. New Haven: Yale University Press, 1973 and 2001.
Staley, Allen, and Christopher Newall. Pre-Raphaelite Vision: truth to nature. London: Tate Publishing, 2004.
---
Created 29 March 2022

Last modified 8 April 2022