Photographs and image scan by the author. You may use these without prior permission for any scholarly or educational purpose as long as you (1) credit the photographer or source and (2) link your document to this URL or credit the Victorian Web in a print document. [Click on the pictures to enlarge them.]
Conan Doyle's First Visit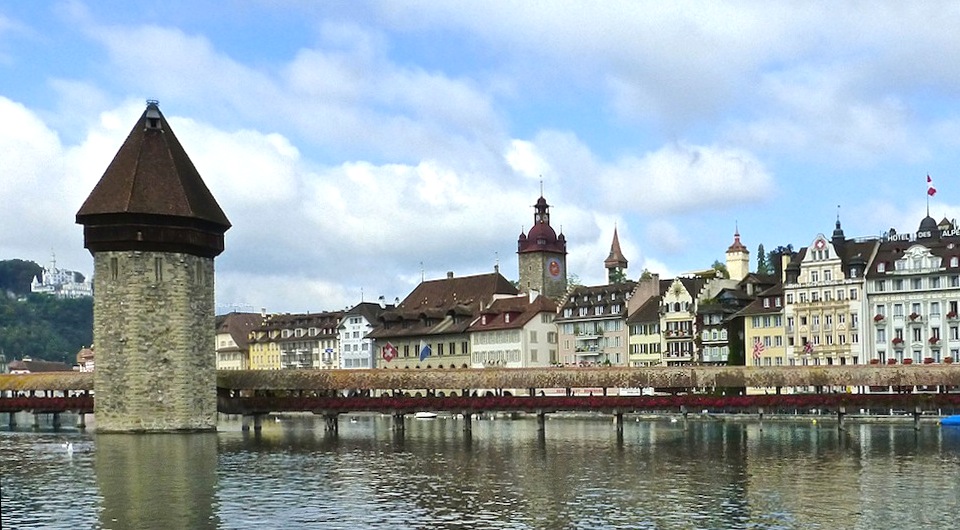 The covered Chapel Bridge at Lucerne, with the water tower. Lucerne was a favourite haunt of the Victorians.
Early in 1893 the Reverend W. J. Dawson, who was the chief editor of the Christian magazine The Young Man, and a great fan of Arthur Conan Doyle's historical novels, asked the famous author to write for the magazine on the subject of the best book of the previous year. He agreed — in fact, he wrote appreciatively about two books (volumes of suitably inspiring poetry, by Kipling and Henley). It was the beginning of a fruitful relationship. The magazine was offering its readers an inexpensive nine-day stay in central Switzerland that summer, and holding a meeting out there in the picturesque lakeside town of Lucerne. This was a popular tourist destination already. Turner had liked to paint there, and, like a number of her eminent subjects, Queen Victoria had visited it in 1868, staying there incognito with three of her children, and taking up sketching again for the first time since Prince Albert's death. Conan Doyle and his wife Louise took a room at the Hotel de l'Europe, and on 9 August he gave a talk in the hotel about a favourite subject — George Meredith, whom he had met several times in 1892, and about whom he had lectured elsewhere, for example, at the Upper Norwood Literary and Scientific Society (see Booth 175).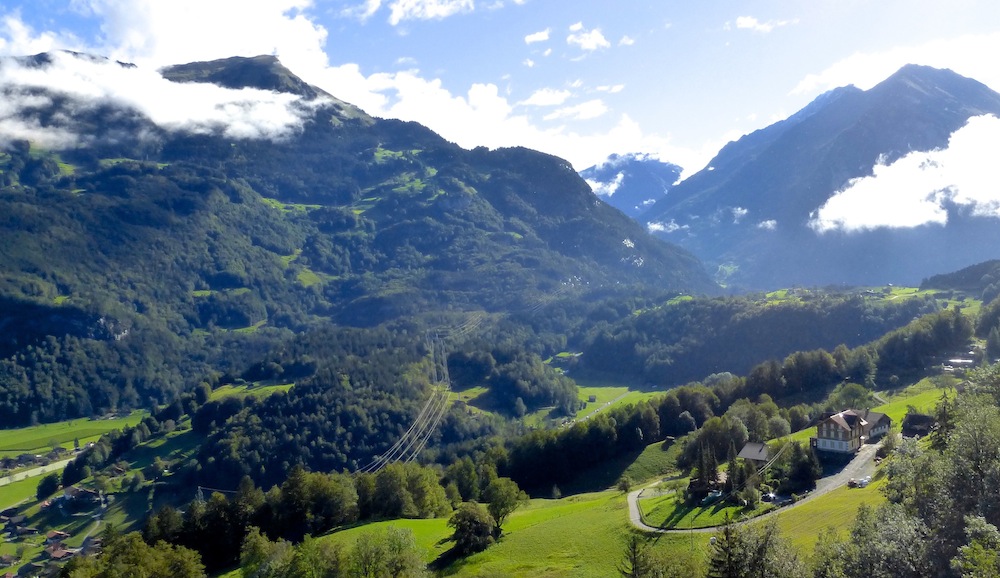 The valley at Meiringen.
Amongst those present at the talk was Henry Lunn, who had been a medical missionary and would soon become better known for his travel company. Conan Doyle took walks among the hills with Dawson, Lunn and others, talking of the various issues with which he was then preoccupied, especially perhaps "religion and its basis" (qtd. in Lycett 191). He was also thinking at this time of how to dispose of Sherlock Holmes. The famous detective had become a burden to him. To his mother he had written, "He takes my mind from better things" (qtd. in Booth 174). Dawson later admitted, or perhaps "claimed" is a better word, that he had helped with Holmes's apparent dispatch by selecting a suitable spot for it, the then powerful Reichenbach Falls on the outskirts of the pleasant little town of Meiringen, another popular Alpine resort for the British not far from Lucerne (see Lycett 202-03).
The Englischer Hof and Sherlock Holmes in Meiringen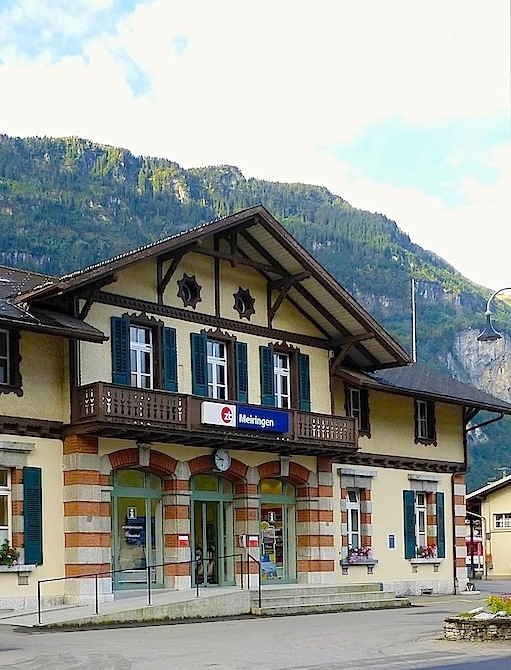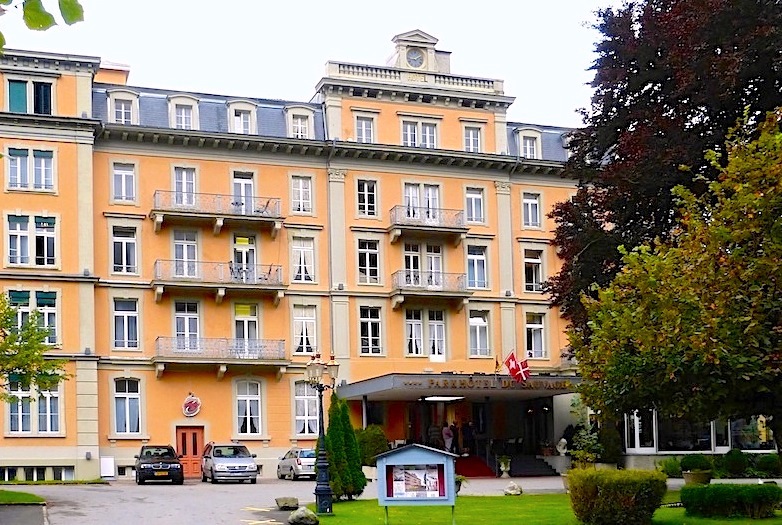 Left: The entrance to Meiringen Station. Right: The front elevation of Park Hotel du Sauvage.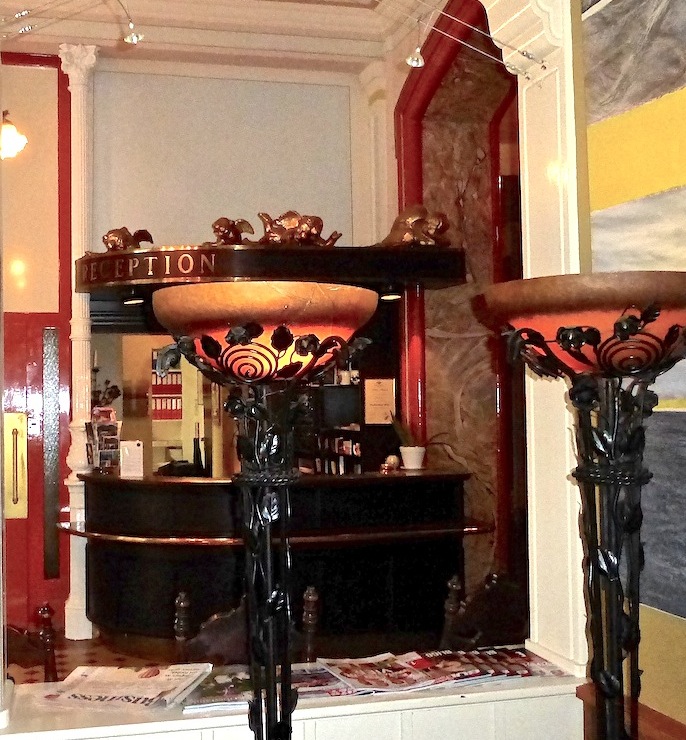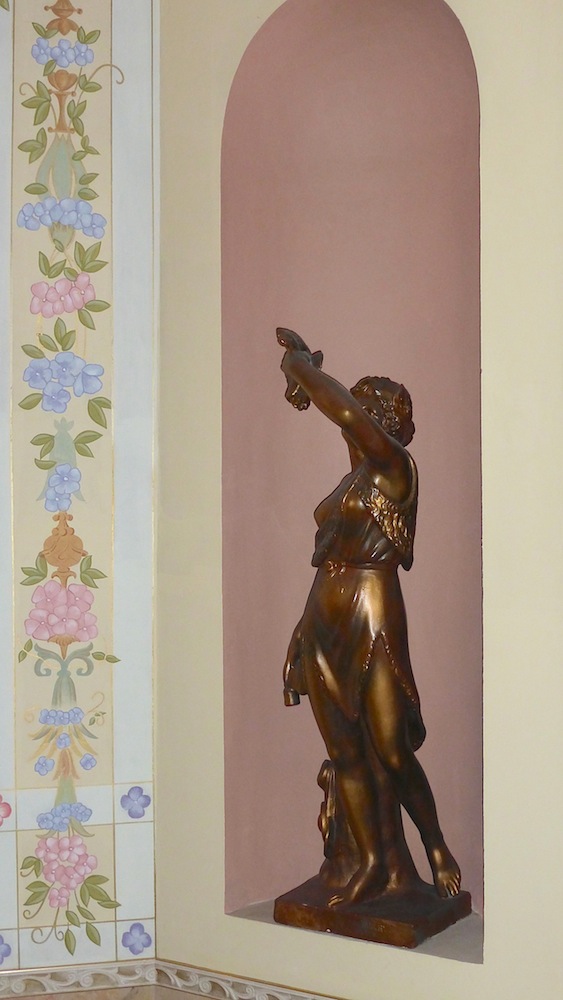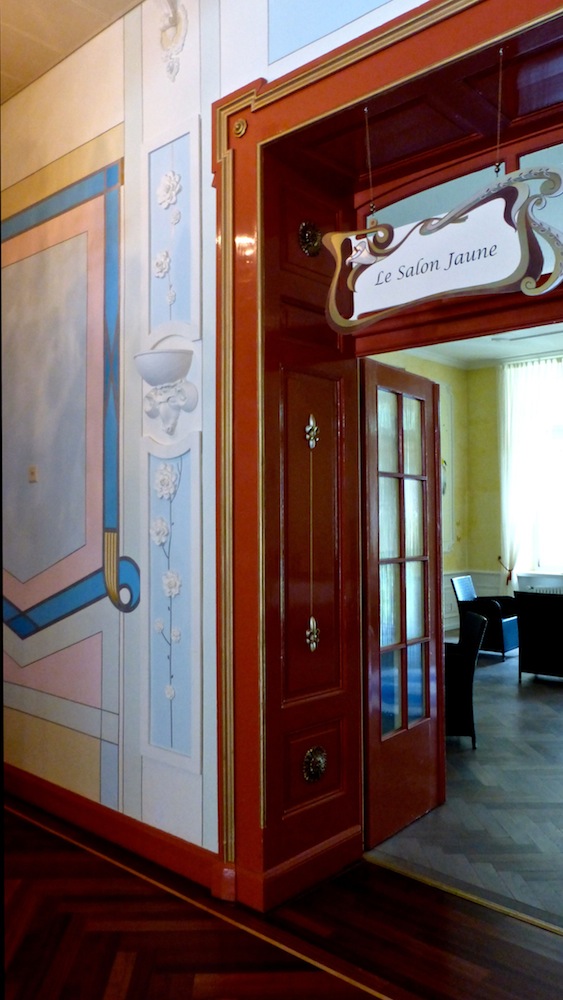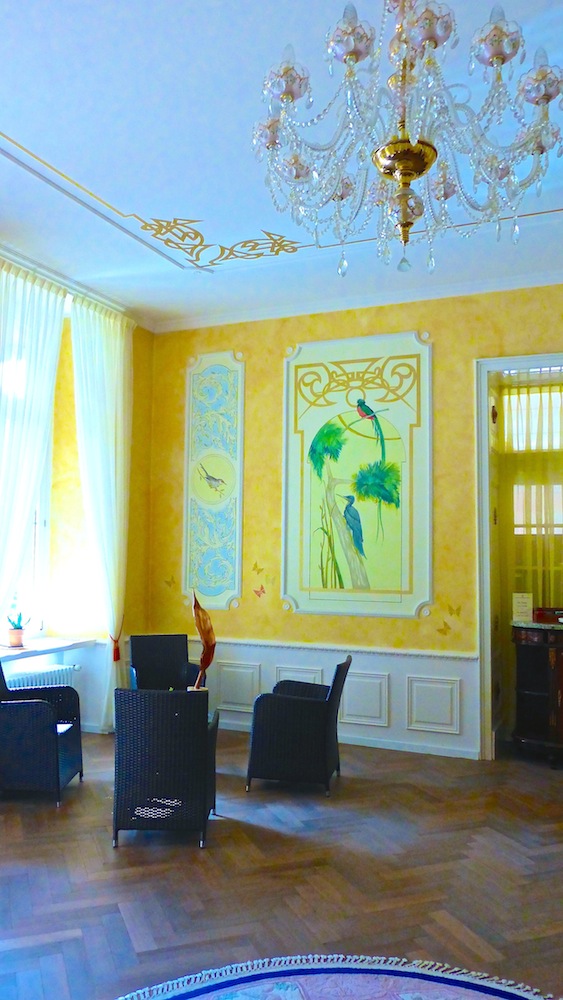 The interior of the hotel. Left to right: (a) The hotel reception. (b) An art nouveau statue in a niche by the stairwell, inscribed on the base "H. Lavanch." (c) Outside Le Salon Jaune. (c) The fashionable Salon Jaune.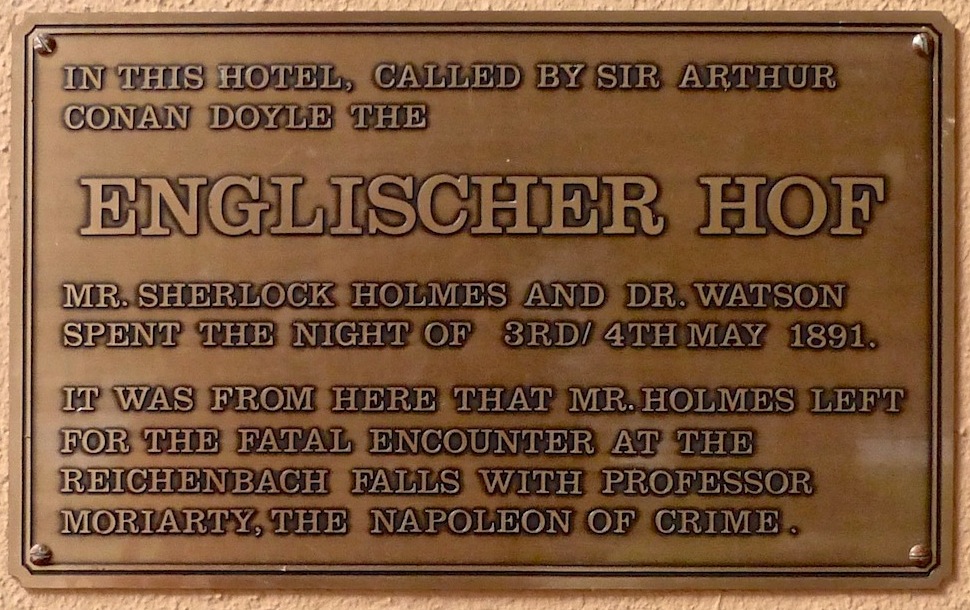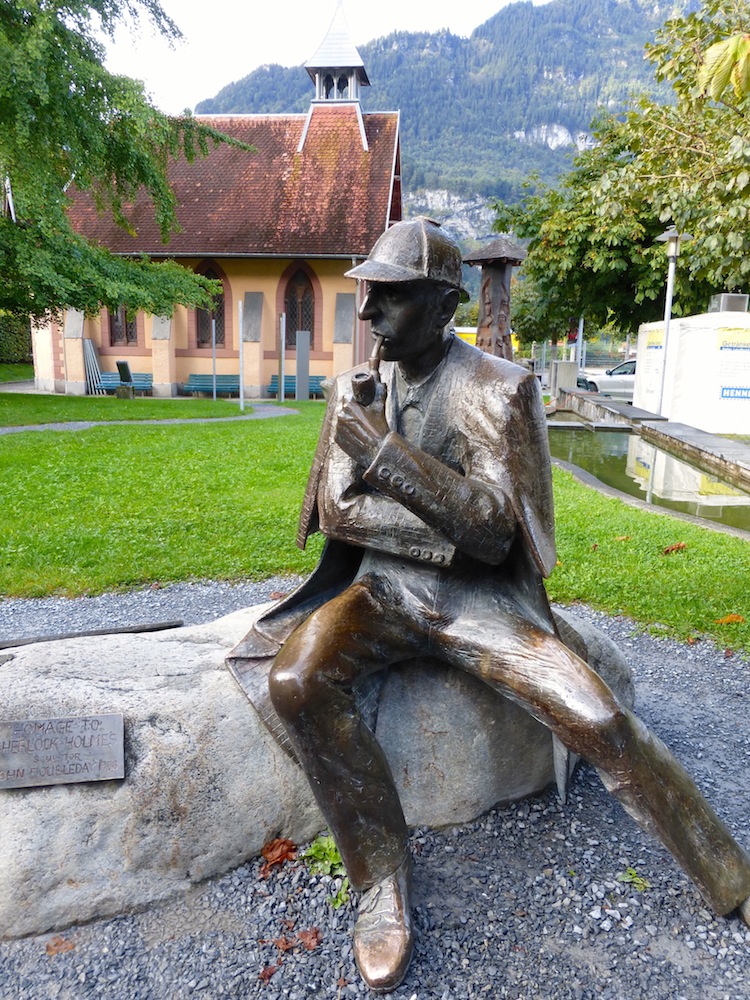 Left: Plaque by the hotel entrance. Right: Seated statue of Sherlock Holmes by John Doubleday, b. 1947, in Conan Doyle Place, the town square of Meiringen.
Meiringen was the ideal setting for Holmes's last adventure, as then planned. It had become even more popular with the British since the opening of the railway line from Lucerne over the Brunig Pass in 1888 (see Museum Catalogue). Moreover, it had just the sort of hotel where Holmes and Watson would have stayed, one that was packed every summer with parties of British visitors. The Park Hotel du Sauvage, as it is now called, is decorated exactly in the style of that period, with (for example) its "Salon Jaune" recalling the fin-de-siècle fondness for yellow. At any rate, Conan Doyle seized on it as the Englischer Hof of "The Final Solution," from which Holmes and Watson set out on the recommendation of the hotelier to visit the nearby Falls. This is where Holmes and his great adversary Moriatry struggle, to all intents and purposes hurtling together into the foaming abyss below. It was one of the great moments in detective fiction.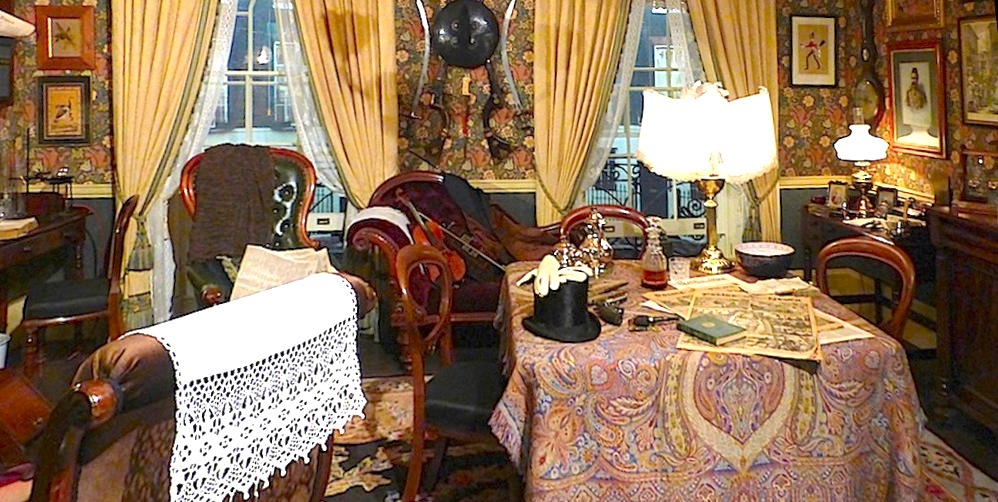 Part of Holmes's Baker Street room, as recreated from Conan Doyle's descriptions, in the lower floor of the English Church next to the hotel and behind the statue.
The whole area around the hotel now trades on the Holmes connection. It already had a little English Church next to it, a delightful Gothic building where the Rev. Dr Charles Horsley from south London once served as the summer chaplain. Conan Doyle could never have imagined that this church would one day house a popular Sherlock Holmes Museum, but that is exactly what has happened. His hero's Baker Street sitting-room has been lovingly recreated here, by John and Sylvia Reid, from his scattered descriptions of it. In the part shown in the photograph above, visitors to the museum can see (for example) a Victorian dining-table lamp complete with silk shade in an authentic design; Holmes's top hat and gloves, also on the table, with some newspapers of the day; Holmes's violin and bow resting on the chair just left of centre; Dr Watson's war trophies from the second Afghan war hanging on the wall between the very cleverly created "windows"; and various other pieces relevant to Holmes, Watson or landlady Mrs. Hudson. A little bit of late nineteenth-century London has been transplanted into the Swiss Oberland, without, it seems, any damage to its original atmosphere.
Conan Doyle and the History of Skiing in Switzerland
On the Conan Doyles' return from this first Swiss trip, Louise was taken ill with the symptoms of tuberculosis. As a doctor, her husband may perhaps have had some underlying suspicions about this. Such suspicions may even have been part of the reason for that trip, since the Swiss air was thought to be good for combating the disease. On the other hand, Julian Barnes, in his neo-Victorian novel Arthur and George, imagines him blaming himself for having taken her to a cold climate and letting her accompany him on his excursions (83). This seems rather less likely, though, because after the diagnosis had been confirmed, and after the difficulties surrounding the death of Conan Doyle's father at that time, the couple returned to Switzerland. This time they stayed in Davos, where Conan Doyle's friend Robert Louis Stevenson had once stayed in an effort to cure his own tuberculosis (see Booth 196).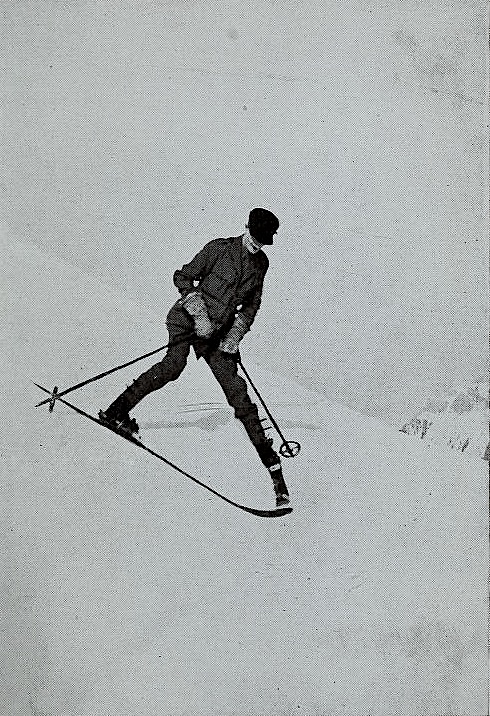 "Half-way through a Stemming Turn." From a photo by Capt. Carlyon in Arnold Lunn's Cross-Country Ski-ing (facing p. 60).
It was on this occasion that the author left quite a different kind of mark on the country. He was not actually the first to use skis there. Martin Booth explains that "two local carpenters and sledge-makers, Tobias and Johann Branger ... had already been experimenting with skis for about a year." But when Conan Doyle sent for some skis from Norway, where he had done some skiing before, and accompanied the Brangers on a ski trip from Davos to Arosa via the Furka Pass, their efforts were taken more seriously. From practising at night to avoid ridicule, they became trail-blazers. As for Conan Doyle himself, after the pioneering crossing, he was delighted to be entered as "Sportesmann" in the hotel register at Arosa (Booth 192). He was well aware of his role here, writing, "I think I am right in saying that these and other excursions of ours first demonstrated their [skis'] possibilities to the people of the country.... If my rather rambling career in sport has been of any practical value to any one, it is probably in this matter" (qtd. in Pascal 84). It seems amazing that literary men like Sir Leslie Stephen (in Alpine mountaineering) and Sir Arthur Conan Doyle (in Alpine skiing) should have done so much to promote sports in Switzerland.
Incidentally, here again the pretty little Alpine town of Meiringen had its part to play. One of Henry Lunn's sons, Arnold Henry Moore Lunn (later Sir Arnold Henry Moore Lunn), became a great promoter of Alpine skiing and founded the Alpine Ski Club. He wrote: "The Bernese Oberland is in my opinion the finest of all fields for high Alp ski-ing. The glaciers are greater than in other parts of the Alps, and such good judges as Sir Martin Conway assert that 'the great snow highway from Ried in the Lotschenthal to Meiringen is the finest thing of its kind in the Alps'"(Ski-ing, 170).
As for the Conan Doyles, the bracing Alpine air could not cure Louise, any more than it had cured Stevenson, but she did live much longer than the mere three months she had originally been given. She died in July 1906. This left her patient and attentive husband free to marry, after a discreet interval, the woman with whom he had fallen deeply in love in 1897 — Jean Leckie, who thus became the new Lady Conan Doyle.
Related Material
Sources
Barnes, Julian. Arthur & George. London: Vintage, 2005.
Booth, Martin. The Doctor and the Detective: A Biography of Sir Arthur Conan Doyle. London: Hodder & Stoughton, 1997.
Burns, F. T. "Lunn, Sir Arnold Henry Moore (1888–1974)." Oxford Dictionary of National Biography. Online ed. Web. 23 October 2014
Lunn, Arnold. Cross-Country Ski-ing. London: Methuen, 1920. Internet Archive. Contributed by the Library of Congress. Web. 23 October 2014.
____. Ski-ing. London: E. Nash, 1913. Internet Archive. Contributed by the University of California Libraries. Web. 23 October 2014.
Lycett, Andrew. The Man Who Created Sherlock Holmes. London: Weidenfeld & Nicolson, 2007.
Museum Catalogue, compiled by Guy Marriott. Meiringen, Switzerland: Sherlock Holmes Museum, 2012.
Pascal, Janet B. Arthur Conan Doyle: Beyond Baker Street. Oxford: Oxford University Press, 2000.
---
Last modified 24 October 2014