Introduction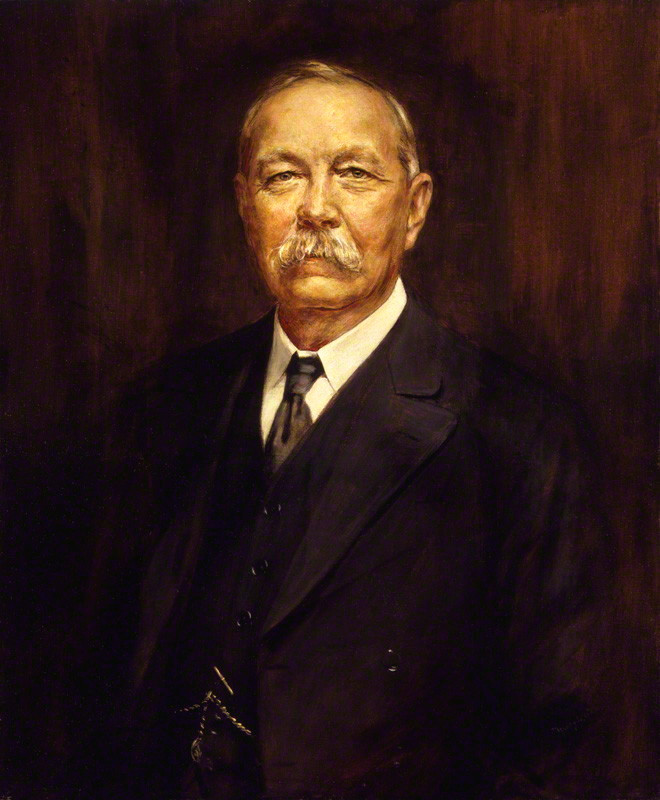 Sir Arthur Conan Doyle is known all over the world as the creator of one of the most famous fictional characters in English literature, the master detective Sherlock Holmes, but he was much more than the originator of modern detective literature. He was a man of many talents and pursuits: a medical doctor, multi-talented sportsman, prolific and excellent storyteller, keen patriot and a staunch imperialist, as well as a campaigner against miscarriages of justice.
He tried his hand in many genres of fiction and poetry. He wrote detective stories, historical and social romances, political essays and an innumerable number of letters to the press, public figures, acquaintances and friends, to his adored mother and other family members. Last but not least, he was a formidable public speaker and a dedicated Spiritualist, who investigated and popularised supernatural phenomena. A Victorian to the bone, he cherished the ideals of duty, chivalry, honour and respectability.
The origin of the surname
Doyle had an ancient Irish surname, ranking twelfth in the list of the most common surnames in Ireland. It can be derived from the Gaelic Dub-Ghaill ('dark foreigner'), the name which the Celts gave to the Vikings, who began settling in Ireland more than 1,000 years ago, or from the Anglo-Norman surname of d'Oillys, who arrived in England with William the Conqueror and then settled in Ireland.
There is a controversy about the full name of the author of the Sherlock Holmes stories. He always signed himself: A. Conan Doyle. Whether Conan is a middle name or the first part of the compound surname is a matter of dispute among Doylists. The entry in the register of baptisms of St. Mary's Cathedral in Edinburgh gives 'Arthur Ignatius Conan' as his Christian names, and 'Doyle' as his surname.
Ancestors
The Doyle family originated in Ireland and were dedicated Roman Catholics. Arthur Conan Doyle's grandfather, John Doyle (c. 1797-1868), a tailor, was born in Dublin into a devoutly Catholic family. All John's siblings entered Catholic religious orders, but John, who exhibited artistic talents, decided to become a painter. In 1820, he married Marianne Conan, a daughter of a Dublin's tailor. In c. 1822, John and Mary Doyle moved to London with their baby daughter and rented a house in Soho, which was inhabited by artists and writers. John wanted to become a portrait painter, but soon he gained fame as a political cartoonist under the pseudonym of HB. In 1833, he moved with his wife and children to a large house near Hyde Park at 17 Cambridge Terrace, where he subsequently entertained notable people including Sir Walter Scott, Charles Dickens, Benjamin Disraeli, William Makepeace Thackeray, Dante Gabriel Rossetti, John Millais, and Edwin Lanseer.
In 1832, Charles Altamont Doyle, Sir Arthur's father, was born. He grew up with one sister and three brothers. All his brothers made splendid careers: James William Edmund (1822-1892) was a historian and history illustrator; Richard (1824-1883) became a Punch cartoonist like his father; and Henry Edmund (1827-1892) became an art critic and a painter. In 1869, he was appointed Director of the National Gallery of Ireland.
Charles (1832-1893), Arthur's father, was not as successful as his elder brothers. Although he exhibited an original artistic talent, he was not able to earn a living from his paintings. At the age of 17, he moved to Edinburgh, Scotland, and got the job of a clerk in the Office of Works as an architectural draftsman. He rented lodgings in the New Town, a central area of Edinburgh, in a house owned by a Roman Catholic widow Catherine Foley. In 1855, he married his landlady's daughter, Mary Josephine (1837-1921), aged seventeen, with whom he had nine children, seven of whom survived infancy.
Childhood
Arthur Ignatius Conan Doyle was born on May 22, 1859, at 11 Picardy Place, Edinburgh. He was baptised two days later in nearby St. Mary's Roman Catholic Church. Arthur was raised in a dysfunctional family because his father, an impecunious artist, was neurotic and could hardly support the family with a clerk's meagre salary. He developed a serious drinking problem, which eventually brought him to a mental asylum in 1881. Arthur's mother was a strong-minded Irishwoman, who traced her ancestry to the Plantagenets. She held the family together and carried the burden of running the household and raising the children. In his Memories and Adventures Conan Doyle writes that his boyhood in Edinburgh was
Spartan at home and more Spartan at the Edinburgh school where a tawse-brandishing schoolmaster of the old type made our young living miserable. From the age of seven to nine I suffered under this pock-marked one-eyed rascal who might have stepped from the pages of Dickens. [11]
Arthur's mother, who knew well contemporary English and French authors, was a masterful storyteller, and she inspired her son to take interest in history and literature. She exerted a strong influence on his future career. She told him stories of their family ancient aristocratic roots. At the age of about five Arthur wrote his first story, which had only thirty-six words. It was about a Bengal tiger and a hunter.
Education
At the age of seven Arthur began his education at Newington Academy in Edinburgh. Then thanks to his mother and the financial help of his uncles, particularly, Michael Conan, a Paris correspondent for the Art Journal, Arthur received good education. First, he was sent for a year to Hodder, a prep school which prepared for a prestigious Jesuit school, Stonyhurst College, in Lancashire, which Arthur started in autumn 1870. As Andrew Lykett writes:
Stonyurst was conservative and ultra-montane. This meant that its Rector or Head, Father Edward Ignatius Purbrick, followed a firm papal line in seeking to stem the tide of materialism in post-Darwinian Britain. [Lycett 32]
Arthur did not like the strict discipline and excessive religious instruction which the Jesuits had imposed on pupils. He was soon disillusioned with the Christian faith and when he was leaving the school he became almost an agnostic. While at Stonyhurst College, Arthur edited a school paper called Wasp and next the Stonyhurst Figaro, in which he revealed his talent as a future story writer. He also became a keen sportsman. In his later life he played cricket, rugby, football and golf, and was a cross-country skier.
After passing the London Matriculation Examination at Stonyhurst, Arthur spent a year in a Jesuit grammar school, Stella Matutina, in Feldkirch, Austria, where he was to learn German. He did not speak much German because he was surrounded by other English boys, but he discovered the short stories of Edgar Allan Poe, such as "The Gold Bug" and "The Murder in the Rue Morgue," which later exerted a great influence on his detective fiction. At Feldkirch he also edited a student paper, the Feldkirch Gazette, which carried the motto "Fear not, and put it in print." However, when he wrote an editorial criticising the Jesuit teachers' custom of censoring the boys' letters, the paper was shut down. Arthur's uncle, Michael Conan, a famous journalist, encouraged him to write, but he did not take this idea seriously at that time. (Pascal 18)
As a young boy Arthur was an avid reader, and one of his most favourite books was Sir Walter Scott's Ivanhoe. His other early readings included the novels of Robert Michael Ballantyne, Mayne Reid, James Fenimore Cooper, and Jules Verne. He spent much of his spare time reading, and once he borrowed so many books from the local library that, as he recalls in Memories and Adventures, a special meeting of a library committee was held in his honour, at which a bye-law was passed that no subscriber should be permitted to change his book more than three times a day. (Pascal 13)
In 1876, Arthur Conan Doyle began to study medicine at his mother's suggestion at the University of Edinburgh, which had been one of the best medical schools at that time. He met Dr. Joseph Bell (1837-1911), the famous lecturer and an expert in the use of deductive reasoning, who inspired the character of Sherlock Holmes, and the physiologist, Professor William Rutherford (1839-1899), a model for Professor Challenger. He also studied under Sir Robert Christison (1797-1882), one of the founding fathers of modern toxicology. (Harris 449)
During his medical studies, Arthur desperately tried to earn money for his living and to support his family. 1879, he worked as a medical assistant to Doctor Hoare in the town of Aston (now a district of Birmingham); next he worked in Sheffield and in Ruyton-XI-Towns, Shropshire. As a student he began writing short stories to earn some extra money. His earliest fiction, "The Haunted Grange of Goresthorphe," was rejected by Blackwood's Magazine, but The "Mystery of the Sasassa Valley" was accepted for publication by Chambers Journal. He also published a scientific article, "Gelseminum as a Poison" in the British Medical Journal.
In 1880, Conan Doyle took a break from his studies and went on a daring six-month sea voyage to the Arctic on the whaling ship Hope. All British whale ships had to carry a surgeon, even if he was a 20 year-old medical student. During the voyage Doyle wrote a fascinating diary which was published recently. This voyage inspired him to write the story, "The Captain of the Pole Star."
Medical profession and part-time authorship
Finally, in 1881, Conan Doyle passed qualifying examinations and settled in the Portsmouth suburb of Southsea in the next year to begin his own medical practice. As a keen sportsman, he joined the Southsea Bowling Club and the North End Cricket Club, and started playing rugby. He also joined the Literary and Scientific Society. Soon he found out that he was not satisfied with his medical career and decided to try his hand in writing fiction. From a young age he found pleasure in writing letters and articles and, finally, composing short stories.
In Southsea, Doyle, aged 23, wrote articles and short stories for London Society, All the Year Round, Temple Bar, Lancet, and The British Journal of Photography. He also wrote his first novel, The Narrative of John Smith. Its manuscript was lost in the mail on its way to the publisher. Although not good fiction, the novel provides a fascinating insight into the young writer's mind. It was published in 2011.
This early novel is about a middle-aged man who is stricken with gout and confined to his bed for a week. He attempts to write a book, and expounds his views on topics such as medicine, religion, literature and interior design. Many of the opinions reflect the author's outlook, e.g. his belief in the importance of science and medicine, and his scepticism about religious dogma.
In the 1880s Conan Doyle continued his private medical practice at Southsea, which turned out to be far from prosperous, and published fiction in various magazines. In 1886, he wrote a novella, A Study in Scarlet, which introduced the character of Sherlock Holmes and Dr Watson. Because of its brevity it was not published as a separate book, but was included in Beeton's Christmas Annual in the following year. The Annual was not very popular and Doyle decided to write historical romances instead of detective fiction.
Conan Doyle often wrote to his mother about his longing to have a wife. Eventually, in 1885, he married Louise 'Toulie' Hawkins, whom he had met while treating her terminally ill brother Jack. Surprisingly, instead of going on a honeymoon with his young wife, he went on a tour of Ireland with the Stonyhurst Wanderers, the school's old boys cricket team. Four years later Arthur and Louise had their first child, Mary, and in 1892 their second child, Arthur, known as Kingsley.
In 1890, Conan Doyle studied briefly ophthalmology in Vienna. He then visited the Hygiene Institute in Berlin, where Robert Koch's cure for tuberculosis was being tested, and reported on the cure, first in a letter to the Daily Telegraph, and next in an article "Dr Koch and his Cure," published in the Review of the Reviews. Although he had some doubts about the curative properties of the new procedure, he was impressed by Koch himself as "a model of scientist as hero." (Kerr 84)
After return to England, Conan Doyle moved to London with his wife and daughter to start practice as an eye specialist at 2 Upper Wimpole Street. However, as he wrote in his Memories and Adventures, "not one single patient had entered the threshold of my room." (96) Having no patients he had plenty of time to reconsider his career, and eventually, he decided to undergo a significant metamorphosis from doctor to writer (Kerr 91). In August, Doyle decided to give up medicine and make his living as a full-time professional writer. He next moved with his family to Tennison Road in South Norwood to concentrate only on writing. He published the first six "Adventures of Sherlock Holmes" in the Strand Magazine, and in 1890, the second Sherlock Holmes novel, The Sign of the Four, in Lippincott's Monthly Magazine. When the stories were published in book form as The Adventures of Sherlock Holmes (1892), "the Baker Street mania finally swept the public. By then Conan Doyle had launched himself as a full-time professional writer." (Dirda 12)
Life at Undershaw and Windlesham
In 1893, Louise was diagnosed with tuberculosis. During the first years of the illness, the Doyles spent much time in Switzerland, hoping that local climate would help her. While in Switzerland Conan Doyle practised winter sports and became the first British to cross the Alpine pass in snow shoes. After return from Switzerland to London, Conan Doyle met the novelist Grant Allen at luncheon, who told him that he had also suffered from consumption and that he had found the climate of Surrey beneficial for his health. Doyle rushed to Hindhead, the highest village in Surrey, with buildings at between 185 and 246 metres above sea level. He immediately bought a plot of ground, and commissioned a house to be built before leaving with his wife for Egypt in the autumn of 1895. The house, called Undershaw, which was designed for rest and recuperation of his wife, was ready in 1897.
During the years at Undershaw Conan Doyle wrote The Hound of the Baskervilles, The Return of Sherlock Holmes, The Great Boer War, Sir Nigel, and many other short stories and nonfiction writings. Louise died in 1906 at the age of 49. Shortly after the death of his wife, Conan Doyle married Jean Leckie (1872-1940), a beautiful daughter of a wealthy Scottish family, who rode horses, hunted, and had trained as a singer. (Pascal 94) She turned out to be the greatest love of his life. He had met her at a party in 1896, while Louise was still alive and fell in love at first sight. It appears that the relationship with Jean was platonic until Louise died. They were married a year later and he bought the house Windlesham, near Jean's parents in Crowborough, Sussex. Conan Doyle had two children with his first wife: Mary Louise (1889-1976) and Kingsley (1892-1918), and three children with his second wife: Denis Percy Stewart (1909-1955), Adrian Malcolm (1910-1970) and Jean Lena Annette (1912-1997).
Literary career
Conan Doyle's literary output is prodigious. During his writing career Sir Arthur wrote twenty-one novels and over 150 short stories. He also published nonfiction, essays, articles, memoirs and three volumes of poetry. He left thousands of letters to the press, his mother (about 1500 letters), family, friends and acquaintances, including Winston Churchill, P. G. Wodehouse, Theodore Roosevelt, and Oscar Wilde. Jeffrey and Valerie Meyers, editors of The Sir Arthur Conan Doyle Reader: From Sherlock Holmes to Spiritualism (2002) write:
He shared Dickens's sense of justice and social responsibility, his warm humanity and delight in the lively individuality of the characters he created. Like Dickens, he published his stories and novels, often in serial form, in the weekly magazines that were the staple of popular entertainment in the late nineteenth century. Like his younger contemporary and friend, H. G. Wells, he used his scientific education and medical training in his fiction and challenged the prevailing belief in the idea of progress. Like Wells, he also became an important public figure whose opinion was sought on the crucial issues of the day, an influential speaker at a time when the lecture was a popular event. [x]
The Sherlock Holmes stories
Between 1887 and 1927, Doyle wrote four novels and fifty-six stories with Sherlock Holmes, a brilliant London-based "consulting detective" famous for his astute observation, deductive reasoning and forensic skills to solve difficult cases. Holmes's fictional forefather was Edgar Allan Poe's detective C. Auguste Dupin, but it was Conan Doyle who first introduced to literature the character of the scientific detective. Holmes, one of the best known and most popular characters in English literature, is not only a successful master detective, but he is the epitome of the Victorian and imperial values.
Sherlock Holmes embodies the system that he comes to protect. He is the man of reason, of science, of technology; he is from the upper class and was educated at Oxford; he eventually becomes rich; and he frequents best city clubs and other haunts of the gentleman. [Lehan 84]
The first novel that introduced Sherlock Holmes and Dr Watson of 221B Baker Street, London, A Study in Scarlet, a tale of murder and revenge, appeared in Beaton's Christmas Annual in 1887, and the second, The Sign of the Four, in Lippincott's Monthly Magazine in 1890. After publishing the first set of Sherlock Holmes stories in the Strand Magazine between 1891 and 1893, Doyle was not particularly proud of his detective fiction. He planned to write an opera, a book of medical short stories and a Napoleonic saga. He believed that historical romances, and not his detective stories, were his most important work. (Wilson 22) In 1893, he tried to kill off Holmes at the height of his popularity by plunging him over the Reichenbach Falls with Professor Moriarty, Holmes's greatest enemy, but in 1902 Holmes appeared in The Hound of the Baskervilles because the reading public demanded further adventures of the great detective. As a matter of fact, Doyle did not bring Holmes back to life, but told a story that had taken place before his disappearance at the Reichenbach Falls. (Redmond 24) However, there was such a great public outcry that he eventually resurrected the master detective in "The Adventure of the Empty House" in the 1903 October issue of the Strand Magazine.
Doyle created the first truly great detective in fiction and gave a great impetus to detective story as a fictional form. The tremendous popularity of Sherlock Holmes in the late Victorian and Edwardian periods can be explained by the fact that he not only embodied the late Victorian faith in the power of logic and rationality, but above all restored confidence that the British were capable to maintain law and order not only in Britain but also in the Empire at large.
The Professor Challenger stories
Although the Sherlock Holmes stories are his best fiction, Conan Doyle wrote novels and short stories in many genres. These include historical fiction, horror and suspense, psychological thriller, science fiction, poetry, and plays for the stage. In addition, Sir Arthur wrote nonfiction works on a variety of subjects: essays on literature, accounts of England's involvement in the South African War and World War I, memoirs and diaries, writings about photography, works on the paranormal, occult and Spiritualism.
Arthur Conan Doyle is also the author of fantasy and science fiction, which includes three novels and two short stories: The Lost World (1912), The Poison Belt (1913), The Land of Mist (1926), "The Disintegration Machine" (1928), and "When the World Screamed" (1929). The Lost World introduced his second most famous character, Professor George Edward Challenger, who guides an expedition deep into an isolated plateau in the South American jungle where some prehistoric animals (dinosaurs) and indigenous race of ape-like people still live. Challenger, a scientist of enormous intellect and adventurer, was designed to be a character to rival Holmes. The Poison Belt is an apocalyptic novel that features the same characters who appear in The Lost World. Astronomers discover that the Earth is about to be engulfed in a belt of poisonous gas "ether" from outer space. Prior to (apparently) extinguishing all life on the planet, the belt causes a mysterious outbreak of illness whose symptoms are irritability, loss of inhibition, coma, and (pseudo) death. (Harris 453) In The Land of Mist (1926) Professor Challenger is converted to Spiritualism.
The Challenger stories, which recall Jules Verne's science fiction, are less popular of Doyle's fictions than the Sherlock Holmes stories. However, they contain interesting narrative structure and their themes concern imperialism, positivist science, the male role, evolution, degeneration theory and atavism. (Christensen 121)
Historical romances
Arthur Conan Doyle wrote several popular works of historical fiction. The first was Micah Clarke (1889), which is set in the seventeenth century during the Monmouth Rebellion. The White Company (1891) recounts the history of a company of medieval English archers during the Hundred Years' War, in the years 1366 and 1367. In 1906, Doyle published its prequel, Sir Nigel, which is set in the early phase of the Hundred Years' War. Doyle also wrote a series of short stories about a Napoleonic hussar named Etienne Gerard, which were first published in magazines and eventually in book form: The Exploits of Brigadier Gerard (1896) and Adventures of Gerard (1903). They are "brilliant evocations of the Napoleonic ethos." (Dirda 73) Earlier in 1892, he published The Great Shadow and Other Napoleonic Tales. It should be noted that Conan Doyle was often disappointed at being famous chiefly for the creation of the Sherlock Holmes character. He had a much higher esteem of his historical novels than the Sherlock Holmes stories.
Nonfiction
Arthur Conan Doyle also wrote nonfiction. In 1907, he published Through the Magic Door, a long essay about the charisma and charm of books. He also wrote several books dealing with public topics, such as The Crime of the Congo (1910). He also published A History of the British Campaign in France and Flanders ( 6 vols., 1916-1920), and A Visit to Three Fronts (1916). In 1914, Doyle wrote several pamphlets about the war. In 1924, Doyle published his excellent autobiography, Mysteries and Adventures, which recounts his life from early childhood, education, voyages as a ship's doctor, medical practice in Southsea, his literary endeavours, experiences from the Boer war, legal and political campaigns, interests in sports, and commitment to spiritualism.
Knighthood
In 1900, Doyle served in the Boer War as a volunteer doctor in the Langman Field Hospital at Bloemfontein between March and June. After return home he wrote a lengthy book, The Great Boer War, which sought to justify the British cause and to emphasise the great need for army reform and modernisation. The book was hailed in the press for its accuracy and fairness. (Pascal 99) In 1902, Doyle received his knighthood from the British Crown for a pamphlet, The War in South Africa: Its Causes and Conduct, in which he defended England's position in the Boer War in South Africa and for his service to the nation. He was reluctant to accept the title, but his mother talked him into it. (Pascal 103) There is also a theory that king Edward VII, who was an avid reader of Sherlock Holmes stories, knighted him to encourage him to write more stories about the 'master' detective'.
Interest in spiritualism
Arthur Conan Doyle became interested in the paranormal in the late 1880s and studied it for the rest of his life. In the last quarter of his life, he abandoned literary career and devoted himself to spreading the spiritualist message throughout the world. He lectured on spiritualism in Great Britain, Australia, and South Africa, and the United States, during which he covered 55,000 miles and addressed a quarter of a million people. In 1926, he published The History of Spiritualism in two volumes at his own expense.
Other accomplishments
Sir Arthur was a large, vigorous, active man, with all of the Englishman's traditional fondness for sports. Throughout all his adult life he wore the "walrus" moustache of the late Victorian era. He was an outstanding sportsman; he played football, and billiards. While living in Southsea he was a goalkeeper for Portsmouth Association Football Club. He was also a keen cricketeer. "For many years Conan Doyle even belonged to a rather literary cricket team called the Allahakbarries, its name punningly combining the Arabic formula praising God with a nod to the team's captain J. M. Barrie (creator of Peter Pan)." (Dirda 13) Between 1899 and 1907, he played 10 first-class matches for the Marylebone Cricket Club. He also practised boxing and was a pioneer motorist and a rally-driver. In the 1890s, he started ski-touring to Switzerland. He was an occasional bowler and keen golfer. In 1910, he was elected captain of the Crowborough Beacon Golf Club, East Sussex.
Conan Doyle was always a partisan of the underdog. He campaigned successfully against miscarriages of justice. He conducted a long campaign to defend the half-British and half-Indian solicitor George Edaljii, who had been accused of mutilating animals. Julian Barnes' novel, Arthur and George (2005) recounts this episode in his life. Conan Doyle also campaigned for the release of Oscar Slater, a German Jew born in Upper Silesia, who was accused of murdering an old woman in Glasgow. Doyle exposed inconsistencies in the police investigation and Slater was finally freed.
Conan Doyle was also an early champion of building the Channel Tunnel, which, he believed, was necessary, "for the deployment of troops and armaments in France in an anticipation a German war." (Wynne 21) For his various accomplishments he received the honorary degree of LL.D. from the university of Edinburgh in 1905, and was a knight of grace of the order of St. John of Jerusalem.
Death and legacy
Towards the end of his life Sir Arthur suffered angina which he contracted during his exhausting world tours. He died of heart failure on July 7, 1930, in Crowborough, East Sussex, leaving his widow Jean, their three children, Dennis, Adrian and Jean, and his daughter Mary, by his first wife. His eldest son, Kingsley, who served in World War One, was seriously wounded at the 1916 Battle of the Somme; later he developed pneumonia which he contracted during his convalescence and died in 1918 aged 25.
The last words of Conan Doyle were addressed to his wife. He whispered smiling to her: "You are wonderful." (Davis xvi) He was 71 years old. Sir Arthur and his second wife are buried at the New Forest Church of All Saints, Minstead. Legend has it that as a devoted spiritualist, he was first buried in an upright position in the garden of his home at Crowborough. The house in Crowborough was sold, but the graves remained until 1955, when the Doyle family decided to fulfil Lady Jean's original wish that they be buried together at All Saints. The remains of Sir Arthur and Lady Jean were exhumed from the garden and reinterred in the churchyard. After a short private ceremony the couple were laid horizontally to rest. The epitaph on the gravestone in the churchyard at Minstead in the New Forest, Hampshire, reads: "Steel True, Blade Straight, Arthur Conan Doyle, Knight, Patriot, Physician & Man of Letters."
Sir Arthur Conan Doyle was a versatile and complex personality; he was physician by education, keen sportsman, war correspondent, campaigner for social justice, creator of the world's most famous fictional detective Sherlock Holmes, author of historical and social novels, and active Spiritualist. As Douglas Kerr has written in his recent book: "Arthur Conan Doyle was, arguably, Britain's last national writer." (13) An Irish by ancestry, Scottish by birth and upbringing, and British by choice, devoted to Crown and Empire, he still remains one of the most popular British authors and a national icon.
Related Material
---
Last modified 22 March 2016