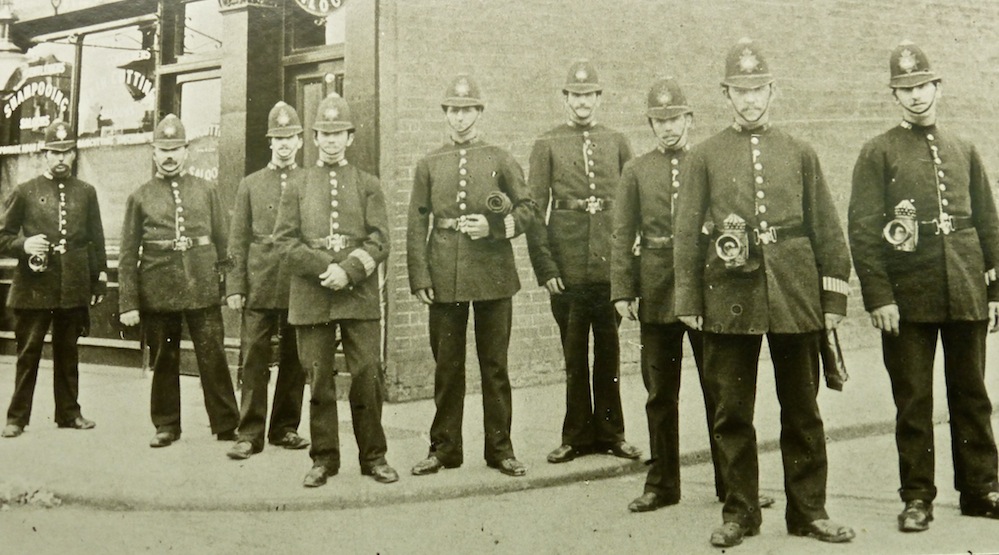 Sepia photograph from 1891, of a row of uniformed policemen.
Some of these late-Victorian policemen, lined up on the pavement and roadway next to a corner hairdressing saloon, have flashlights, presumably because they will be on the beat at night. This photograph is in a display cabinet at the Sherlock Holmes Museum, Meiringen, Switzerland — a small town near the Reichenbach Falls, which Sir Arthur Conan Doyle visited in 1893, and which he used for the setting of Holmes' encounter with the arch-criminal Moriarty in "The Final Problem," first published in 1893. (It later transpires that only Moriarty perished on this occasion: much to Dr Watson's amazement and joy, Holmes reappears in "The Empty House" published in 1903. The police are not shown to have acquitted themselves well in either story!)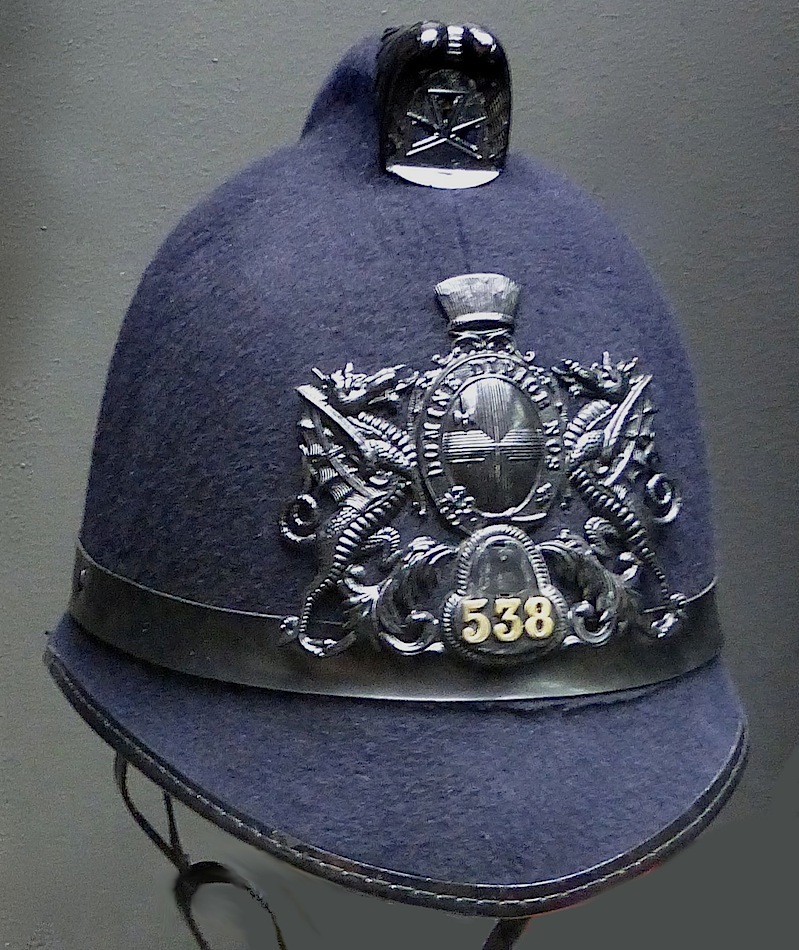 City of London Police uniform of the 1890s. (Some distracting background in the right-hand picture has been digitally removed.)
The uniform is displayed in the same cabinet as the photograph (which can be seen just above the tunic in the left-hand picture). The museum catalogue draws our attention to the brass buttons and belt clasp of the tunic, which display the arms of the City of London, and the smart armlet on the left sleeve, with its red and white stripes in the heraldic colours of the City. Just below the left shoulder is the City Police Queen Victoria Jubilee Medal of 1887, on a blue ribbon. The helmet also bears a badge showing the City's arms. More intimidating is the truncheon, which looks as if it could do some serious damage. This was a uniform intended both to instil pride and show authority. According to Peter K. Andersson, "The policeman's uniform symbolised the behavioural ideals that the occupation was meant to ensure, and when officers broke the rules in the line of duty they were often reprimanded for 'disgracing the uniform' rather than anything else" (133).
Photographs and text by Jacqueline Banerjee. The photographs are reproduced here by kind permission of the Sherlock Holmes Museum, Meiringen, Switzerland. Click on all the pictures to enlarge them.
Sources
Andersson, Peter K. Streetlife in Late Victorian London: The Constable and the Crowd. Basingstoke and New York: Palgrave Macmillan, 2013.
Museum Catalogue, compiled by Guy Marriott. Meiringen, Switzerland: Sherlock Holmes Museum, 2012.
---
Last modified 19 October 2014