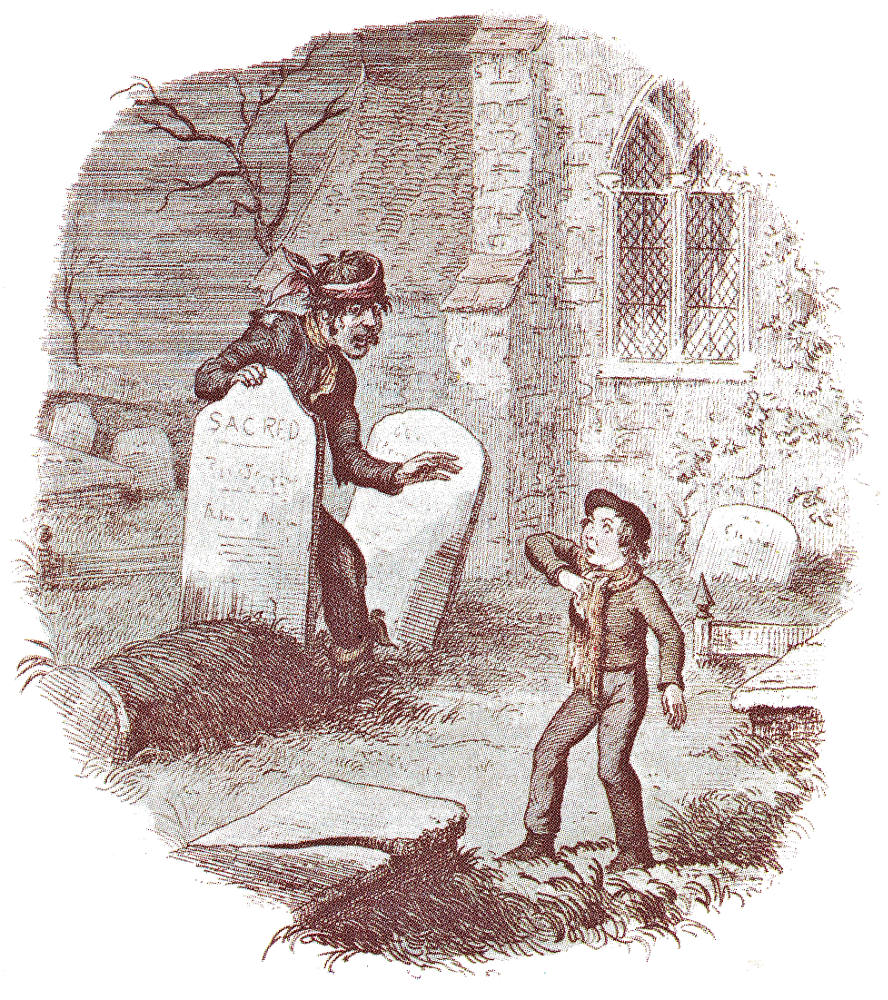 Frederic W. Pailthorpe's realisation of the novel's initiating incident: The Stranger in the Churchyard (1885).
Abel Magwitch appears in the opening pages of Dickens's Great Expectations as a ragged, starving convict who has fled from a transportation holding-vessel on the Medway. In the churchyard of a Kent village, he encounters the local blacksmith's brother-in-law, six-year-old Pip (Philip Pirrip), who supplies him with food and a file to help further his escape. At this point in the narrative Magwitch is a terrifying figure whom the narrator (the mature Pip) compares to a hunted animal. Yet he becomes something of a step-father to Pip: from this dramatic scene onwards, the boy's life is inextricably bound to that of the felon. As for Magwitch, his rags-to-riches evolution, which begins in Australia, smacks of Samuel Smiles' doctrine of Self-Help (1859).
Felix Octavius Carr Darley's frontispiece for the second volume of the Sheldon & C. (New York) two-volume edition: The Convict's Return.
Forty-three-year-old Magwitch is at his nadir when the party of soldiers, accompanied by Joe the blacksmith and Pip, re-apprehends him on the marshes. Then, having been transported to Australia in accordance with his original sentence, Magwitch doubly reinvents himself, becoming both a prosperous sheep-rancher and Pip's secret sponsor: from the other side of the world, he succeeds in creating a gentleman out of the labouring boy who reluctantly assisted him in the churchyard. That boy perhaps represents to Magwitch an image of himself as a neglected orphan; his advancement may be part of the ex-convict's revenge against the class system. Since Magwitch was "transported for life," his return to England to see how the boy has progressed inevitably places him in grave danger. Re-apprehended and tried at the Old Bailey for the murder of Compeyson, his former criminal associate, he dies in the infirmary of Newgate Prison, tended by the boy whom he has made a gentleman.
A Possible Chronology for Abel Magwitch, Escaped Felon and Australian Rancher: 1760-1860
1760: Magwitch is born, locale unknown.
1765: He is caught stealing turnips in Essex (flashback, ch. 42).
1787: Botany Bay is founded as a penal colony.
1795: Magwitch "marries" Molly over the broomstick (flashback, ch. 48) after a four- or five year common-law relationship.

Harry Furniss's illustration of a Magwitch flashback: Magwitch and Compeyson in the Booth at Epsom (1910).

1800, June: Magwitch meets Compeyson at the Epsom races (Ch. 42), and Arthur Havisham at Compeyson's house in Brentford, Middlesex, (now a part of Greater London) shortly before Arthur dies of alcoholism, about aged 32. Magwitch first learns of Jaggers when the young attorney defends Molly and wins her acquittal at the Old Bailey (recalled in Chapter 50).
1803: Late in the Magwitch-Compeyson partnership the pair are arrested for passing forged banknotes. They are tried and sentenced, Compeyson to seven years transportation, Magwitch to fourteen; 1803, Christmas Eve: Magwitch, having escaped from the hulks and swum ashore, meets Pip in the churchyard.

"In the nineteenth century, prison ships were a common sight off the English coast." A Prison Ship from the Charles Dickens Museum Collection (Hawksley, 103).

1804: Magwitch, reapprehended, is tried and sentenced for life; his voyage to Australia would have been about four months.
1815, late spring: Jaggers delivers the news of Pip's great expectations at Magwitch's behest.
1820, November: Magwitch returns to London shortly after Pip's 23rd birthday, and reveals himself as the source of Pip's "great expectations." Subsequently, Pip confirms the outline of Magwitch's personal history with Jaggers. After a dinner at Pip and Herbert's rooms in The Temple, Magwitch provides clues that tie his biography to that of Miss Havisham. Returning from an interview with her at Satis House, pip receives Wemmick's warning "Don't go home." In Pip's absence, Wemmick has taken the precaution of moving Magwitch to the top floor of a rooming-house on the Thames at Mill Pond Bank.

Harry Furniss's portrait of the sixty-year-old Magwitch, who now travels under a pseudonymn: Provis (1910).

1821, January & February: Pip and Herbert prepare to get Magwitch out of the country. At a play in February, Pip is followed by Compeyson. About a week later, Pip, dining with Jaggers, identifies the maid, Molly, as Estella's mother. After the immolation of Miss Havisham, Pip returns to London and learns from Herbert Magwitch's unfinished personal history (Chapter 50).
1821, March: Pip and Herbert secure travel documents for Magwitch so that he can escape on the Rotterdam steamer. But on a Friday early in the month the river police intercept Magwitch's boat at 12:50 P. M. Seeing Compeyson aboard, Magwitch grapples with and drowns him. The authorities handcuff Magwitch, and take him to police-court. He is bound over for trial, and lodged in Newgate Prison (Chapter 55).

Harry Furniss's illustration of Magwitch at the dock: Magwitch under Sentence of Death (1910).

1821, March & early April: Pip visits Magwitch daily in the prison infirmary. Magwitch and thirty-one other felons are sentenced to death (Chapter 56).
1821, mid-April: Pip petitions the Home Secretary to spare Magwitch, who seems likely to die in prison. "Pip tells Magwitch that his daughter survived, found rich friends, and that he loves her. Magwitch dies (342; chapter 56)." [Paroissien, 433]
1840, 22 May: Orders-in-Council abolish transportation to New South Wales.
1860-61: Pip writes his memoirs.

Charles Green's sympathetic portrait of the returned convict reunited with a reluctant ward in Chapter 39: "I made him some hot rum-and-water." (1910).

1862: In the Chapman and Hall Library Edition, illustrated by Marcus Stone, acting in consort with the author, Magwitch appears in none of the eight full-page wood-engravings.
1868, 9 January: The last convict vessel arrives in Western Australia.
1876: In Chapman and Hall's eleventh volume of the entirely new twenty-two volume Household Edition, illustrated by F. A. Fraser, Magwitch appears prominently in five out our twenty-eight illustrations, including the the headpiece for Chapter One.

F. A. Fraser in the Household Edition depicts Magwitch vigorously recounting his life's story for the benefit of Pip (right) and Herbert (left): "When I says to Compeyson,'Once out of this court, I'll smash that face o' yours!' Ain't it Compeyson as prays the judge to be protected, and gets two turnkeys stood betwixt us?" (Chapter 42).

1910: In the Charles Dickens Library Library Edition (18 volumes), illustrated by Harry Furniss, Magwitch appears Magwitch appears prominently in three of the twenty-eight full-page lithographs, including one which complements his narration about Compeyson.
1997: Australian novelist Peter Carey publishes the novel

Jack Maggs

(Faber & Faber) to fill in the missing details of Magwitch's biography, in particular, his years in Australia. In this 357-page fictional biography, Maggs does not die in Newgate, but returns to become a successful business entrepreneur in Sydney and nearby Wingham — and the "civic-minded" father of seven children.
2021, 30 June: Andrew Mudie's

The Magwitch Fortunes

(Austin Macauley) provides a sequel to

Great Expectations

, making Magwitch the protagonist. The novel concludes with the death of Abel Magwitch, who "perishes in prison, leaving 's heirs, Pip and Estella, to travel to Australia in search of the Magwitch fortune" (book blurb).
Related Materials
Scanned images and text by Philip V. Allingham. [You may use these images without prior permission for any scholarly or educational purpose as long as you (1) credit the photographer and (2) link your document to this URL in a web document or cite the Victorian Web in a print one.]
Bibliography
Allingham, Philip V. "The Illustrations for Great Expectations in Harper's Weekly (1860-61) and in the Illustrated Library Edition (1862) — 'Reading by the Light of Illustration'." Dickens Studies Annual, Vol. 40 (2009): 113-169.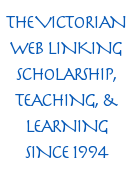 Bentley, Nicolas, Michael Slater, and Nina Burgis. The Dickens Index. Oxford and New York: Oxford U. P., 1988.
Carey, Peter. Jack Maggs. London: Faber and Faber, 1997.
Davis, Paul B."Dickens, Hogarth, and the Illustrations for Great Expectations." Dickensian 80, 3 (Autumn, 1984): 130-143.
Dickens, Charles. Great Expectations. Illustrated by John McLenan. [The First American Edition]. Harper's Weekly: A Journal of Civilization, Vols. IV: 740 through V: 495 (24 November 1860-3 August 1861).
______. ("Boz."). Great Expectations. With thirty-four illustrations from original designs by John McLenan. Philadelphia: T. B. Peterson (by agreement with Harper & Bros., New York), 1861.
______. Great Expectations. All the Year Round. Vols. IV and V. 1 December 1860 through 3 August 1861.
_______. ("Boz."). Great Expectations. With thirty-four illustrations from original designs by John McLenan. Philadelphia: T. B. Peterson (by agreement with Harper & Bros., New York), 1861.
_______. Great Expectations. Illustrated by Marcus Stone. The Illustrated Library Edition. London: Chapman and Hall, 1862. Rpt. in The Nonesuch Dickens, Great Expectations and Hard Times. London: Nonesuch, 1937; Overlook and Worth Presses, 2005.
_______. A Tale of Two Cities and Great Expectations. Illustrated by Sol Eytinge, Jr. The Diamond Edition.16 vols. Boston: Ticknor and Fields, 1867. XIII.
_______. Great Expectations. Volume 6 of the Household Edition. Illustrated by F. A. Fraser. London: Chapman and Hall, 1876.
_______. Great Expectations. The Gadshill Edition. Illustrated by Charles Green. London: Chapman and Hall, 1897-1908.
_______. Great Expectations. "With 28 Original Plates by Harry Furniss." Volume 14 of the Charles Dickens Library Edition. London: Educational Book Co., 1910.
Hawksley, Lucinda Dickens. "Ch. 33, Great Expectations." Charles Dickens. Dickens Bicentenary 1812-2012. San Rafael, CA: Insight Editions, 2011. Pp. 102-103.
McLenan, John, illustrator. Charles Dickens's Great Expectations [the First American Edition]. Harper's Weekly: A Journal of Civilization, Vols. IV: 740 through V: 495 (24 November 1860-3 August 1861). Rpt. Philadelphia: T. B. Peterson, 1861.
Mudie, Andrew. The Magwitch Fortunes. New York: Austin Macauley, 2021.
Paroissien, David. "Hypothetical Chronology." The Companion to "Great Expectations." Westport, Conn.: Greenwood, 2000. Pp. 424-434.
---
Created 2 December 2021