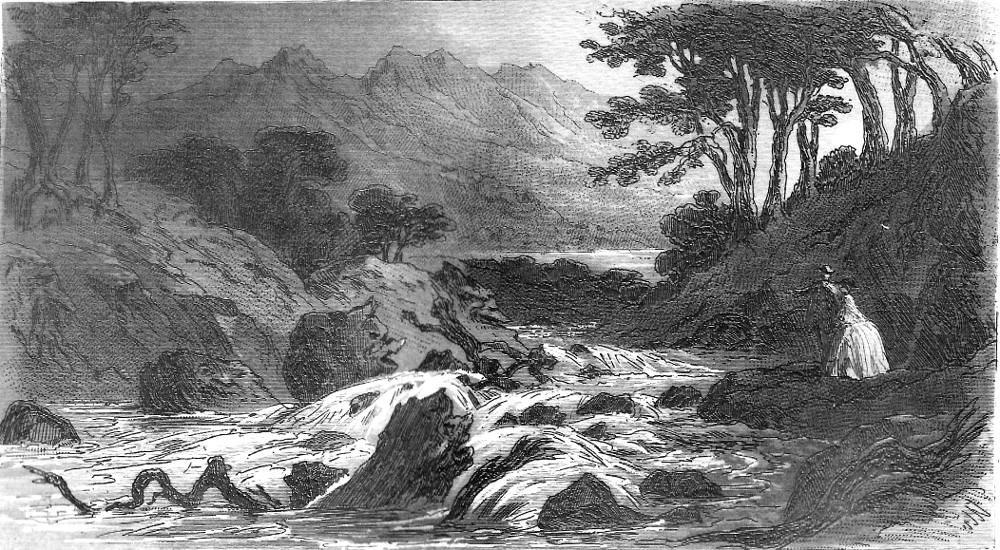 A Saunter by Moonlight by Phiz (Hablot K. Browne), twenty-seventh serial illustration and eleventh dark plate for Charles Lever's Davenport Dunn: A Man of Our Time, Part 14 (August 1858), Chapter 52, "A Saunter by Moonlight," facing 381.
Bibliographical Note
This appeared as the twenty-seventh serial illustration for Charles Lever's Davenport Dunn: A Man of Our Time, Steel-plate etching; 3 ¾ by 6 ⅝ inches (9.4 cm high by 16.9 cm wide), framed (a dark plate). The story was serialised by Chapman and Hall in monthly parts, from July 1857 through April 1859. The twenty-ninth and thirtieth illustrations in the volume initially appeared in reverse order at the very beginning of the fourteenth monthly instalment, which went on sale on 1 August 1858. This number included Chapters LII through LIV, and ran from page 417 through 448.
Passage Illustrated: A Moonlit Idyll
"It is I, Lizzy. I heard you still moving about, and I thought I'd propose half an hour's stroll in the moonlight before bed. What do you say to it?"
"I should like it of all things, papa," cried she, opening the door at once.
"Throw a shawl across your shoulders, child," said he; "the air is not always free from moisture. We 'll go along by the river-side."
A bright moon in a sky without a cloud lit up the landscape, and by the strongly marked contrast of light and shadow imparted a most striking effect to a scene wild, broken, and irregular. Fantastically shaped rocks broke the current of the stream; at every moment gnarled and twisted roots straggled along the shelving banks, and in the uncertain light assumed goblin shapes and forms, the plashing stream, as it rushed by, appearing to give motion to the objects around. Nor was the semblance all unreal, for here and there a pliant branch rose and fell on the surging water like the arm of some drowning swimmer.
The father and daughter walked along for some time in utter silence, and the thoughts of each filled with the scene before them. Lizzy fancied it was a conflict of river gods, — some great Titanic war, where angry giants were the combatants; or again, as fairer forms succeeded, they seemed a group of nymphs bathing in the soft moonlight. As for Grog, it reminded him of a row at Ascot, where the swell-mob smashed the police; and so strikingly did it call up the memory of the event that he laughed aloud and heartily. [Chapter LII, "A Saunter by Moonlight," pp. 417-418]
A Dark Plate for a Nocturnal Scene
Phiz has interspersed conventional engravings such as Dunn addressing the Mob (June 1858) with more sombre or contemplative dark plates to provide tonal differences. In this August number the regular engraving conveys information useful to the reader's understanding the plot, whereas the dark plate conveys a mood or feeling in a picturesque setting, and serves not plot-related function. Phiz has employed the dark plate technique here to emphasize the nocturnal setting without any suggestion of foreboding or misfortune, or even despondency. From behind the trees, upper right, the partially-obscured moon illuminates only the "plashing stream," accentuating the white water of the rapids. Thus, this dark plate does not advance the plot, heighten suspense, or create a malignant or tense atmosphere. However, Phiz does convey a certain air of nostalgia and sombreness of mood as the usually guarded and emotionally constrained Grog attempts to establish an emotional connection with the daughter he has seen so little of in the past decade. She is young enough not to have lost her idealism, but Grog is determined to impose his cynical view of humanity upon her.
Working methods
Scanned image by Simon Cooke; colour correction, sizing, caption, and commentary by Philip V. Allingham. [You may use this image without prior permission for any scholarly or educational purpose, as long as you (1) credit the person who scanned the image, and (2) link your document to this URL in a web document or cite the Victorian Web in a print one.] Click on the image to enlarge it.
Bibliography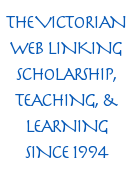 Brown, John Buchanan. Phiz! Illustrator of Dickens' World. New York: Charles Scribner's, 1978.
Lever, Charles. Davenport Dunn: A Man of Our Day. Illustrated by "Phiz" (Hablot Knight Browne). London: Chapman and Hall, 1859.
Lever, Charles. Davenport Dunn: The Man of The Day. Illustrated by "Phiz" (Hablot Knight Browne). London: Chapman and Hall, August 1858 (Part XIV).
---
Last modified 7 April 2019