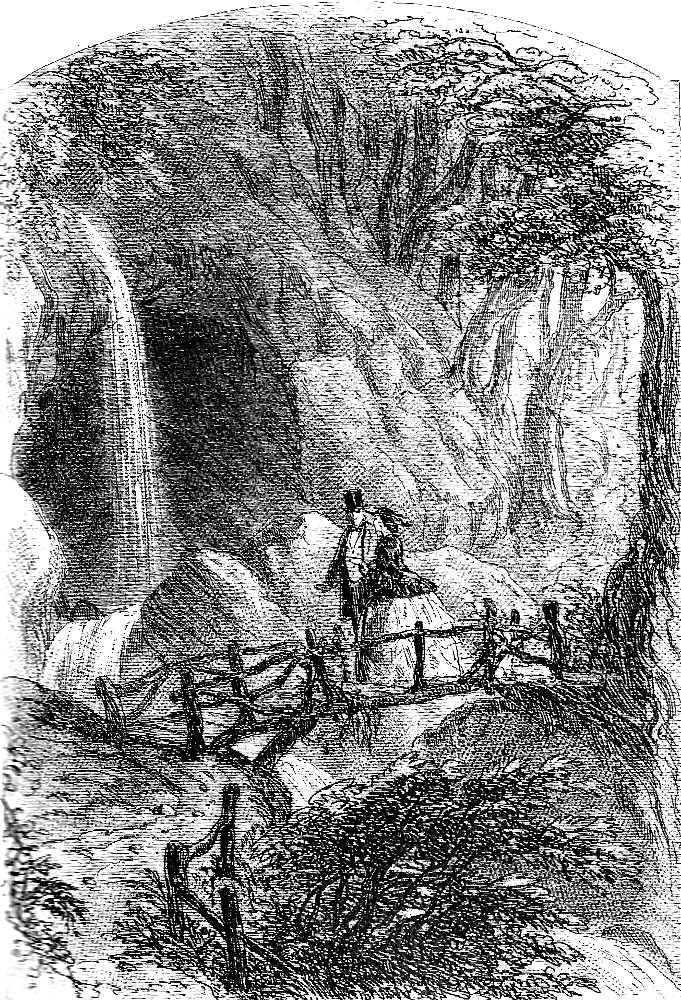 Calypso's Grotto
Phiz
Dalziel
April 1858
Steel-engraving
Dark plate 15 cm high by 10.5 cm wide, or 5 ⅞ by 4 ⅛ inches (framed)
Chapter 38 in Davenport Dunn: A Man of Our Day, first published serially from July 1857 through April 1859. The illustration faces 316 in the 1859 single-volume edition, but page 345 in the 1872 edition.
Scanned image by Simon Cooke; colour correction, sizing, caption, and commentary by Philip V. Allingham.
[You may use these images without prior permission for any scholarly or educational purpose as long as you (1) credit the person who scanned the image, and (2) link your document to this URL in a web document or cite the Victorian Web in a print one.]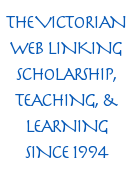 Context of the Illustration: Davenport Dunn encounters Lady Augusta
Walking carelessly along, he at last found himself on the banks of the river, close to the spot where he had met Miss Kellett that same morning. How glad he would have been to find her there again! That long morning's ramble had filled him with many a hopeful thought — he knew, with the instinct that in such men as himself rarely deceives — that he had inspired her with a sort of interest in him, and it warmed his self-esteem to think that he could be valued for something besides "success." The flutter of a white dress crossing the little rustic bridge caught his eye at this moment, and he hurried along the path. He soon gained sufficiently upon the retiring figure to see it was a lady. She was strolling quietly along, stopping at times to catch the effects of the moonlight on the landscape.
Dunn walked so as to make his footsteps heard approaching, and she turned suddenly and exclaimed, "Oh, Mr. Dunn, who would have thought to see you here?"
"A question I might almost have the hardihood to retort, Lady Augusta," said he, completely taken by surprise.
"As for me," said she, carelessly, "it is my usual walk every evening. I stroll down to the shore round by that rocky headland, and rarely return before midnight; but you," added she, throwing a livelier interest into her tone, "they said you were poorly, and so overwhelmed with business it was hopeless to expect to see you."
"Work follows such men as myself like a destiny," said he, sighing; "and as the gambler goes on to wager stake after stake on fortune, so do we hazard leisure, taste, happiness, all, to gain — I know not what in the end."
"Your simile points to the losing gamester," said she, quickly; "but he who has won, and won largely, may surely quit the table when he pleases."
"It is true," said he, after a pause, — "it is true, I have had luck with me. The very trees under whose branches we are walking, could they but speak, might bear witness to a time when I strolled here as poor and as hopeless as the meanest outcast that walks the high-road. I had not one living soul to say, 'Be of good cheer, your time will come yet.' My case had even more than the ordinary obstacles to success; for fate had placed me where every day, every hour of my life, should show me the disparity between myself and those high-born great to whose station I aspired. If you only knew, Lady Augusta," added he, in a tone tremulous with emotion, "what store I laid on any passing kindness, — the simplest word, the merest look, — how even a gesture or a glance lighted hope within my heart, or made it cold and dreary within me, you'd wonder that a creature such as this could nerve itself to the stern work of life."
"I was but a child at the time you speak of," said she, looking down bashfully; "but I remember you perfectly."
"Indeed!" said he, with an accent that implied pleasure.
"So well," continued she, "that there is not a spot in the wood where we used to take our lesson-books in summer, but lives still associated in my mind with those hours, so happy they were!"
"I always feared that I had left very different memories behind me here," said he, in a low voice.
"You were unjust, then," said she, in a tone still lower, — "unjust to yourself and to us."
They walked on without speaking, a strange mysterious consciousness that each was in the other's thoughts standing in place of converse between them. At length, stopping suddenly in front of a little rocky cavern, over which aquatic plants were drooped, she said, "Do you remember calling that 'Calypso's grotto'? It bears no other name still."
"I remember more," said he; and then stopped in some confusion. [Chapter XXXVIII, "Mr. Davenport Dunn in more Moods than One," 315-16]
Commentary: "Mr. Davenport Dunn in more Moods than One" — Vindictive but Romantic
Twenty years ago, when Davenport Dunn was just a servant at the Hermitage, he and the young Lady Augusta would meet in the morning and share precisely this walk. Now, it is well past dinner (which he has missed in order to confer with his henchman, Hankes) when the middle-aged, former lovers meet at the rustic bridge, near the bower where he had encountered Bella Kellett earlier that day. (The difference in time of day for their meeting here implies the difference in their ages, as both have benefitted from two decades of experience.) Augusta's remarking that she makes this her "usual walk every evening" (315) suggests that her mind of late has been dwelling a great deal on her former infatuation with the handsome young servant who is now such a political and economic force. Indeed, rumours are floating around that the government will appoint Dunn as a special commissioner to negotiate an end to the Crimean War — Hankes has told Dunn earlier that evening that such organs as Punch have reported the impending announcement. Since the scene occurs well into the evening, we must presume, despite there being no indication in either drawing or text, that this reunion occurs by moonlight. Phiz has picked out Lady Augusta's dress and the cascading water in white, but left the vegetation, bridge, and rocky grotto clearly visible. The couple, reunited and alone at last, reminisce about their lessons, and the time that Dunn named the rocky cavern full of aquatic plants "Calypso's grotto," reflecting not so much his reading The Odyssey of Homer in its original Greek, as the modern reader might presume, as their mutual study of a utopian novel in French as a treatise on political economy.
Dunn's reference to the didactic romance that he and Augusta studied in French may have multiple significances. First of all, Dunn's naming their rendezvous "Calypso's grotto" serves as an oblique allusion to that part of de la Mothe Fénelon's story in which the wandering Telemachus, retracing his father's voyages, has an affair with the ageless sea-nymph, despite her previous relationship with his father, Odysseus, when he was shipwrecked on her island. That Mothe Fénelon's late seventeenth-century novel presents a utopian society has implications for Dunn's attempting to revive Irish industry and agriculture, efforts which make him another "Telemachus" in the eyes of Lady Augusta Glengariff, apparently. Ironically, she recalls the Télémacque, in spite of its romantic associations, as "dreary."
In his 1699 romance The Adventures of Telemachus (that is, Les aventures de Télémaque), Francois de la Mothe Fénelon (1651-1715) ostensibly recounts the adventures of Ulysses' son. However, the imaginative narrative bears little relationship to Homer. Rather, the French philosophe uses the wanderings of his young hero as a pretext for offering dissertations on politics, morals, education, and religion. The book, which presented French society his radical theories for political and economic reform, offended the reigning monarch, Louis IV. Fénelon likely intended that his descriptions of a fictional, utopian society, Boetica, be applied to France. In the religious and political tract, the denizens of Boetica experience few imported luxuries because the idyllic society has restricted both war and trade. Fénelon expresses strongly negative views on the effects of imports on domestic economy and the mental health of society in general because he sought to revive the commerce and agricultural production of France. Although the work brought the author into disrepute with the French government, his analysis of political economy profoundly influenced the thinking of the eighteenth century, in particular, that of such eminent philosophers as The Earl of Shaftesbury, Hutcheson, Berkeley, and Jean-Jacque Rousseau.
Now the mature Lady Augusta, well past the conventional age for marriage, holds out the possibility of advancing Dunn's social station, since her father, although an inveterate snob, has recently remarked to her, "Dunn ought to be one of us, Augusta. We want men of his stamp" (317). How is Dunn to accomplish this apotheosis? Augusta tantalizes both Dunn and the reader with Lord Glengariff's reply to her query: "Let him only open his mind to me, Augusta" (318) and he will "show him the way," a possible allusion to Dunn's at last being able to marry Augusta. At this point, then, Lever seems to be promising his readers a romantic closure in which the former servant marries the lady, a marriage by which Glengariff intends to assure the success of his economic projects. The illustration, in consequence, is not merely a quaint pseudo-mezzotint intended to imbue the dialogue with a romantic ambience; rather, it leads the reader to expect that Dunn will join the aristocracy through an advantageous marriage. The Lady Augusta regards her former admirer as a complete success and a "man of destiny," but the reader is still pondering the ruthlessness with which he has ordered his agent, Hankes, to deal with his adversaries through blackmail, bribery, and coercion. Lever has revealed Dunn, then, in his true colours, as anything but the high-minded and disinterested altruist of his interview with Sybella Kellett in The Task in the previous chapter.
Working methods
Bibliography
Brown, John Buchanan. Phiz! Illustrator of Dickens' World. New York: Charles Scribner's, 1978.
Burton, Anthony. "Vision and Designs. Review of John Harvey, Victorian Novelists and heir Illustrators. Sidgwick & Jackson, 1970. £3.50." Dickensian, 67.2 (1971): 105-109.
Harvey, John R. "Conditions of Illustration in Serial Fiction." Victorian Novelists and Their Illustrators. London: Sidgwick and Jackson, 1970. Pp. 182-198.
Lester, Valerie Browne. Phiz: The Man Who Drew Dickens. London: Chatto and Windus, 2004.
Lever, Charles. Davenport Dunn: The Man of The Day. Illustrated by "Phiz" (Hablot Knight Browne). London: Chapman and Hall, May 1858 (Part XI: Chapters XL through XLIV). Pp. 321-352.
Lever, Charles. Davenport Dunn: A Man of Our Day. Illustrated by "Phiz" (Hablot Knight Browne). London: Chapman and Hall, 1859.
"Télémacque." Benét's Reader's Encyclopedia, third edition. New York: Harper and Row, 1948, rpt. 1987. Page 964.
---

Victorian
Web

Illus-
tration

Phiz

Davenport Dunn

Next
Created 30 July 2019

Last modified 6 July 2020