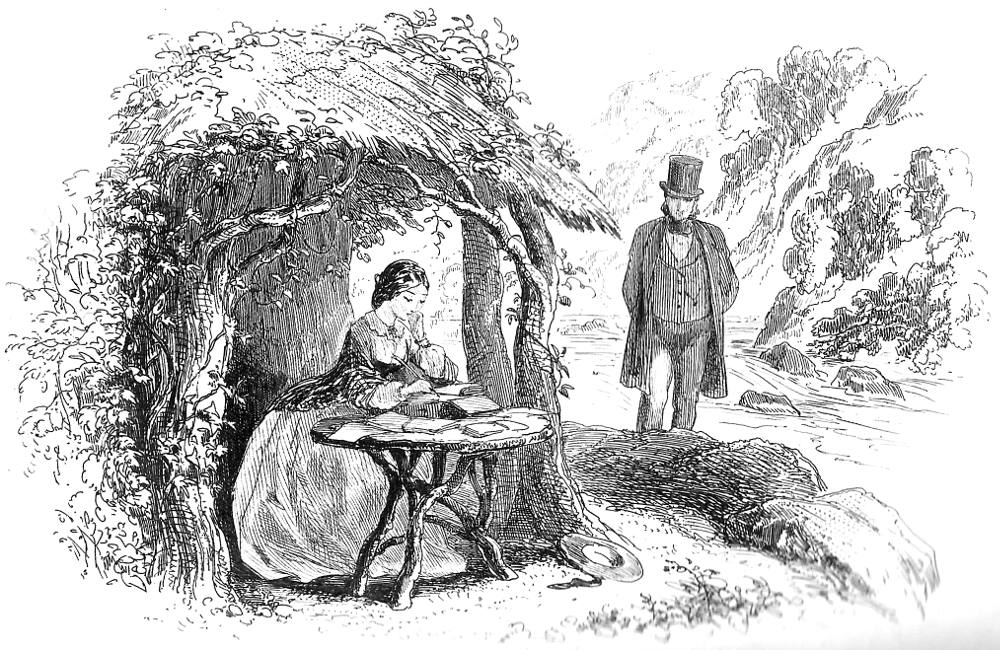 The Task by Phiz (Hablot K. Browne), nineteenth serial illustration for Charles Lever's Davenport Dunn: A Man of Our Time, Part 10 (April 1858), Chapter 37, "A Man in Request," facing 303.
Bibliographical Note
This appeared as the nineteenth serial illustration for Charles Lever's Davenport Dunn: A Man of Our Time, steel-plate etching; 5 ⅞ by 3 ⅞ inches (10 cm high by 15 cm wide), vignetted. The story was serialised by Chapman and Hall in monthly parts, from July 1857 through April 1859. The twentieth and twenty-first illustrations in the volume initially appeared in reverse order at the very beginning of the tenth monthly instalment, which went on sale on 1 April 1858. This number included Chapters XXXVI through XXXIX, and ran from 289 through 320.
Passage Illustrated: Sybella's Writing a Doomed Promotional Prospectus
"And now to my task," said she, with a sigh, as she folded up the map of the Crimea, on which she was tracing the events of the war.
Her work of that morning was the completion of a little "Memoir" of Glengariff and its vicinity, written in that easy and popular style which finds acceptance in our periodicals, and meant to draw attention to the great scheme for whose accomplishment a company was to be formed. Lord Glengariff wished this sketch should be completed while Dunn was still there, so that it might be shown him, and his opinion be obtained upon it.
Never had her task seemed so difficult, never so uncongenial; and though she laboured hard to summon up all her former interest in the great enterprise, her thoughts would stray away, in spite of her, to the indented shores of the Crimea, and the wild and swelling plains around Sebastopol. Determined to see if change of place might not effect some change of thought, she carried her papers to a little summer-house on the river-side, and once more addressed herself resolutely to her work. With an energy that rarely failed her, she soon overcame the little distraction, and wrote away rapidly and with ease. She at last reached that stage in her essay where, having enumerated all the advantages of the locality, she desired to show how nothing was wanting to complete its celebrity and recognition but the touch of some of those great financial magicians whose great privilege it is to develop the wealth and augment the resources of their fellow-men. She dwelt earnestly and, indeed, eloquently on the beauty of the scenery. She knew it in every varying aspect of its colouring, and she lingered over a description of which the reality had so often captivated her. Still, even here, the fostering hand of taste might yet contribute much. The stone pine and the ilex would blend favourably with the lighter foliage of the ash and the hazel, and many a fine point of view was still all but inaccessible for want of a footpath. How beautifully, too, would the tasteful cottage of some true lover of the picturesque peep from amidst the evergreen oaks that grew down to the very shore. While she wrote, a shadow fell over her paper. She looked up, and saw Mr. Dunn. He had strolled by accident to the spot, and entered unperceived by her. [Chapter XXXVII, "A Man in Request," 303]
Commentary
The scene now reverts to Ireland and the fortunes of the eponymous character. Dunn has accepted Lord Glengariff's invitation to see the prospectus that Bella Kellett has been writing for his projected development of a local fishery and vacation cottages, but Bella has been at least as interested in the developments in despatches sent Dunn from the Crimea, perhaps in hopes of learning about her brother. Dunn for his part, after the death of Paul Kellett, has attempted to advance the fortunes of his children by recommending Jack to the Horse Guards, and Sybella to the secretarial post with Lord Glengariff and his daughter, Lady Augusta at the Hermitage.
Whereas her aristocratic employers are motivated solely by a desire for profit in developing the village and its fishery, Bella hopes to improve the economic, vocational, and educational opportunities of the peasantry, hoping that Lord Glengariff's experiment will serve as a model for the rest of Ireland. Although he admires Bella's altruistic motives, he confesses to her that the scheme is not likely to excite the interest of English investors because it merely commodities the natural beauty of the spot, and appeals to neither the apprehensions of the English after the rebellion nor their conversational notions of the Quixotic Irish. Phiz has realized the summer-house effectively as a quaint, rustic bower adjacent to a river and offering a mountain vista. At the moment realized, Bella ponders her effusive "memoir," and as yet is unaware of Dunn's arrival. Shortly he will pay homage to her ability as a descriptive writer and her patriotic impulse the raise up a neglected peasantry.
Phiz finally begins to depict Dunn as Lever reveals him, a somber businessman with a dark side, although the plate adds little to Lever's text, other than to show Bella's obvious enjoyment of her new role as Lord Glengariff's publicist. Dunn quietly approaches from the footpath by the river as Sybella, deep in thought about her project and her brother fighting in the Crimea, fails to hear his footfall.
Scanned image by Simon Cooke; colour correction, sizing, caption, and commentary by Philip V. Allingham. [You may use this image without prior permission for any scholarly or educational purpose, as long as you (1) credit the person who scanned the image, and (2) link your document to this URL in a web document or cite the Victorian Web in a print one.] Click on the image to enlarge it.
Bibliography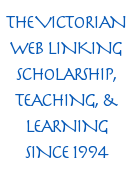 Brown, John Buchanan. Phiz! Illustrator of Dickens' World. New York: Charles Scribner's, 1978.
Lever, Charles. Davenport Dunn: A Man of Our Day. Illustrated by "Phiz" (Hablot Knight Browne). London: Chapman and Hall, 1859.
Lever, Charles. Davenport Dunn: The Man of The Day. Illustrated by "Phiz" (Hablot Knight Browne). London: Chapman and Hall, March 1858 (Part IX).
---
Created 30 July 2019

Last modified 6 July 2020