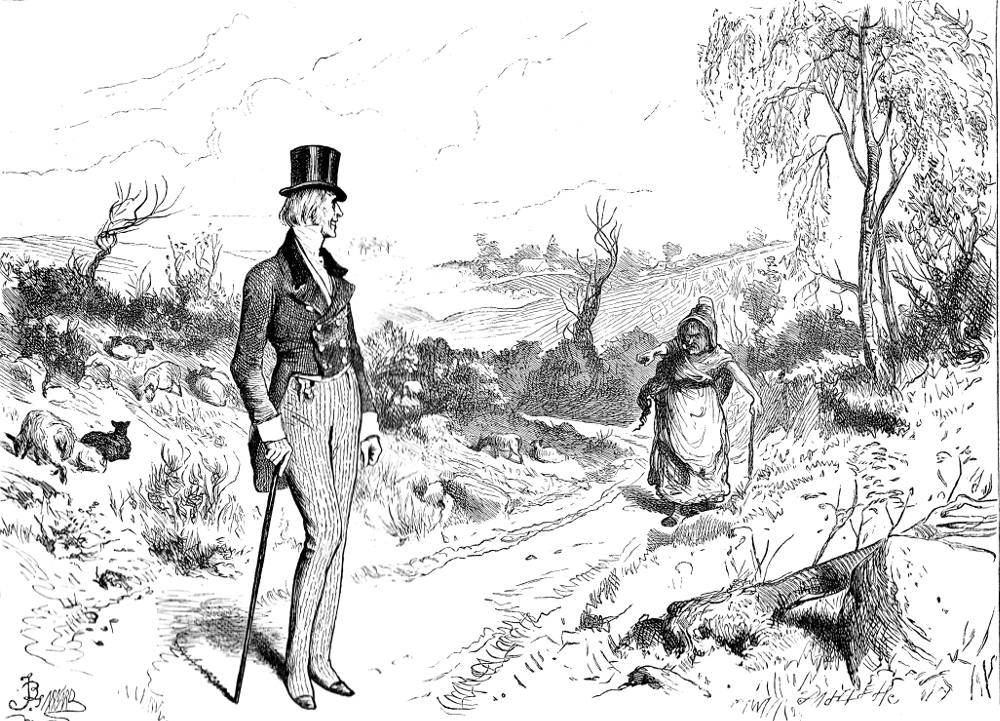 "Go and meet her." — Fred Barnard's twenty-eighth illustration for Dickens's Dombey and Son, Household Edition (1877), full-page, facing p. 196 (scene from chap. xxvii). Wood engraving by the Dalziels, 5 x 6 ¾ inches (12.7 cm high by 17.2 cm wide), framed. Running head: "Captain Cuttle's Changes His Residence," 196. [Click on the images to enlarge them.]
Passage Illustrated: Carker and Good Mrs. Brown on a country path
Mr. Carker, whom the lady was about to pass close, slinking against his tree as she crossed to gain the path, advanced so as to meet her, and pulling off his hat as she went by, bade the old woman hold her peace. The lady acknowledged his interference with an inclination of the head, and went her way.
"You give me something then, or I'll call it after her!" screamed the old woman, throwing up her arms, and pressing forward against his outstretched hand. "Or come," she added, dropping her voice suddenly, looking at him earnestly, and seeming in a moment to forget the object of her wrath, 'give me something, or I'll call it after you!"
"After me, old lady!" returned the Manager, putting his hand in his pocket.
"Yes," said the woman, steadfast in her scrutiny, and holding out her shrivelled hand. "I know!"
"What do you know?" demanded Carker, throwing her a shilling. 'Do you know who the handsome lady is?"
"Munching like that sailor's wife of yore, who had chestnuts in her lap, and scowling like the witch who asked for some in vain, the old woman picked the shilling up, and going backwards, like a crab, or like a heap of crabs: for her alternately expanding and contracting hands might have represented two of that species, and her creeping face, some half-a-dozen more: crouched on the veinous root of an old tree, pulled out a short black pipe from within the crown of her bonnet, lighted it with a match, and smoked in silence, looking fixedly at her questioner.
Mr. Carker laughed, and turned upon his heel.
"Good!" said the old woman. "One child dead, and one child living: one wife dead, and one wife coming. Go and meet her!"
In spite of himself, the Manager looked round again, and stopped. The old woman, who had not removed her pipe, and was munching and mumbling while she smoked, as if in conversation with an invisible familiar, pointed with her finger in the direction he was going, and laughed. [Chapter 27, "Deeper Shadows," 196]
Commentary: A Visual Allusion to
Macbeth
Dickens's allusions to the Witches' encounter with Macbeth on the blasted heath at the opening of Shakespeare's tragedy have prompted Barnard to make this one of just four full-page illustrations. The ever-smiling James Carker, Dombey's Manager, cannot fathom what the inscrutable fortune-teller is getting at when she offers to predict the future of the beautiful lady whom Carker recently spotted in the grove, just outside Warwick. He is even more puzzled when the hag offers to take payment not to tell him his own fortune, which Mrs. Brown seems to imply is associated with that of the fascinating woman (Edith Granger). In the illustration, then, Barnard casts Carker as Macbeth in natty Victorian attire, and the urban hag Good Mrs. Brown as a ragged Shakespearean prophetess; only through perusing the accompanying text is the reader aware of the missing figure who is on both of their minds, the recent Mrs. Dombey, who somehow will loom important in Carker's future, and in Mrs. Brown's scheme of vengeance against Carker for abandoning her daughter. His clandestine relationship with Edith will define the rest of his life, from his running off with her to France, to his being run down by a locomotive.
As yet, of course, Carker has not realised that the mysterious beauty who has just passed him is the woman whom he is appointed to meet at Dombey's honeymoon breakfast at the hotel in Warwick. Through this full-page composite woodblock engraving, uncharacteristically set in open country in what is essentially an urban novel, Barnard sets up some significant scenes later in the narrative-pictorial sequence.
Parallel Scene from The Charles Dickens Library and Collins Pocket Editions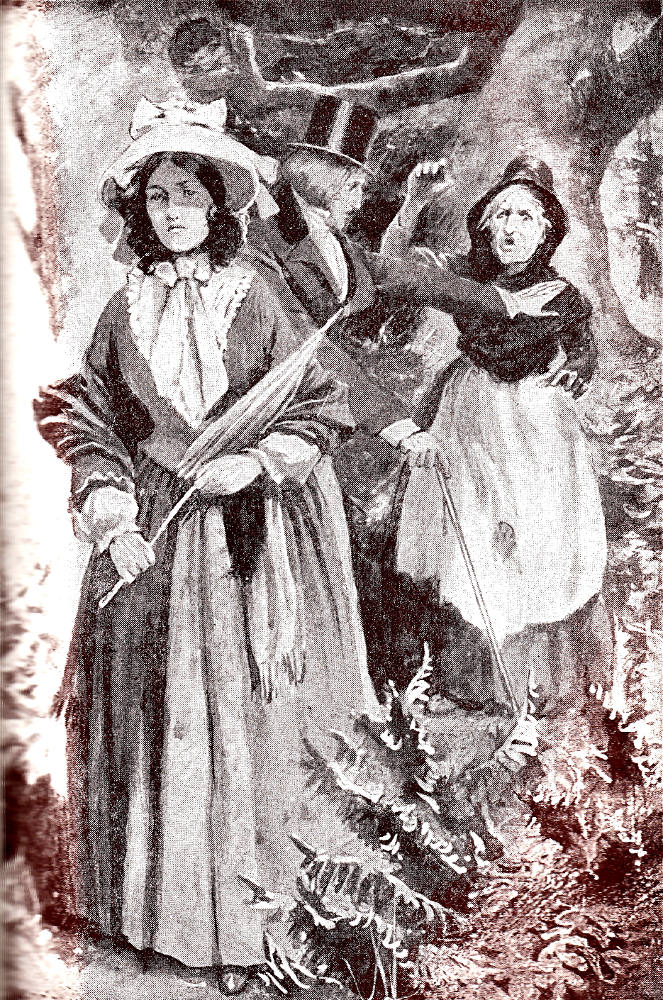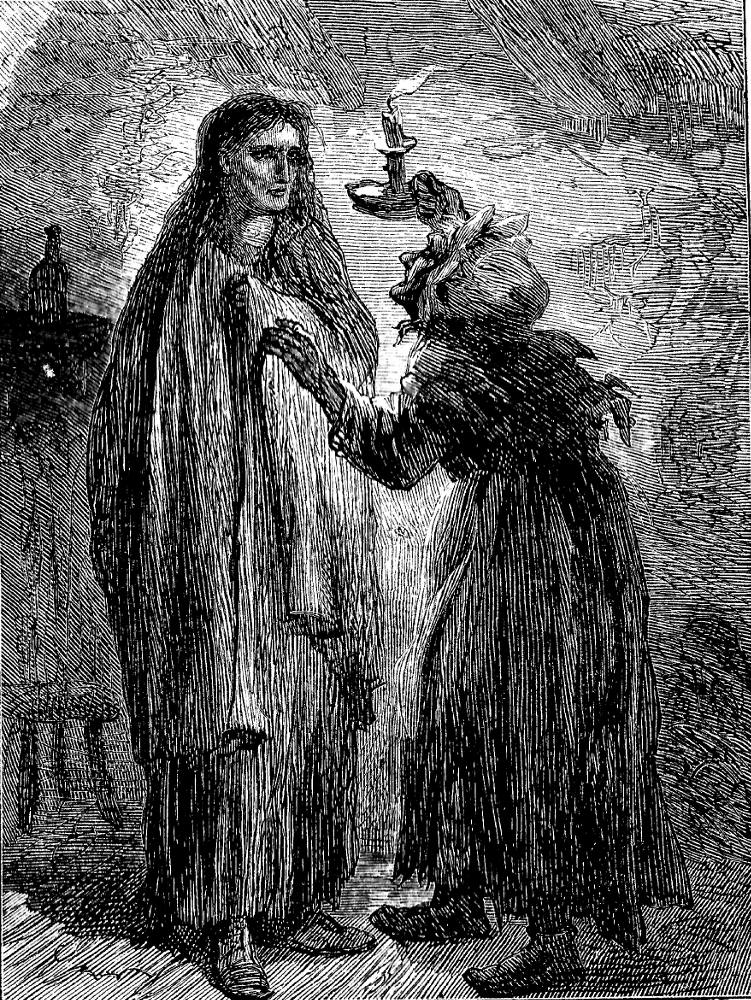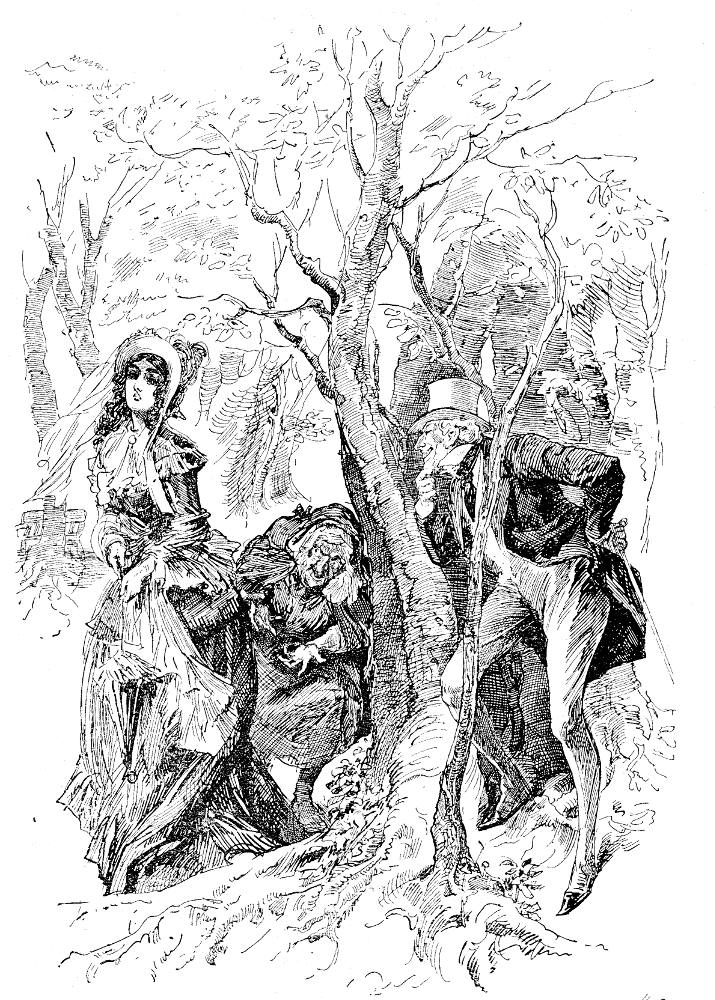 Left: W. H. C. Groome's more compact design shows Edith oblivious to Carker and Mrs. Brown: "I'll call it after her." (1900). Centre: Sol Eytinge, Jr.'s dual character study of the witch-like Mrs. Brown and her striking daughter: Mrs. Brown and Alice (1867). Right: Harry Furniss's revision of the scene on the heath includes both Edith Granger and good Mrs. Brown, and Carker, hidden behind a tree, overhearing their exchange: Carker watching Edith and the old woman (1910).
Later Scenes Involving James Carker and Edith Dombey
Related Material including Other Illustrated Editions of
Dombey and Son
Scanned image and text by Philip V. Allingham. [You may use this image without prior permission for any scholarly or educational purpose as long as you (1) credit the person who scanned the image and (2) link your document to this URL in a web document or cite the Victorian Web in a print one.]
Bibliography
Dickens, Charles. Dombey and Son. Illustrated by Phiz. (Hablot K. Browne). London: Chapman and Hall, 1848.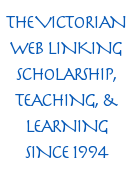 _______. Dombey and Son. Illustrated by Hablot Knight Browne (Phiz). 8 coloured plates. London and Edinburgh: Caxton and Ballantyne, Hanson, 1910.
_______. Dombey and Son. Illustrated by Fred Barnard [62 composite wood-block engravings]. The Works of Charles Dickens. The Household Edition. 22 vols. London: Chapman and Hall, 1877. XV.
"Dombey and Son — Sixty-two Illustrations by Fred Barnard." Scenes and Characters from the Works of Charles Dickens, Being Eight Hundred and Sixty-six Drawings by Fred Barnard, Gordon Thomson, Hablot Knight Browne (Phiz), J. McL. Ralston, J. Mahoney, H. French, Charles Green, E. G. Dalziel, A. B. Frost, F. A. Fraser, and Sir Luke Fildes. London: Chapman and Hall, 1907.
---
Created 31 December 2020