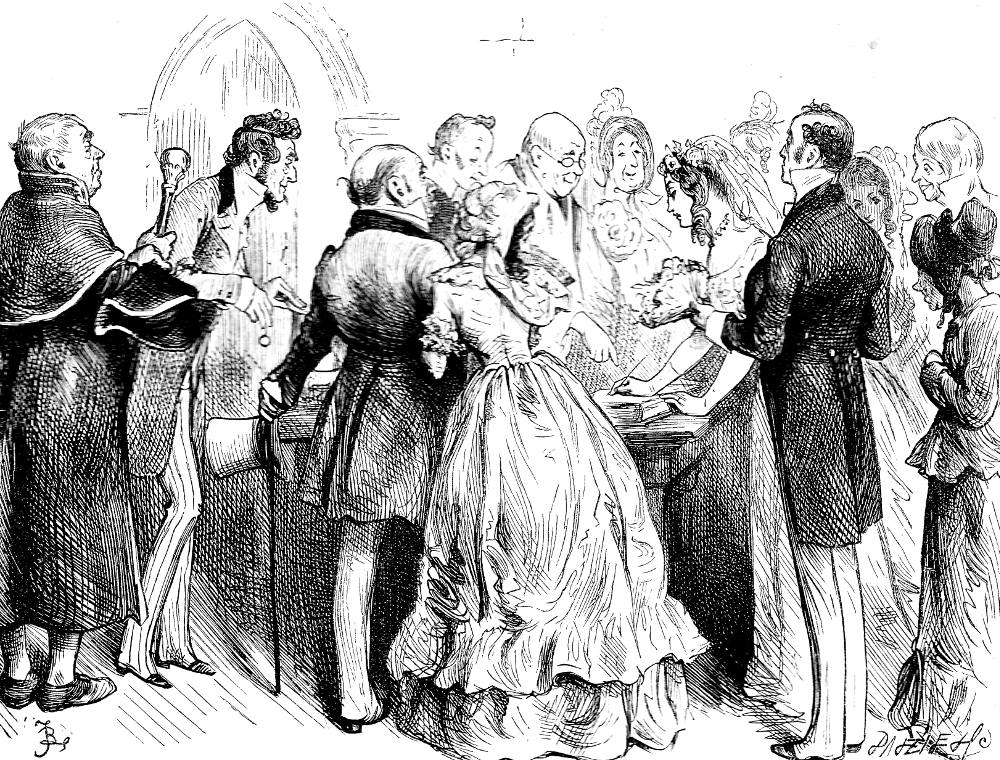 In a firm, free hand the bride subscribes her name in the register. — Fred Barnard's thirty-third illustration for Dickens's Dombey and Son, Household Edition (1877), full-page, p. 228 (scene from chap. xxxi). Wood engraving by the Dalziels, 4 3⁄16 x 5 ½ inches (10.7 cm high by 13.9 cm wide), framed. Running head: "Married," 229. [Click on the images to enlarge them.]
Passage Illustrated: Signing the Marriage Register in the Vestry
So, from that day forward, for better for worse, for richer for poorer, in sickness and in health, to love and to cherish, till death do them part, they plight their troth to one another, and are married.
In a firm, free hand, the Bride subscribes her name in the register, when they adjourn to the vestry. "There ain't a many ladies come here," Mrs. Miff says with a curtsey — to look at Mrs. Miff, at such a season, is to make her mortified bonnet go down with a dip — "writes their names like this good lady!" Mr. Sownds the Beadle thinks it is a truly spanking signature, and worthy of the writer — this, however, between himself and conscience. [Chapter 31, "The Wedding," 228]
Other Illustrators' Studies of the Dombey Wedding (1847 and 1910)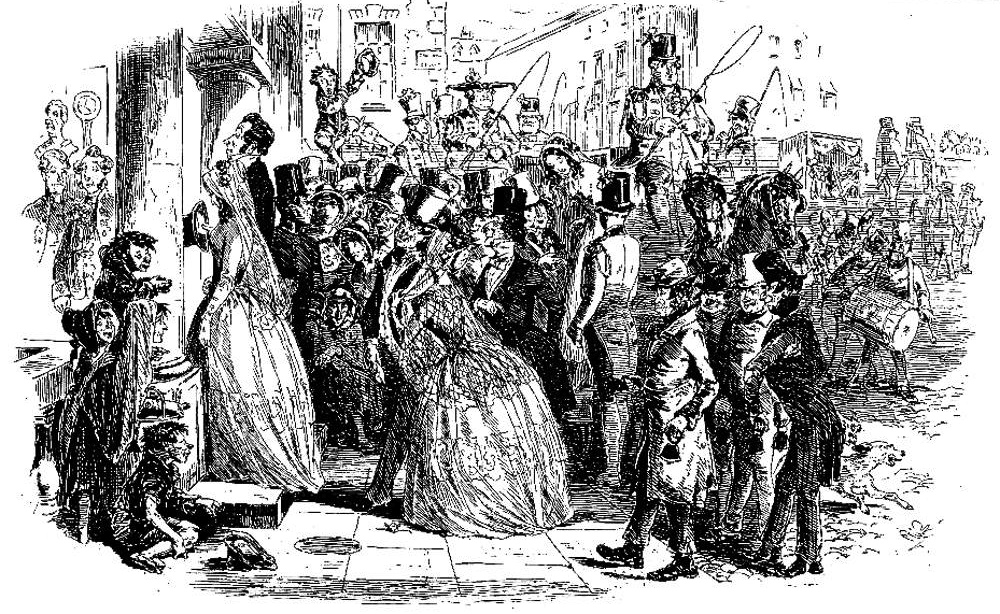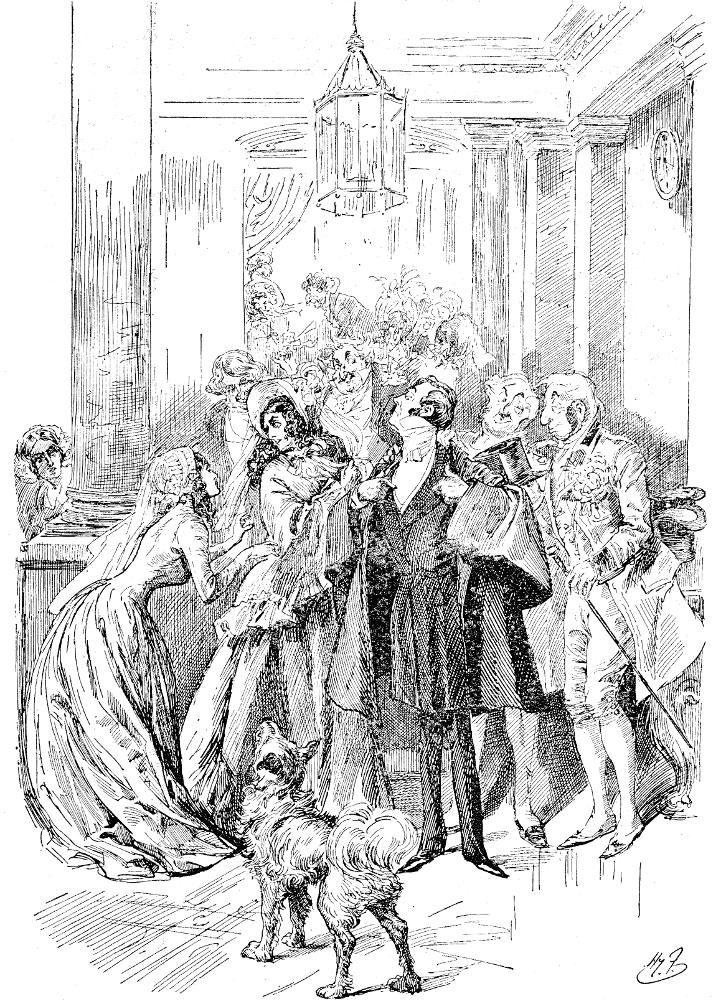 Left: Phiz's scene in which the just-married Dombeys enter their London residence after arriving by carriage from the church: Coming Home from Church (July 1847). Right: Harry Furniss's depiction of the departure of the bride and Groom foregrounds Florence: The Departure of Mr. Dombey and his bride (1910).
Related Material including Other Illustrated Editions of
Dombey and Son
Scanned image and text by Philip V. Allingham. [You may use this image without prior permission for any scholarly or educational purpose as long as you (1) credit the person who scanned the image and (2) link your document to this URL in a web document or cite the Victorian Web in a print one.]
Bibliography
Dickens, Charles. Dombey and Son. Illustrated by Phiz. (Hablot K. Browne). London: Chapman and Hall, 1848.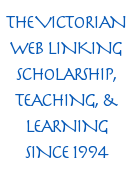 _______. Dombey and Son. Illustrated by Hablot Knight Browne (Phiz). 8 coloured plates. London and Edinburgh: Caxton and Ballantyne, Hanson, 1910.
_______. Dombey and Son. Illustrated by Fred Barnard [62 composite wood-block engravings]. The Works of Charles Dickens. The Household Edition. 22 vols. London: Chapman and Hall, 1877. XV.
"Dombey and Son — Sixty-two Illustrations by Fred Barnard." Scenes and Characters from the Works of Charles Dickens, Being Eight Hundred and Sixty-six Drawings by Fred Barnard, Gordon Thomson, Hablot Knight Browne (Phiz), J. McL. Ralston, J. Mahoney, H. French, Charles Green, E. G. Dalziel, A. B. Frost, F. A. Fraser, and Sir Luke Fildes. London: Chapman and Hall, 1907.
---
Created 4 January 2021