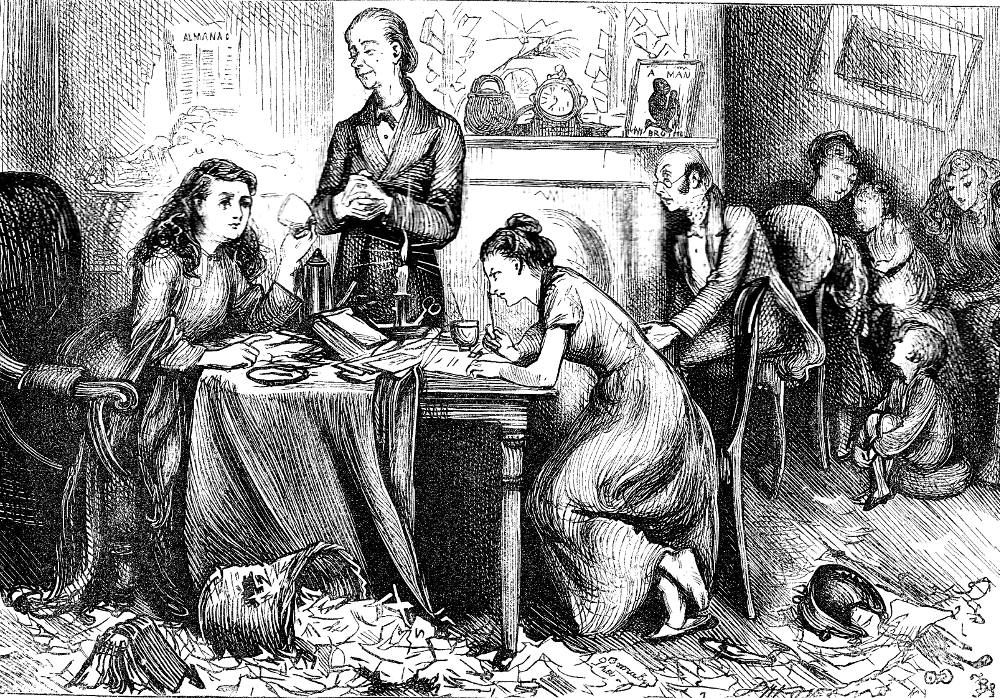 In an Atmosphere of Booriobooble-Gha, sixth illustration by Fred Barnard in the Household Edition (1873). 9.4 x 13.8 cm (3 ¾ by 5 ½ inches), framed, p. 13. Chapter 3. [Click on the images to enlarge them.]
Passage Illustrated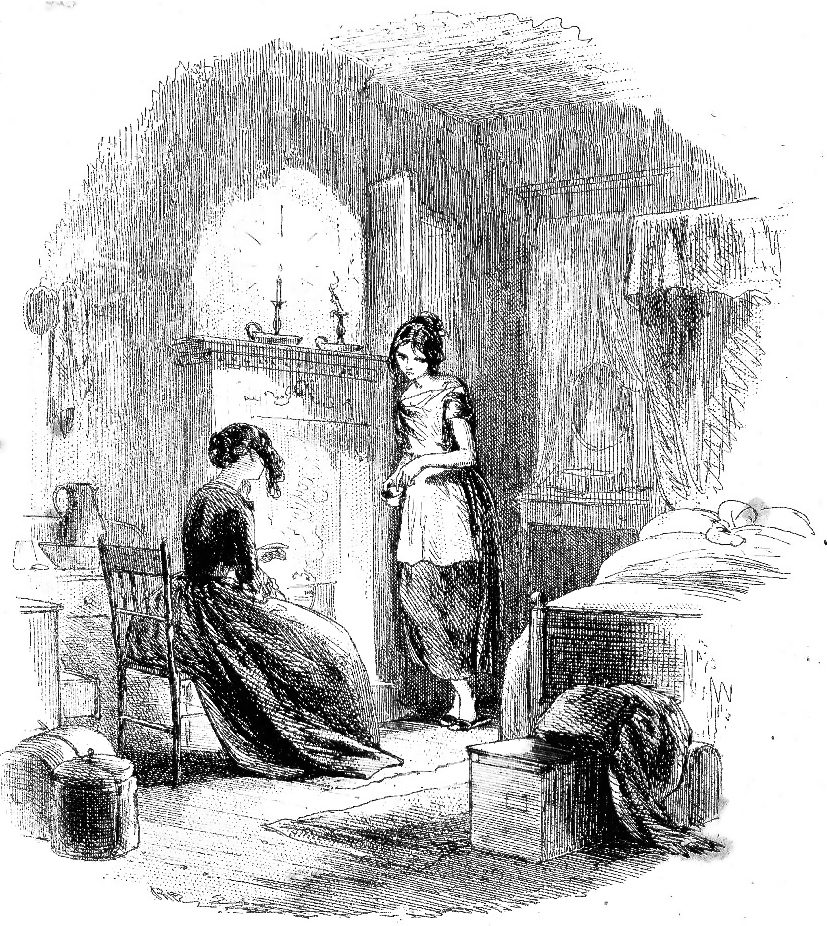 Phiz's original illustration for this chapter, Miss Jellyby (March 1852).
We expressed our acknowledgments and sat down behind the door, where there was a lame invalid of a sofa. Mrs. Jellyby had very good hair but was too much occupied with her African duties to brush it. The shawl in which she had been loosely muffled dropped onto her chair when she advanced to us; and as she turned to resume her seat, we could not help noticing that her dress didn't nearly meet up the back and that the open space was railed across with a lattice-work of stay-lace — like a summer-house.
The room, which was strewn with papers and nearly filled by a great writing-table covered with similar litter, was, I must say, not only very untidy but very dirty. We were obliged to take notice of that with our sense of sight, even while, with our sense of hearing, we followed the poor child who had tumbled downstairs: I think into the back kitchen, where somebody seemed to stifle him.
But what principally struck us was a jaded and unhealthy-looking though by no means plain girl at the writing-table, who sat biting the feather of her pen and staring at us. I suppose nobody ever was in such a state of ink. And from her tumbled hair to her pretty feet, which were disfigured with frayed and broken satin slippers trodden down at heel, she really seemed to have no article of dress upon her, from a pin upwards, that was in its proper condition or its right place.  [Chapter IV, "Telescopic Philanthropy," 19]
Illustrations of the Jellybys from Other Editions, 1867-1910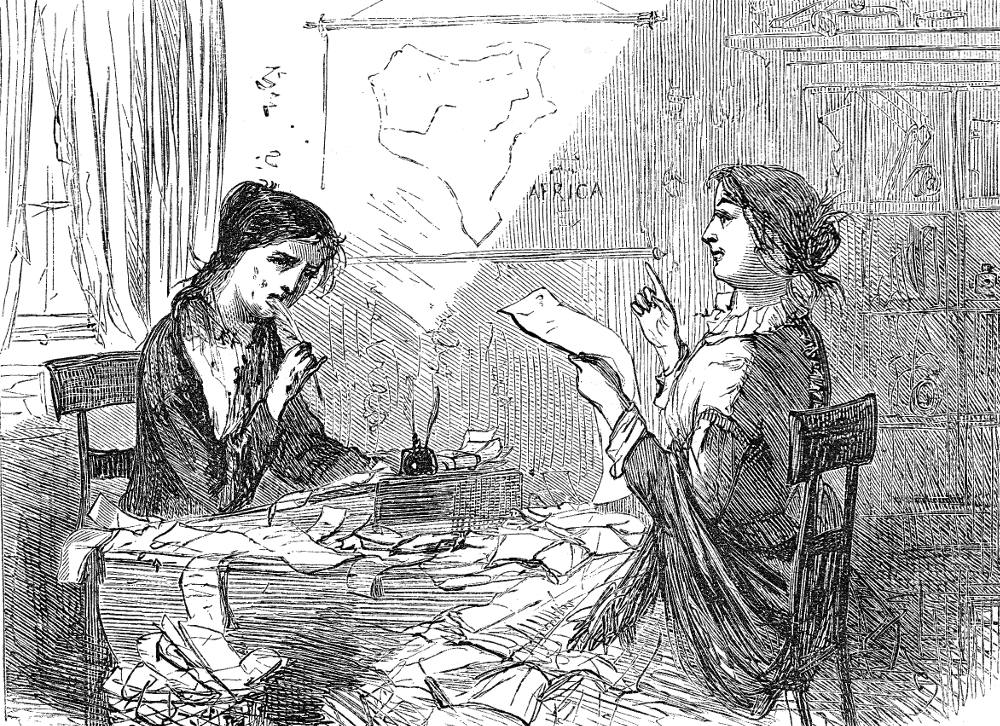 ​​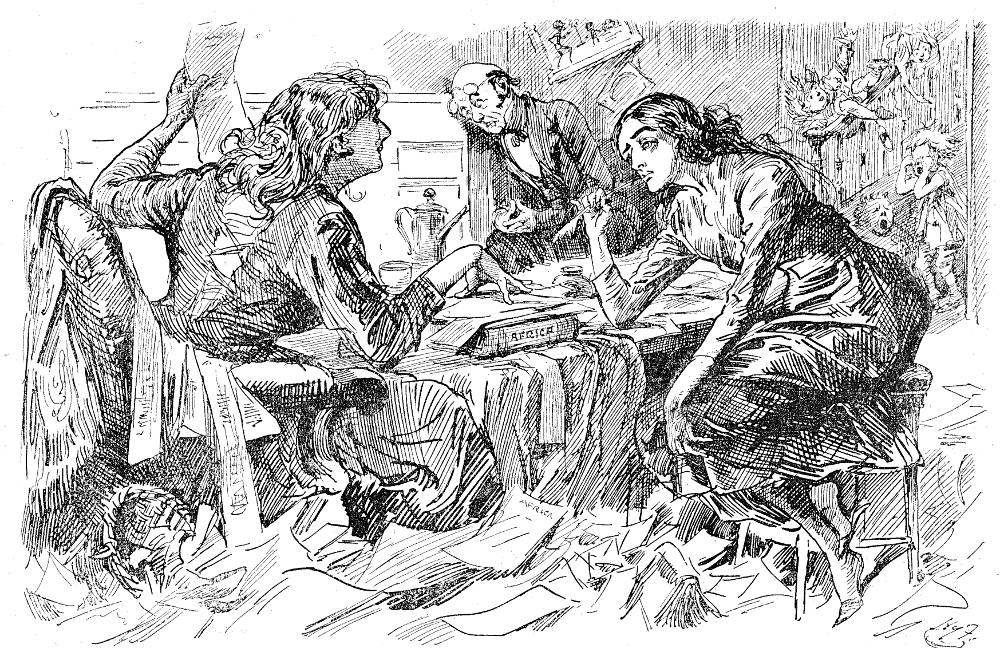 Left: Sol Eytinge, Jr.'s study of the slovenly parlour at the Jellybys': Mrs. Jelleby and Caddy (1867). Right: Harry Furniss's version of the same scene: The Jellybys at Home (1910).
Related Material, including Other Illustrated Editions of
Bleak House
Scanned image, colour correction, sizing, caption, and commentary by Philip V. Allingham. [You may use this image without prior permission for any scholarly or educational purpose, as long as you (1) credit the person who scanned the image, and (2) link your document to this URL in a web document or cite the Victorian Web in a print one.]
Bibliography
"Bleak House — Sixty-one Illustrations by Fred Barnard." Scenes and Characters from the Works of Charles Dickens, Being Eight Hundred and Sixty-six Drawings by Fred Barnard, Gordon Thomson, Hablot Knight Browne (Phiz), J. McL. Ralston, J. Mahoney, H. French, Charles Green, E. G. Dalziel, A. B. Frost, F. A. Fraser, and Sir Luke Fildes. London: Chapman and Hall, 1907.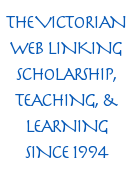 Davis, Paul. Charles Dickens A to Z: The Essential Reference to His Life and Work. New York: Facts On File, 1998.
Dickens, Charles. Bleak House. Illustrated by F. O. C. Darley and John Gilbert. The Works of Charles Dickens. The Household Edition. New York: Sheldon and Company, 1863. Vols. 1-4.
_______. Bleak House. Illustrated by Sol Eytinge, Jr, and engraved by A. V. S. Anthony. 14 vols. Boston: Ticknor & Fields, 1867. VI.
_______. Bleak House, with 61 illustrations by Fred Barnard. Household Edition. London: Chapman and Hall, 1873. IV.
_______. Bleak House. Illustrated by Harry Furniss [28 original lithographs]. The Charles Dickens Library Edition. Vol. 11.​ London: Educational Book, 1910.
Hammerton, J. A. "Chapter 18: Bleak House." The Dickens Picture-Book. The Charles Dickens Library Edition. London: Educational Book, 1910. XVII, 366-97.
Vann, J. Don. "Bleak House, twenty parts in nineteen monthly instalments, October 1846—April 1848." Victorian Novels in Serial. New York: The Modern Language Association, 1985. 69-70.
---
Created 19 February 2021