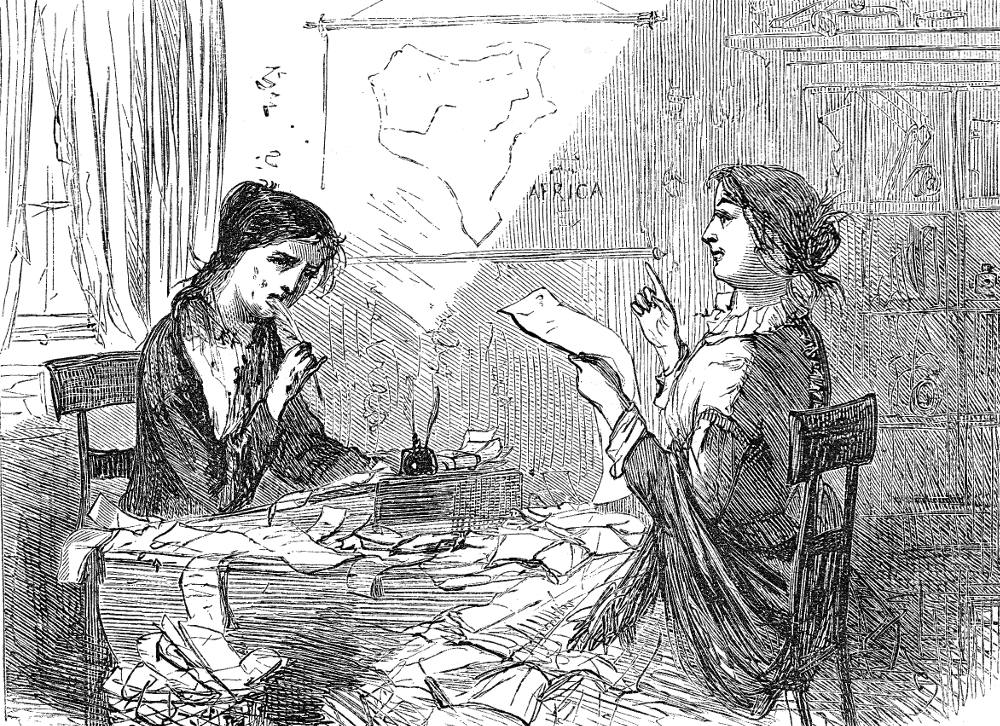 The second full-page illustration for Bleak House: Mrs. Jelleby and Caddy, by Sol Eytinge, Jr. 7.4 cm high by 10 cm wide (2 ⅞ by 4 inches), framed. The Diamond Edition of Dickens's Works, Volume VI (Boston: Ticknor and Fields, 1867), facing p. 21. [Click on the image to enlarge it.]
Passage Illustrated: Untidy Philanthropy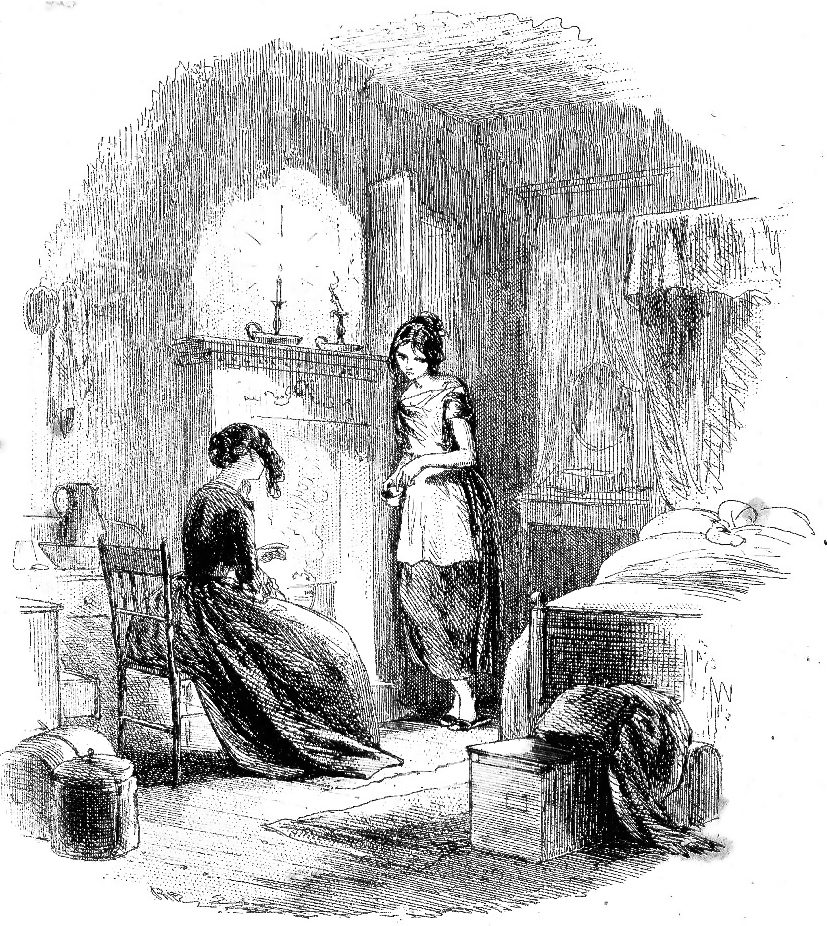 Phiz's original illustration for this chapter, Miss Jellyby (March 1852).
Mrs. Jellyby had very good hair but was too much occupied with her African duties to brush it. The shawl in which she had been loosely muffled dropped onto her chair when she advanced to us; and as she turned to resume her seat, we could not help noticing that her dress didn't nearly meet up the back and that the open space was railed across with a lattice-work of stay-lace — like a summer-house.
The room, which was strewn with papers and nearly filled by a great writing-table covered with similar litter, was, I must say, not only very untidy but very dirty. We were obliged to take notice of that with our sense of sight, even while, with our sense of hearing, we followed the poor child who had tumbled downstairs: I think into the back kitchen, where somebody seemed to stifle him.
But what principally struck us was a jaded and unhealthy-looking though by no means plain girl at the writing-table, who sat biting the feather of her pen and staring at us. I suppose nobody ever was in such a state of ink. And from her tumbled hair to her pretty feet, which were disfigured with frayed and broken satin slippers trodden down at heel, she really seemed to have no article of dress upon her, from a pin upwards, that was in its proper condition or its right place.
"You find me, my dears," said Mrs. Jellyby, snuffing the two great office candles in tin candlesticks, which made the room taste strongly of hot tallow (the fire had gone out, and there was nothing in the grate but ashes, a bundle of wood, and a poker), "you find me, my dears, as usual, very busy; but that you will excuse. The African project at present employs my whole time. It involves me in correspondence with public bodies and with private individuals anxious for the welfare of their species all over the country. I am happy to say it is advancing. We hope by this time next year to have from a hundred and fifty to two hundred healthy families cultivating coffee and educating the natives of Borrioboola-Gha, on the left bank of the Niger." [Ch. 4, "Telescopic Philanthropy," 21]
Commentary: Obsessive Philanthropy Personified: Mrs. Jellyby
She was a pretty, very diminutive, plump woman, of from forty to fifty, with handsome eyes, though they had a curious habit of seeming to look a long way off. As if — I am quoting Richard again — they could see nothing nearer than Africa! [Ch. 4, p. 21]
The illustrator must show the philanthropist as slovenly, despite her obvious dedication to the enlightened project of Empire: addressing the welfare of the African natives of a location with a suitably exotic, unEuropean name. Eytinge positions a map of the Dark Continent in such a way as to suggest that it dominates her thoughts. Her charitable obsession leads directly to her neglect of her own family. After her missionary enterprise collapses financially, Mrs. Jellyby immediately takes up an equally worthy cause closer to home: Women's Rights. Although Eytinge had access to Phiz's original illustrations through the 1865 American piracy by T. B. Peterson (Philadelphia), his satire of the Jellyby household is much more focussed and graphic than Phiz's Miss Jellyby, for whereas Phiz focusses on the plight of the neglected daughter, Caddy, Eytinge demonstrates how the mother's all-encompassing philanthropy has led to her abrogation as chief in the domestic sphere, The Angel in the House.
Mrs. Jellyby resolutely devotes every waking hour to a missionary project in Africa that she refers to as the "Borrioboola-Gha venture." Her goal is the resettlement among African natives of impoverished British colonists, who will support themselves through growing coffee. Mrs. Jellyby is convinced that her life's undertaking will solve so social problems, in both Africa and Britain. However, the "project" collapsaes when the local tribal chieftain attacks the society's headquarters and sells its volunteers into slavery in order to buy rum. Undeterred, Mrs. Jellyby embarks upon a teetotalism crusade that morphs into a larger initiative: women's suffrage.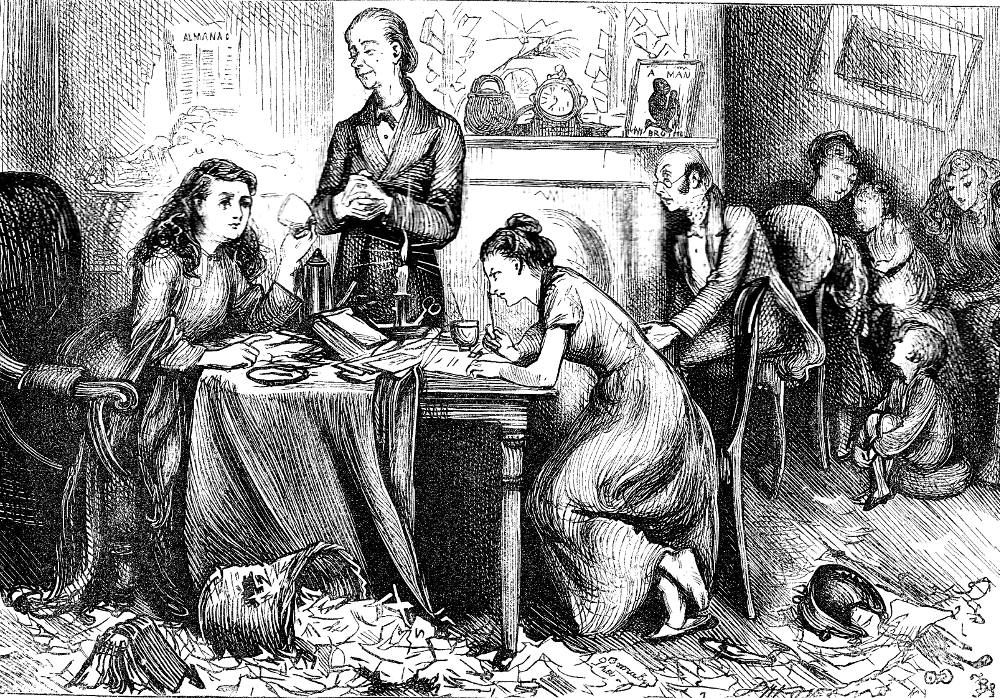 ​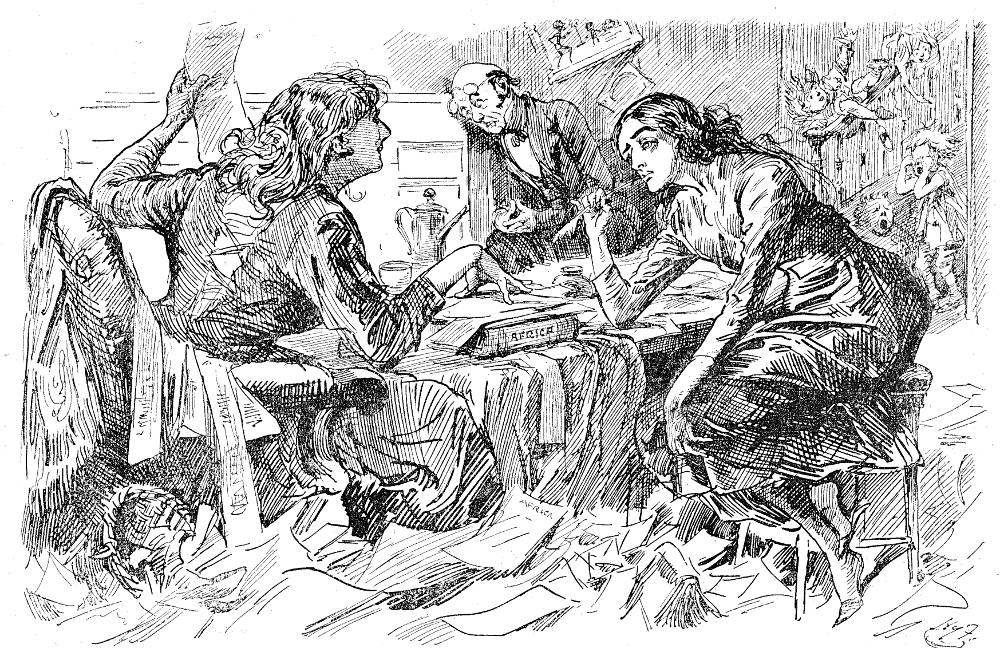 ​
Left: Fred Barnard's Household Edition illustration of the deplorable state of the Jellybys' parlour: In an Atmosphere of Booriobooble-Gha (1873). Right: Harry Furniss's Charles Dickens Library Edition illustration for Chapter 4 captures precisely the same chaotic scene: The Jellybys at Home (1910).
Related material, including front matter and sketches, by other illustrators for
Bleak House

(1852-1910)

Scanned image and text by Philip V. Allingham. [You may use this image without prior permission for any scholarly or educational purpose as long as you (1) credit the person who scanned the image and (2) link your document to this URL in a web document or cite the Victorian Web in a print one.]
Bibliography
Bentley, Nicolas, Michael Slater, and Nina Burgis. The Dickens Index. New York and Oxford: Oxford U. P., 1990.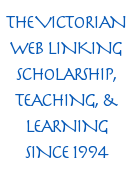 Dickens, Charles. Bleak House. Illustrated by Hablot Knight Browne. London: Bradbury and Evans, 1853.
_______.  Bleak House. Illustrated by F. O. C. Darley and John Gilbert. The Works of Charles Dickens. The Household Edition. New York: Sheldon and Company, 1863. Vols. 1-4.
_______. Bleak House. Illustrated by Sol Eytinge, Jr, and engraved by A. V. S. Anthony. 14 vols. Boston: Ticknor & Fields, 1867. VI.
_______. Bleak House, with 61 illustrations by Fred Barnard. Household Edition, volume IV. London: Chapman and Hall, 1873.
_______. Bleak House. Illustrated by Harry Furniss. The Charles Dickens Library Edition. 18 vols. London: Educational Book, 1910. Vol. XI.
Hammerton, J. A. "Ch. XVIII. Bleak House."  The Dickens Picture-Book. London: Educational Book Co., [1910], 294-338.
Lester, Valerie Browne. Phiz: The Man Who Drew Dickens. London: Chatto and Windus, 2004.
Steig, Michael. Chapter 6. "Bleak House and Little Dorrit: Iconography of Darkness." Dickens and Phiz. Bloomington & London: Indiana U. P., 1978. 131-172.
Vann, J. Don. "Bleak House, twenty parts in nineteen monthly instalments, October 1846—April 1848." Victorian Novels in Serial. New York: The Modern Language Association, 1985. 69-70./
---
Created 12 February 2021