William Haywood was born and educated in Camberwell, Surrey, then apprenticed to the architect George Aitchison, who later designed the Arab Hall at Leighton House. Haywood too planned to become an architect, and began by designing houses. Then he was appointed assistant surveyor to the Commissioners of Sewers in the City of London, rising to become their surveyor in 1846 and their chief engineer in 1853. Remaining in this position for almost 50 years, he was responsible for a large number of major works in the capital — not just the sewerage scheme on which he worked with Joseph Bazalgette, but also the City of London Cemetery, the Holborn Viaduct, "the introduction of asphalt for the roads in the City from 1869" (Curl 226), and many other improvements, including artisan dwellings in Whitechapel.
At the other end of the scale, he also designed the imposing Murlough House, Dundrum, County Down, Ireland, for the 4th Marquess of Downshire (1858) — a connection made less puzzling when we know that the Downshires had a London residence in Belgrave Square, and that Haywood himself moved in high circles. He promoted the foundation of the Geologists' Association in that same year, and in later life became Lieutenant-Colonel of the London Rifle Brigade (1876-1882).
He remains best known for the Viaduct, but "had a brilliant command of everything affecting the environment of the City" and was "one of those that did most to shape Victorian London" (Thorne). In 1853 Haywood became a member of the Institution of Civil Engineers, and in 1857 was made a Fellow of the Royal Institute of British Architects. As a respected advisor for engineering projects abroad, he garnered various foreign honours as well. After a failed marriage, he lived for many years with his partner Jemima Emma Elbrow, before dying at their Maida Vale home in April 1894. He had designed his own mausoleum in the City of London Cemetery. — Jacqueline Banerjee.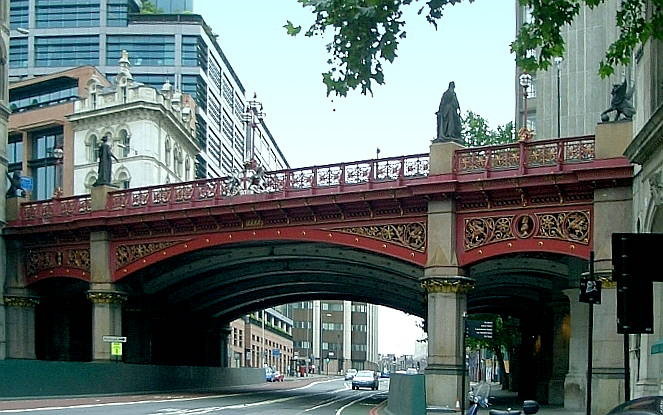 Works
Bibliography
Curl, James Stevens. Victorian Architecture. Newton Abbot: David & Charles, 1990.
Dictionary of Irish Architects, 1720-1940Irish Architectural Archive). Web. 15 Augusr 2011.
Thorne, Robert. "Haywood, William (1821-1894)." Oxford Dictionary of National Biography. Online ed. Web. 15 August 2011.
---
Last modified 19 August 2011