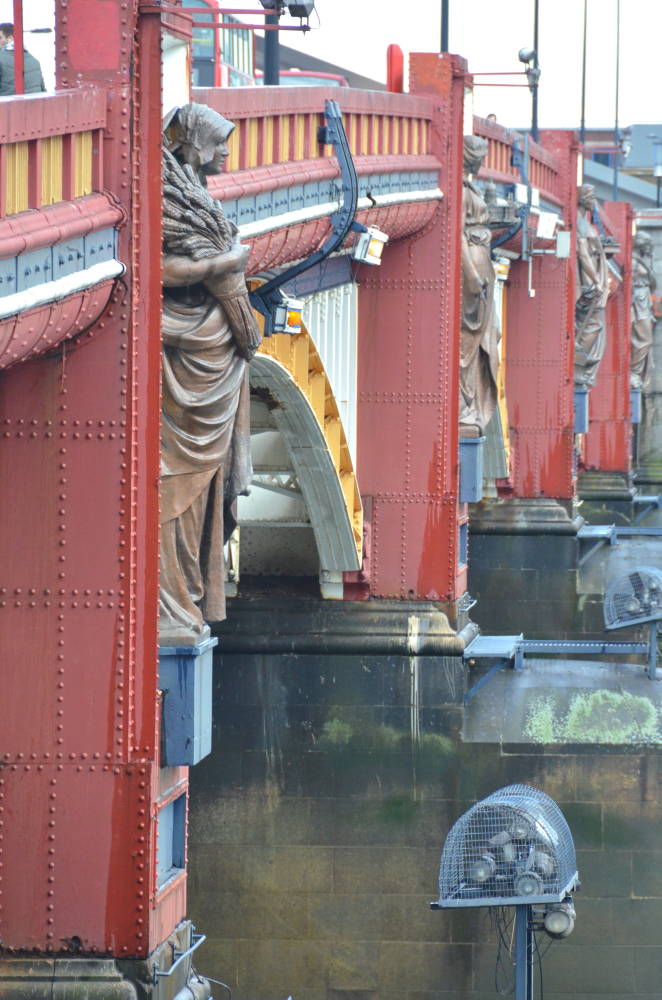 Agriculture, one of Pomeroy's four colossal (around twice life-size) bronze statues on the upstream side of Vauxhall Bridge, was installed in 1907. Beautifully draped like the others, this female figure carries a sheaf of corn and holds a scythe (only the curved blade is visible here, behind her head). The photograph on the right shows all four statues as seen from the Pimlico bank, first this one, then Architecture (carrying a model of St Paul's), Engineering (standing next to an anvil and carrying a model of a steam engine and a mallet) and Pottery (holding a vase).
Writing about the London bridges in 1921, Sir Reginald Blomfield talked of the importance of a bridge's realizing, in its very design, what it means — "not merely as a means of transit but as a symbol of the life and civilization of the people who use that bridge" (101). Although these statues were not part of the original plan, Vauxhall Bridge's decorative enhancement was discussed as early as 1903 (see Matthews 82), and the eight figures that finally resulted do help the bridge to fulfil that symbolic function. The bridge itself is a Grade II* listed structure, one of the principal reasons for this designation being "the work" by sculptors Alfred Drury RA and Frederick Pomeroy RA which adorns the piers." The list entry continues, "The work is not only unique — no other British river crossing contains sculpture — but also of a very high quality."
Related Material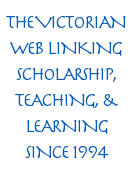 Photograph on left, and text," by Jacqueline Banerjee. Photograph on right" by George P. Landow, both 2013. These images may be used without prior permission for any scholarly or educational purpose as long as you (1) credit the photographer and (2) link your document to this URL or cite it in a print document. [Click on the images for larger pictures.]
Bibliography
Blomfield, Reginald. "The Bridges of London, 1815-1920." In London of the Future, ed. Sir Aston Webb. London: T. Fisher Unwin, 1921. Internet Archive. Web. 23 December 2013.
"List Entry: Vauxhall Bridge." English Heritage. Web. 23 December 2013.
Matthews, Peter. London's Bridges. Princes Risborough: Shire, 2009.
---
Last modified 23 December 2013.