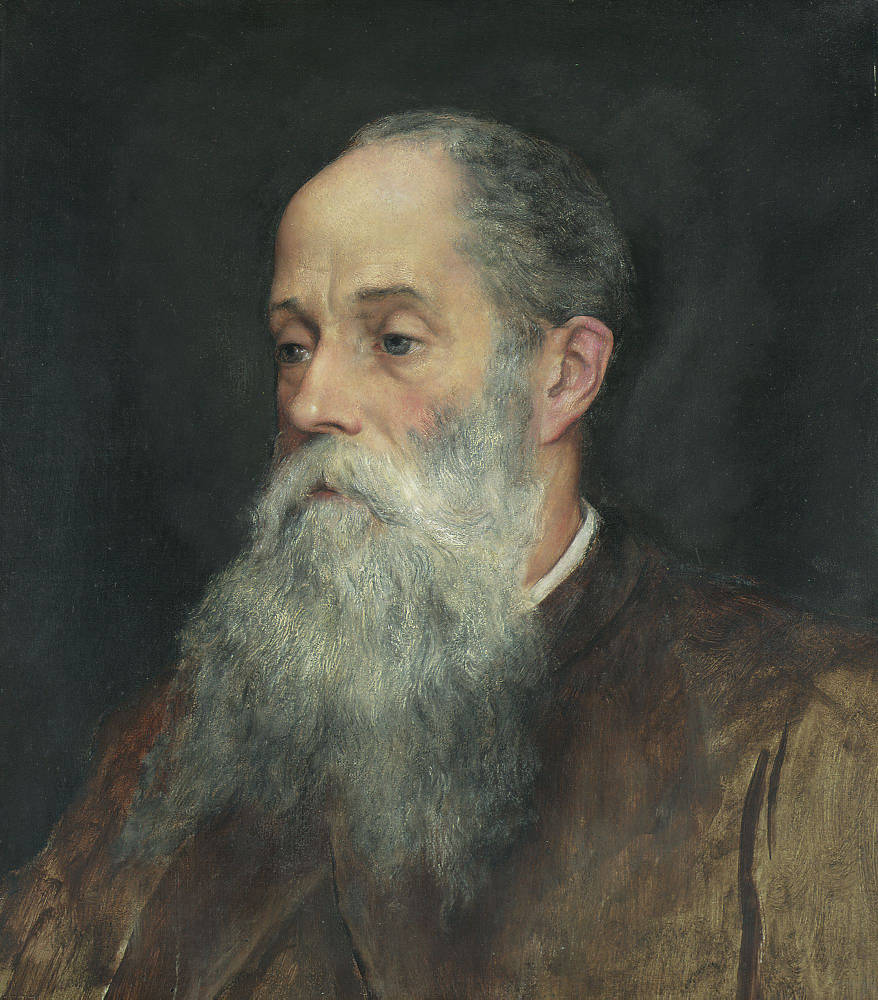 Portrait of John Roddam Spencer Stanhope. Evelyn De Morgan. c.1880. Oil on canvas, 18 ⅞x 16 ½ inches (47.9 x 41.9 cm). Private collection. Click on image to enlarge it.
J. R. Spencer Stanhope, best known as Roddy to family and close friends, was born on January 20, 1829 at Cannon Hall, the family's stately home at Cawthorne, near Barnsley in South Yorkshire. He was the second son of John Spencer Stanhope, a classical scholar, celebrated antiquarian, and explorer. His mother was Elizabeth Wilhelmina Coke, third and youngest daughter of Thomas William Coke, first Earl of Leicester. Stanhope therefore came from an aristocratic background. His mother and her sisters had studied art with Thomas Gainsborough and it was from his mother's influence that Stanhope's inclination towards painting as a career developed.
As the second son he was expected to enter a profession since his older brother Walter would inherit the estate. John was educated initially at Rugby and then at Christ Church, Oxford, where his father had earlier studied. Despite strong parental opposition he was determined to become an artist. In 1850 he began to study with George Frederic Watts. He assisted Watts in his mural decoration of Justice, a Hemicycle of Law-givers for Lincoln's Inn in London. In the autumn of 1853 Stanhope travelled to Italy with Watts with visits to Venice, Florence, and Padua. In 1856-57 he accompanied Watts and Val Prinsep on an expedition to Asia Minor to observe the excavations of the ruins of the Mausoleum of Halicarnassus at Budrum led by Charles Newton, the Keeper of Greek Antiquities at the British Museum. Newton was a friend of Stanhope's father.
In 1857 Stanhope joined with D. G. Rossetti, Edward Burne-Jones, William Morris, and others to decorate the Oxford Union Debating Hall with murals on Arthurian themes. In 1858 he became one of the co-founders of the Hogarth Club. In 1859 Stanhope exhibited his first painting at the Royal Academy. He later also exhibited at the Dudley Gallery from its inauguration in 1865.
On January 10, 1859 he married Elizabeth King, the granddaughter of the third Earl of Egremont. She was the widow of Captain George Frederick Dawson, who had been killed at Sebastopol during the Crimean war. The Stanhope's only child Mary was born later that same year on November 9, 1859. In 1861 the couple moved to Sandroyd at Cobham in Surrey, the house built for them by Philip Webb. Stanhope suffered from asthma, which was not improved by this move, and the Stanhopes left Sandroyd for health reason in 1864. They moved to 77 Harley Street, London. He began to spend the winters in Florence from the winter of 1864-65. On February 23, 1867 his daughter Mary died at age seven from scarlet fever and was buried in the English Cemetery in Florence. In 1870 Stanhope acquired Hill House near Cawthorne, apparently to be near his ailing parents.
From 1875-79 Stanhope was involved with his most important artistic accomplishment, the twelve mural decorations for the Chapel of St. Michael and All Angels at Marlborough College, Wiltshire. In 1877 he was one of the artists asked to exhibit at the opening of the Grosvenor Gallery and he continued to exhibit there until he transferred his allegiance to the New Gallery in 1888. In 1877 he joined William Morris's The Society for Protection of Ancient Buildings and later became its Italian correspondent. In 1880 his ill health had him moved permanently to the Villa Nuti at Bellosguardo near Florence, that he had purchased in 1873. Despite the move he continued to visit England frequently. Between 1892 and 1896 he would design and install two altarpieces for the Anglican Church of the Holy Trinity in Florence that had been designed by his friend G. F. Bodley. Stanhope later frescoed the walls and ceiling of St. Mark's English Church in Florence. In 1901 he was one of the founders of the Society of Painters in Tempera. He died on August 2, 1908 at Bellosguardo and was buried at the Cimitero Evangelico degli Allori [The Evangelical Cemetery at Laurels] in Florence. In March 1909 a retrospective exhibition of his work was held at the Carfax Gallery, St. James's, in London.
---
Created 30 October 2004

Last modified 8 May 2022