George Frederick Bodley was born in Hull in 1827. The family moved to Brighton following his father's retirement in 1838. In 1845 he became the architect George Gilbert Scott's first pupil, living with him and working in his London office until at least 1852. It was here that Bodley first met George Edmund Street and William White, who became firm allies and whose practices gave rise to many of the key artists and architects associated with the Arts and Crafts movement. Bodley's first independent work of the 1850s is characterized by a typically high Victorian treatment of materials and combination of formal elements drawn from continental medieval examples. This is epitomized in his designs for St Michael and All Angels, Brighton, in Sussex (1858-62), All Saints, Selsey, in Gloucestershire (1858-62) and St Martin's, Scarborough, in Yorkshire (1860-63). These church commissions provided important early opportunities for William Morris' decorative arts firm, Morris, Marshall, Faulkner & Co, founded in 1861.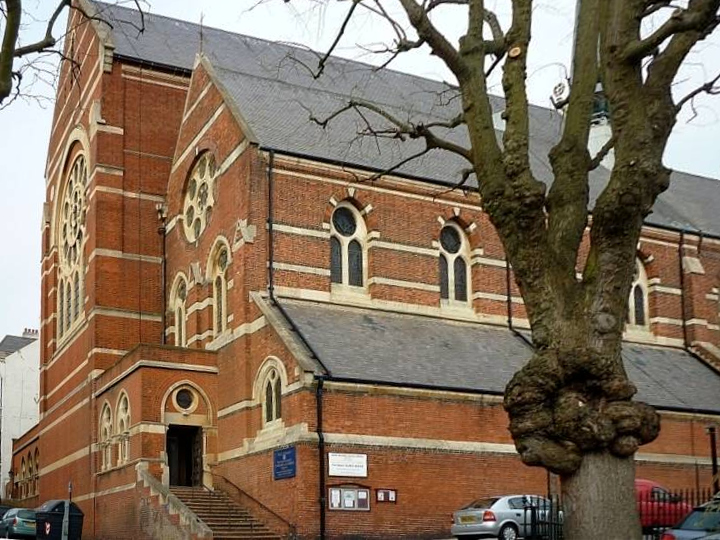 St Michael and All Angels, Brighton (1858-62)
The 1860s were years of significant transition for Bodley, beginning markedly with his revised designs for All Saints, Jesus Lane (1861-66) in Cambridge. Ruskinian assemblage of medieval French and Italian-inspired structural polychromy in the mode of G. E. Street and William Butterfield was abandoned in favour of a return to A. W. N. Pugin's design principles, sumptuous painted interior surfaces and a distinctive interpretation of the Gothic with its origins in fourteenth-century England. Additionally, Bodley suffered from a serious illness in 1868-69, which resulted in the formation of an informal but firm partnership with Thomas Garner (1839-1906), who had also trained in Scott's office. Garner and Bodley's subsequent working practice was at times so symbiotic as to be indistinguishable. Highlights of their output in the 1870s and 80s include Holy Angels, Hoar Cross, Staffordshire, (1871-76), St Augustine, Pendlebury, Lancashire (1870-74), and St Swithun's Quadrangle, Magdalen College, Oxford (1879-84).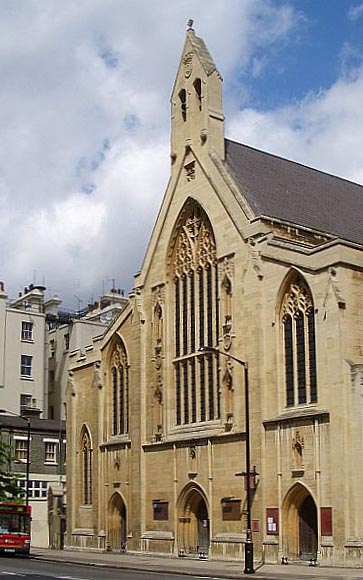 Holy Trinity, Prince Consort Road, London (1901-06)
Bodley's work must be seen in the context of the Aesthetic Movement. He moved in Aesthetic social and artistic circles, styled himself as an artist-architect, was an accomplished musician, and even published a book of poetry in 1899. Towards the close of the nineteenth century Bodley's output centred on an attempt to materially and spiritually embody qualities of 'refinement', which he understood to be the gentlemanly wielding of 'restrained power'. His later work, notably St Mary's, Clumber, Nottinghamshire (1886-89) and Holy Trinity, Prince Consort Road, London (1901-06), attests to this growing concern. Walls were deliberately left austere as rich ornament became increasingly concentrated in furnishings, roofs and sanctuaries.
To this end, and also to exert a more precise control over as many aspects of a building's design as possible, Bodley and Garner partnered with George Gilbert Scott, junior (1839-97) to found Watts and Company in 1874. This decorative arts firm produced a range of textiles, wallpapers and ecclesiastical fittings, furnishings and vestments in order to meet a significant market in both sacred and secular interior design. The interiors for Ham House (1889-90) and vestments for the Coronation of Edward VII (1902) are amongst their most significant commissions during Bodley's lifetime. Bodley and Garner also worked closely with the firms Rattee and Kett for woodwork, Barkentin and Krall for metalwork, and Burlison and Grylls for stained glass. Charles Eamer Kempe (1837-1907), who had trained in Bodley's office, was also regularly invited to provide glass for Bodley's buildings.
Bodley is most closely associated with the Gothic Revival and with High Anglican aesthetics, but he and Garner were also competent outside this sacred and historicist milieu, transgressing the entrenched positions of others in their circle during what is loosely referred to as 'the battle of the styles' in the late nineteenth century. In addition to Bodley's neo-Georgian houses of the 1860s, the firm's works most clearly embodying this Queen Anne-inspired flexibility are the London School Board Offices (1872-76, demolished), the Master's Lodge at University College (1877-82), Oxford, and the Classical reredos for St Paul's Cathedral, London (1887, destroyed in WWII and removed).
Garner converted to Roman Catholicism in 1896 and as a result the partnership amicably dissolved. Bodley continued to produce designs independently for another decade. Seen as the leader of a second generation of Victorian Gothic Revival architects, Bodley's unique style gave rise to a school of sorts, the main exponents of which are Charles Robert Ashbee (1863-1942), John Ninian Comper (1864-1960), and Henry Vaughan (1845-1917). The latter went on to America, where he carried out the bulk of Bodley's 1906 design for Washington National Cathedral, finally completed in 1989.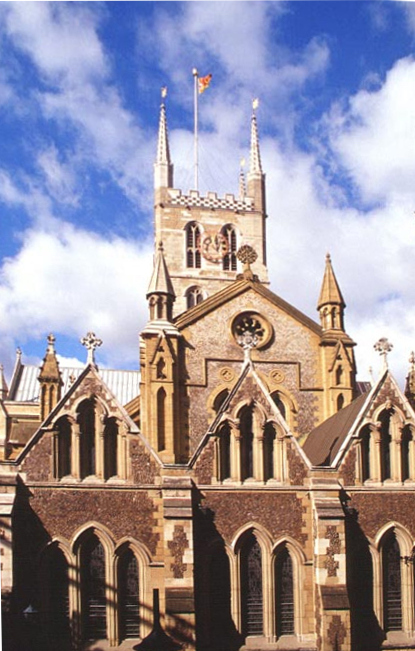 Southwark Cathedral
In addition to this last work in Washington DC, Bodley was also responsible for the cathedral in Hobart, Tasmania and extensions to cathedrals in Lahore and Nagpur. He was also involved in smaller ecclesiastical projects in South Africa, Italy and Switzerland. Bodley was supervising architect for Southwark Cathedral, York Minster, and Peterborough Cathedral. He was elected ARA in 1882, received the RIBA Royal Gold Medal in 1899, made a Royal Academician in 1902 and awarded a DCL from Oxford University in 1903. He died in 1907.
Bibliography
Bodley, G. F., 'On Some Principles and Characteristics of Ancient Architecture and Their Application to the Modern Practice of the Art'. The Builder 108 (28 February 1885): 294-96.
Cole, David. Handlists of the Work of British Architects: G. F. Bodley, T. Garner and C. G. Hare. London, 1972.
Crellin, David and Ian Dungavell (eds.). Architecture and Englishness 1880-1914, papers from the 2003 Annual Symposium of the Society of Architectural Historians of Great Britain. Oxford, 2006.
Fawcett, Jane, ed. Seven Victorian Architects. London, 1976.
Norman Shaw, Richard and Thomas Graham Jackson (eds.), Architecture, a Profession or an Art? Thirteen Short Essays on the Qualifications and Training of Architects. London, 1892.
Smart, C. M., Muscular Churches: Ecclesiastical Architecture of the High Victorian Period. London, 1989.
Warren, E. P., 'The Life and Work of George Frederick Bodley', RIBA Journal, 3rd series, vol. 17 (1910): 305-40.
---
Last modified 30 March 2010