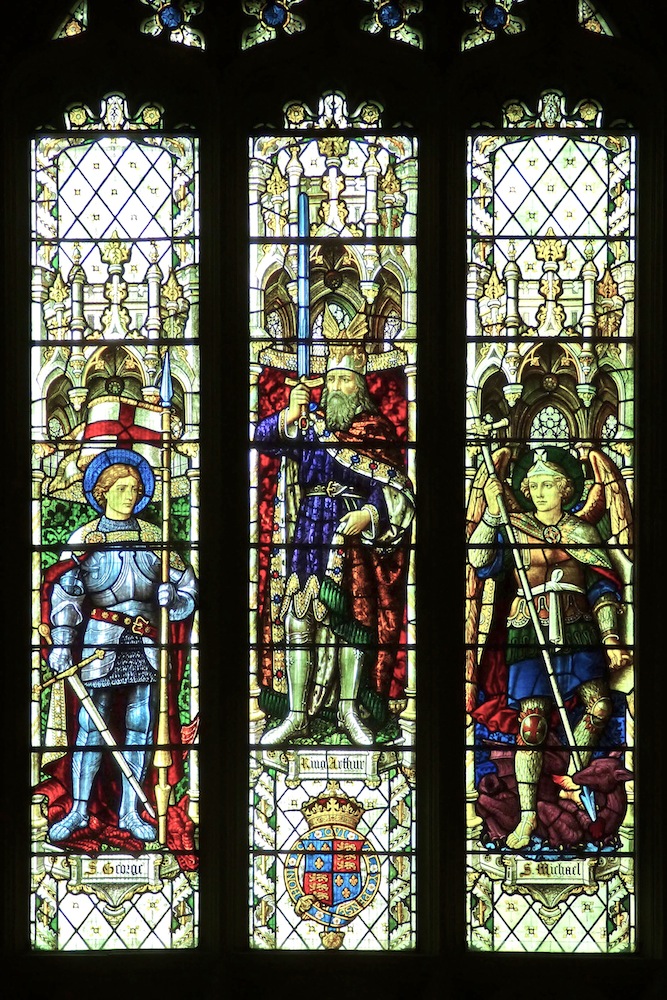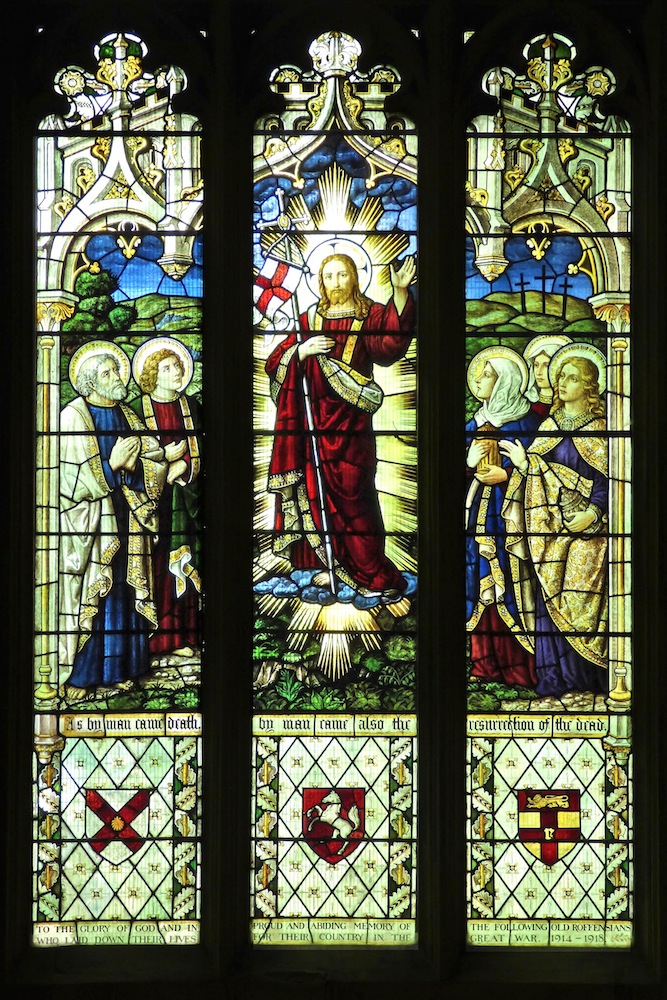 Left: Upper window showing King Arthur, flanked by St. George and St. Michael. Right: Lower window depicting the Resurrection.
The last pair of windows in the Lady Chapel of Rochester Cathedral is rather different from the rest. The set of ten windows here, consisting of five above and five below, is generally ascribed to Burlison & Grylls (see the listing text for this Grade I listed building), and dated to c.1910-1918. This pair is likely to have been the last one, for the inscription at the bottom tells us that it is a war memorial, remembering those "Old Rochestarians" who fell in the Great War, and offering hope of their resurrection.

In the upper part, King Arthur stands at the centre as a rallying point, while the two saints, who look much younger, tell of active engagement in the battle against evil. St. Michael, the soldier-angel, is clad in armour and holds aloft the standard of St George, carrying a drawn sword in his right hand. On the other side of the king, a winged St. George is seen in the very act of killing the dragon.
In the scene depicted in the window below, Jesus has risen from the tomb and is seen here in the presence of five other figures. On the left are two of the disciples, probably Peter and John. The women on the right would be Mary Magdalene, Joanna and Mary, mother of James (according to Luke); Mary Magdalene, Mary mother of James and Salome (according to Mark); Matthew has just Mary Magdalene and "the other Mary." Mary Magdalene is shown as so often with uncovered golden hair.
The women stand against the backdrop of Calvary, still bearing the jars of ointment with which they had come to anoint the body. The risen Christ himself bears the standard of St. George, fluttering in the air and clearly relating this window to the one above. The text at the bottom of the scene, eminently suited to a war memorial, is: "As by men came death, by man came also the resurrection of the dead" (1 Corinthians 15, 21).
Text by Jacqueline Banerjee, with contributions by Colin Price, who also took the photographs. These are reproduced here by kind permission of the Dean and Chapter of Rochester Cathedral. Click on the images for larger pictures.
The other Lady Chapel windows
Related Material
Reference
"Cathedral Church of Christ and the Blessed Virgin Mary of Rochester." Historic England. Web. 21 July 2016.
---
21 July 2016