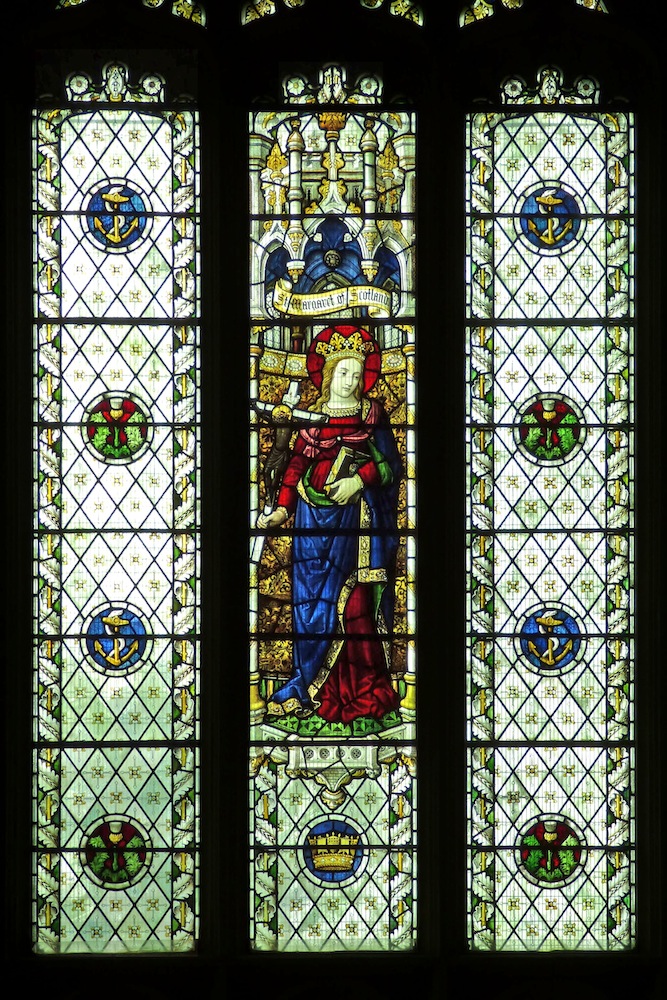 Left: Upper window showing St. Margaret of Scotland. Right: Closer view of St. Margaret.
This is the fourth pair of the two-tier set of windows in the Lady Chapel of Rochester Cathedral. The set is generally ascribed to Burlison & Grylls (see the listing text for this Grade I listed building), and dated to about 1910-18. Like most of the others in the set, it shows a saint in the upper window, and an episode from the New Testament in the lower one. Even where not chronological, the choice is by no means random, and the effect harmonised by content as well as style.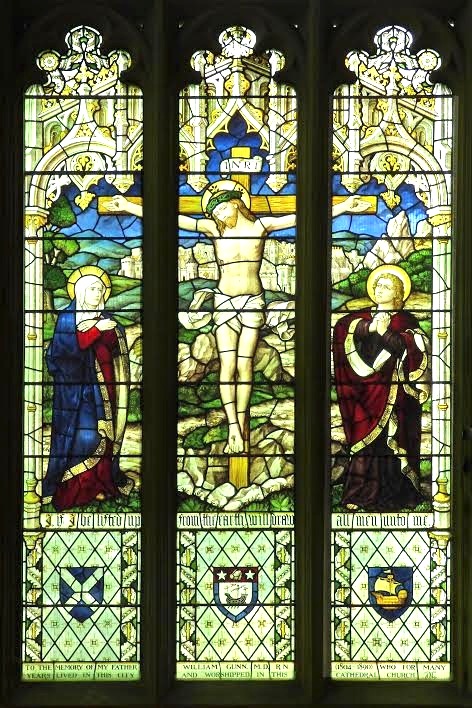 Lower window, showing the Crucixion.
The lower window, showing the crucifixion, carries a dedication to a naval doctor: "To the memory of my father, William Gunn M.D. R.N. (1804-1890) who for many years lived in in this city and worshipped in this cathedral. D.G." The choice of St. Margaret of Scotland in the upper window is most appropriate: the pious and charitable eleventh-century saint is associated with survival at sea, having arrived in Scotland after a storm had blown her family's ship off course. Even her book of gospels survived being immersed in a river. Nautical emblems can be found in the edging in both upper and lower windows.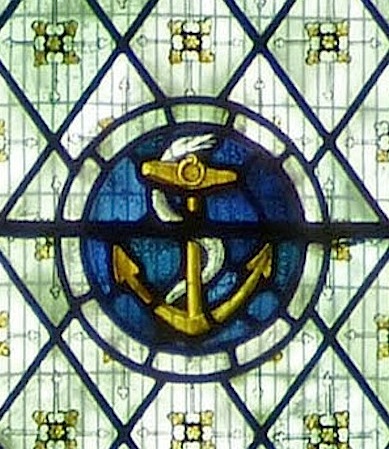 An emblem that appears four times in the upper window is shown on the right here. It depicts the snake which usually twines around the staff of Asclepius, as a symbol of the medical profession, twining round an anchor instead.
The two windows are unified by the crucifixion itself, as well as by the emblems around the sides. The greatest treasure of this pious and charitable saint was said to be a relic of the cross, so St Margaret holds a large crucifix, matching the central part of the scene in the lower window.
Text by Jacqueline Banerjee, and photographs by Colin Price. These are reproduced here by kind permission of the Dean and Chapter of Rochester Cathedral. Click on the images for larger pictures.
The other Lady Chapel windows
Related Material
Sources
"Cathedral Church of Christ and the Blessed Virgin Mary of Rochester." Historic England. Web. 21 July 2016.
"Saint Margaret of Scotland." Catholic Encyclopedia. Web. 21 July 2016.
"Uncommon Readers: St Margaret of Scotland to Queen Elizabeth I." Bodleian Libraries Web. 21 July 2016.
---
21 July 2016