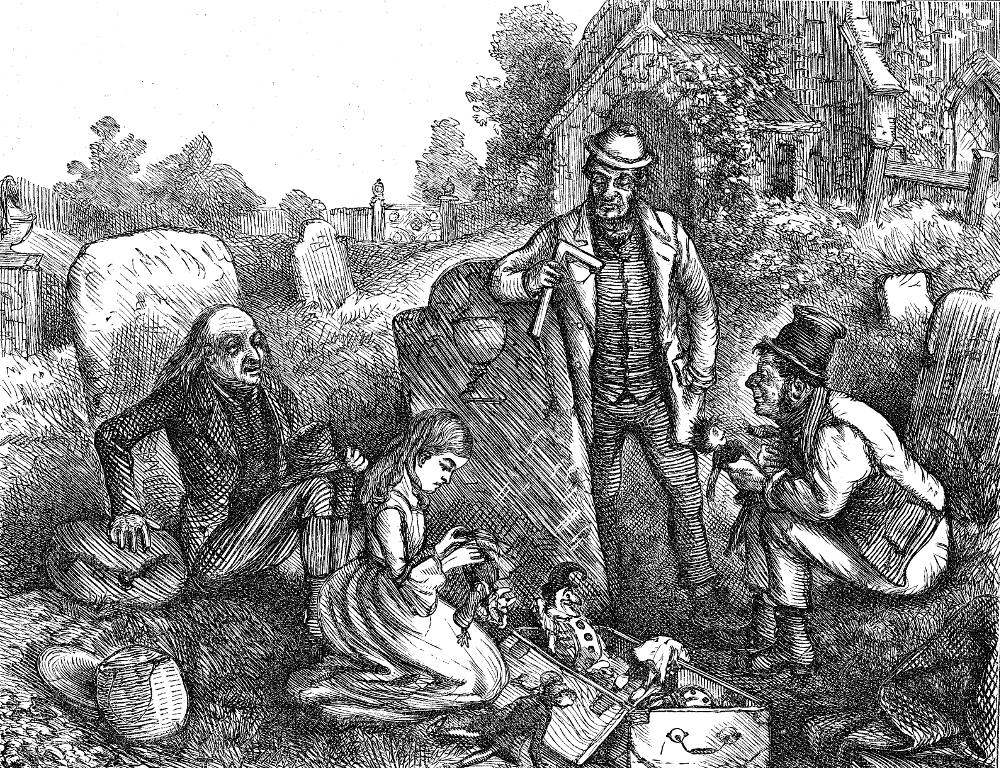 Nelly was soon engaged in her task Chapter XVI of Dickens's Old Curiosity Shop by Thomas Worth in the first Household Edition volume published by Harper & Bros., New York (1872), 57: 4 ⅛ x 5 ¼ inches (10.4 x 13.5 cm) framed. [Click on the image to enlarge it.]
Passage Illustrated: Nell Encounters the Tawdry Punch-and-Judy Men
The old man and the child quitted the gravel path, and strayed among the tombs; for there the ground was soft, and easy to their tired feet. As they passed behind the church, they heard voices near at hand, and presently came on those who had spoken.
They were two men who were seated in easy attitudes upon the grass, and so busily engaged as to be at first unconscious of intruders. It was not difficult to divine that they were of a class of itinerant showmen—exhibitors of the freaks of Punch — for, perched cross-legged upon a tombstone behind them, was a figure of that hero himself, his nose and chin as hooked and his face as beaming as usual. Perhaps his imperturbable character was never more strikingly developed, for he preserved his usual equable smile notwithstanding that his body was dangling in a most uncomfortable position, all loose and limp and shapeless, while his long peaked cap, unequally balanced against his exceedingly slight legs, threatened every instant to bring him toppling down. lay for the present nearly at his feet-might feel at last that he was clear of London.
In part scattered upon the ground at the feet of the two men, and in part jumbled together in a long flat box, were the other persons of the Drama. The hero's wife and one child, the hobby-horse, the doctor, the foreign gentleman who not being familiar with the language is unable in the representation to express his ideas otherwise than by the utterance of the word "Shallabalah" three distinct times, the radical neighbour who will by no means admit that a tin bell is an organ, the executioner, and the devil, were all here. Their owners had evidently come to that spot to make some needful repairs in the stage arrangements, for one of them was engaged in binding together a small gallows with thread, while the other was intent upon fixing a new black wig, with the aid of a small hammer and some tacks, upon the head of the radical neighbour, who had been beaten bald. [Chapter XVI, 56]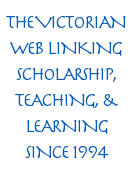 Related Material about
The Old Curiosity Shop
Scanned image and text by Philip V. Allingham. [You may use this image without prior permission for any scholarly or educational purpose as long as you (1) credit the person who scanned the image and (2) link your document to this URL in a web document or cite the Victorian Web in a print one.]
Bibliography
Dickens, Charles. The Old Curiosity Shop. Illustrated by Thomas Worth. The Household Edition. 16 vols. New York: Harper & Bros., 1872. I.
---
Created 4 May 2020

Last modified 26 November 2020