John Harvey's Discussion of Phiz's Dark Plates (1970)
Phiz possessed less technical expertise than George Cruikshank and Robert Seymour for conveying texture and shadow in his illustrations, since he relied more heavily on short strokes and cross-hatching, as well as on the roulette and the ruling machine. However, possibly in imitation of the dark plates of John Franklin in the 1841 serialisation of Old St. Paul's, Browne discovered a way of creating special lighting effects by using varnish for stopping-out. After an initial period of experimentation Phiz employed this radical, time-consuming technique extensively in Dickens's Bleak House (1853) with ruling machine and varnish, and in Harrison Ainsworth's Mervyn Clitheroe (1853-58). However, he seems to have employed it more frequently in illustrating the novels of Charles Lever:
In his 'dark plates', innumerable layers of varnish are added during the biting in, so as to give an almost infinite gradation of tones to the one set of ruled lines that has been mechanically laid across the whole plate. He first develops this resource with any fullness in the plates for Lever's Roland Cashel [1849]. The frontispiece and The Game at Monte are magnificent paintings in tone, with a rich effect of darkness and evanescent glimmering. And it is in the darker scenes that his use of this resource is strongest. For though Browne had a lively sense of outline, and a natural instinct for design and the attractive distribution of tones, he had little sense of the power of tone to model the figure, and in those plates showing brightly lit scenes, he scarcely attempts any modelling. Instead, he picks out and highlights faces and other points of interest, and darkens other areas as best suits the design. [Harvey, p. 185]
Phiz's Deployment of Dark Plates, 1847-1858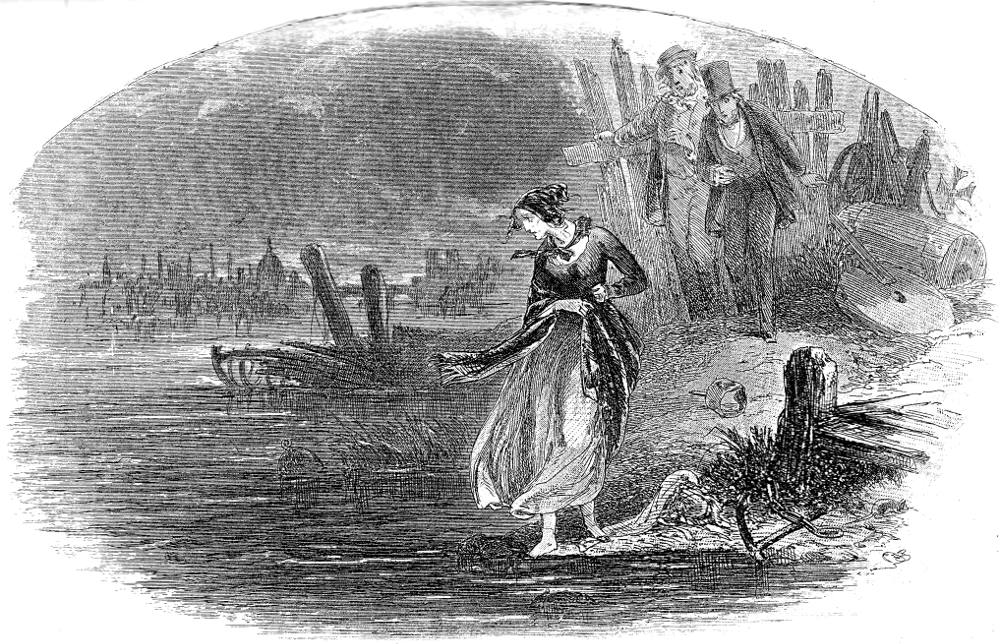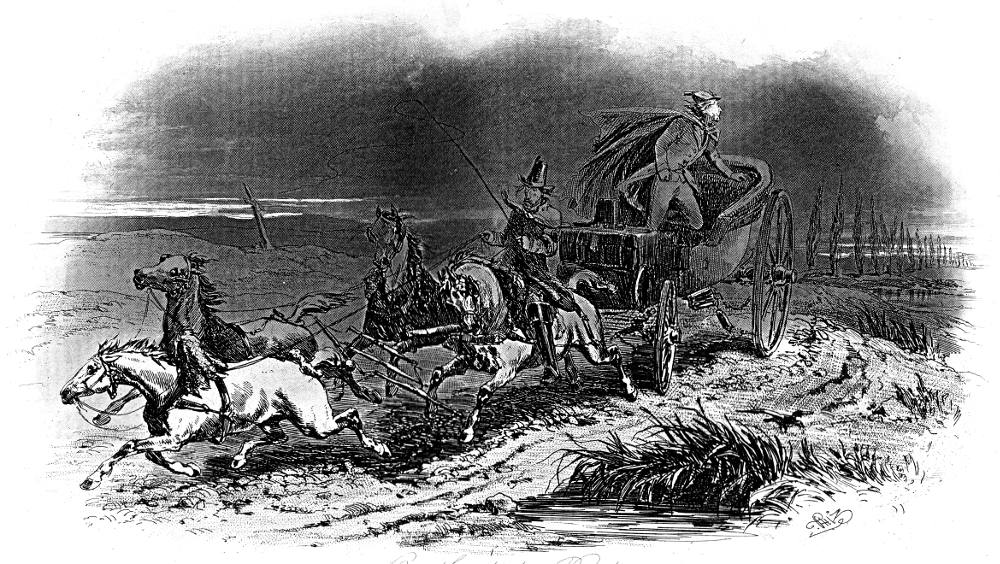 Left: Phiz's A Dark Road, monthly serial, Part 18 (for March 1848), the only dark plate in Dombey and Son. Right: Phiz's The River chapter 47, "Martha," sixteenth monthly number (for August 1850) in David Copperfield. [Click on the thumbnails for larger images.]
Although Valerie Browne Lester (2004) mentions the Dombey and Son engraving On a Dark Road (Part 18, March 1848) as Phiz's first dark plate, Michael Steig (1978) gives the frontispiece to Ainsworth's Old Saint Paul's (added to the original plates of John Franklin in 1847) as his first venture into this medium: "Franklin's etchings were nearly all done with this technique, which may well have inspired Browne to adopt it though with differing effect" (Steig, p. 106). In fact, the Franklin program is a combination of eight conventional engravings and twelve dark plates. The next such dark plate which Phiz developed was The River for David Copperfield in August 1850. Although The Duel on Crab Tree Green (December 1857) does not represent an advance in Phiz's dark plate technique, it effectively employs chaiaroscuro in the partially-hidden full moon's highlighting the bole of the scathed oak and the field of combat cutting horizontally across the distance between the duelists. Using the leafless oak in the midst of summer as a symbol of impending death, the dark plate underscores the dangerous nature of the endeavour for Mervyn, demonstrating how his impetuosity in dealing with Malpas's machinations has brought him to the brink of destruction. The Gypsy boy, Obed, like the sympathetic hero of narrative, seems about to perish, too, as he precariously balances (upper centre) on the rotten, writhing, leafless branch high above the antagonists. As the illustrations for Bleak House became darker and more ominous month by month, so Phiz employs this technique with considerable frequency in the continued serial run of Mervyn Clitheroe, in which all twelve dark plates appear in the section of the novel written and published between December 1857 sand June 1858 — twelve examples in all. Steig explains that the form depends upon the illustrator's employing closely spaced, mechanically ruled lines to produce as greyish shading throughout the composition:
the subject was etched through the ground in the usual way, then the plate bitten, the ground removed, and proofs taken. The lines already fully bitten in the steel would be packed to prevent further biting, and the steel again covered with a (transparent) ground. A ruling machine, adjustable for distance between the lines, would then be drawn over the ground, cutting through it and exposing the steel below; this might be done only horizontally, or diagonally as well, or in two opposing diagonals, so as to produce tiny lozenges. Further shading by means of etching needle and roulette would also be done at this stage. The highlights, areas which were to remain white, would be stopped out with varnish, and then the biting could commence. Those areas which were to be lightest in tint would be stopped out after a short bite, the next lightest after a longer bite, and so on down to the very blackest areas — which would never, except where wholly exposed by the needle, become totally black, but would shimmer with the tiny lights of the unexposed bits between the ruled lines . . . . [Steig, pp. 106-107]
Phiz must have devoted considerable time and effort to this procedure, although his assistant, Robert Young, undoubtedly deserves some credit for this bold graphic experiment which never really caught on — perhaps because it was simply too much trouble for most commercial illustrators. However, Browne was hardly inundated with commissions in 1858, when he was living far from the centre of publication in the wilds of Surrey: "Apart from Ainsworth's Mervyn Clitheroe [1858] brought Phiz a mere smattering of uninspired work" (Valerie Lester Browne, p. 161). Whereas he had eleven commissions in 1857, he had only nine in 1858, and only three of these were novels. He had far less free time in 1859 as he was simultaneously illustrating both Charles Lever's Davenport Dunn and Dickens's A Tale of Two Cities, which contains just a single dark plate, the first in the monthly series, The Mail (June 1859). Perhaps because he was much busier in 1859, and perhaps because the new Dickens novel did not lend itself to the experimental etching technique, Phiz did not even do a wholly dark plate for A Tale of Two Cities as the first plate for the June 1859 instalment is somewhat brighter, recalling the second plate that Phiz did for the new instalments of The Life and Adventures of Mervyn Clitheroe, I receive Sad Intelligence from Ned Culcheth (Part 6, 1858 January).
Related Material: Dark Plates for Dickens and Lever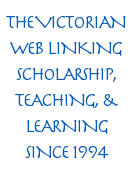 Scanned image, colour correction, sizing, caption, and commentary by Philip V. Allingham. [You may use this image without prior permission for any scholarly or educational purpose, as long as you (1) credit the person who scanned the image, and (2) link your document to this URL in a web document or cite the Victorian Web in a print one.] Click on the image to enlarge it.
Bibliography
"Ainsworth and Friends." Chapter V: "The Lancashire Novels," in Essays on 19th Century Literature & The Gothic, posted 16 January 2013; last updated October 2018. Online version available from wordpress.com - Dr. Stephen Carver's Blog. Web. 8 October 2018.
Ainsworth, William Harrison. The Life and Adventures of Mervyn Clitheroe (1851-2; 1858). Illustrated by Hablot Knight Browne ('Phiz'). London: Routledge, 1882.
Carver, Stephen. The Life and Works of the Lancashire Novelist William Harrison Ainsworth, 1805-1882. Lewiston: Edwin Mellen Press, 2003.
Ellis, S. M. William Harrison Ainsworth and His Friends. London: Garland Publishing, 1979. II.
Harvey, John R. Victorian Novelists and Their Illustrators. London: Sidgwick and Jackson, 1970.
Lester, Valerie Browne. Phiz: The Man Who Drew Dickens. London: Chatto and Windus, 2004.
Steig, Michael. Dickens and Phiz. Bloomington: Indiana U. P., 1978.
Sutherland, John. "Mervyn Clitheroe." The Stanford Companion to Victorian Fiction. Stan
Vanden Bossche, Chris. Reform Acts: Chartism, Social Agency, and the Victorian Novel, 1832-1867. Baltimore: The John Hopkins University Press, 2014. [Review by Andrzej Diniejko].
Vann, J. Don. "William Harrison Ainsworth. Mervyn Clitheroe, twelve parts in eleven monthly installments, December 1851-March 1852, December 1857-June 1858." New York: MLA, 1985. Pp. 27-28
Worth, George J. William Harrison Ainsworth. New York: Twayne, 1972.
---

Victorian
Web

Visual
Arts

Illus-
tration

Phiz

Mervyn
Clitheroe
Created 1 February 2019
Last modified 17 March 2021