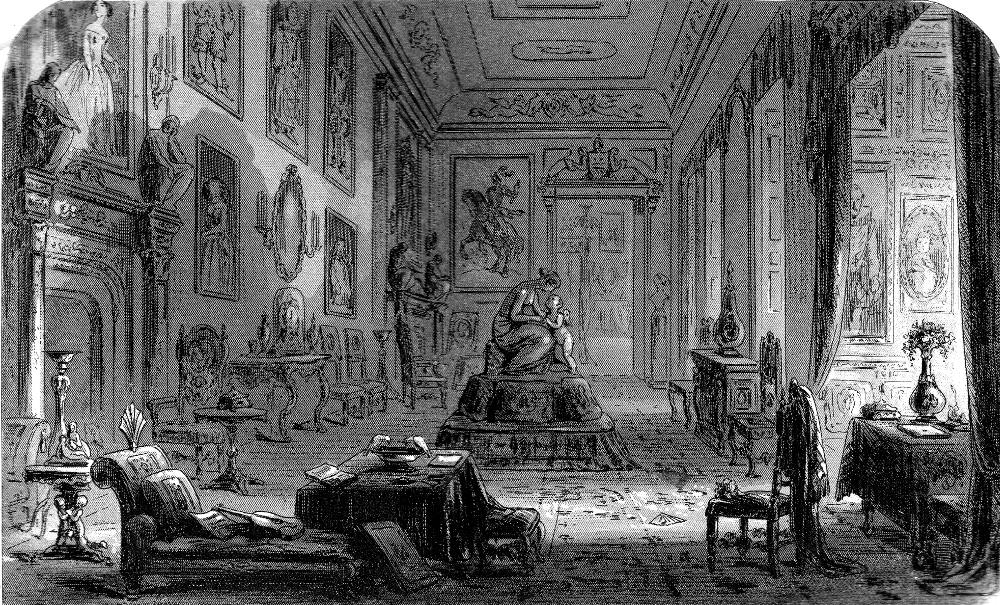 Sunset in The long drawing-room at Chesney Wold by "Phiz" (Hablot Knight Browne) for Bleak House, facing p. 397 (ch. 40, "National and Domestic"). 4 x 6 9/16 inches (10.1 cm x 16.7 cm). For text illustrated, see below; for commentary follow this link.
Sketches for this plate
Passage Illustrated: An Atmosphere redolent with Menace
This present summer evening, as the sun goes down, the preparations are complete. Dreary and solemn the old house looks, with so many appliances of habitation and with no inhabitants except the pictured forms upon the walls. So did these come and go, a Dedlock in possession might have ruminated passing along; so did they see this gallery hushed and quiet, as I see it now; so think, as I think, of the gap that they would make in this domain when they were gone; so find it, as I find it, difficult to believe that it could be without them; so pass from my world, as I pass from theirs, now closing the reverberating door; so leave no blank to miss them, and so die.
Through some of the fiery windows beautiful from without, and set, at this sunset hour, not in dull-grey stone but in a glorious house of gold, the light excluded at other windows pours in rich, lavish, overflowing like the summer plenty in the land. Then do the frozen Dedlocks thaw. Strange movements come upon their features as the shadows of leaves play there. A dense justice in a corner is beguiled into a wink. A staring baronet, with a truncheon, gets a dimple in his chin. Down into the bosom of a stony shepherdess there steals a fleck of light and warmth that would have done it good a hundred years ago. One ancestress of Volumnia, in high- heeled shoes, very like her — casting the shadow of that virgin event before her full two centuries — shoots out into a halo and becomes a saint. A maid of honour of the court of Charles the Second, with large round eyes (and other charms to correspond), seems to bathe in glowing water, and it ripples as it glows.
But the fire of the sun is dying. Even now the floor is dusky, and shadow slowly mounts the walls, bringing the Dedlocks down like age and death. And now, upon my Lady's picture over the great chimney- piece, a weird shade falls from some old tree, that turns it pale, and flutters it, and looks as if a great arm held a veil or hood, watching an opportunity to draw it over her. Higher and darker rises shadow on the wall — now a red gloom on the ceiling — now the fire is out.
All that prospect, which from the terrace looked so near, has moved solemnly away and changed — not the first nor the last of beautiful things that look so near and will so change — into a distant phantom. Light mists arise, and the dew falls, and all the sweet scents in the garden are heavy in the air. Now the woods settle into great masses as if they were each one profound tree. And now the moon rises to separate them, and to glimmer here and there in horizontal lines behind their stems, and to make the avenue a pavement of light among high cathedral arches fantastically broken.
Now the moon is high; and the great house, needing habitation more than ever, is like a body without life. Now it is even awful, stealing through it, to think of the live people who have slept in the solitary bedrooms, to say nothing of the dead. Now is the time for shadow, when every corner is a cavern and every downward step a pit, when the stained glass is reflected in pale and faded hues upon the floors, when anything and everything can be made of the heavy staircase beams excepting their own proper shapes, when the armour has dull lights upon it not easily to be distinguished from stealthy movement, and when barred helmets are frightfully suggestive of heads inside. But of all the shadows in Chesney Wold, the shadow in the long drawing-room upon my Lady's picture is the first to come, the last to be disturbed. At this hour and by this light it changes into threatening hands raised up and menacing the handsome face with every breath that stirs. [Chapter XL, "National and Domestic," 397-398; Project Gutenberg etext (see bibliography below)]
Working methods
Related Material, including Other Illustrated Editions
Image scan and text by George P. Landow; additional text by Philip V. Allingham. [You may use this image without prior permission for any scholarly or educational purpose as long as you (1) credit the person who scanned the image, and (2) link your document to this URL in a web document or cite the Victorian Web in a print one. ]
Bibliography
"Bleak House — Sixty-one Illustrations by Fred Barnard." Scenes and Characters from the Works of Charles Dickens, Being Eight Hundred and Sixty-six Drawings by Fred Barnard, Gordon Thomson, Hablot Knight Browne (Phiz), J. McL. Ralston, J. Mahoney, H. French, Charles Green, E. G. Dalziel, A. B. Frost, F. A. Fraser, and Sir Luke Fildes. London: Chapman and Hall, 1907.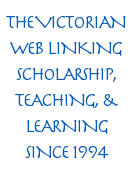 Bentley, Nicolas, Michael Slater, and Nina Burgis. The Dickens Index. New York and Oxford: Oxford U. P., 1990.
Brown, John Buchanan. Phiz! Illustrator of Dickens' World. New York: Charles Scribner's, 1978.
Burton, Anthony. "Vision and Designs. Review of John Harvey, Victorian Novelists and heir Illustrators. Sidgwick & Jackson, 1970. Pounds 3.50." Dickensian, 67.2 (1971): 105-109.
Dickens, Charles. Bleak House. Illustrated by Hablot Knight Browne ("Phiz"). London: Bradbury & Evans. Bouverie Street, 1853.
_______. Bleak House. Project Gutenberg etext prepared by Donald Lainson, Toronto, Canada (charlie@idirect.com), with revision and corrections by Thomas Berger and Joseph E. Loewenstein, M.D. Seen 9 November 2007.
_______. Bleak House. Illustrated by F. O. C. Darley and John Gilbert. The Works of Charles Dickens. The Household Edition. New York: Sheldon and Company, 1863. Vols. 1-4.
_______. Bleak House. Project Gutenberg etext prepared by Donald Lainson, Toronto, Canada (charlie@idirect.com), with revision and corrections by Thomas Berger and Joseph E. Loewenstein, M.D. Seen 9 November 2007.
_______. Bleak House. Illustrated by Harry Furniss. The Charles Dickens Library Edition. London: Educational Book Company, 1910. XI.
Harvey, John R. "Conditions of Illustration in Serial Fiction." Victorian Novelists and Their Illustrators. London: Sidgwick and Jackson, 1970. Pp. 182-198.
Lester, Valerie Browne. Phiz: The Man Who Drew Dickens. London: Chatto and Windus, 2004.
Steig, Michael. Chapter 6. "Bleak House and Little Dorrit: Iconography of Darkness." Dickens and Phiz. Bloomington & London: Indiana U. P., 1978. 131-172.
Vann, J. Don. "Bleak House, twenty parts in nineteen monthly instalments, October 1846—April 1848." Victorian Novels in Serial. New York: The Modern Language Association, 1985. 69-70./
---
Created 14 November 2007

Last modified 16 March 2021