Introduction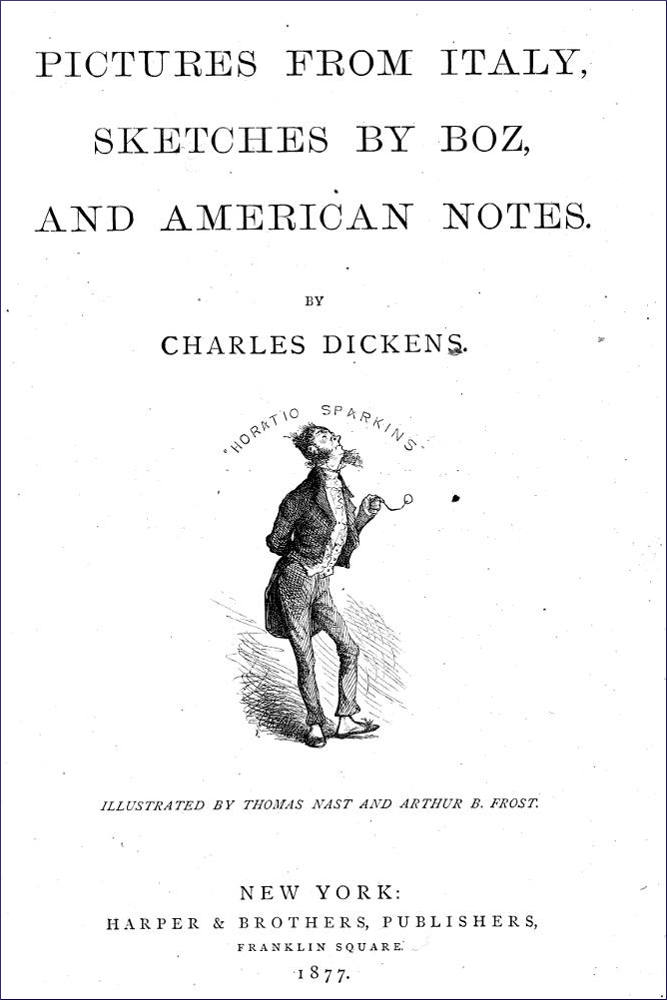 Thomas Nast had already created fifty-two woodblock illustrations for the 1873 Household Edition of Pickwick Papers issued by Harper & Bros., New York. In 1877, Nast, a prominent New York City political cartoonist, teamed up with fellow cartoonist Arthur Burnett Frost on one of the final Harper and Brothers Household Edition volumes, the anthology of three journalistic titles: Nast provided the larger portion of the project with twenty illustrations for Dickens's Pictures from Italy and sixteen American Notes; Frost, despite his lack of specific knowledge of London life and characters in 1875-76, undertook an essentially humorous program of twenty-eight woodblock-engravings for Dickens's Sketches by Boz, Illustrative of Every-day Life and Every-day People. In 1878, Frost provided a more serious series of ten wood-engravings for a new Chapman and Hall edition of American Notes for General Circulation. Perhaps in recognition of the stronger relationship between Dickens's texts and Frost's illustrations, the American publisher has made Horatio Sparkins as envisaged by Frost the title-page vignette, although Nast would have been the more popular artist at the time in the United States.
Typically, these illustrations, with the exception of a very few full-page character and scenic studies such as the innovative frontispiece showing a medley of Italian landmarks, are set horizontally in the middle of a page and are 10.3 cm high by 13.4 cm high on a double-columned page approximately 21 cm high. Thus, each plate occupies approximately half of the page (the exceptions being a few thumbnails dropped into the text). The print is sharp, but quite fine, so that the entire anthology of the three non-fiction works is 383 pages. In contrast, the British Household Edition of Sketches by Boz, illustrated by Fred Barnard is printed on heavier paper, and has larger type; moreover, each page is framed as well as double-columned, in more accurate imitation of the original Household Words format. With larger type, the Chapman and Hall text is 240 pages for this title alone. In his thirty-four illustrations, however, Fred Barnard limited himself to the London sketches; in a separate volume, published in London in 1878, Chapman and Hall enlisted a visiting American artist, A. B. Frost, to illustrate American Notes in a far more realistic and less whimsical manner than Nast, and commissioned British illustrator Gordon Thomson) to work on Pictures from Italy in a manner consistent with Dickens's original intention, emphasizing contemporary characters and scenes.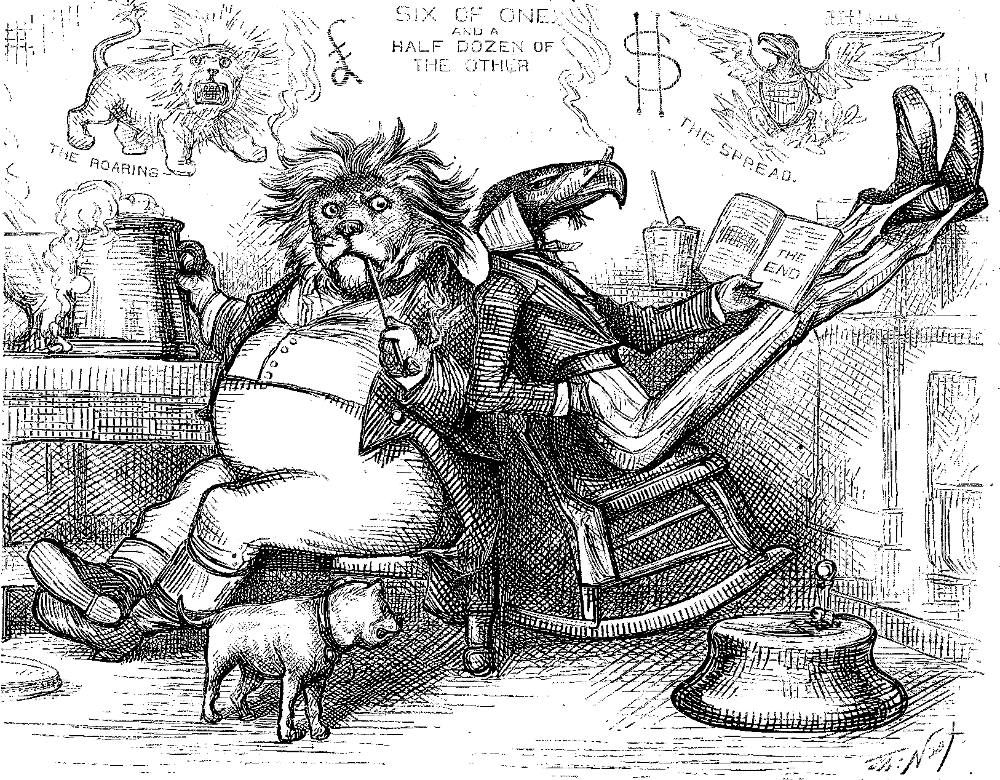 Nast approached his work on Pictures from Italy with an intention markedly different fro that with which he dealt with his own country in American Notes, although in both series he emphasizes character and situation comedy. Only rarely, as in A Sketch does he express any interest in scenery; usually when he does so, as in The Emigrants, he foregrounds characters, who are not merely incidental to the scene, but play some active role in it, as in Leaving Rome. As a political cartoonist, Nast demonstrates that his forté is the American political scene, as, for example, when he satirizes Members of Congress in The Honorable Member. Although not a native New Yorker (he arrived at the age of six with his German family), Nast (1840-1902) was in his prime as a satirical cartoonist in the New York City of the 1870s, precisely the period in which he illustrated the Dickens travelogues. He had, too, a special interest in Italy as he went to England in 1860 to work for for the New York Illustrated News, and later that same year travelled to Italy as a special correspondent to cover Giuseppe Garibaldi's revolt for The Illustrated London News and various mass-circulation American periodicals. Anti-elitist, and pro-immigrant as well as pro-reform, Nast covered the Italy scene with gusto, and translated that political sympathy into his depictions of daily Italian life in the 1844 Dickens travelogue, which consistently emphasizes people rather than the iconic sites listed in the tourist guides. His satirical attacks on slavery and Southern politicians in Harper's Weekly just prior to and during the Civil War helped to shape public opinion in the Northern states that held to the Union. These attitudes he carried into his long program of illustration for American Notes, favourably depicting the industry of the American Negro in such scenes as Philadelphia and denigrating the wide-spread Ante Bellum use of chewing tobacco in The National Spittoon. Determined to expose the evils of slavery and advocate for Abolition, at the outset of the war between the states Nast earned the epithet "our best recruiting sergeant" from President Abraham Lincoln himself. During the period immediately after the war, the Reconstruction, Nast depicted the new President, Andrew Johnson, as a repressive autocrat, and consistently pilloried Southerners as vicious exploiters of the former slaves. Although deeply disappointed that the nation stepped back from Lincoln's idealism, Nast light-heartedly revealed another side of himself in the cartoons depicting the British Lion and the American Eagle as symbols of international amity and the enduring special relationship between the two English-speaking peoples, thoroughly enjoying the pipe-smoking, musical Lion and his cigarette-smoking companion, attired as if he were the iconic Uncle Sam.
Pictures from Italy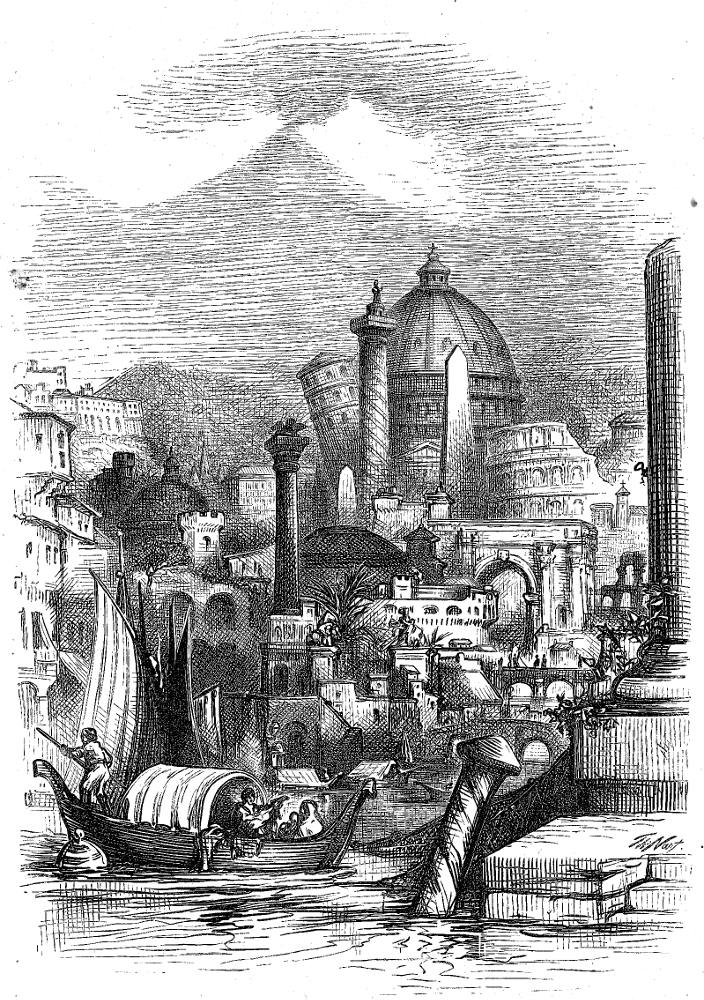 American Notes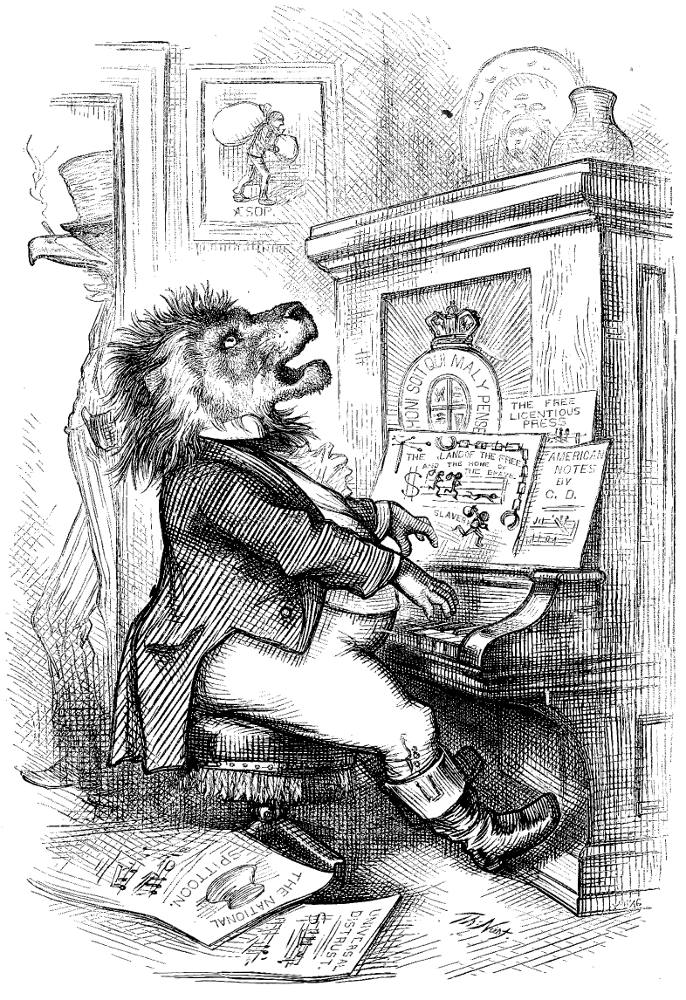 Related Material
Bibliography
Barnard, J. "Fred" (il.). Charles Dickens's Sketches by Boz, with thirty-four illustrations. The Works of Charles Dickens: The Household Edition. 22 vols. London: Chapman and Hall, 1876. Volume 13.
Barnard, Fred, et al. Scenes and Characters from Dickens. London: Chapman & Hall, 1908.
Dickens, Charles. American Notes. Works, New York: Peter Fenelon Collier & Son, 1890.
Dickens, Charles. Pictures from Italy, Sketches by Boz and American Notes. Illustrated by Thomas Nast and Arthur B. Frost. New York: Harper & Brothers, 1877 (copyrighted in 1876).
Dickens, Charles. American Notes for General Circulation and Pictures from Italy. Illustrated by J. Gordon Thomson and A. B. Frost. London: Chapman and Hall, 1880.
Kitton, Frederic G. Dickens and His Illustrators. (1899). Rpt. Honolulu: University of Hawaii, 2004.
---
Last modified 25 May 2019