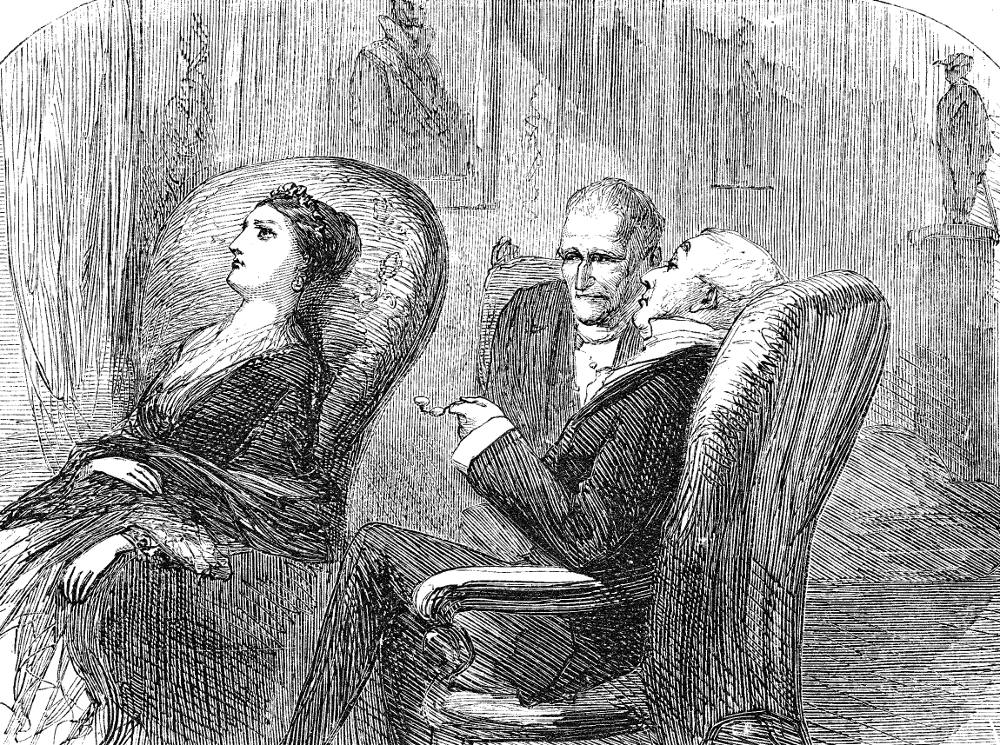 The twelfth full-page illustration for Bleak House: Sir Leicester and Lady Dedlock and Mr. Tulkinghorn, by Sol Eytinge, Jr. 7.8 cm high by 9.6 cm wide (2 ⅞ by 3 15/16 inches), framed. The Diamond Edition of Dickens's Works, Volume VI (Boston: Ticknor and Fields, 1867), facing p. 325. [Click on the images to enlarge them.]
Passage Illustrated: In the Parlour at Chesney Wold
There is not much conversation in all, for late hours have been kept at  Chesney Wold since the necessary expenses elsewhere began, and this is the first night in many on which the family have been alone. It is past ten when Sir Leicester begs Mr. Tulkinghorn to ring for candles. Then the stream of moonlight has swelled into a lake, and then Lady Dedlock for the first time moves, and rises, and comes forward to a table for a glass of water. Winking cousins, bat-like in the candle glare, crowd round to give it; Volumnia (always ready for something better if procurable) takes another, a very mild sip of which contents her; Lady Dedlock, graceful, self-possessed, looked after by admiring eyes, passes away slowly down the long perspective by the side of that nymph, not at all improving her as a question of contrast. [Chapter XL,""National and Domestic," 326]
Commentary: An Odd Grouping
Eytinge had at his disposal only sixteen plates for each Diamond Edition volume, so that for longer novels such as Martin Chuzzlewit and  Bleak House he had to show many of the named characters in  couples and triads, and, sometimes, when material permitted, larger groups, as in the  instance of Trooper George and Bagnets. For the fifty-three named characters in Bleak House by using his strategy of portraying characters in family groups and personal affiliations Eytinge was able to offer individual and group portraits of thirty-five characters. It must have been was obvious to Eytinge that he would have to show the foreigner and social isolate Hortense by herself, for she thinks  only of herself and takes nobody else into her confidence. The same, in fact, might be said of the cunning lawyer Tulkinghorn, although he does have an alliance of sorts with  Grandfather Smallweed. The choice of showing the prop and pillar of the aristocratic  establishment with the Dedlocks was therefore a reasonable compromise; this grouping also permits Eytinge to compel readers to reflect on the fact that both Lady Dedlock and  Tulkinghorn are withholding information from Sir Leicester, in part to protect and in part to protect themselves.
Other​ Illustrations​ of The Deadlocks and Their Lawyer, 1852-1910
​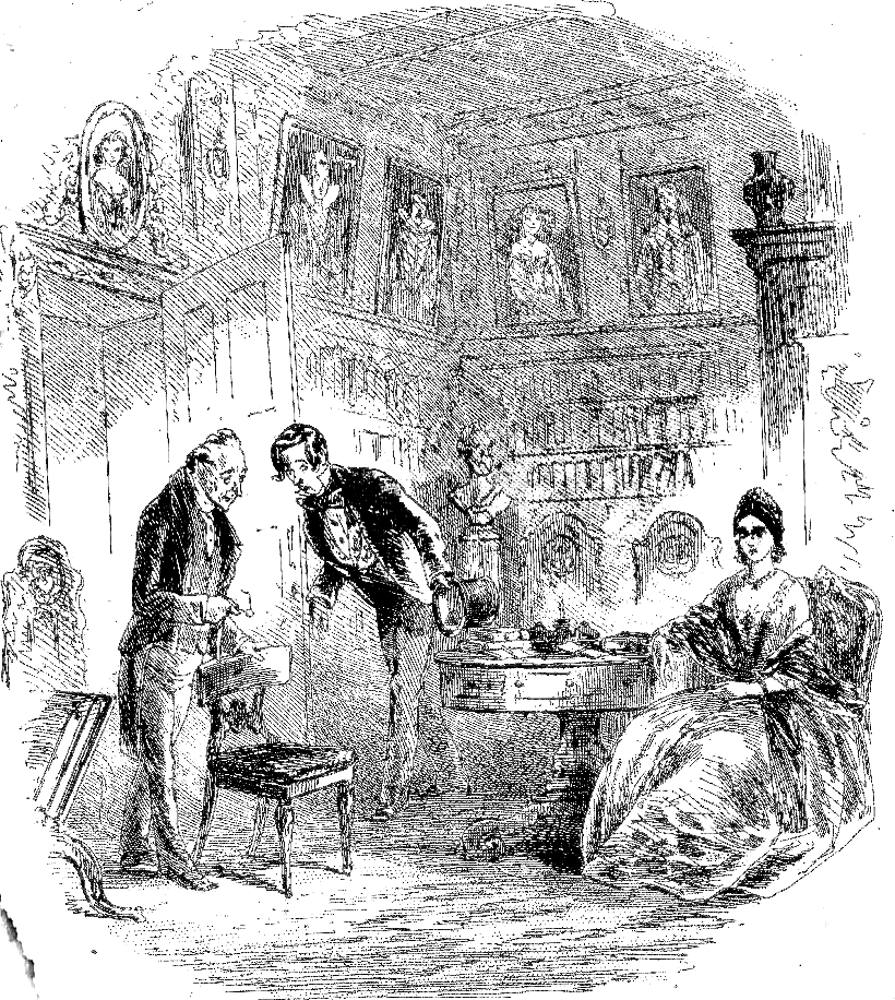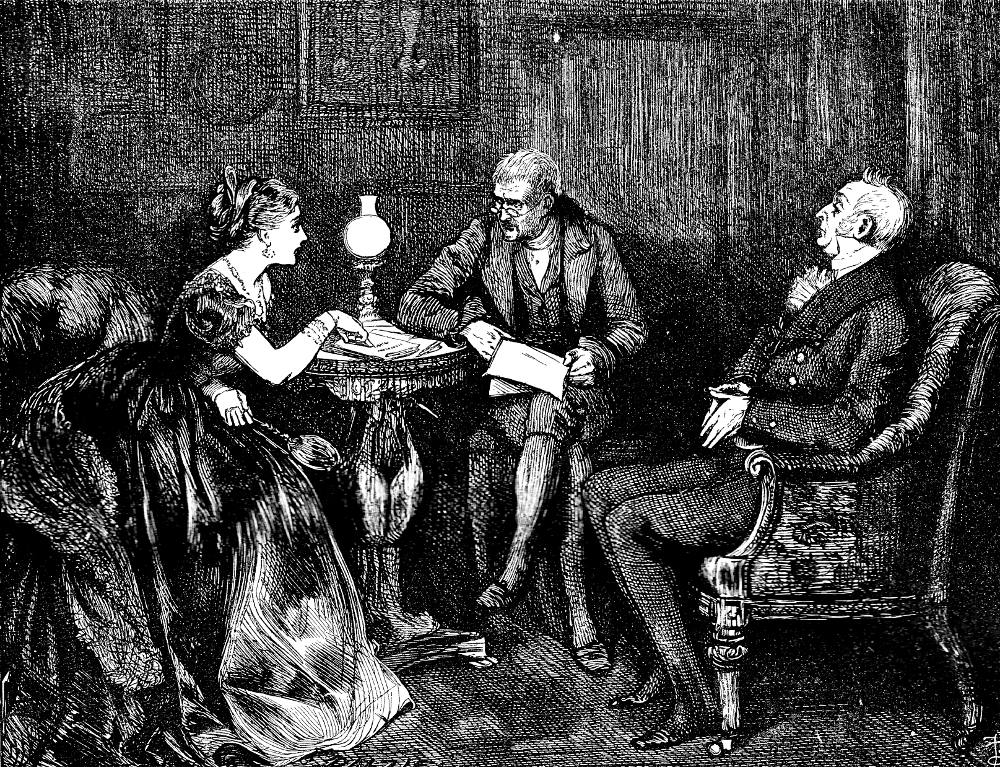 ​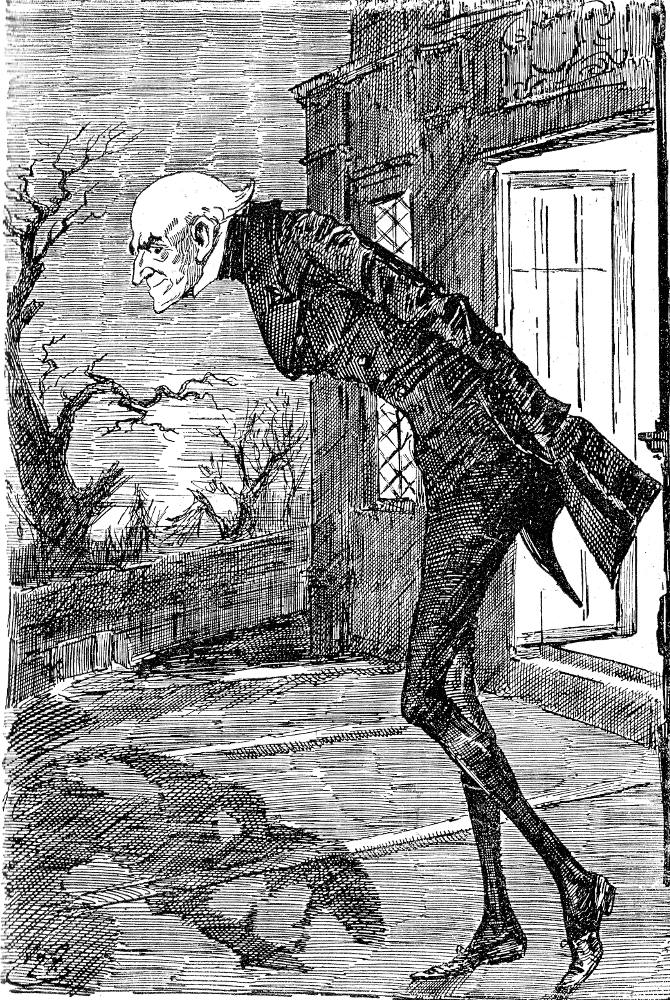 Left: The original Phiz introduction of the lawyer, The old man of the name of Tulkinghorn (January 1853). Centre: Fred Barnard's 1873 Household Edition illustration of the trio: "Who copied that?" (headpiece for Chapter One). Right: Harry Furniss's Charles Dickens Library Edition full-page lithograph of the secretive attorney: Tulkinghorn on the Leads (1910).
Related material, including front matter and sketches, by other illustrators for
Bleak House

(1852-1910)

Image scan and text by Philip V. Allingham. [You may use this image without prior permission for any scholarly or educational purpose as long as you (1) credit the person who scanned the image, and (2) link your document to this URL in a web document or cite the Victorian Web in a print one.]
Bibliography
Dickens, Charles. Bleak House. Illustrated by Hablot Knight Browne ("Phiz"). London: Bradbury & Evans. Bouverie Street, 1853.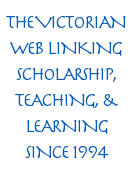 Dickens, Charles. Bleak House. Illustrated by Hablot Knight Browne. London: Bradbury and Evans, 1853.
_______.  Bleak House. Illustrated by F. O. C. Darley and John Gilbert. The Works of Charles Dickens. The Household Edition. New York: Sheldon and Company, 1863. Vols. 1-4.
_______. Bleak House. Illustrated by Sol Eytinge, Jr, and engraved by A. V. S. Anthony. 14 vols. Boston: Ticknor & Fields, 1867. VI.
_______. Bleak House, with 61 illustrations by Fred Barnard. Household Edition, volume IV. London: Chapman and Hall, 1873.
_______. Bleak House. Illustrated by Harry Furniss. The Charles Dickens Library Edition. 18 vols. London: Educational Book, 1910. Vol. XI.
Hammerton, J. A. "Ch. XVIII. Bleak House."  The Dickens Picture-Book. London: Educational Book Co., [1910], 294-338.
Lester, Valerie Browne. Phiz: The Man Who Drew Dickens. London: Chatto and Windus, 2004.
Steig, Michael. Chapter 6. "Bleak House and Little Dorrit: Iconography of Darkness." Dickens and Phiz. Bloomington & London: Indiana U. P., 1978. 131-172.
Vann, J. Don. "Bleak House, twenty parts in nineteen monthly instalments, October 1846—April 1848." Victorian Novels in Serial. New York: The Modern Language Association, 1985. 69-70./
---
Created 12 March 2021