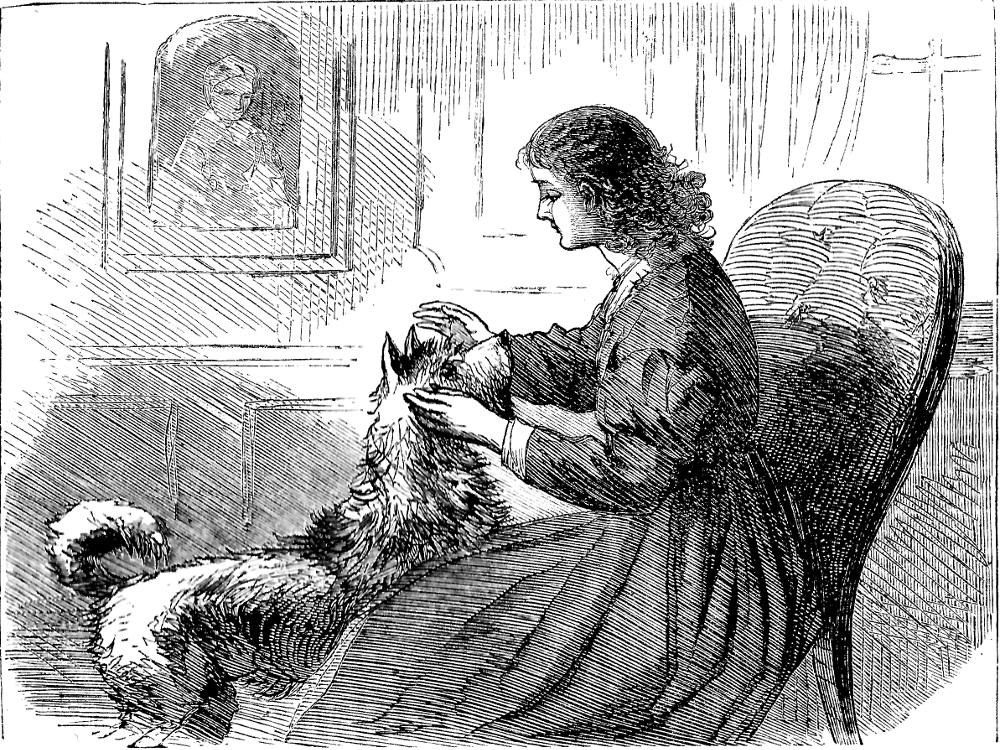 The sixth full-page illustration for Dombey and Son: Florence Dombey. Sol Eytinge, Jr. 8.5 cm high by 10 cm wide, framed. The Diamond Edition of Dickens's Works, Volume III (Boston: Ticknor and Fields, 1867), facing page 117. [Click on the image to enlarge it.]
Passage Illustrated: Florence Dombey, without Diogenes the Dog
They all loved Florence. How could they help it! Paul had known beforehand that they must and would; and sitting in his cushioned corner, with calmly folded hands; and one leg loosely doubled under him, few would have thought what triumph and delight expanded his childish bosom while he watched her, or what a sweet tranquillity he felt. Lavish encomiums on "Dombey's sister" reached his ears from all the boys: admiration of the self-possessed and modest little beauty was on every lip: reports of her intelligence and accomplishments floated past him, constantly; and, as if borne in upon the air of the summer night, there was a half intelligible sentiment diffused around, referring to Florence and himself, and breathing sympathy for both, that soothed and touched him. [Chapter 14, "Paul grows more and more Old-fashioned, and goes Home for the Holidays," p. 117]
Commentary: Toots was delighted to see Florence bending down over Diogenes
In order to introduce Florence Dombey with Diogenes at an opportune moment in the text, Eytinge has juxtaposed her image against a passage that does not actually his later introduction of the Blimbers' dog. After Paul's death, thanks to the sentimental Toots's generosity, Florence adopts Diogenes, the large dog at Dr. Blimber's academy in Brighton. The faithful pet follows Florence when she runs away her father's  house, and therefore readers already familiar with the novel would have associated Florence with the aptly named academy dog. Dickens incidentally mentions the dog in chapter 14, but does not develop him as a character until chapter 18:
"I'm very much obliged to you, Sir," said Paul, looking innocently up into his awful face. "Ask them to take care of Diogenes, if you please."
Diogenes was the dog: who had never in his life received a friend into his confidence, before Paul. The Doctor promised that every attention should be paid to Diogenes in Paul's absence.... [Chapter 14, "Paul grows more and more Old-fashioned, and goes Home for the Holidays," 117]
In his dual portrait Eytinge is apparently alluding to the passage in Chapter 18 when Toots, Paul's best friend at school, reveals that he has bought Diogenes for Florence because the large-breed dog was so attached to her brother:
"I say! Miss Dombey!" blubbered Toots.
"Yes," said Florence.
"There's a friend he took to very much at last. I thought you'd lIke to have him, perhaps, as a sort of keepsake. You remember his remembering Diogenes?"
"Oh yes! oh yes" cried Florence.
"Poor Dombey! So do I," said Mr Toots.
Mr. Toots, seeing Florence in tears, had great difficulty in getting beyond this point, and had nearly tumbled into the well again. But a chuckle saved him on the brink.
"I say," he proceeded, "Miss Dombey! I could have had him stolen for ten shillings, if they hadn't given him up: and I would: but they were glad to get rid of him, I think. If you'd like to have him, he's at the door. I brought him on purpose for you. He ain't a lady's dog, you know,' said Mr Toots, 'but you won't mind that, will you?"
In fact, Diogenes was at that moment, as they presently ascertained from looking down into the street, staring through the window of a hackney cabriolet, into which, for conveyance to that spot, he had been ensnared, on a false pretence of rats among the straw. Sooth to say, he was as unlike a lady's dog as might be; and in his gruff anxiety to get out, presented an appearance sufficiently unpromising, as he gave short yelps out of one side of his mouth, and overbalancing himself by the intensity of every one of those efforts, tumbled down into the straw, and then sprung panting up again, putting out his tongue, as if he had come express to a Dispensary to be examined for his health.
But though Diogenes was as ridiculous a dog as one would meet with on a summer's day; a blundering, ill-favoured, clumsy, bullet-headed dog, continually acting on a wrong idea that there was an enemy in the neighborhood, whom it was meritorious to bark at; and though he was far from good-tempered, and certainly was not clever, and had hair all over his eyes, and a comic nose, and an inconsistent tail, and a gruff voice; he was dearer to Florence, in virtue of that parting remembrance of him, and that request that he might be taken care of, than the most valuable and beautiful of his kind. So dear, indeed, was this same ugly Diogenes, and so welcome to her, that she took the jewelled hand of Mr. Toots and kissed it in her gratitude. And when Diogenes, released, came tearing up the stairs and bouncing into the room (such a business as there was, first, to get him out of the cabriolet!), dived under all the furniture, and wound a long iron chain, that dangled from his neck, round legs of chairs and tables, and then tugged at it until his eyes became unnaturally visible, in consequence of their nearly starting out of his head; and when he growled at Mr. Toots, who affected familiarity; and went pell-mell at Towlinson, morally convinced that he was the enemy whom he had barked at round the corner all his life and had never seen yet; Florence was as pleased with him as if he had been a miracle of discretion.
Mr. Toots was so overjoyed by the success of his present, and was so delighted to see Florence bending down over Diogenes, smoothing his coarse back with her little delicate hand — Diogenes graciously allowing it from the first moment of their acquaintance — that he felt it difficult to take leave, and would, no doubt, have been a much longer time in making up his mind to do so, if he had not been assisted by Diogenes himself, who suddenly took it into his head to bay Mr. Toots, and to make short runs at him with his mouth open. Not exactly seeing his way to the end of these demonstrations, and sensible that they placed the pantaloons constructed by the art of Burgess and Co. in jeopardy, Mr Toots, with chuckles, lapsed out at the door: by which, after looking in again two or three times, without any object at all, and being on each occasion greeted with a fresh run from Diogenes, he finally took himself off and got away. [Chapter 18, "Father and Daughter," 145]
Illustration for the same chapter in the Original and Household Editions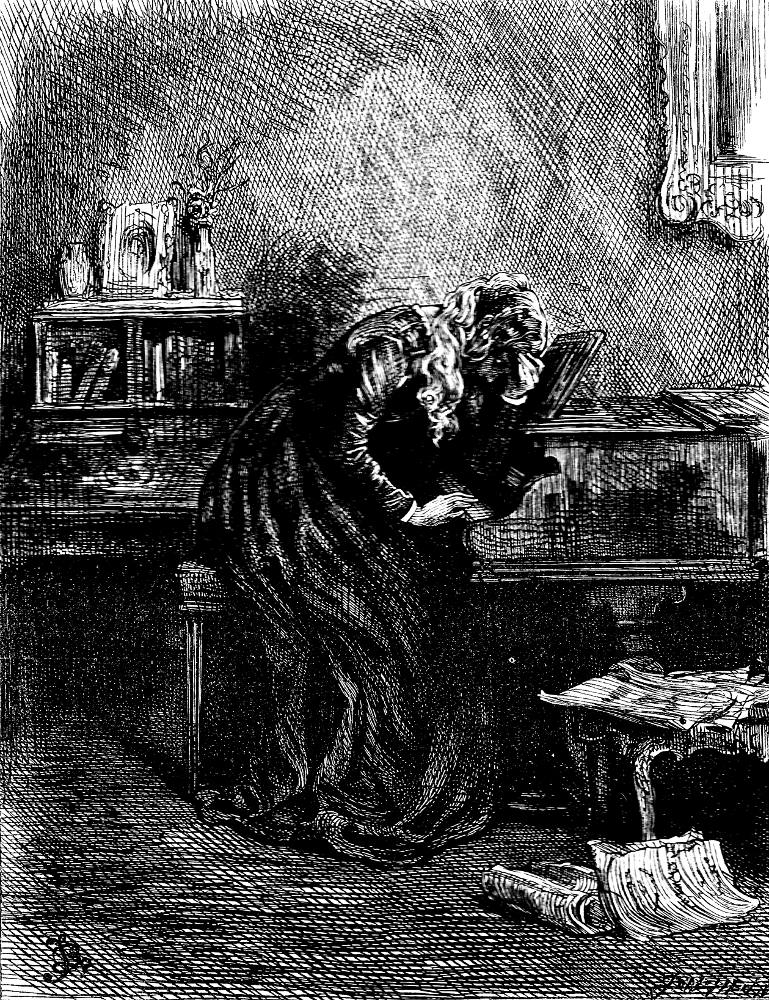 Left: Fred Barnard's study of Florence in mourning for the same chapter, It was repeated, often — very often, in the shadowy solitude; and broken murmurs of the strain still trembled on the keys, when the sweet voice was hushed in tears. (1874). Right: Phiz's original study of Florence and Diogenes, the dog who was little Paul's constant companion at Dr. Blimber's: Poor Paul's Friend (March 1847).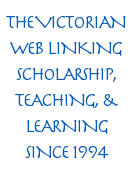 Related Material, including Other Illustrated Editions of
Dombey and Son
Scanned image and text by Philip V. Allingham. [You may use this image without prior permission for any scholarly or educational purpose as long as you (1) credit the person who scanned the image and (2) link your document to this URL in a web document or cite the Victorian Web in a print one.]
Bibliography
Dickens, Charles. Dombey and Son. Illustrated by Hablot Knight Browne (Phiz). 8 coloured plates. London and Edinburgh: Caxton and Ballantyne, Hanson, 1910.
_______. Dombey and Son.16 Illustrations by Sol Eytinge, Jr., and A. V. S. Anthony (engraver). The Diamond Edition. Boston: Ticknor & Fields, 1867. III.
Hammerton, J. A.. "Ch. XVI. Dombey and Son."  The Dickens Picture-Book. London: Educational Book Co., [1910], 294-338.
---
Created 11 December 2020