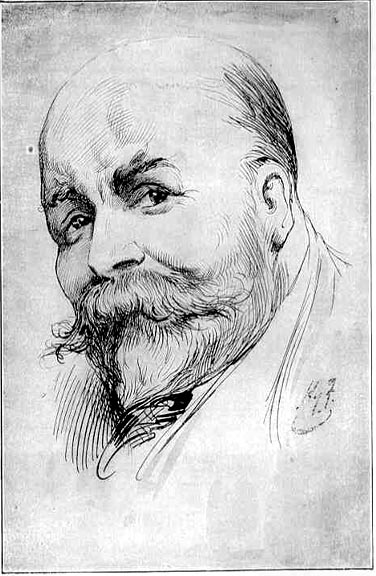 Harry Furniss's eighteen-volume edition of The Charles Dickens Library (London: Educational Book Company, 1910) contains some 500 special plates (part of the total of 1200 illustrations) and two volumes of commentary. Volume XVII, edited by J. A. Hammerton, is entitled The Dickens Picture Book: A Record of the Dickens Illustrators. Since the order of the volumes is roughly chronological, the ninth volume, entitled Dombey and Son: Wholesale, Retail, and for Exportation, precedes the tenth volume, David Copperfield, the eighth volume being Christmas Books. Dombey and Son was Dickens's seventh complete novel, a work so long at 898 pages (and orginally a nineteen-month serialisation) that the series editor, J. A. Hammerton, did not have to fill out the volume with short stories or journalistic pieces. This was the first novel written after Dickens's hugely successful Christmas Books (1844-48). Although Dickens began writing Dombey in the autumn of 1846, before he had completed that series of five novellas, and although the first instalment did not appear until October 1846, by the time that Dickens completed it, he had written all but the final novella in seasonal series, The Haunted Man and the Ghost's Bargain.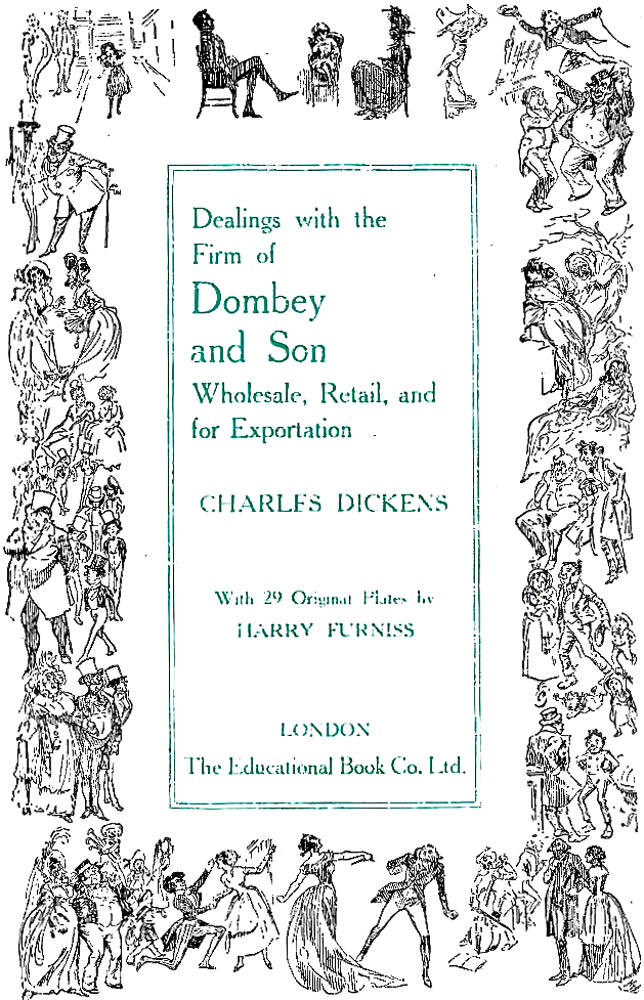 The final volume of the 1910 Charles Dickens Library Edition is The Dickens Companion: A Book of Anecdote and Reference. Whereas the muti-volumed Household Edition, issued in tandem by Chapman and Hall and Harper and Brothers throughout the 1870s involved some sixteen American and British illustrators working in the new mode of the Sixties and providing more than a thousand wood-engravings for the thirty-eight volumes, Furniss produced five hundred full-page lithographs — a prolific output and a singular achievement for a single artist. Furniss was fortunate in illustrating Dombey and Son that he had as precedents for his twenty-nine lithographs (based on staccato pen-and-ink drawing) both the original serial program of forty illustrations by Dickens's collaborator of twenty-two years,Hablot Knight Brown, and the wholly new, generally half-page composite woodblock illustrations by the gifted caricaturist Fred Barnard in the Household Edition of 1872, which as one of the longest volumes in that edition contains sixty illustrations. Furniss's standard throughout the 1910 edition, even for the longest novels in the canon, is twenty-eight full-page lithographs plus the coloured engraved-title.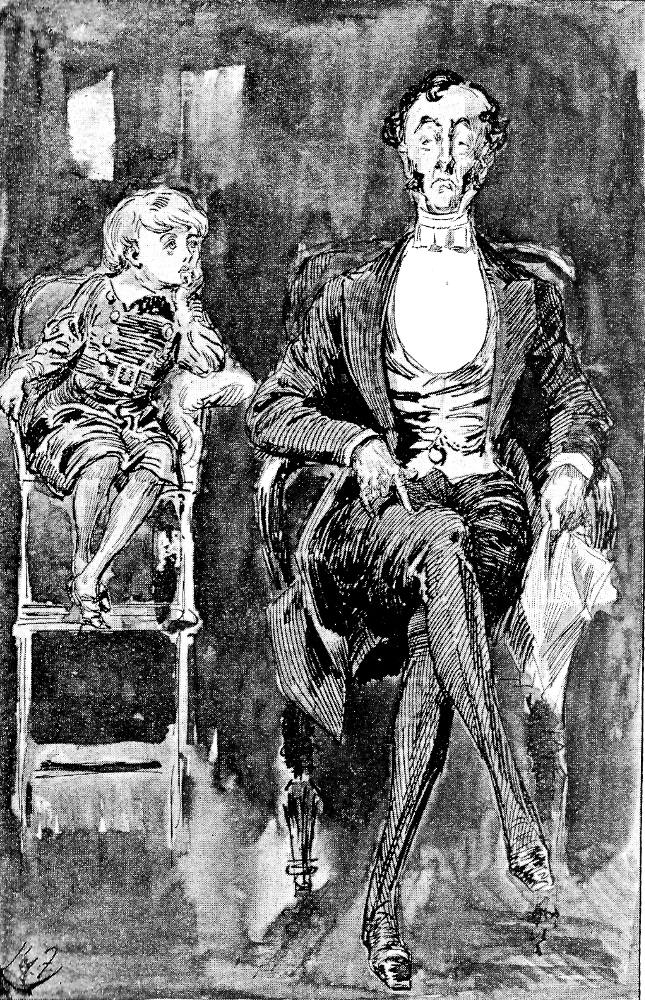 For all twenty-nine of the illustrations for the Dombey and Son: Wholesale, Retail, and for Exportation illustrations in volume 9, Hammerton and Furniss have included both succinct captions (given in full below) and extended quotations to demonstrate the textual moment realised in each; moreover, each quotation refers to a specific page number, thereby enabling the reader to find the passage illustrated. The exception to this standard mode of presentation and captioning is a pair of character studies (without benefit of setting or backdrop) of little Paul and Mr. Dombey (frontispiece) and an aged Dombey (tailpiece, with only a page reference given). As usual in the volumes of The Charles Dickens Library Edition Furniss provides an ornately bordered title-page, listed as Characters in the Story in the "List of Special Plates" (vii). Although each page is 12.2 by 18.4 cm (4.75 by 7.25 inches) and the caption below each in upper-case, and below that occurs a multi-line quotation in upper and lower case, each plate is effectively 14.3 cm by 9.2 cm (5.5 inches by 3.25 inches), the vertically-mounted illustrations usually being framed, and the horizontally-mounted illustrations being vignetted. Aside from the forty-seven title-page vignettes surrounding the book's title, of the twenty-eight full-page illustrations, Furniss devotes only eleven to the eponymous characters, so that secondary characters, as well as the principals, Walter Gaye, Florence Dombey, and James Carker, fill the scenes. A long-time comic favourite, the philosophical old salt, Captain Cuttle, appears in five of the illustrations.
Dombey and Son: Wholesale, Retail, and for Exportation

(1910)

Related Material, including Other Illustrated Editions of
Dombey and Son
Scanned image and text by Philip V. Allingham. [You may use this image without prior permission for any scholarly or educational purpose as long as you (1) credit the person who scanned the image and (2) link your document to this URL in a web document or cite the Victorian Web in a print one.]
Bibliography
Bentley, Nicolas, Michael Slater, and Nina Burgis. The Dickens Index. New York and Oxford: Oxford U. P., 1990.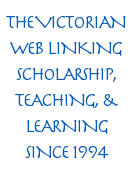 Dickens, Charles. Dombey and Son: Wholesale, Retail, and for Exportation. Illustrated by Hablot Knight Browne. London: Chapman and Hall, 1848.
_______. Dombey and Son: Wholesale, Retail, and for Exportation. Works of Charles Dickens. Household Edition. 55 vols. Illustrated by F. O. C. Darley and John Gilbert. New York: Sheldon and Co., 1863.
_______. Dombey and Son. Illustrated by Sol Eytinge, Jr, and engraved by A. V. S. Anthony. 14 vols. Boston: Ticknor & Fields, 1867. III.
_______. Dombey and Son: Wholesale, Retail, and for Exportation, with 61 illustrations by Fred Barnard. Household Edition, volume XV. London: Chapman and Hall, 1877.
_______. Dombey and Son. Illustrated by Harry Furniss. The Charles Dickens Library Edition. 18 vols. London: Educational Book, 1910. Vol. 9.
_______, and Fred Barnard. The Dickens Souvenir Book. London: Chapman & Hall, 1912.
Hammerton, J. A. "Ch. XVI. Dombey and Son."  The Dickens Picture-Book. London: Educational Book Co., [1910], 294-338.
Kitton, Frederic George. Dickens and His Illustrators: Cruikshank, Seymour, Buss, "Phiz," Cattermole, Leech, Doyle, Stanfield, Maclise, Tenniel, Frank Stone, Landseer, Palmer, Topham, Marcus Stone, and Luke Fildes. Amsterdam: S. Emmering, 1972. Re-print of the London 1899 edition.
Kyd [Clayton J. Clarke]. Characters from Dickens. Nottingham: John Player & Sons, 1910.
Lester, Valerie Browne. Phiz: The Man Who Drew Dickens. London: Chatto and Windus, 2004.
Matz, B. W., and Kate Perugini; illustrated by Harold Copping. Character Sketches from Dickens. London: Raphael Tuck, 1924.
Schlicke, Paul, ed.
The Oxford Reader's Companion to Dickens
. Oxford and New York: Oxford U. P., 1999.
Steig, Michael. Chapter 4. "Dombey and Son: Iconography of Social and Sexual Satire." Dickens and Phiz. Bloomington & London: Indiana U. P., 1978. 86-112.
Vann, J. Don. "Dombey and Son, twenty parts in nineteen monthly instalments, October 1846—April 1848." Victorian Novels in Serial. New York: The Modern Language Association, 1985. 67-8.
---
Created 21 December 2020

Last modified 18 January 2021