Laurence Nangle (uncaptioned headnote vignette). 7.4 cm by 12 cm (3 x 4 ¾ inches). Wood-engraving by Fred Barnard for Gissing's "An Inspiration" in The English Illustrated Magazine (December 1895), p. 268; ed. Clement Shorter. [Click on the image to enlarge it.]
Passage Illustrated: Laurence Nangle (in the headnote vignette) prepares to knock
About six o'clock, just as Harvey Munden came to the end of his day's work, and grew aware that he was hungry, some one knocked at the outer door — a timid knock, signalling a person of no importance. He went to open, and saw a man whose face he remembered.
"What is it this time?" he asked good-humouredly.
"Well, sir, I should like, if you will allow me, to draw your attention to an ingenious little contrivance — an absolute cure for smoky chimneys."
The speaker seemed to be about forty; he was dressed with painful neatness, every article of his clothing, from hat to boots, exhibiting some trace of repair. He stood with his meagre form respectfully bent, on his drawn features a respectful smile, and prepared to open a small hand-bag -- so strikingly new that it put its bearer to shame. [The English Illustrated Magazine, December 1895: 269]
To ensure that the reader focuses on the character of the down-at-heels commercial traveller, Laurence Nangle (identified by his sample bag), rather than his Fairy Godfather, Harvey Munden, Barnard features a portrait of the shy salesman in the headpiece. Despite his hand-to-mouth existence, and scruffy physiognomy, Nangle is trying to keep up appearances by wearing a faded top-hat.
Scanned image, caption, and commentary by Philip V. Allingham. [You may use this image without prior permission for any scholarly or educational purpose, as long as you (1) credit the person who scanned the image, and (2) link your document to this URL in a web document or cite the Victorian Web in a print one.] Click on the image to enlarge it.
Related Material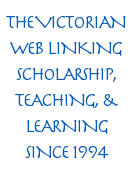 Bibliography
Gissing, George. "An Inspiration." Illustrated by Fred Barnard. The English Illustrated Magazine. No. 147 (Dec., 1895): 268-75.
---
Created 24 January 2021