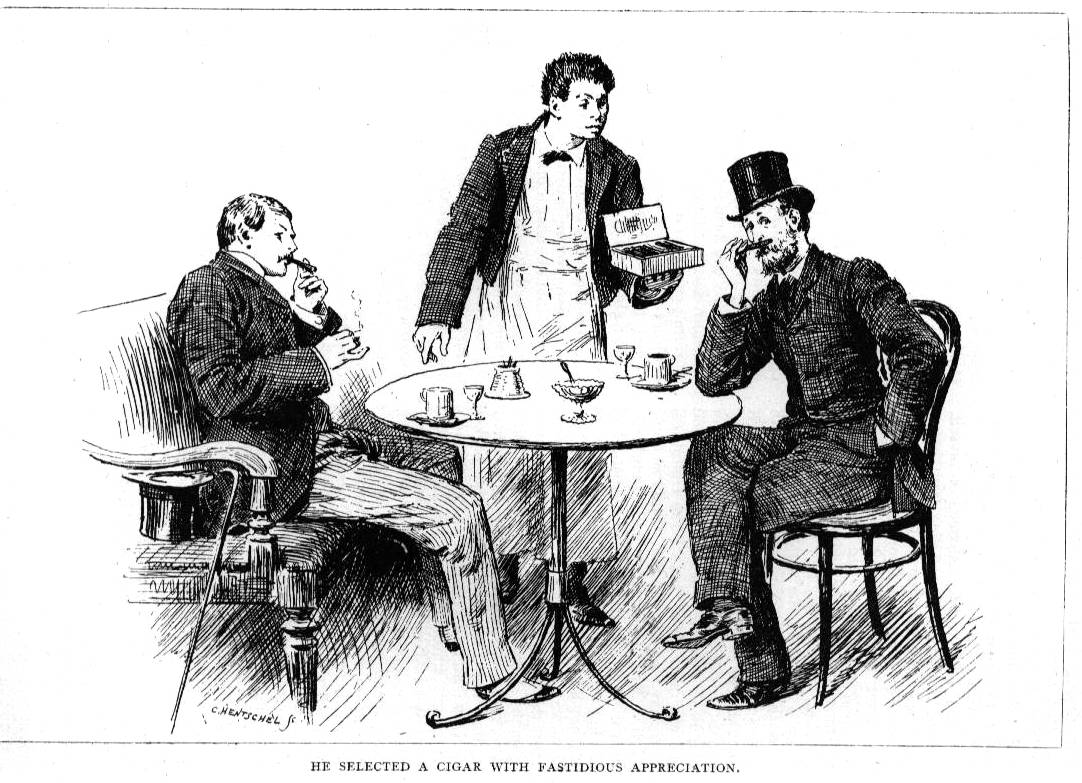 He selected a cigar with fastidious appreciation. 12.4 cm by 18.2 cm (4 ⅞ x 7 ¼ inches). Wood-engraving by Fred Barnard for Gissing's "An Inspiration" in The English Illustrated Magazine (December 1895), p. 271; ed. Clement Shorter. [Click on the image to enlarge it.]
Passage Illustrated: Laurence Nangle receives a boost in his self-confidence
Nangle looked away and slowly nodded several times. Then he drank with deliberation, and smacked his lips. A glow was deepening on his hollow cheeks.
"Yes, you are right. I could tell you a strange thing that happened to me only a few days ago. But, first of all, I should like to know — why did you ask me to dine with you?"
"Oh, an inspiration."
"You thought I looked hungry. Yes, so I was; and the dinner has done me good. I feel better than I have done for years — for years. I could tell you a strange thing ——"
He paused, a shade of troublous agitation passing over the gleam of his countenance. After waiting for a moment Munden asked whether he smoked.
"When I can afford it, which isn't very often."
They rose and went to the smoking-room. Nangle's step had the lightness, the spring of recovered youth. He selected a cigar with fastidious appreciation; buoyantly he declared for cognac with the coffee. And presently the stream of his talk flowed on.
"Yes, I had a very good education at a private school — a commercial school. You don't know Colchester? I went into the office of a woolstapler — Cliffe was his name; our best friend, and always very kind to me.  [The English Illustrated Magazine, December 1895]
Commentary: The obligatory after-dinner drinks and cigars
Again Barnard focuses on his protagonist, the awkward Laurence Nangle, rather than his Fairy Godfather, Harvey Munden. In this restaurant scene, Barnard provides a humorous detail suggestive of Nangle's social incompetence: his wearing his hat indoors. Munden's treating him to a cigar in the restaurant's smoking room tops off the splendid meal, with coffee and brandy on the small table. The illustrator shows his protagonist sniffing the cigar critically, as if to assess its freshness, and thereby implying that the North-of-England n'er-do-well has suddenly acquired at least the veneer of metropolitan sophistication.
Scanned image, caption, and commentary by Philip V. Allingham. [You may use this image without prior permission for any scholarly or educational purpose, as long as you (1) credit the person who scanned the image, and (2) link your document to this URL in a web document or cite the Victorian Web in a print one.] Click on the image to enlarge it.
Related Material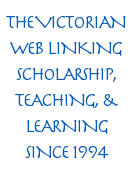 Bibliography
Gissing, George. "An Inspiration." Illustrated by Fred Barnard. The English Illustrated Magazine. No. 147 (Dec., 1895): 268-75.
---
Created 24 January 2021